As a tennis player owning a ball machine is one of the most amazing gears, you can have for your daily practices. They are a great investment when playing solo, but they don't come cheap and require a lot of care also.
In solo tennis practice, you'll have to loud hundreds of balls that the machine will shoot with great power. It is very important to select the best tennis balls for ball machines that will help you get the best out of your training. 
To help you navigate the endless options in the markets, in this guide, we will review the best tennis balls for ball machines to make the most out of your training sessions. Keep on reading to also find out all you need to know when choosing the right balls, their features, and what you should be looking for. 
Best Tennis Balls for Ball Machine Reviewed 
Listed below are the best tennis balls for the ball machines. We have curated this list based on the bounce, playability, and feel. 
What Type of Tennis Balls are Best for a Ball Machine
There are two types of tennis balls, pressurized and non-pressurized. Each has distinctive features and can be used for different reasons, based on a player's goals and needs. 
Pressurized balls are, in general, lightweight, with high spin and speed and a great bounce level. They are any player's first choice due to their great feel and high playability, making them suitable for competitive games.
On the other hand, pressureless tennis balls are much heavier and might even have a "dead" feel during the game and require much more strength from the players. Even though they aren't everybody's favorite, pressureless balls make a great option for practice since they can help to improve skills, techniques, and eye-hand coordination.
Pressureless tennis balls are very durable, last longer in time, and gain bounce as their rubber softens. 
Usually, the division is clear for the players, pressurized balls are for competitive games, and pressureless ones are to be used for training only. However, this isn't always true when it comes to tennis ball machines since both types can be used.
Professional athletes and high advanced players can and will use pressurized balls with tennis machines to practice their game strategies as they prepare to compete. Their high bounce level, maximum spin, and high playability help prepare better for games. 
However, the best choice for tennis ball machines is pressureless balls, which should always be your first choice, especially if you are still a beginner or intermediate. Pressureless balls last longer and don't lose pressure over time. You might be sacrificing the ability to train a certain way or even quality, but you gain much in different aspects. 
What to Consider When Choosing the Best Tennis Balls for Ball Machine
There are several factors that should be wisely considered before purchasing tennis balls for the ball machine. We'll explain in a second, so make sure to keep on reading, so you'll make the best decision when purchasing tennis balls based on your needs and requirements. Here is the list of the main things you should consider.
Durability
The tennis machine can be rough with your tennis balls, so you need them to be highly durable, so they can last longer in time. This is the first and most important quality to look for when searching for the best balls for the tennis machine. 
The balls will be launched repeatedly, and depending on how they fit into the machine, they might go flat very quickly and lose all of their features. Interlocked fibers and high durable seams are very important to guarantee high durability for the balls, so always make sure to check out these things. 
Weight is also a factor since lightweight balls can deteriorate quickly, only after a few hits, so it's better to opt-out of heavy-weight balls instead. Look for extra duty balls also, as they are made to resist all types of courts, so they are also highly durable.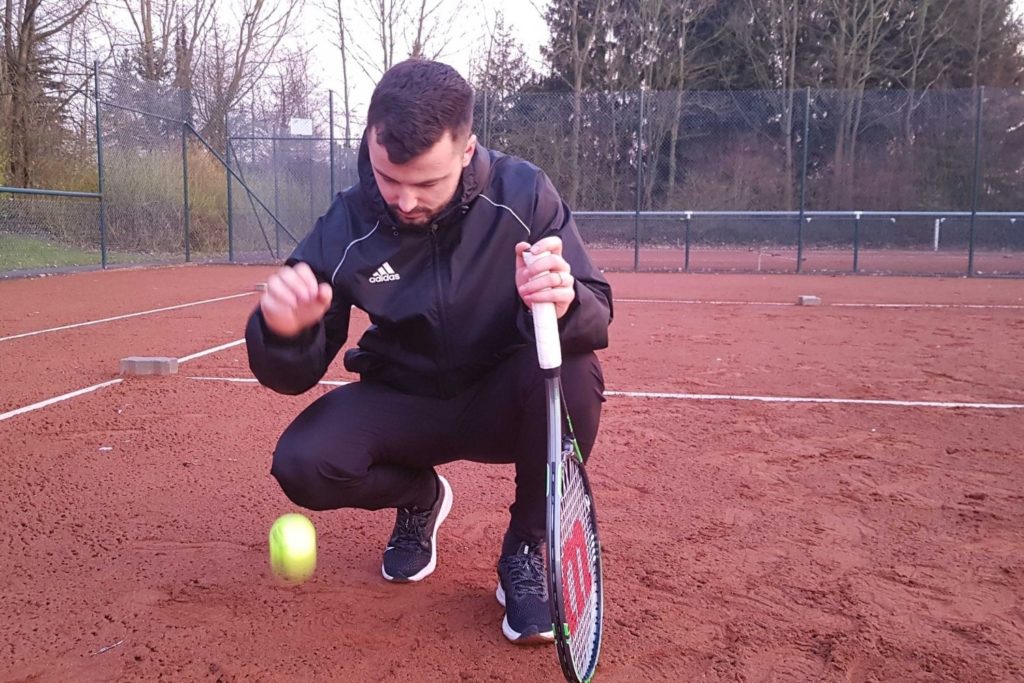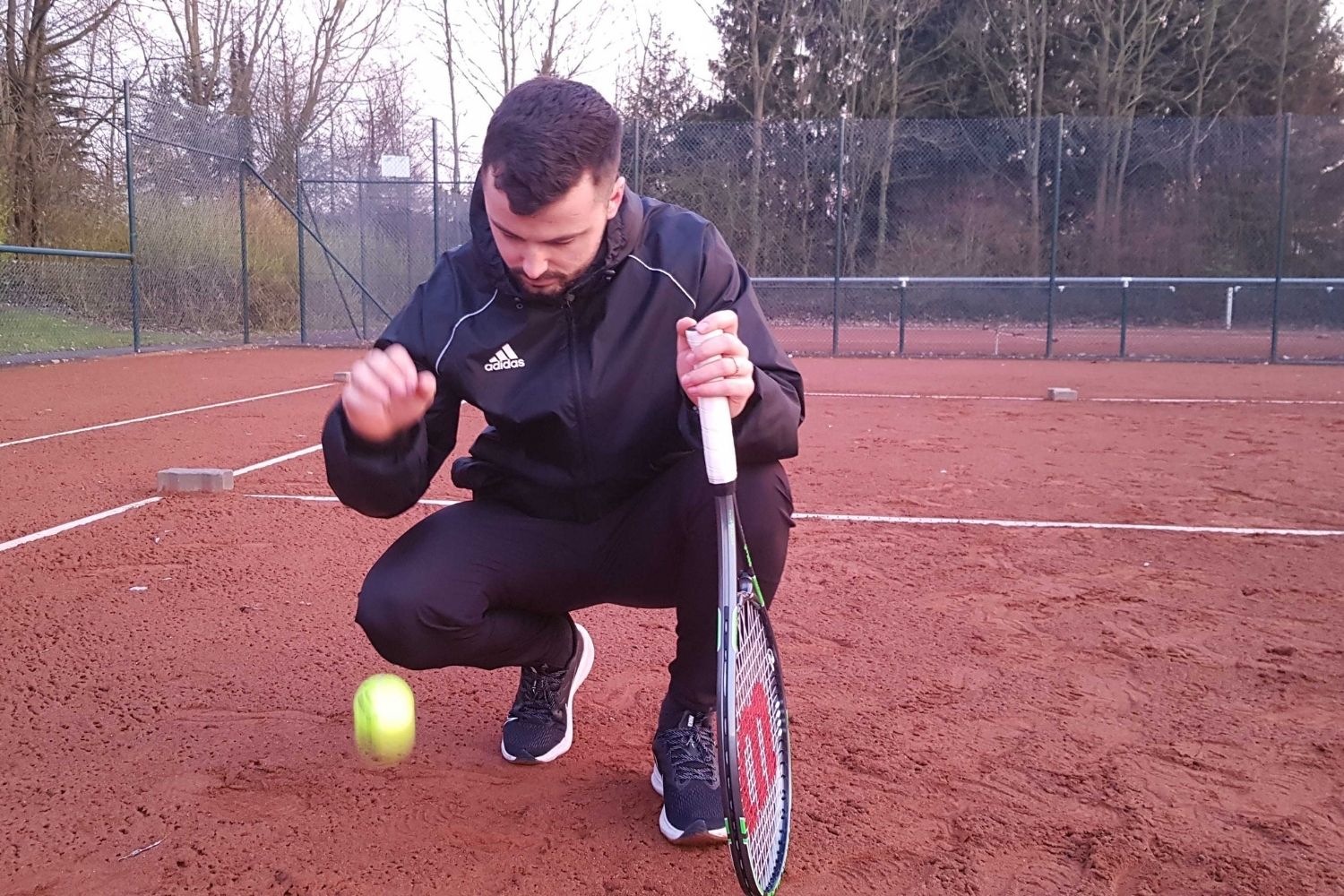 Bounce
The last thing you want in a training session is your tennis balls going flat and losing bounce within an hour or so since you started. That's why the bounce is important to consider and should be able to handle the power of the tennis machine without letting its power go out of control. 
Pressureless tennis balls seem to be the ideal solution in this case since when the rubber softens after a few uses, they tend to gain a higher bounce level without losing it. 
Stiffness 
This is probably the least talked about aspect of the tennis balls, but nonetheless important. Stiffness has to do with the level of pressure a ball has. The stiffer the ball, the less pressure it has, with a lower bounce level, especially when they are brand new. 
However, this feature helps pressureless balls to last longer in time, compared to a less stiff ball that will become extremely slow and flat once it loses its pressure. That's another reason why pressureless balls are more suitable in the long run for tennis ball machines. 
Brand
A household brand is probably the best guarantee of the high quality of the products. Often, these companies will go far and beyond to protect their reputation, and bring new evolutionary things to the market since they are always competing with each other for more attention, client, and sales. 
That's why you should at least know about some of the main tennis sports gear companies, so you'll be able to identify them easily. Here are some of the most famous of them. 
Wilson – a leading brand that has brought many revolutionary changes in the market. Wilson's is known for the high quality of its products, the use of different advanced technologies, and the variety they offer. They deliver nothing short but excellence. 
Penn – is one of the most recognizable brands globally that also has some of the best-selling tennis items of all time. Penn offers high-quality products, often at a very reasonable price and easy to access. 
Babolat – the french company, keeps setting its standards in the market. They deliver high quality and performance for all of their products, especially their tennis rackets line, which is very popular. The fact that they are endorsed by major stars, such as Nadal, only has made them more famous already. 
Tecnifibre is not the most famous brand out there, but they deserve more hype for their high-quality products and the rich variety they offer to their clients, from tennis balls to rackets, etc. 
Dunlop – they are known for great quality products, in particular their tennis balls. Dunlop is famous mostly in European countries but is gaining more and more territory in the United States lately. 
Price
Keep in mind that you'll be putting hundreds of tennis balls in the machine, and unless you are Roger Federer with a big brand name endorsing your games and practice sessions, you'll be paying a lot of money yourself. 
That's why you should be taking good care of the tennis machine, which will be loaded often and need high-quality products. Go for pressureless tennis balls that are very durable, have a good bounce level, and come at a reasonable price. These tennis balls for ball machine will last longer, can be used more often, and cost you less.
Our Verdict 
During my review, what stood out the most was the Penn Championship Tennis Ball for its impressive durability. These balls last long in time and have excellent playability and performance. They won't lose bounce over time and are cheap considering their high quality, making them perfect for the tennis ball machine. They can be used in all types of courts by a wide range of players, helping them improve their skills to a whole other level. 
The best pressureless tennis balls for ball machines is, without doubt, Tourna Pressureless Tennis Balls, which not only have the best price but also deliver great quality and performance. They are highly durable and come in large supplies for a single purchase, making them convenient for tennis balls machines. 
Last but not least, I would mention Teloon Pressurized Tennis Balls, which come in various colors, making them much more fun to play with, especially for players who prioritize aesthetics. These balls are lightweight, have a great bounce, and are very durable, making them a great choice for tennis ball machines. 
How We Chose the Best Balls for Tennis Ball Machine
To curate this list, we went through a process of reviewing and playtesting different tennis balls so that we could come up with the best options possible. We based our reviews on the most important factors that players should consider when choosing the best tennis balls for ball machine. Those factors are durability, longevity, bounce level, playability, performance, and price. 
The technical details will make a choice easier for you, helping to understand better what you should expect if you decide to purchase one of the balls from our list. In this guide, you will also find all the critical characteristics you should always consider when purchasing tennis balls for your tennis ball machine to make the best choice possible according to your needs, goal, and financial budget. 
FAQs
Shopping for tennis balls for ball machines can be confusing for tennis players who aren't sure what ball they need. This is especially true for new tennis players. These are some of the most-asked questions regarding tennis balls for ball machines.
Q: Can you use normal tennis balls in a tennis ball machine?
Yes, you can use regular tennis balls in a tennis ball machine; however, they will not last as long. Regular tennis balls are not made to withstand the high-impact shots from a tennis ball machine. 
Some of the most long-lasting tennis balls for ball machines are Gamma Pressureless Tennis Balls which can last up to 10 times longer than regular tennis balls.
Q: Which is better pressurized or pressureless tennis balls?
Pressurized tennis balls have a higher bounce because they are filled with air. They also have a softer feel which some players prefer. However, pressurized balls can loose their bounce over time. 
Pressureless tennis balls do not have as much bounce as pressurized balls, but they maintain their bounciness for a longer time. This makes them a good choice for ball machines since they will not lose their bounce as quickly.
Q: How long do tennis balls last in a ball machine?
We are sorry that this post was not useful for you!
Let us improve this post!
Tell us how we can improve this post?