If you are serious about tennis, you must constantly hit the court and be consistent with the training sessions. However, to become the best in the game doesn't take only dedication and sweat; you need the best equipment possible too. To make the journey easier for you, this time, we decided to focus on the best tennis balls for practice. 
Picking the right ones can be quite a struggle and time-consuming with such a wide variety on the market and new options popping up every year. You have better things to focus on instead of spending months and months on finding what works best for you. This guide covers all the important stuff you need to learn and features our best practice tennis balls selection. Keep scrolling! 
Best Tennis Balls for Practice Reviewed
We understand that picking up the best tennis balls for practice can be a real struggle, especially if you are a beginner. To save you money, time, and energy, we took it upon ourselves to find the best options on the market. 
All the practice tennis balls featured on our list were selected based on their durability, performance, price, and brand reputation. As a USPTA certificated tennis instructor, I made sure to playtest them during my daily training sessions.
What to Consider When Choosing the Best Tennis Balls for Practice
We understand it is tempting just to pick the training tennis balls your favorite tennis star or your best friend at practice is using at the time, but this is the worst decision you can take. While it might work wonders for them, you need to stick to your own needs in court before making a purchase. 
The best tennis balls for training have some features in common, which you should consider beforehand. Let's take a look. 
Pressurized vs. Pressureless Tennis Balls
Usually, the first choice you have to consider when picking up tennis balls is whether you'll want them to be pressurized or pressureless. There is a big difference between them, in performance and price, so it's something you should think carefully through. 
Pressurized tennis balls are made of rubber and, as the name suggests, are filled with pressurized gas inside. They are used in professional matches but can also be a good option for training sessions, especially if you are trying to simulate a real game. However, they are expensive and have a short lifespan; and there is little you can do about it.
Some of the main features of pressurized balls include: 
High bounce: the internal pressure makes the ball bounce higher on the court and offers a lively feeling when it comes in contact with the racket. However, this feature is short-lived because pressurized balls start leaking gas the moment they get out of the can. 
Heavy spin: a pressurized ball is incredibly lightweight, which makes it easier for the player to generate massive spin throughout the game. 
More speed:  considering the high bounce and the lightweight, it's easy to make a pressurized ball "fly" across the court by generating crazy speed. 
On the other hand, pressureless tennis balls are made of heavier and thicker fabrics, usually rubber, and have a solid core. They tend to feel "dead" right from the beginning, which is not the best experience; however, they do soften with time. 
Some of their main attributes are:
Less…everything: Yeap! Pressureless balls have a significantly lower bounce, speed, and spin. The feeling is not the best, and it requires much more force to hit the ball. It doesn't sound great, but these disadvantages can push the player to learn and perform better. Pressureless tennis balls come cheap, making them the best tennis balls for practice.
Durability: there is a reason why these are called "the eternal balls." As long as you take good care of them, the pressureless balls will last you for a really long time. 
Cheap price: pressureless balls usually come at very affordable prices, which is great, especially if you are on a tight budget.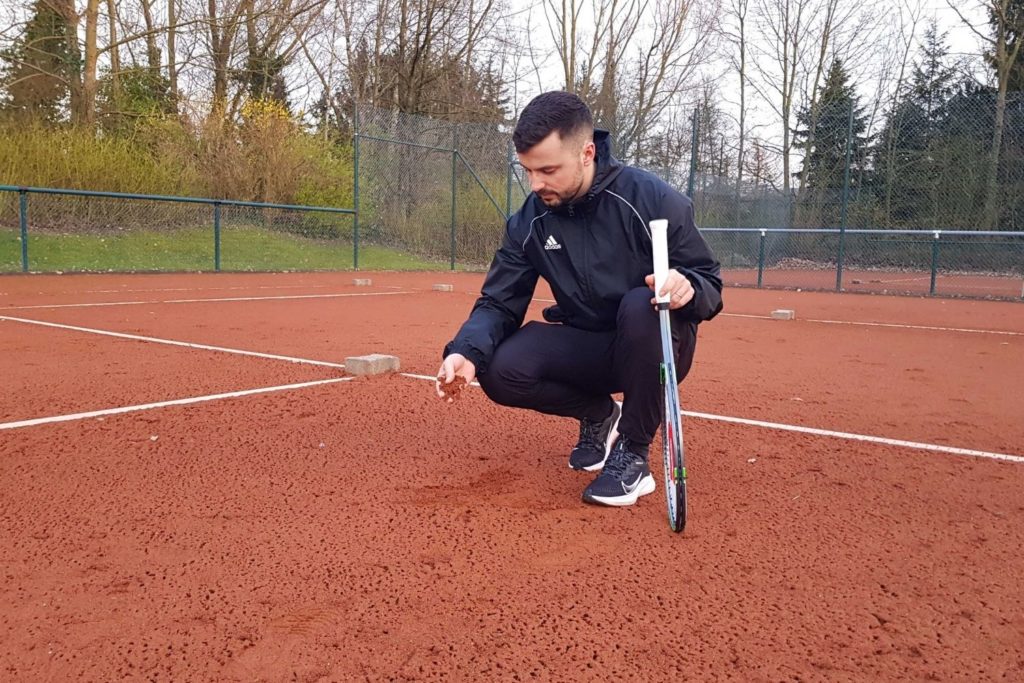 Type of Surface
The lifespan of a tennis ball and its playability can dramatically change depending on the type of surface you play on. That's why it's important to always look up this factor before making a purchase, which will save you a lot of money and time.
If, for example, you choose to play with a regular ball on a hard court, most likely, your ball will underperform and wear out quickly. 
To avoid this, make sure to choose the right type of ball depending on the court's surface:
Extra duty balls: are used in hard concrete courts because they are way more durable and resistant. 
Regular duty: are used on clay or grass surfaces, or even for inside courts, since they tend to be softer.
Durability
You want your tennis practice ball to last as long as possible and resist abrasions without losing its main features. This is only possible if you opt out for the most durable tennis balls, which can take a hit without breaking down or needing fast replacements. As mentioned above, pressureless balls are the most durable ones. 
You should always look up the brand and the ball's technicalities, as these can also be telling factors in determining durability. Not to mention that choosing durable tennis balls will save a lot of money in the long run so that you can spend that money on other tennis equipment.
How We Chose the Best Tennis Balls for Practice
To pick up the best tennis balls for practice, we went through a rigorous process, as we usually do. First, we dived deep into market research, picking up the best-rated options while also analyzing the consumers' feedback. Then, to ensure we provide our readers with truthful reviews, we decided to purchase a bunch of practice balls that passed the first phase and test them out. 
I tested them during my daily training session. I was able to curate this list based on a selection of a few important factors important, such as performance, playability, durability, technicalities, price, etc. We decided to include various categories that would apply to a wide range of players so that everybody can find something that meets their needs. 
Our Verdict 
While there are many great options on this list, our top favorite pick is the Gamma Sports Pressureless tennis balls. These balls deliver everything a player needs for a good session of practice; playability, good bounce, and consistency. They are very durable too and come at a great price. 
Another good option during practice is the Penn Championship tennis balls, especially if you are serious about the game. These practice tennis balls offer a good blend of everything you can wish for to simulate a real game; high performance, bounce, spin, and speed. They are also quite durable and resistant even to hard court surfaces. 
FAQs
At this point, we have looked at different types of tennis balls that can affect your training session performance, discussed how to choose good tennis balls for practice, and provided a range of examples that we consider to be some of the best tennis balls for practice. Though this information will have answered many questions, some of a general nature are addressed below.
Q: What is the difference between practice tennis balls and regular tennis balls?
The main difference between practice tennis balls and regular tennis balls is that practice tennis balls are designed to last longer. This is due to the fact that they generally have a thicker outer layer and don't compress as much as regular tennis balls when hit. 
You are likely to hit the ball more often during practice sessions than during an actual match. As a result, practice tennis balls need to be more durable in order to withstand this higher level of play. In addition, practice tennis balls are usually cheaper than regular tennis balls, as they don't need to meet the same high standards in terms of quality and performance.
Q: Are pressureless tennis balls good for practice?
Pressureless tennis balls are a good option for practice, as they don't lose their bounce as quickly as regular tennis balls. This means that you can hit them more times without having to replace them as often. In addition, pressureless tennis balls are less likely to cause injuries, as they don't compress as much when hit.
Q: What tennis balls do coaches use?
As a tennis coach myself, I can say that the kind of tennis balls we use during coaching sessions depends on the level of the players. If we are working with beginners, we usually go for lower compression balls or even pressureless balls as they are easier to control. For more advanced players, we use the best tennis balls as they need to get used to the speed and bounce of a real game.
Q: What tennis balls should a beginner use?
A beginner should use tennis balls that have low compression. Low compression balls will be easier to hit and will help you develop your swing.
When looking for tennis balls, you'll want to find those that are labeled "low compression." This will ensure that the ball is easy to hit and won't cause too much strain on your arm. As you progress in your game and start hitting the ball harder, you can then switch to higher compression balls.
We are sorry that this post was not useful for you!
Let us improve this post!
Tell us how we can improve this post?