Talent and techniques are important in tennis, but do you know what else will strongly impact your performance on the court? Strings! There is always something new to learn ever for advanced players, so we are here to guide you through all the information you need and give our take on the best multifilament tennis strings on the market.
You should never underestimate the difference quality strings can make, especially if you are serious about the game. Multifilament options have been around for a very long time now and have become a fan favorite. But is it really that good, and why should you opt out of it? Keep reading on to educate yourself on the topic.
What are Multifilament Tennis Strings?
Multifilament tennis strings are made of synthetic microfibers or else known as filaments. Thousands of filaments are woven together to create a single string, hence the name multifilament. They were deliberately created to mimic the performance and features of natural gut strings, which are commonly considered the best kind of strings.
The result of this experiment was phenomenal; multifilament strings turned out to be soft, powerful, and much more durable and hold tension better. They also come at a great price, affordable for all kinds of players. Nowadays, multifilament tennis strings are one of the most popular options worldwide, and even professional players use them for training sessions and matches.
Best Multifilament Tennis Strings Reviewed
Where is our list of the best multifilament tennis strings, which we concluded only after long market research, and hours of playtesting? We based our reviews on important features such as performance, quality, power, tension maintenance, feel, comfort, etc.
Our absolute favorite option on this list is Head Velocity MLT. We can not recommend these strings enough after the excellent performance during the playtest. The brand has used thick fibers on the Velocity MLT strings construction during manufacturing to enhance performance.
They deliver explosive power, helping the player to add more depth with each shot without spending much physical effort. These strings do a great job at transferring energy too, which is perfect for those who are more aggressive during the game and like to hit the ball harder.
These unique strings construction, with low friction coating, enhances spin potential and even allows them to move better, so they won't move from their place or stick out of frame. They deliver a lively feeling and are highly responsive.
The strings can maintain tension very well and will probably last you for a long time. They come in different gauge levels and even in multiple color options for you to choose from. The affordable price tag is another great bonus, which makes them hard to resist. Overall, these strings are great tennis strings and gave us nothing to complain about it.
Product Specs
Gauge: 15 L / 16 L / 17 L
Length: 12 m / 40 ft
Shape: Round
Pros
High power
Long-lasting
Enhanced spin
Very comfortable
Cons
We couldn't find anything
Get the Head Velocity MLT on Amazon, at Head's Official Site or at Do It Tennis.
Tecnifibre NRG 2 strings are great for many reasons, but the spin potential truly impressed us, which is not a common feature for multifilament. These strings are made of 100% Elastic Fibers and feature Silicon Pyrogene Lubritec, a material that reduces elongation and even improves durability up to 40% more than the usual standard. As a result, it is easy to generate some serious spin and go for full swings while the strings snap back right after the shot.
During our market research, we noticed that many players complained of the strings being low-powered, but that wasn't the case when we tested them. Each on their own, but overall we were satisfied with the controllable power the strings delivered, which made it easier to redirect the ball.
The strings can maintain the tension well and offer an excellent feel. We found them to be very comfortable, even when missing the sweet spot. These strings are perfect for intermediate and advanced levels, which are competitive in their game.
Product Specs
Gauge: 16 L
Length: 12 m / 40 ft
Shape: Round
Pros
Spin potential
Very elastic
Enhanced durability
Excellent touch
Cons
Some players complain of low power
Get the Tecnifibre NRG2 on Amazon.
Head Velocity MLT 660′ is the most affordable option on our list. These strings come pretty cheap and come in a staggering length of 660 feet. They have a unique construction where the core is surrounded by thicker and extra flexible filaments, which aim to enhance features.
During the playtest, we were impressed by the amazing spin potential these Head strings hold. It was easy to go for higher angles and full swings while the string snapped back in place and re-align after each shot. The control levels were also above average and pretty impressive.
The string makes it much easier to hit the target precisely or predict where the ball goes. They can hold tension pretty well, transfer energy and offer controllable power, which is enough for the extra push but doesn't become overbearing. We loved the crispy feel and the responsiveness of these strings. They are quite durable, too, and will last you for a long time before needing a replacement.
On the downside, these strings might feel too stiff for some players, which is a fair trade considering the spin and control levels. Beginners might struggle with their game with these strings, but they make a perfect option for intermediate and advanced levels.
Product Specs
Gauge: 16 L / 17 L
Length: 201 m / 660 ft
Shape: Round
Pros
High spin
Good control
Crispy feel
Comfortable
Cons
Feel stiff
Not suitable for beginners
Get the Head Velocity MLT 660′ on Amazon, at Head's Official Site or at Do It Tennis.
Tennis elbow conditions can be painful, so it's important to be extra careful during the recovery process. If you, too, suffer from it, we strongly recommend YTEX touch natural nylon as the best option. These are incredibly soft and deliver an excellent feel. They are very easy on the arm, so you don't have to worry about the extra stress that can irritate the inflammatory areas.
With minimal physical effort from the player, these strings can generate a great amount of power with each shot. They can transfer energy and hold the tension pretty well. The brand has constructed them with a fine row of monofilaments across the core to enhance features and durability.
Surprisingly, they offer good control levels and somewhat precision; however, the spin potential is very low. The strings come at the thickest gauge level, adding another comfort layer. Overall, they delivered easy playability, and they are, without a share of doubt, one of the best multifilament tennis strings on the market.
Product Specs
Gauge: 16 G
Length: 12 m / 40 ft
Shape: Round
Pros
Best for tennis elbow
Incredibly soft
Very comfortable for the arm
Power
Cons
Get the YTEX Touch Natural Nylon on Amazon.
If you are looking for the most durable option, Head Rip Control strings are the one for you. These strings are an excellent option for aggressive players that aim for powerful and fast l swings. They do an excellent job at maintaining tension and delivering an overall good performance.
The strings can generate great power, helping the player add depth to each shot. The brand has used exclusive Rip technology combined with premium quality materials to construct these strings and enhance features.
We were pleasantly surprised by the control levels they delivered during the playtest. It was easy to hit the targets or redirect the ball to the other side of the court. The strings are extra comfortable and very responsive.
However, the spin potential is quite low, and they deliver a muted feeling, which might not be well-liked by everyone. These were the only drawback we could find; otherwise, these strings work great and deliver a good performance.
Product Specs
Gauge: 16 L / 17 / 18 L
Length: 12 m / 40 ft
Shape: Shape
Pros
Very durable
Control
High power
Affordable price
Cons
Low spin potential
Muted feel
Get the Head RIP Control on Amazon, at Head's Official Site or at Do It Tennis.
Gamma Sports Live Wire must be the softest multifilament strings ever made. The brand has used new technology to construct these strings, making them extremely elastic, dynamic, and resilient. They deliver a nice, plush feel and are very comfortable for the arm, wrist, and shoulder.
These Gamma strings offer high levels of power, which is easy to tap into. They also have enhanced spin potential and good levels of control which was a pleasant surprise during the playtest. We loved how responsive and lively these Gamma strings are. It was easy to redirect the ball or add depth with each shot.
These strings make the game fun by offering easy playability. They hold the tension pretty well; however, they aren't as long-lasting as other options on this list. During our research, we noticed that many players claimed that the strings break easily, which we found to be true, especially when constantly hitting hard. Other than that, they worked perfectly well and can be a good option for beginners and recreational players recovering from injuries.
Product Specs
Gauge: 16 G / 17 G / 18 G
Length: 12 m / 40 ft
Shape: Round
Pros
Very soft
Plush feeling
Comfortable
Power and control
Cons
Get the Gamma Sports Live Wire on Amazon.
The Wilson brand rarely disappoints, so we weren't surprised at all by the excellent performance of their NXT Power strings. As the name suggests, these strings are loaded with sensational power that makes the ball really move through the air. Adding an extra pop at groundstrokes, volleys, and serves was easy. 
These strings are constructed to mimic as closely as possible the natural gut features, making their performance and playability simply outstanding. They offer premium quality too, and excellent, soft touch. They have a very lively response and are comfortable for the arm.
By using these strings, you'll be able to increase the sweet spot size on your frame, making them more user-friendly. The Wilson NXT Power strings can also reduce harsh vibrations at impact, making them a great option for injured players. On the downside, these strings are not durable and can maintain tension for a limited time.
Product Specs
Gauge: 15 L / 16 L / 17 L / 18 L
Length: 12 m / 40 ft
Shape: Round
Pros
Best for power
Reduce vibrations
Increase sweet spot size
Lively response
Cons
Get the Wilson NXT Power on Amazon, at Wilson's Official Site or at Do It Tennis.
Advantages of Multifilament Tennis Strings
The popularity of multifilament tennis strings is by no chance a simple consequence nor a strike of luck for the manufacturers. These type of tennis strings offer some incredible advantages, which helps the player improve performance and connect better with the racket. In case you are wondering, here are some of the advantages we are talking about;
Power: Multifilament strings have high power potential. They are also elastic and have an effortless rebound effect. This is one of their biggest advantages, which is perfect for beginners, recreational, and even intermediate players that need an extra push for the shots.
Comfort: These strings are incredibly soft, and their response can only be compared to smooth silk. That's how comfortable multifilament strings are. They make a perfect option even for players recovering from tennis elbow conditions or other painful injuries who want to put as little stress on their arm as possible.
Feel: The plush and clean feel of multifilament tennis strings are a pure delight for any player. It does not come as a surprise, really, considering how soft and comfortable they are; if you are more into the classical game style or aim for a lot of flat strokes, then you should definitely switch to multifilament strings.
Tension maintenance: Multifilament strings hold tension better than any other synthetic option. Even with frequent use, the tension loss will be slower than usual, helping you save money and time.
Price tag: They come cheap and are easily accessible for all kinds of players. It doesn't matter if you have won a Wimbledon Cup or you are just trying out tennis for the first time. You won't need a sponsor or to break the bank to purchase them, as multifilament strings are very affordable.
Disadvantages of Multifilament Tennis Strings
Unfortunately, multifilaments string come with some disadvantages, which can be a deal breaker for some players. Before making a purchase, it is wiser to look up the downsides, too, just in case.
Control: Multifilament strings noticeably lack control, which is a natural result of the high power potential. This tradeoff makes it harder for the player to redirect the ball. The only thing you can do is to increase tension, even though it will make the frame feel stiff.
Spin: The multifilament string moves less than other options and won't snap back with the same force, either. As a result, the spin potential is quite limited, and the player needs to put some serious effort into generating a decent amount of it.
Durability: Multifilament strings aren't durable enough if you are an advanced player who aims for full, powerful swings and has an aggressive approach to the game. Under a lot of stress, these strings can break relatively soon, especially compared to other synthetic options. They are only more durable than synthetic gut, but that doesn't mean much, as these types of strings can break within their first game.
String movement: One thing you should know about multifilament strings is that even though they don't move as much, they can lose form and stay stuck out of their original place. This usually happens only during powerful swings and can annoy some players.
Power: Yes, you read that right! While we mention power as one of the main advantages of multifilament strings, this is only true as long as you are still in the beginners or intermediate phases. If you are an advanced player, the power can feel overbearing and can mess up your performance or cost you a precious victory.
Multifilament vs. Other Types of Strings
As you might already know, multifilament strings are just one of the exciting types of tennis strings. The other options are natural gut, synthetic, and polyester strings. While all of them have their pros and cons, the choice is personal, depending on players' needs and wishes on the court.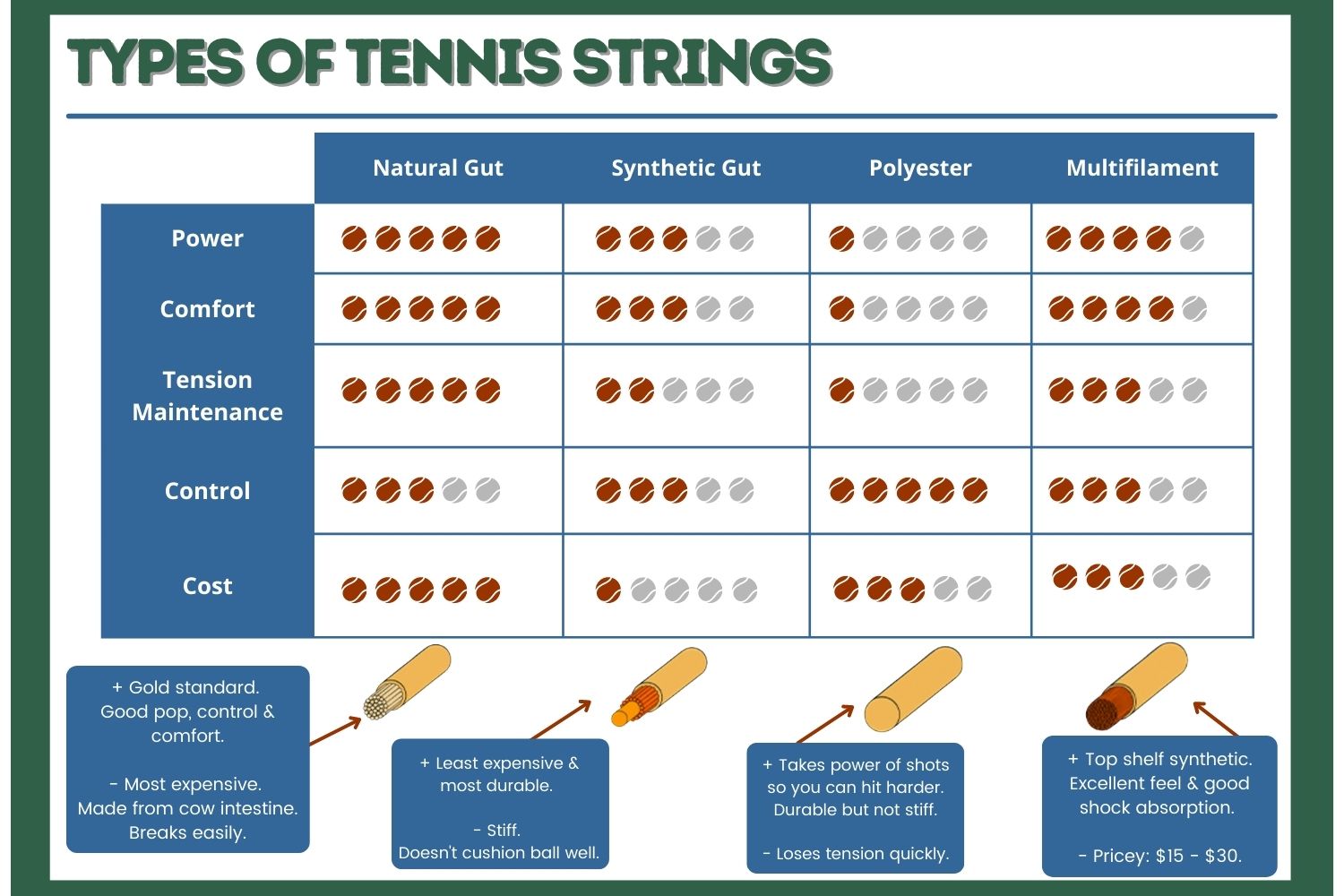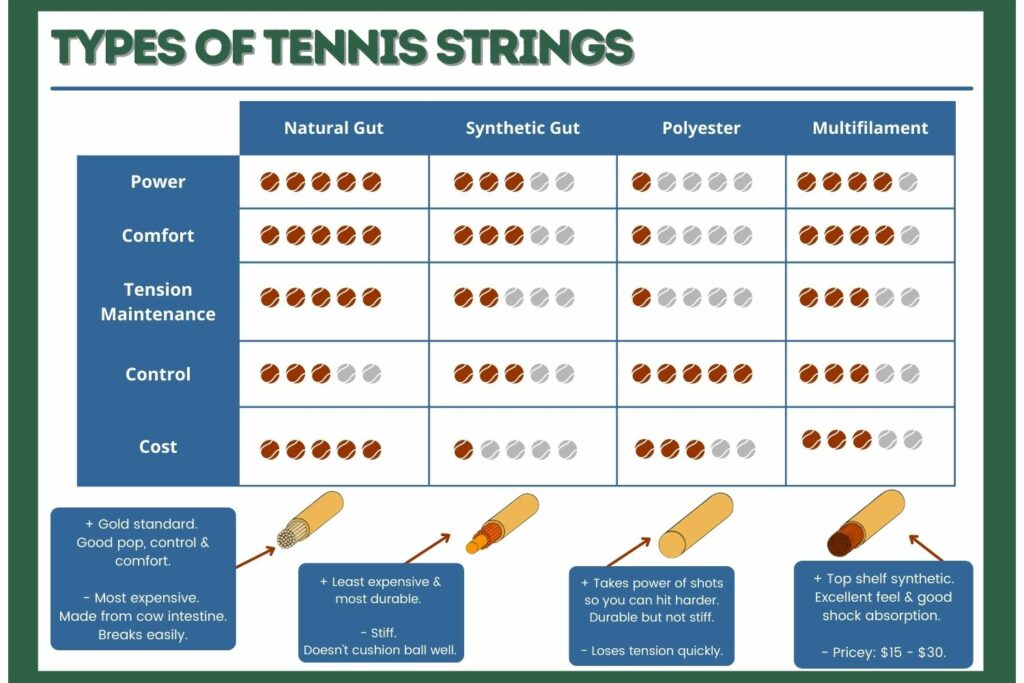 It would be ideal if you could try them all out before deciding what would make the best fit. Even in this case, your preferences on strings might change with time as you evolve in your performance and skills.
In other words, there is no simple answer on what type of strings you should choose. The best thing you can do is to educate yourself as much as possible on the topic, so let's take a look at how multifilament strings compare to other options.
Polyester vs. Multifilament Tennis String
The main differences between polyester and multifilament strings are in their construction and performance. As multifilament strings are made of thousand of microfiber woven together, as explained above, polyester has a monofilament structure with only a single strand.
The polyester strings are much more durable, generate heavy spin, and tend to snap back into place. It allows players to reach for higher angles and powerful, full swings while providing good control levels. All these advantages are the reason why advanced players often prefer polyester over multifilament strings.
However, they are nowhere near as powerful or comfortable as multifilament strings. When choosing between multi vs. poly strings, you should consider your skill levels, game style, and even a possible recovery from injuries.
Multifilament vs. Synthetic Gut Tennis String
Both multifilament and synthetic gut are primarily made of nylon material; however, they have some important differences. Multifilament strings have a higher quality than synthetic gut and are way more powerful. They also tend to hold the tension better and are more soft and elastic, which makes them comfortable for the arm.
On the other hand, synthetic gut strings are more durable and consistent, making them an excellent option for players with an aggressive approach to their game style. They also provide good control and higher spin while still remaining somewhat comfortable. You should choose between these two types of strings, depending on your skill levels and what you need on the court.
How We Chose the Best Multifilament Tennis Strings
We picked up the best multifilament tennis strings based on our long experience in tennis and deep knowledge of the topic. After so many years in the game, we understand the science behind the strings manufacturing process, their impact on performance, and also the players' needs on the court.
To ensure that our readers would have only the best user experience from our recommendations, we researched the market and analyzed the customers' feedback for the best-selling options.
After that, we bought and tested these strings ourselves to complete the reviews. We based our selection on a few important criteria, such as power, control, spin, comfort, playability, etc. Only those strings who delivered all of what we were looking for made it to our final list.
Our Verdict
While this list features great options, we rate Head Velocity MLT as the best overall multifilament strings. They check all the right boxes by offering a variety of features such as explosive power, enhanced spin, feeling, comfort, and durability.
Another favorite pick is the Head Rip Control strings, perfect for high intermediate and advanced players. They offer a combination of spin, power, control, and enhanced performance. Lastly, we recommend YTEX Touch Natural Nylon strings for players suffering from tennis elbow, or other injuries, as they are incredibly soft and comfortable for the arm.
FAQs
For more information about the best multifilament tennis strings, check out these answers to some of the most common questions. If additional concerns arise, contact the manufacturer.
Q: Is multifilament good for spin?
Yes, multifilament strings are a great tennis string option for spin performance. Multifilament strings offer a great balance of power, comfort and control. This makes them ideal for players who want to generate spin without sacrificing too much in the way of power or precision.
The construction of multifilament strings consists of thousands of micro-fibers surrounding the core which are sheathed in an outer wrapping for added durability. Because these fibers move independently from each other, they can be flexed more easily than other string types – especially when striking the ball with heavy topspin shots – resulting in increased spin potential.
Additionally, multifilament strings cushion vibrations better than traditional mono-filaments so you won't experience as much shock after making contact with the ball. 
Q: What tension should I string multifilament?
When it comes to stringing multifilament, you should select a tension between 55-62lbs. This tension range is considered the best option for players looking to maximize power and comfort from their strings. 
The determining factor for selecting the appropriate tension depends on the player's style of play: 
For a recreational player – If you prefer a softer feel and added power, select slightly higher tensions (60 – 62lbs). 
For an advanced/competitive player – If you want more control and consistency or if arm fatigue is an issue, opt for lower tensions (55 – 57lbs). Keep in mind that lower tensions can cause strings to break easier as well.
Q: Is multifilament better than synthetic gut?
The debate between synthetics and multifilament has been ongoing for many years. While the two strings have their strengths, generally speaking, multifilament strings offer much more in terms of playability than synthetic gut.
Multifilament strings are constructed with numerous individual fibers that are bundled together to create a single string. This construction is what makes them stand out from other tennis strings on the market. The benefits include increased power, better shock absorption and improved durability compared to traditional nylon monofilaments (synthetic gut). 
Multifilament strings also tend to hold tension better than synthetic gut due to their greater elasticity or "spring" effect which allows them to snap back quicker after they come into contact with the ball.
Q: When should I replace multifilament strings?
The best time to replace your multifilament strings is when they have lost their "playability" (power and control). This is usually around the 3-6 month mark, depending on how often you play and how well you maintain them. If you can see bare wire fibers poking out of the string bed or if your racket feels limp, then it's definitely time for a new set of strings.
We are sorry that this post was not useful for you!
Let us improve this post!
Tell us how we can improve this post?