Bags are a practical accessory that many ladies find indispensable. If you are a woman tennis player who cannot do without bags and need a bag solely for tennis, I got you covered. I have made a list of the best tennis bags for women that you will currently find.
Tennis bags may seem like a useless investment; however, they can be a great addition to your tennis equipment. These bags will aid you in easily carrying your tennis racket(s) and your other tennis essentials. They come in different types and shapes, and if you are looking for a worthwhile bag, you need to know what to look for before purchasing one.
Feeling a bit confused? Do not worry; I have made a detailed guide on everything you need to know about tennis bags and our top picks for women's tennis bags. Keep reading if you want to find out more!
Best Tennis Bags for Women Reviewed
It's important to take the time to learn more about tennis bags for women and what they have to offer before you make a purchase. Fortunately, there are plenty of great options available on the market today that provide all the features and benefits necessary for holding all your tennis gear in one convenient place. Here are some of the best women's tennis bags currently available:
First on our list of the best tennis bags for ladies, and the best overall tennis bag, is the 6-pack Babolat Pure tennis bag. You cannot go wrong with the Babolat Pure bag; it is a racket bag, so its design is made for your rackets to fit perfectly. This tennis bag will serve as a perfect fit for your rackets, and it will also protect them from any extreme temperatures due to its thermal protection in one of the two biggest compartments.
It will also offer you many pockets and a shoe compartment with ventilation. I find this ideal for players who need to travel and change their shoes after a game, as the shoe storage's ventilation will ensure that the smell does not get to the rest of the items in the bag. Besides its compartments, this bag's fabric is made of high-quality fabric that you will appreciate due to its durability. Whether you drag it to the trunk or a hard court, this bag will withstand the abrasiveness.
I believe this bag to be the best for women; however, I must admit that it does have a downside. It can only store up to 6 rackets, which may be a problem for all professional women who like to carry 9 or more rackets. Nevertheless, it checks all the boxes quality-wise, so if you are willing to sacrifice a bit of space, you will be delighted with this product's quality.
Product Specs
Type: Racket bag
Racket storage: 6
Straps: 2
Shoe storage: Yes
Pros
Thermal protection
Shoe compartment
High-quality fabric
Cons
Get the Babolat Pure Tennis Bag on Amazon.
If you are looking for an option that looks both chic and sporty, the Wilson Women's Tennis Tote Bag is the ideal alternative. This bag has a smart and nice design; it is organized and thoughtful with its pockets and compartments. The bag has a removable zipper shoe bag that you can attach or detach. It is not a compartment within the bag to avoid any unpleasant smells, and it can fit up to two pairs of shoes!
Aside from that, this Wilson bag has a padded racket compartment that protects against any shocks that the bag might undergo. Hence, you can ensure that your racket(s) will be safe! Lastly, it has thermally insulated pockets that are perfect for keeping a water bottle or any other items that you do not want to be damaged from the heat.
The only downside of this bag, as with the previous one, is its size and that it can only hold two rackets at most. It is a great bag, but it will not work out if you need to store more than two rackets.
Product Specs
Type: Tote Bag
Racket storage: 2
Straps: 2
Shoe storage: Yes
Pros
Removable zipper shoe bag
Padded racket compartment
Thermally insulated pockets
Cons
Get the Wilson Women's Tennis Tote Bag at Wilson's Official Site, on Amazon or at Do It Tennis.
If you do not want to break the bank by buying a bag, the Sucipi tennis bag is the best cheap option. This is a lightweight backpack that you can easily carry everywhere during trips. It is a budget-friendly bag, and it has impressive quality despite its price.
Aside from being affordable, it has a wide range of motifs and colors you can choose from. It offers you pink, black, baby blue, mixed colors, or leaf-like designs. So, there is definitely a bag in this line to fit your preferences and make you look stylish and cool!
The most convenient thing about the Sucipi tennis bag is its many compartments, specifically designed for certain accessories and items. It has a tennis racket pocket to keep your racket, a ventilated compartment for shoes, mesh pockets for water bottles, and other pockets you can use for other essentials.
Although it is a pretty convenient and stylish choice, its main usage is to store your tennis racket. And while it is supposed to store up to two rackets, I noticed that that might be an issue with larger rackets. Despite that, it is a good option for its price!
Product Specs
Type: Backpack
Racket storage: 2
Straps: 2
Shoe storage: Yes
Pros
Affordable
Variety of motifs and colors
Many compartments
Cons
Difficult to fit more than one racket
Get the Sucipi Tennis Bag on Amazon.
The best women tennis backpack you will find is the Babolat Pure Ltd. backpack. This tennis bag for women is lightweight, so it is perfect for long trips, especially if you will be carrying it on your back for a long time. Even when you fill it up with the essentials, it will still feel light and will not weigh down on you too much.
Additionally, its straps and the back of the bag are padded to avoid any discomfort while you are carrying it. The padding ensures that even when the bag is heavier due to the items inside it, the straps will not hurt your shoulders, and neither will your back hurt from rubbing against these items.
A good tennis backpack has many pockets and compartments, and the Babolat Pure has plenty. It has two large compartments, one for your rackets and another for essential equipment. At the bottom, it has a shoe compartment where you can store a spare pair and switch for the used ones once the game is over. The Babolat Pure also offers two smaller pockets where you can keep things such as sunglasses, water bottles, tennis balls, etc.
If I had to think of a negative thing regarding this tennis bag, it would be its size. Backpacks are not known for being spacious and storing more than two rackets. So if that is what you are looking for, you will not find it in the Babolat Pure. Nevertheless, I believe this is an excellent option for those who want a backpack and are happy with having less space for their rackets!
Product Specs
Type: Backpack
Racket storage: 2 uncovered
Straps: 2
Shoe storage: Yes
Pros
Lightweight
Padded straps and back
Many separate compartments
Cons
Get the Wilson Women's Tennis Tote Bag on Amazon or at Do It Tennis.
For all the ladies who love to look stylish even on the court, the Ame & Lulu Love All Court Bag might be your go-to. This is the best stylish bag; it has appealing designs with hearts or crossed rackets, witty quotes, and pastel pink colors. The bag is sure to make you stand out from the rest.
Design aside, it is also lightweight. You will find this convenient if you store many items inside. Even if the items are heavy, you will not feel the weight extensively. You may want to know that it does not have a separate shoe compartment. However, it has plenty of space to store everything you need, be it shoes, clothes, or other smaller items.
This bag also has a separate zipped compartment for your tennis rackets so that they do not tangle with other items and get damaged. A drawback of this bag is that it is not extremely durable. It is not bad quality-wise, but its material is not thick enough to withstand abrasion for a long time. Nevertheless, if your main concern is looking fashionable while having the space to store all your equipment, this bag will do the trick!
Product Specs
Type: Tote Bag
Racket storage: 2
Straps: 2
Shoe storage: No
Pros
Stylish
Light
Plenty of space
Separate compartment for rackets
Cons
Get the Ame & Lulu Love All Court Bag on Amazon.
The Nike Brasilia Small Duffel is the perfect option for those who prefer a duffle bag instead of the other options. What makes this bag so great is the amount of space it offers. It is spacious and organized in many compartments and pockets so that you can store all items and have easy access to all of them.
Another thing about this bag is that Nike has a variety of colors available to choose from, whether it be pink, red, blue, black, etc. So, you will surely find something that suits your taste! Additionally, this bag is also durable. You can carry it with you and put it on any surface, and you will not notice any damage to it for a long time.
The only downside of this duffle tennis bag is that there is no padding on the straps, so it may be uncomfortable to carry it for a long time. Otherwise, if you want a duffle bag, you will not be disappointed with this one!
Product Specs
Type: Duffle bag
Racket storage: 2+
Straps: 3
Shoe storage: No
Pros
Spacious and organized
Color options
Durable
Cons
Get the Nike Brasilia Small Duffel on Amazon.
Best with Shoe Compartment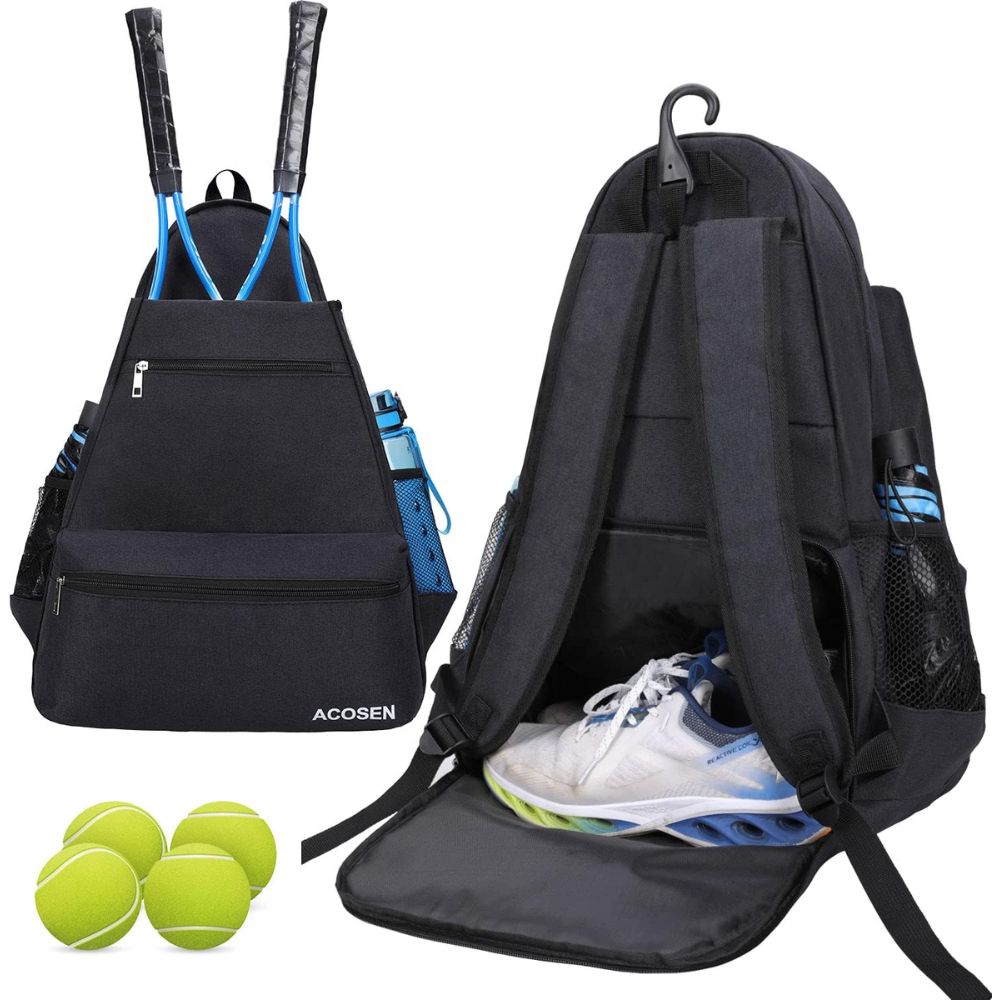 In 2021 ACOSEN launched their new backpack, which added a new shoe compartment on the back that the original one didn't have. The bag has 6 pockets, making it convenient to organize all your belongings and protect your tennis racket.
The backpack also includes two large water bottle holders, one on each side. The capacity of this bag is also great. One main compartment can hold clothes, towels, and so on, and a dedicated racket compartment that can store about 2-3 rackets.
This is suitable for an average tennis player. However, professionals might want to keep in mind that this might not be enough racket storage. It's also a very multi-functional bag that you can use for anything when not playing tennis. The only downside is that it can wear down quite fast in some cases. However, it's still an incredible backpack for its price and the best shoe storage one you will find!
Product Specs
Type: Backpack
Racket storage: 2-3
Straps: 2
Shoe storage: Yes
Pros
Shoe storage
Capacity
Multi-functional
Cons
Get the Wilson Women's Tennis Tote Bag at Wilson's Official Site, on Amazon or at Do It Tennis.
This tote tennis bag for women is perfect for you if you want a tennis bag that will turn heads. It features unique design elements and colors that will certainly make people think you have a unique sense of style.
However, the bag is also practical, featuring two large exterior slip pockets that will fit most rackets. It also has 6 slip pockets overall, 4 on the exterior, and 2 on the interior, with one more interior zip pocket. This is more than enough space to store keys, phones, or even shoes.
The polyurethane material makes it very durable and also water and stain-resistant. The only downside is that you might struggle to fit oversize rackets into this bag, as the pocket storage might be too tight for an oversize racket.
Product Specs
Type: Tote bag
Racket storage: 2
Straps: 2
Shoe storage: Yes
Pros
Water and stain resistant
Durable
Stylish
Cons
Get the Court Couture Cassanova Tennis Bag on Amazon.
This cute racket backpack falls on the smaller side but still has everything you need. The dedicated racket compartment can hold a maximum of 2 rackets, keeping them separated and perfectly protected. The padded shoulder straps make it extremely comfortable to wear, and they can be adjusted to your preference.
The main compartment is spacious enough for extra balls, towels, or shoes. On the side, you can also find a dedicated water bottle pocket to store your drink. The bag is made out of quality material that's quite durable. The only negative is that it's quite a small backpack that fits only one or two rackets. However, this is a very cute-looking backpack that does its job well while also helping you look good.
Product Specs
Type: Backpack
Racket storage: 1-2
Straps: 2
Shoe storage: Yes
Pros
Stylish
Comfortable
Durability
Cons
Get the LISH Ace Tennis Racket Backpack on Amazon.
Different Styles of Tennis Bags for Women
You can choose from four types of tennis bags: racket bags, backpacks, tote bags, and duffle bags. Below you will find more information on each:
Tennis Racket Bags
Racket bags are the ideal option for carrying your tennis rackets. They are usually made from materials such as polyester and nylon. They have enough space to hold 3 to 15 rackets based on their size. 
These tennis bags get their name from their shape; you will notice that it resembles a tennis racket's shape, with a bigger and rounded front and a narrower back. They are perfect for professional players who often carry many rackets with them as they can store all rackets in the same place without any issues. However, that is not to say that players of other levels cannot use them; any beginner or intermediate player will find them useful.
Although these bags are made to keep rackets, many players will put up to three rackets inside and use the remaining space for other equipment (tennis shoes, balls, stringing machine, etc.). Additionally, racket bags have a hard layer to protect your rackets from damage, making them quite safe.
Tennis Backpacks
Backpacks are one of the most common bags you will encounter in everyday life and tennis. This is a more versatile option than racket bags as they are smaller, but they have more space and compartments for other tennis gear than just rackets. The bags have pockets where you can store towels, shoes, and more.
Nevertheless, due to their smaller size, they do not have as much space to carry many rackets as racket bags do. Most tennis backpacks can only fit up to two rackets simultaneously.  And for those who like to keep things neat, these bags will have your racket's handle sticking out, so it may not be the best option.
Backpacks are easier to carry than the other tennis bag alternatives and quite practical. They are the preferred option for beginner and intermediate players and instructors who need to travel from one place to another and like to keep the things they are carrying to a minimum.
Tennis Tote Bag
Tennis tote bags are a cute and stylish alternative to backpacks. Although they are not as easy to carry, since you will be holding the bag's straps on one of your shoulders, they are comfortable and lightweight.
These tennis bags for women can store one or two rackets, and they have some space for a few smaller things you may need, such as towels or a water bottle. Tote bags are perfect for women who like to look chic, even when into sports. These bags come in different motives (shapes, colors, patterns); hence, you will have various options to choose from.
Although these bags are comfortable, you may find the racket's handle sticking out of the bag somewhat frustrating, as it may interfere with the tote bag's straps.
Duffle Tennis Bag
Duffle bags are a middle ground between backpacks and racket bags. Their shape is long so that the bag can comfortably fit one or more rackets, and it is spacious enough to store many other pieces of equipment as well.
These bags are a great choice for players who need to travel often and need their tennis racket, shoes, and more essentials during their trip.
However, you need to know that not all duffle bags are large enough to fit your rackets. Nevertheless, if you find one that suits your needs, you will see how convenient it is as it offers you a level of organization that the other types of tennis bags will not.
Things to Look for When Buying Ladies' Tennis Bags
There are several factors to consider when choosing between the best tennis bags for women. These factors are racket storage and compartments, shoe storage, and the tennis bag's durability and comfort. Below you will find a description of each to help you understand their importance:
Racket Storage & Compartments
Racket storage and compartments of a tennis bag for women are two interconnected features you should consider, as they will make a huge difference in what you can store inside your bag and how many items you can store in it.
Racket storage refers to the number of rackets the bag can fit in. Tote bags and backpacks can fit up to two rackets at most, so their racket storage is limited. On the other hand, duffle bags and racket bags can fit even more. Racket bags especially are designed to hold up to 15 rackets, as mentioned above, but that depends on the bag's size.
The most common sizes for these bags are 3, 6, 9, 12, and 15, with the digits referring to the number of rackets you can store.
Professional players often opt for size 12 or 15 bags, but if you are a beginner or someone who plays recreationally, you may want to opt for the smaller sizes. Your bag's size will largely depend on your preferences and the number of rackets you want to store.
Meanwhile, compartments refer to the separate sections in your bag where you can store other pieces of equipment. Some women's tennis bags will offer you separate compartments to put your shoes, towels, hats, clothes, and a compartment for your tennis rackets.
Additionally, some of the best tennis bags for ladies provide you with insulated compartments that will keep your rackets at a consistent temperature and humidity to avoid any loss of string tension due to temperature fluctuations. Again, the number and type of compartments you need depend solely on your preferences and what you want to carry.
Shoe Storage
Shoe storage is another factor to consider before purchasing a women's tennis bag. The name also refers to compartments in a tennis bag designed to store your shoes. It is no surprise that after a long and taxing tennis match, you will want to change your shoes to feel fresher and more comfortable.
You can easily do that once you are at home if the tennis court you are playing on is nearby. However, if you are in a tournament or need to travel elsewhere for your match, you will need a pair of extra shoes to change to once you are done or an extra pair of tennis shoes to avoid wearing them out too quickly. In such cases, you will be thankful to have a separate compartment in your tennis bag to keep your shoes.
All tennis bags will have some space for extra items; however, not all will have these extra compartments. And truth be told, after a long day at court, your shoes probably do not smell the best, so leaving them in the same place as other items will "contaminate" your other equipment. Hence, some bags (mostly backpacks and racket bags) will provide you with ventilation compartments to solve the smell issue.
Durability
Considering that you will need to keep your bag in the car's or bus' trunk or place it down on a hard court, you can be sure that it will be damaged sooner or later. So, when you look for a tennis bag, you should make sure it is durable enough to resist the abrasive surfaces it will end up on.
There are two things you should be wary of: the material used and the durability of the zippers. A good tennis bag for women will be made out of high-quality and durable material, which will ensure that your bag will not end up wearing away after a few uses. Additionally, you should check if their zippers are durable (heavy-duty zippers should be your go-to) so that they do not break easily.
A quick tip: some tennis bags will have warranties that cover issues such as broken zippers; that will give you some security in your choice.
Comfort
Comfort should be one of your primary concerns when looking for ladies' tennis bags, especially if you have to carry it for prolonged periods. For instance, if you get a backpack or a racket bag that you will carry on your shoulder(s), you should check if the bag straps have padding incorporated or not. This is an important issue because straps without padding or little to no padding will hurt your shoulders.
As for women's tennis backpacks, it would be wise to get one that has padding on its back, too, to avoid the uncomfortable feeling of your rackets/other equipment rubbing against your back.
Our Verdict
Our top two picks for the best tennis bag for women are the Babolat Pure Tennis Bag and Wilson Women's Tennis Tote Bag. Both options will offer you comfort, durability, and more. Their material is of high quality, and so are their zippers. Both rackets have thermal protection to keep your rackets safe from extreme temperatures and humidity.
They also have a shoe compartment for you to store your shoes in; the Babolat Pure has ventilation in that compartment, whereas the Wilson bag has a detachable bag for shoes. Both ensure that your bag will not smell if you put your shoes there. These two differ as the Babolat Pure is more suitable for players carrying many rackets, whereas the Wilson can only hold up to two rackets.
How We Choose the Best Tennis Bags for Women
To choose the best tennis bags for our ladies following us, we considered a variety of tennis bags, some of which did not make the cut. The ones that made the cut are all high-quality ones that will not disappoint.
We evaluated compartments, durability, comfort, shoe storage, and more when testing the tennis bags and included only those bags that ticked the box in most of these features. We also ensured the inclusion of at least one bag from each type so that our readers could have an alternative that suited their taste.
FAQs
If you aren't entirely sure how to choose a tennis bag for yourself or a loved one, here are answers to some of the most frequently asked questions about women's tennis bags.
Q: What do pro tennis players keep in their bags?
Pro tennis players keep a variety of items in their bags. However, the most important and essential are their rackets. Most top professional players will carry between 4 to 8 rackets with them when they go to tournaments. This allows them to have the right racket for each type of court surface and the right weight, balance, size, and string tension for any given match.
Aside from rackets, pro tennis players may also bring other necessary items such as spare clothing (t-shirts, shorts, etc.), headbands/ sweatbands, various accessories (towels, grip tapes, etc.), straps or wraps for injuries prevention or recovery during matches, strings & stringing tools in case restringing is needed on-site at tournament venues, energy drinks & nutrition supplements to help replenish lost energy during matches, overgrips and grips depending on the player's preference. 
Q: Why are tennis bags so expensive?
Tennis bags are expensive because of their bigger size and capacity, as well as their professional designs. They are designed to carry multiple rackets, balls, and clothing, making them much larger than smaller bags like those used for running or biking. The construction of these bags also plays a role in their higher prices since they usually include padding, extra pockets for storage and convenience, and straps to help distribute the weight evenly.
Q: Are tennis bags worth it?
Absolutely! Tennis bags are worth the investment if you're a serious player. Not only do they allow you to store, protect, and properly transport all of your gear, but they also make it easier for you to look organized and professional on the court. When you consider the cost of tennis rackets –– upwards of $250 or more –– it's a no-brainer to buy a good quality tennis bag for women as well. 
Q: What bag does Federer use?
Serena takes to the court with a Wilson Tour V 15-Pack Tennis Bag, which features a large main compartment as well as two hydration pockets and seven compartments for optimal organization. The bag also features a dedicated cooler pocket for up to three racquets or snacks and includes adjustable straps for easy carrying when off the court. It's not only highly functional but looks good doing it – perfect for someone like Serena, who is always on point both on and off the court!
We are sorry that this post was not useful for you!
Let us improve this post!
Tell us how we can improve this post?