Generating spin is one of the most important skills a tennis player can have because it helps with being in better control of the ball. Regardless of the level they are at; all players aim to generate as much spin as possible; to have more advantage than the opponent. The racket strings you use can really make a difference; that's why we came up with a selection of the best tennis string for a spin.
To make the experience easier for you, we also featured everything you need to know about the features top spin strings should have. This is the only guide you'll ever need to make the best pick for yourself, spend your time on court practicing, and not exhausting searches for the best options. Keep scrolling!
Best Tennis Strings for Spin Reviewed
To make the shopping experience enjoyable and easy for you, we came up with a selection of the best tennis strings for a spin after a long market research process. In this list, we have featured options for different categories and by some of the most trusted brands.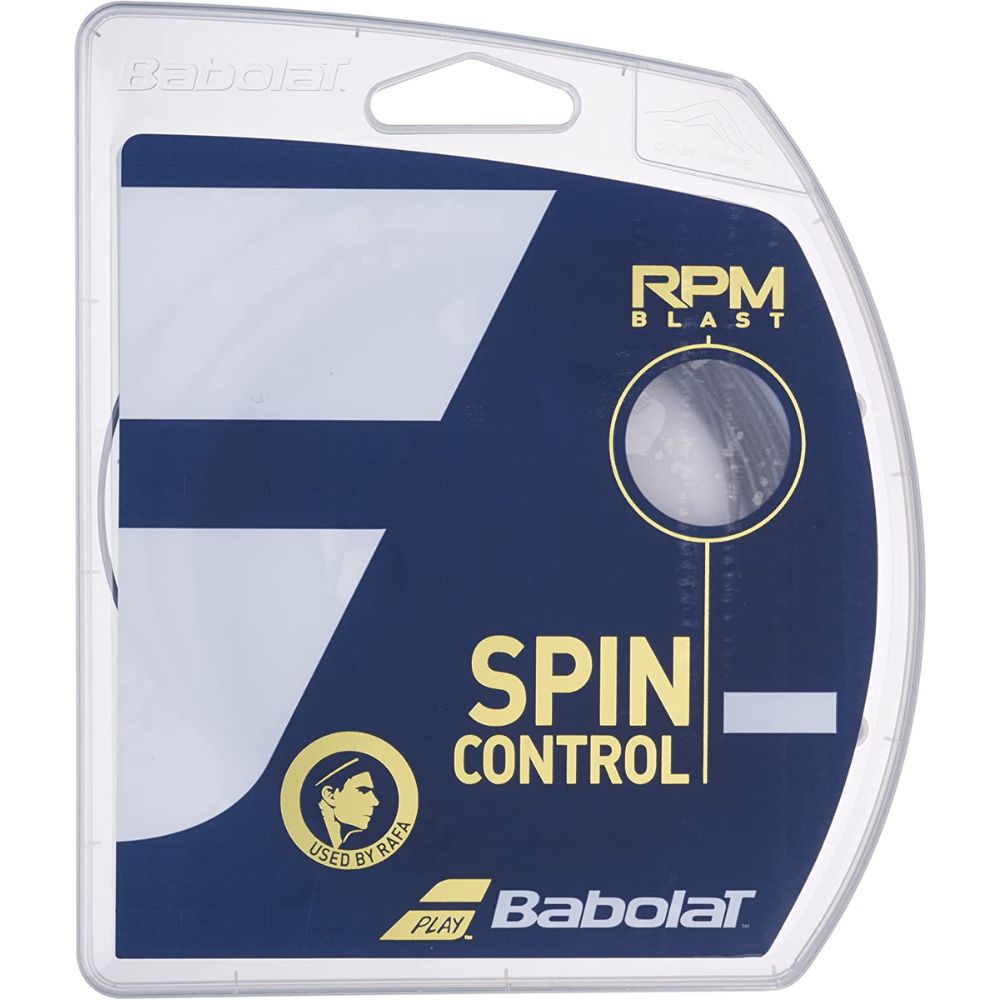 Babolat RPM Blast is the golden standard of how high-quality strings should perform; that's why we decided to rate them as the best overall. These strings deliver incredible spin and allow the players to have more control. It's a great option for those who aim for full speed and higher bouncing balls.
These strings were more durable than all the other options, which is always a nice feature to have. They tend to be easier on the arm too, and despite the tension rate, you won't feel the vibration as much as with other strings.
Babolat RPM blast comes in 16, 17, and 18 gauge, so the player can choose how thick they want their strings to be. They have an octagonal shape, a sleek feeling, and won't lose tension fast. No wonder these have been the most popular tennis strings on the market for years now.
Product Specs
Material: Polyester
Gauge: 16L, 17L, 18L
Length: 40 feet / 12,2 m
Shape: Octagonal
Pros
Incredible spin
Speed
More durable than other options
Don't lose tension
Cons
Get the Babolat RPM Blast on Amazon or at Do It Tennis.
In the runner up category we decided to feature Wilson Revolve Tennis strings, for their "wow factor" during the playtest. The Wilson brand isn't the go-to when it comes to strings, as they are more focused on other gears, but the playability and performance of these strings were really impressive.
Wilson Revolve strings deliver incredible spin and are a perfect option for big strikers. They offer also a lot of control, helping the player to land the ball in court with precision, without the fear of overhitting. The feeling is a bit muted but good enough to allow connection with the ball and be highly responsive.
Wilson Revolve is designed with a firm construction, but it is still comfortable enough for the player not to feel the overwhelming shock impact on the arm. The only downside we could find on these strings is that they tend to lose their tension over time. On a side note, they come at a good price, so it won't be much of a burden to replace them.
Product Specs
Material: Composite
Gauge: 16L
Length: 40 feet / 12.2 m
Shape: Pentagonal
Pros
Heavy spin
Control
Great performance
Affordable price
Cons
Get the Wilson Revolve Tennis String on Wilson's Official Site, on Amazon or at Do It Tennis.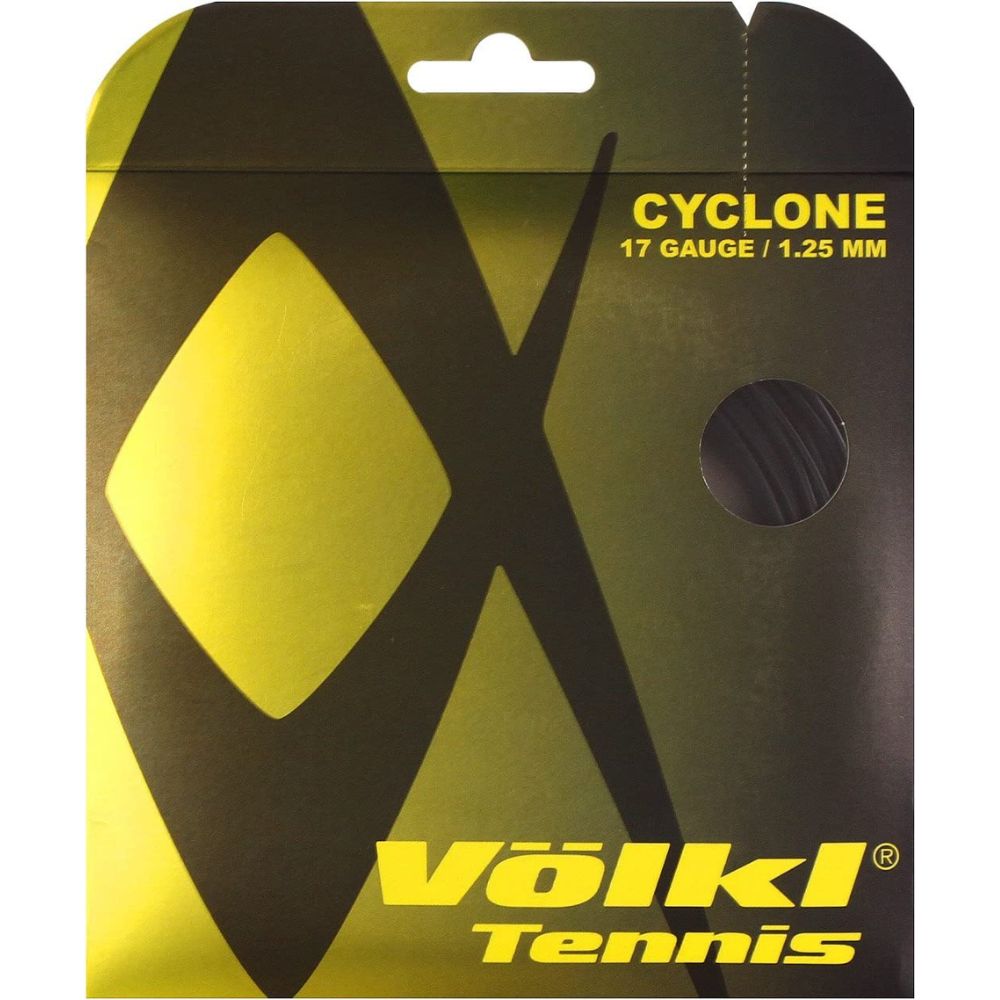 For those on a tight budget, we strongly recommend Volkl Cyclone tennis strings. These have a unique gear shape, which aims to enhance spin, allowing aggressive baseliners to hit full powerful strokes with ease. Vols strings maintain tension pretty well and offer a lot of control and precision on the court.
They come at a great affordable price and are designed to be very durable; these strings will last you for a surprisingly long time and won't break. These strings are made of firm materials but offer a decent level of comfort. They do lose power over time; however, even after a few game sessions, these Volkl strings had an overall good performance.
Product Specs
Material: Polyester
Gauge: 16L, 17L
Length: 40 feet /12.2 m
Shape: Gear
Pros
Best budget
Heavy spin
Control
High durability
Cons
Get the Volkl Cyclone Tennis String Black on Amazon.
Best for Spin and Control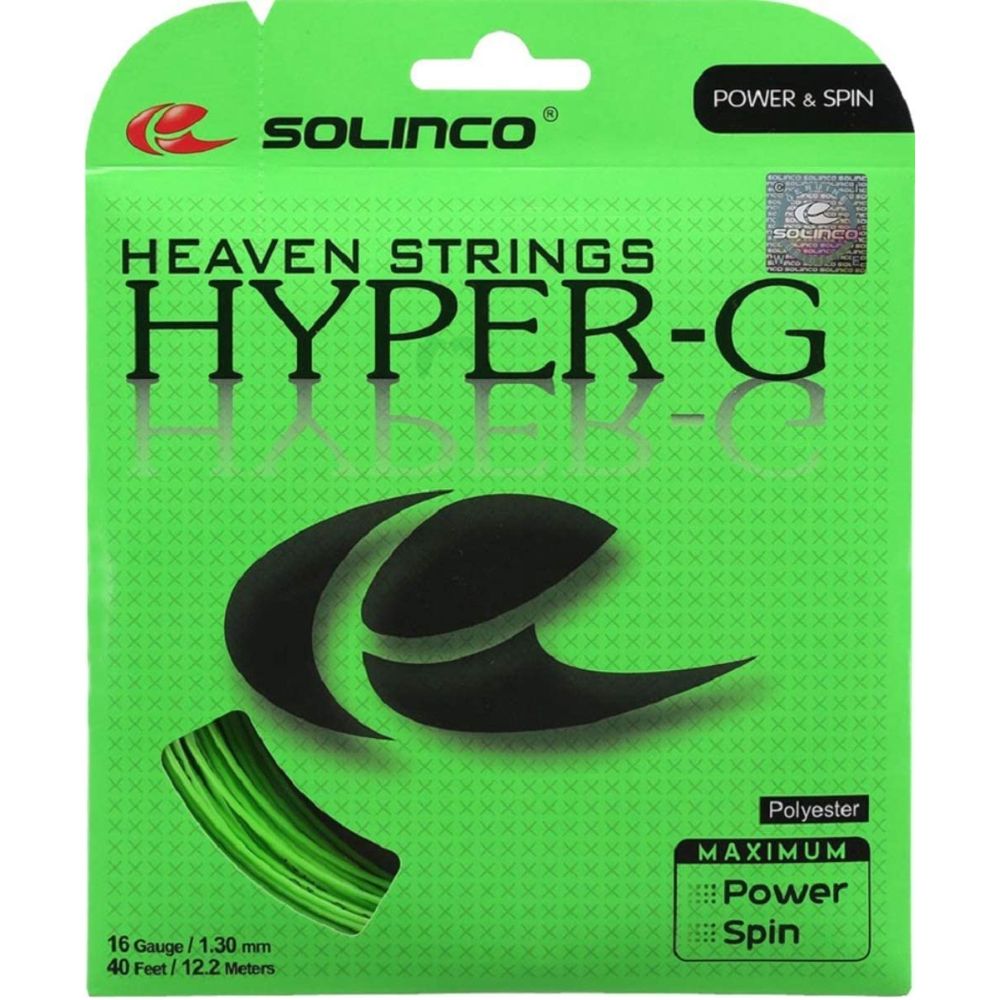 If you aim for a heavy spin and high control in your game, then Solinco Hyper-G is the one for you. During the playtest, what impressed us the most was the sense of control these strings delivered; it was easy to dictate where the ball would land with each shot.
Solinco Hyper-G strings are low-powered, so you'll hit the ball without the fear of overhitting and missing some precious points. These strings do a great job of holding tension and are quite durable as well. They have a square shape with a firm structure design and come in 16 and 17 gauge, allowing the player to choose the string thickness.
One major downside is the low comfort level, which is not a surprise when it comes to strings made for a heavy spin; however, we recommend that beginners or players who are recovering from an arm injury stay away from these strings.
Product Specs
Material: Polyester
Gauge: 16L, 17L
Length: 40 feet /12.2 m
Shape: Square
Pros
Best for spin and control
Durable
Precision
Affordable price
Cons
Get the Solinco Hyper-G on Amazon or at Do It Tennis.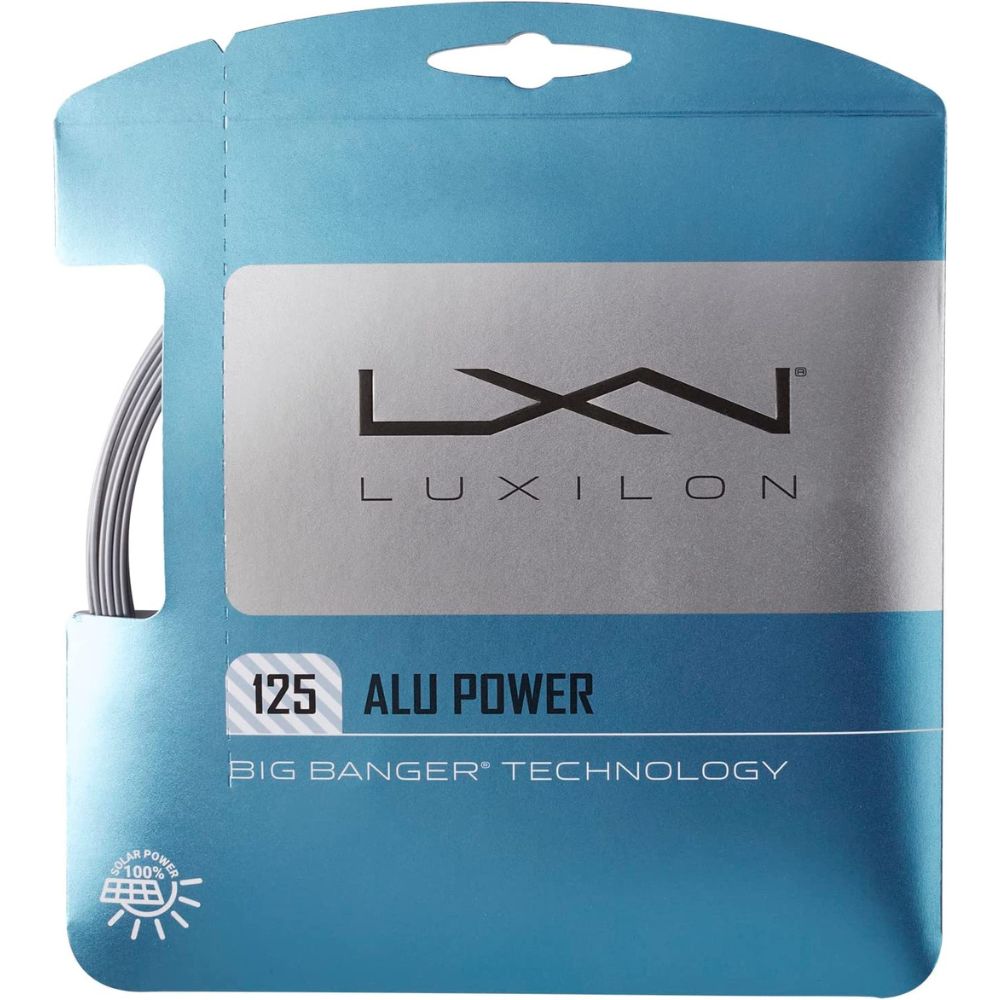 Most tennis strings that generate heavy spin are low powered, but if you are looking for an option that offers both then Luxilon Alu power is the perfect option for you. These strings offer different power levels to shoot powerful strokes with ease. The strings come in a 16 gauge to improve control. What makes Luxililon strings spin-friendly is their pentagonal shape, which allows fast swings with a higher bounce. 
Overall, these strings deliver a nice feeling and are more sleek and soft when compared to other options, making them comfortable to play with. Durability is not the strongest point of Luxilon Alu strings, but they will last you for a decent time and come at a good price, making them easier to replace.
Product Specs
Material: Synthetic
Gauge: 16L
Length: 40 feet / 12.2 m
Shape: Pentagonal
Pros
Best for spin and power
Comfortable
High Control
Nice feel
Cons
Get the LUXILON Alu Power on Amazon or at Do It Tennis.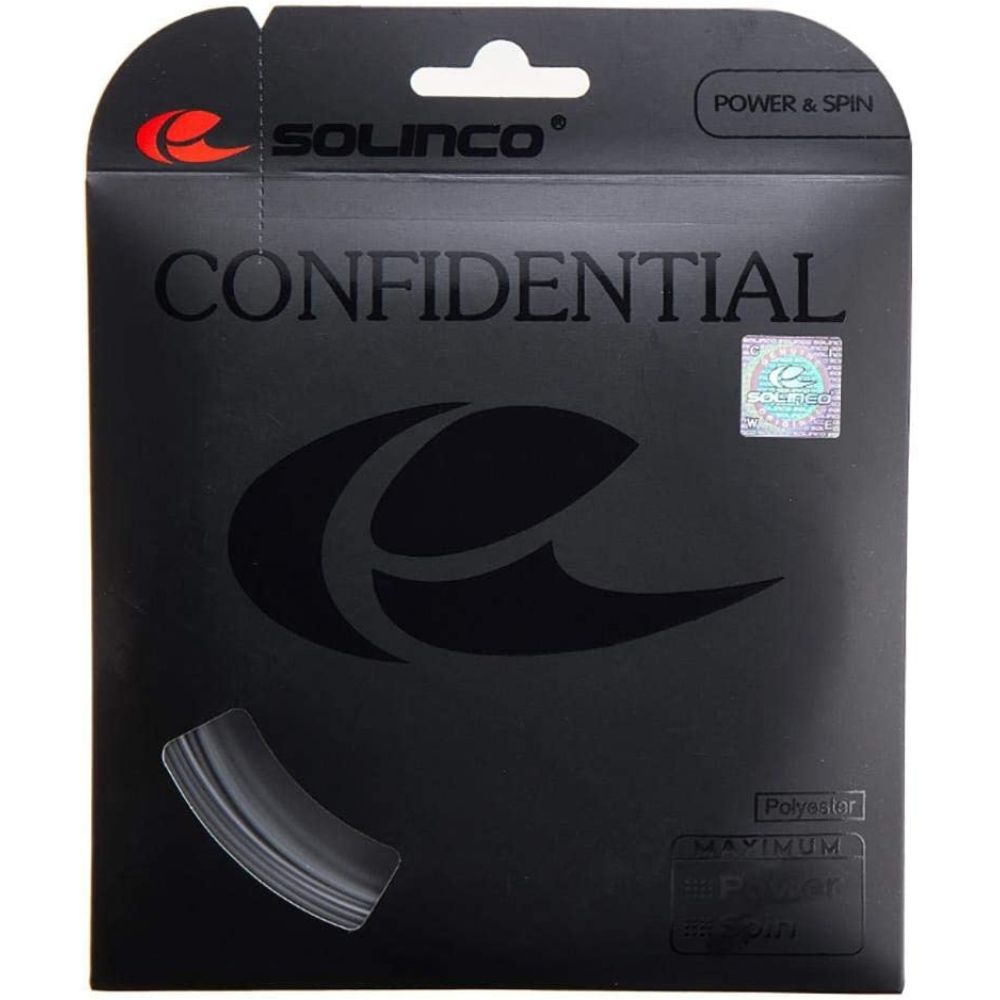 Let's face it; constantly replacing a racket's string is not something any player looks forward to. So if you are currently on a hunt for the most durable tennis strings, Solinco Confidential is the perfect option for you. These strings hit the market in 2020 and soon gained a lot of popularity.
Solinco Confidential strings are designed for a heavy spin and maximum power. The playtest performance was splendid, particularly in the baseline, where it provided powerful strokes. They deliver a nice feeling, are well-balanced, and offer great control, making these strings enjoyable to play with.
Solinco Confidential strings are made of versatile polyester material, which is newly developed to be more durable and long-lasting, which is a rare feature for tennis strings made for a spin. However, they are not very comfortable, which is a fair tradeoff, considering how much speed and topspin they produce.
Product Specs
Material: Co-polyester
Gauge: 16L, 17L, 18L
Length: 40 feet / 12.2 m
Shape: Square
Pros
Ultra-durable
Heavy spin
Control
Maximum power
Cons
Uncomfortable for the arm
Get the Solinco Confidential on Amazon or at Do It Tennis.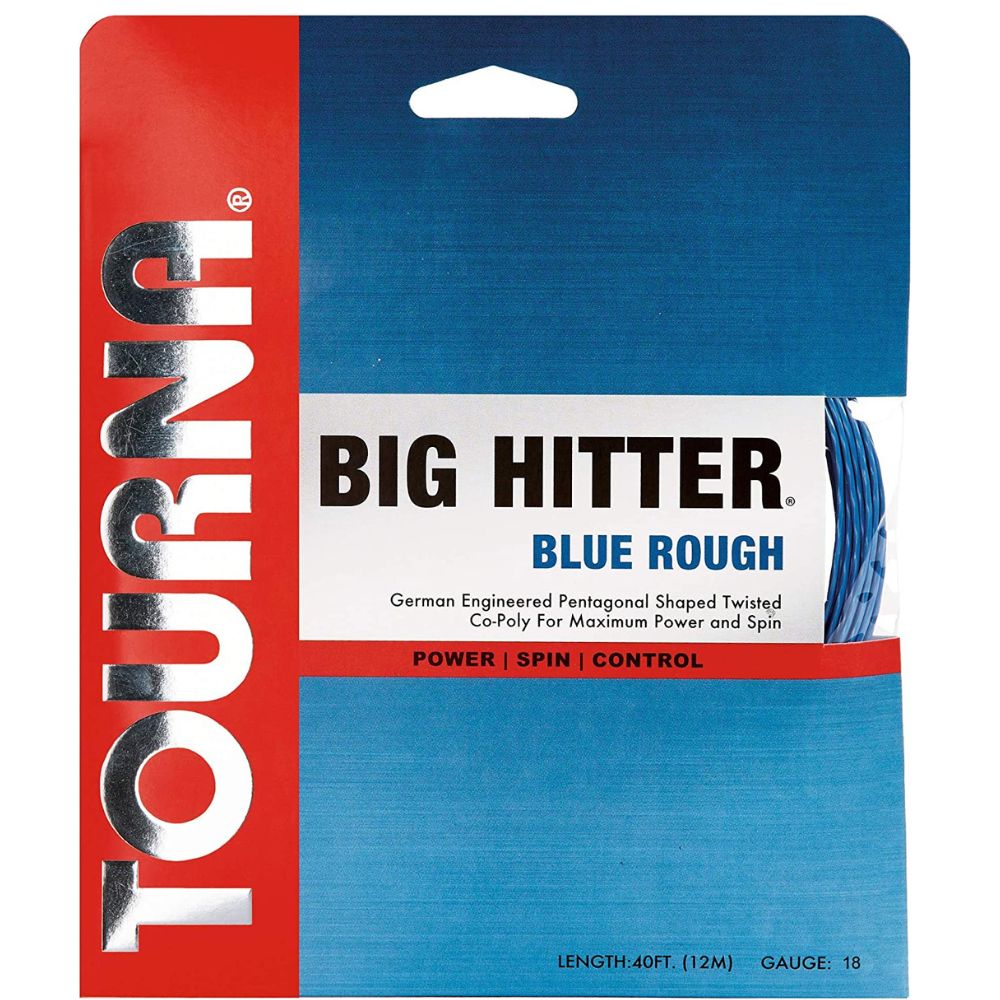 Another favorite pick on our list of top tennis strings for strings is Tourna Big Hitter Blue Rough Maximum Spin. These strings are designed to deliver incredible spin levels; due to the sharp edges that grab well at the ball for maximum impact and high speed.
These are one of the most powerful tennis strings, yet they have a soft feeling. Tourna strings are engineered by new german technology and continuously rate as the best polyester tennis strings.
We recommend this for aggressive baseliners who are looking to add more spin to their flat strokes. These strings maintain the tension very well and are quite durable. They aren't exactly the most comfortable strings to play with, but overall the shock impact wasn't as noticeable as one might expect.
Product Specs
Material: Co-polyester
Gauge: 18L
Length: 40 feet /12.2 m
Shape: Pentagonal
Pros
Best hybrid
Incredible spin
Nice feeling
High control
Cons
Get the Tourna Big Hitter Blue Rough Maximum Spin on Amazon.
What to Consider When Choosing the Best Tennis Strings for Spin
Picking the right pair of strings according to your skill levels, goal, and game strategy can be more complicated than picking the right racket. Strings are the only direct contact of the racket with the ball, so their quality and features directly impact how you perform in court.
Choosing tennis strings that help you generate more spin means controlling the trajectory of the shots more efficiently while having a safer margin error. Not all strings are created the same because depending on certain features can add power or control and lower the amount of spin. That's why a player needs to be able to differentiate amongst different string types.
Here is what you should consider when choosing the best tennis strings for spins.
Material
When shopping for good tennis strings, the first feature you'll come across is the material. This is important to consider because not all string materials are able to produce a lot of spins. Knowing which one will help you to narrow down your option immediately.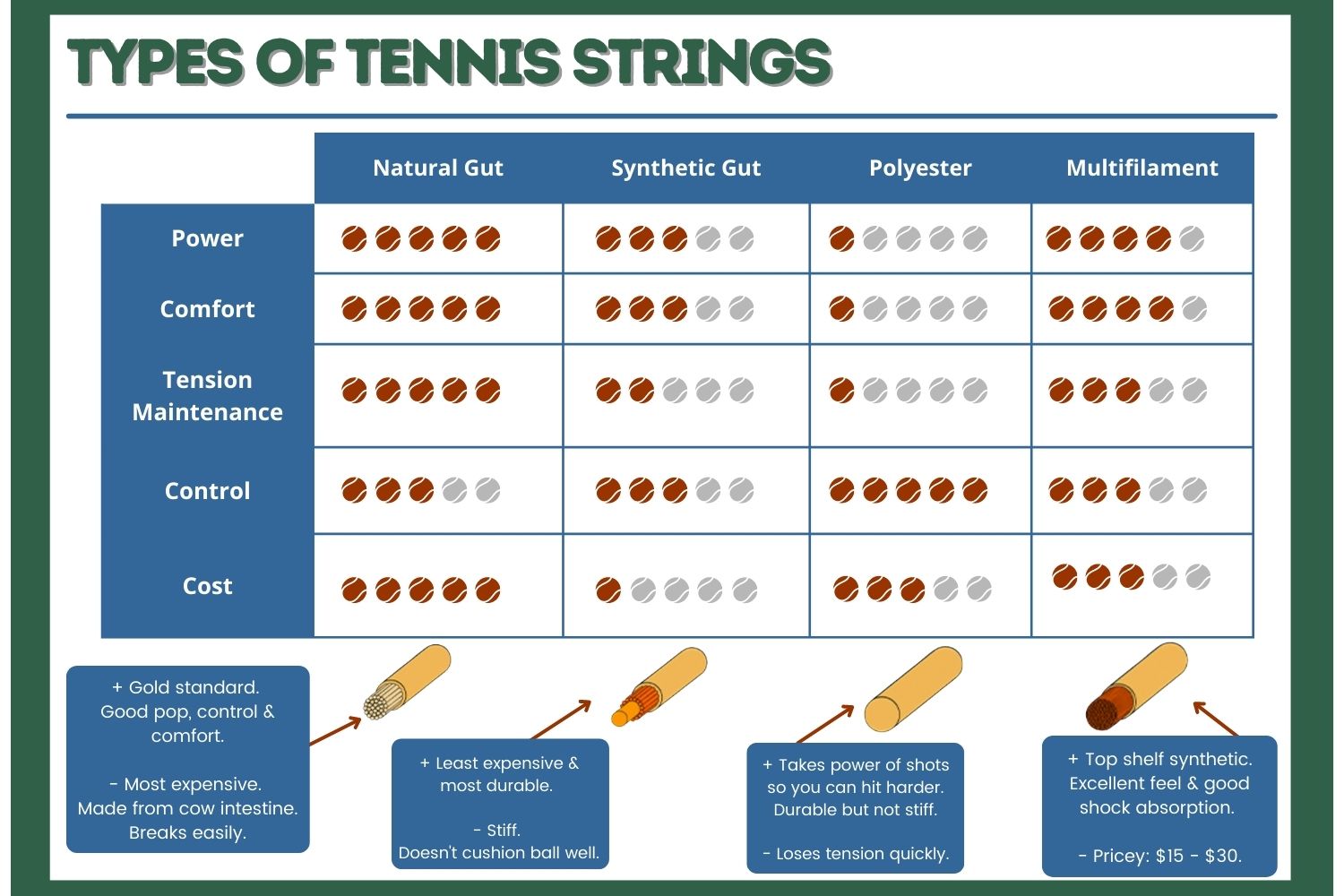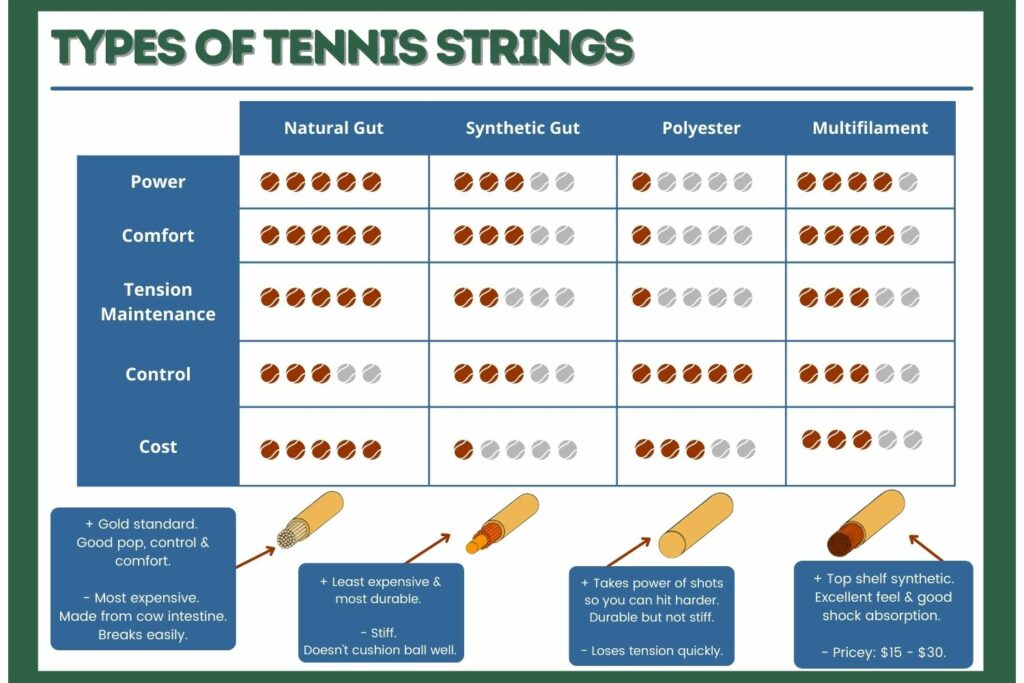 Usually, tennis strings are made of the following materials
Natural gut – is made from a cow's gut and used by most professional tennis players. This type of sting produces a high level of spin and also provides a great feel, control, and stability. However, it is very expensive compared to the other options and less durable.
Synthetic gut – is made of a few materials, but mostly nylon. Overall, this type of string provides a descend performance but doesn't excel at anything. With synthetic strings, you'll get an average level of spin at best, so it's better to skip this as an option if the spin is the most important aspect of your game. Synthetic strings are mostly suited for beginners, are quite durable, and cost less.
Polyester – these types of string have risen in popularity in recent years and are used by intermediate and advanced players. They generate an excellent level of spin and help the player better control the ball. They are a great replacement for natural gut strings because they are affordable and long-lasting. However, they are stiff by nature and not as comfortable as the rest of the string types.
Here is a chart that shows the main differences between string types in terms of spin, control, durability, comfort, and price.
Gauge
The gauge is the measurement that refers to the thickness of the strings. The string gauge ranges from 15, the thickest, to 19, the thinnest. Most of the strings fall within the range of 16L and 17L, but other options are also available.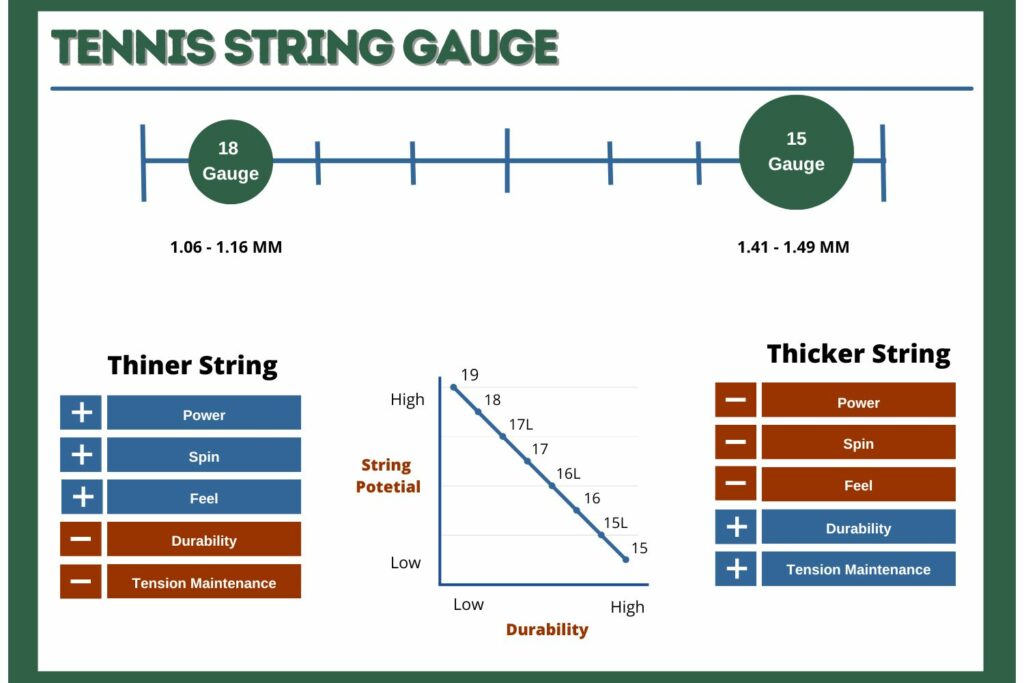 Thinner strings have more spin potential because the racket's bed string can take the ball "deeper" and push it further during the shot.
If you aim for more spin in your games, go for higher gauge strings, but this requires a sacrifice of control, comfort, and durability. It's important to highlight that apart from gauging, what will influence spin is also the racket you choose, the grip, and the techniques you are able to master.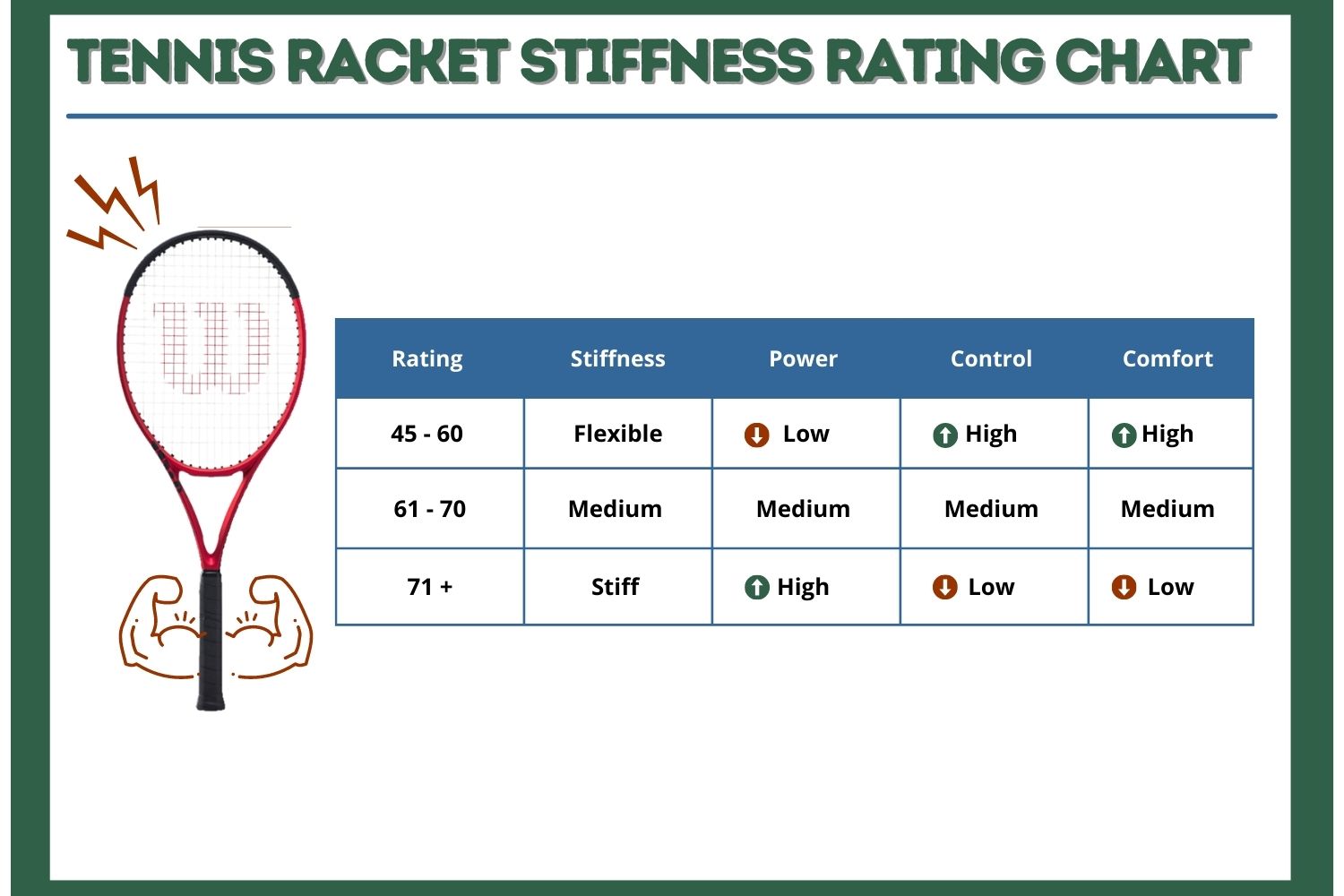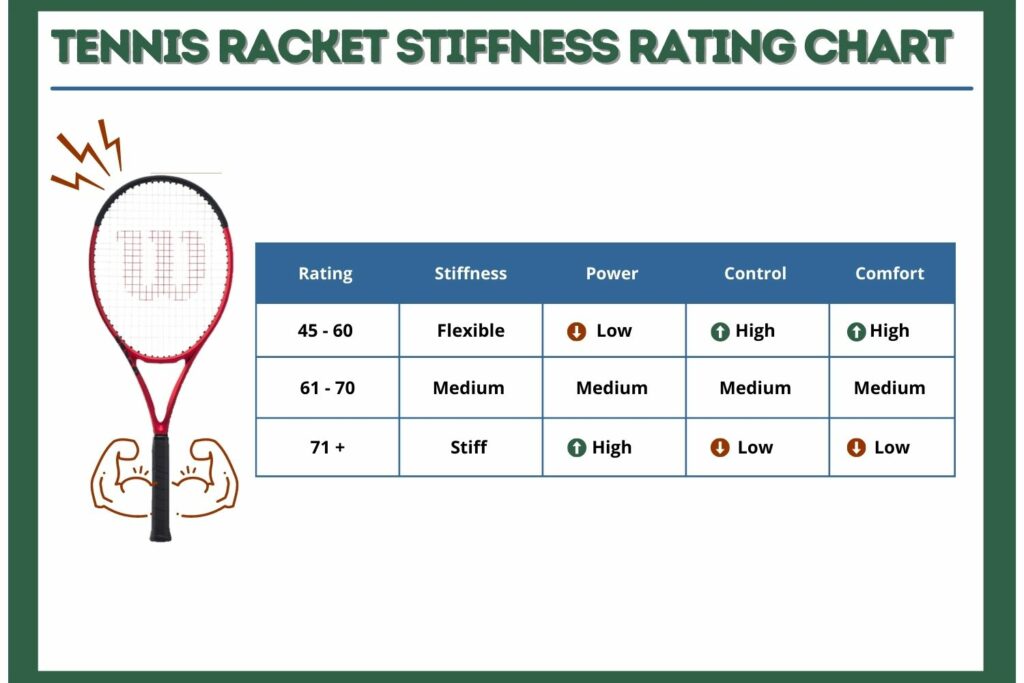 Stiffness
Stiffness is the numeric measurement that determines the racket's frame flexibility when it comes in contact with the ball. Usually, the stiffness metrics range anywhere from 50 to 85, where lower numbers indicate a more flexible frame, and a higher number indicates a stiffer frame.
Stiffer frame tennis rackets generate heavy spin and speed. They also provide ultimate control and stability. Precision is another advantage because these rackets allow players to dictate where the ball will land. Stiffer rackets offer an incredible feel but are low-powered, so the player should be able to generate physical strength on its own. These kinds of frames are suitable for advanced and high intermediate level players.
Flexible tennis rackets offer high levels of power, which players can tap into easily. They are comfortable to play with and allow a higher margin of error. However, they don't produce as much spin and are harder to control. Flexible rackets are suitable for beginners or recreational level players, who are more focused on learning the techniques rather than high performance on the game.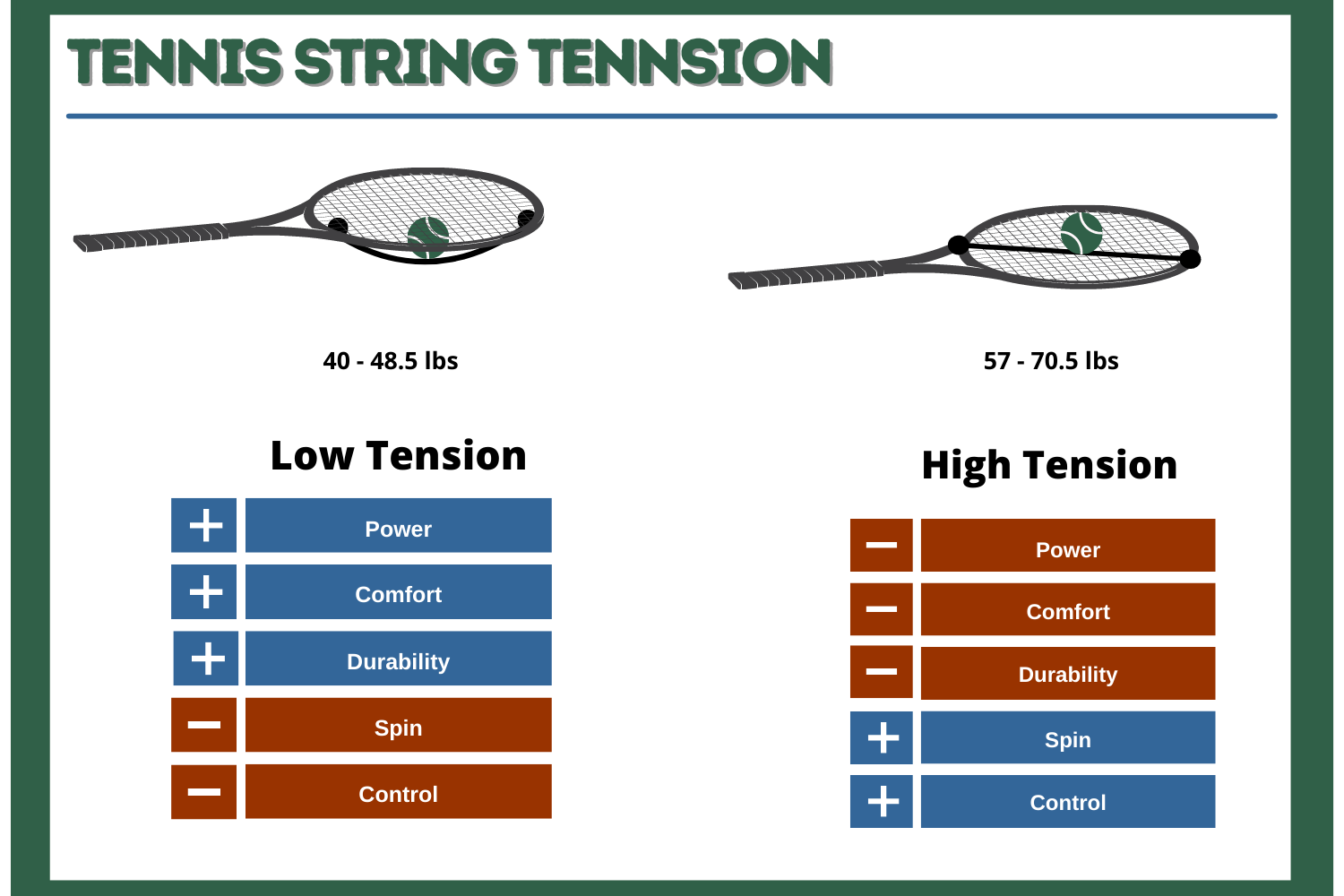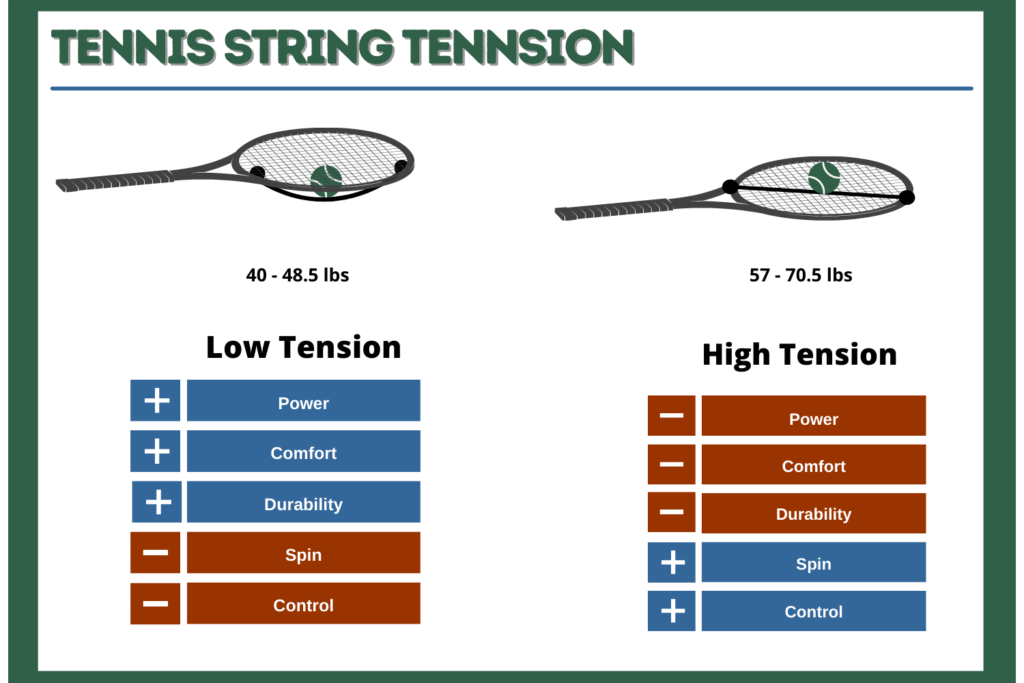 Tension
String tension refers to the tension between strings secured in the racket's frame. It is expressed by a unit measurement either in lbs or kg; most manufacturers use lbs, though. The string's tension ranges from 45 to 65 lbs; 40 indicates the lowest tension rate, and 65 is the highest.
Low tension strings provide spin and speed. Professional players tend to string their rackets as low as they can in order to generate heavy spin. Low tension strings can be anywhere from 40 lbs to 50 lbs.
Higher tension strings provide less speed but more control. They can be anywhere from 55 lbs to 65 lbs.
Strings Pattern
Strings pattern is simply the total number of the main and the cross side strings. Usually, string patterns can be 16 x 19; 16 x 20; 16 x 18; 18 x 20. This is an important detail to consider because it directly affects the racket's performance.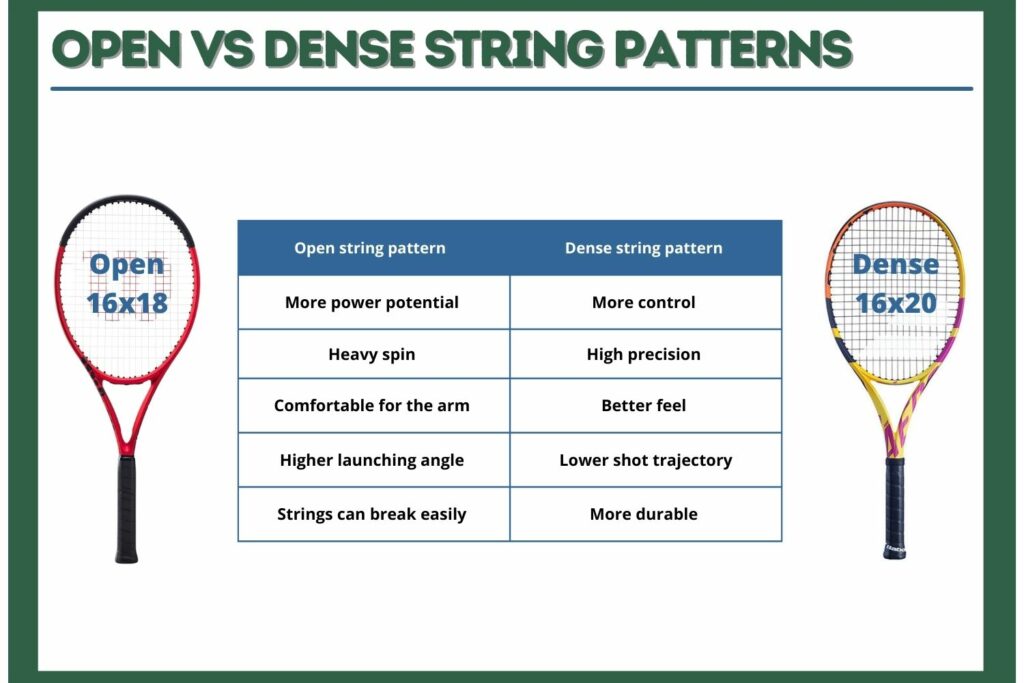 Here are the main three strings patterns
Open strings patterns provide more spin and depth to the shots. It also delivers a better feeling, higher bouncing balls, and power. The common open patterns are 16 x 19; 16 x 18, which have more space in between strings.
Dense string patterns offer more control and precision but generate less spin. The space between strings is tight; the common dense pattern is 18 x 20.
In-between patterns have a blend of the opened and dense patterns. They deliver a medium to low spin and average power and precision. The common in-between pattern is 16 x 20 and 18 x 19.
Durability
For the most part, the increased spin potential is at the expense of durability. A few main factors affect the durability of the strings, as you might have noticed by now.
Material – natural gut and polyester are the best materials when it comes to generating spin. However, gut material stings are less durable. Polyester, on the other hand, resists better to abrasion, but the longevity of the strings will shorten in case you choose a higher gauge.
Gauge – Thinner gauge strings generate more spin and are more elastic, but they are also not resistant to abrasion.
The tension – the higher the tension, the less durable the strings are, and vice-versa.
Budget
Tennis strings are not very expensive in themselves, but replacing them very often can become a financial burden, especially if you are on a tight budget. Strings that generate heavy spin are less durable, meaning that you will have to replace them frequently.
This is an investment that most professional or highly advanced players make since spin is crucial in their game strategy. Many professional players have brand endorsements that cover their gear expenses. If you are a beginner or recreational player and budget is a concern, we recommend going for more durable strings that will last for a longer time.
Our Verdict
If we had to pick the best option out of this list, that would be Babolat RPM Blast. These strings delivered an excellent performance and ticked off all the right boxes. They are made of high-quality materials, give access to incredible spin and speed, and are actually quite comfortable to play with.
Another great option for players who want to add more spin to their game is Wilson Revolve tennis strings. These strings stood out for their impressive playability and heavy spin. They were also very responsive, offered a high level of control, and made it easy to connect with the ball.
How We Choose the Best Tennis Strings for Spin
To come up with our selection of the best tennis strings for spin, we went through a long market research process and playtesting. We based our reviews on the most important features, such as performance, material, power, tension, durability, and price.
We made sure to include options for different categories from various brands to give the best recommendation possible to players of all game styles. In each review, we examined the most important technical details to evaluate tennis strings' main features and overall performance. Our best advice is to go through our explanation guide and learn all you need to make the best choice for yourself.
FAQs
Generating a lot of spin in a game may is the key to setting you apart from your opponent, so be sure that you have the best tennis strings for spin and know everything about them. Consider these answers to common questions about tennis strings for spin.
Q: Do thinner tennis strings give more spin?
Thinner tennis strings can potentially give more spin because they allow the racket's bed strings to take the ball "deeper" and push it further during the shot. However, it's important to note that thinner strings can also sacrifice control, comfort, and durability. 
The amount of spin generated also depends on other factors such as the racket, grip, and techniques used. It's best to experiment with different string gauges and find the one that works best for you and your playing style.
Q: Should I get 16 gauge or 17 gauge tennis string?
The choice between 16 gauge or 17 gauge tennis strings will depend on your personal preferences and playing style. In general, 16 gauge strings are thicker than 17 gauge strings and provide more durability and control, but less spin potential. On the other hand, 17 gauge strings are thinner and provide more spin potential, but less control and durability.
Q: What type of string gives me comfort power and spin?
Finding the perfect balance between comfort, power, and spin can be challenging. Natural gut strings are known for providing the best balance of these factors, as they offer high levels of spin, great feel, control and stability. 
However, they are also the most expensive and least durable type of string. Polyester strings are also a good choice, they offer good level of spin, control, and durability, but may not be as comfortable as natural gut.
We are sorry that this post was not useful for you!
Let us improve this post!
Tell us how we can improve this post?