Many beginners dread the thought of shopping for new equipment, despite their love for the game, because of the wrong perception that tennis is a sport only for the rich. That's simply not the case; you don't have to break the bank to hit the court. To prove that it is not just talking, we came up with a selection of the best cheap tennis rackets.
We made sure to include a variety of options from different well-known brands after testing the rackets ourselves. In this guide, we'll also explain to you everything necessary about your first racket purchase, regarding technicalities and your skill levels, so that you can make a smart choice. Are you ready to dive in? 
Best Cheap Tennis Rackets Reviewed
Here is our take on the best cheap tennis rackets on the market, based on our own research and tests. This is one of those few exceptions, where cheap equals quality! We picked these good cheap tennis rackets based on some strong, unnegotiable criteria, such as performance, playability, durability, power, spin, control, maneuverability, etc.
What to Consider When Choosing the Best Budget Tennis Rackets
Buying your first-ever tennis racket can be a stressful experience for many. By now, you might have heard that not all tennis rackets are the same, but do you really know what factors set them apart? There are a few actually which are important to consider when picking the best budget tennis rackets. Here is all the information you'll ever need, made simple.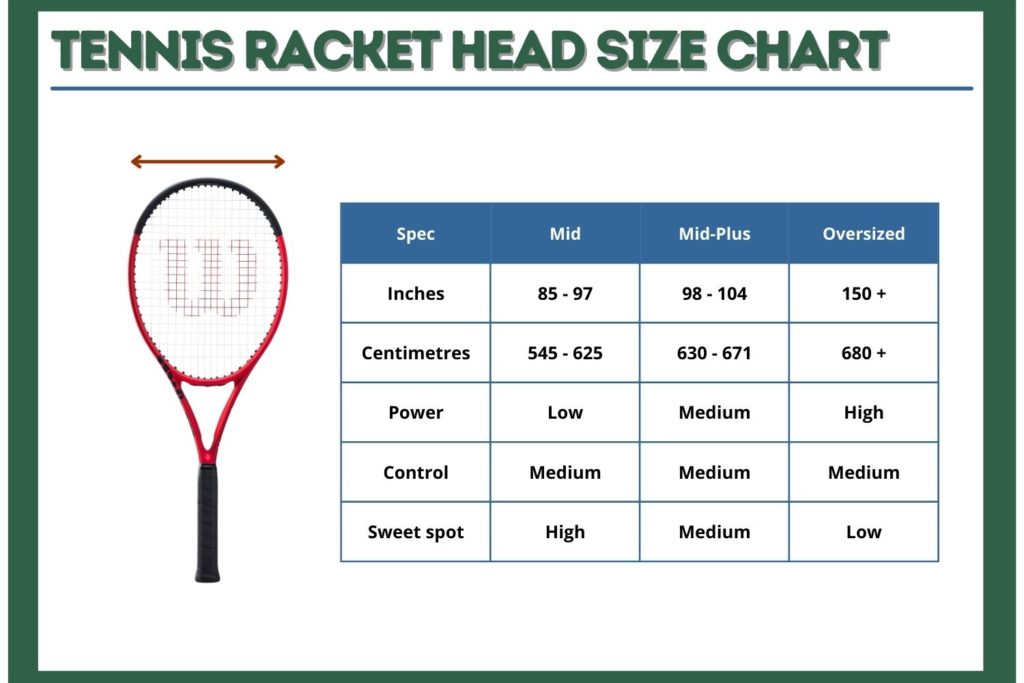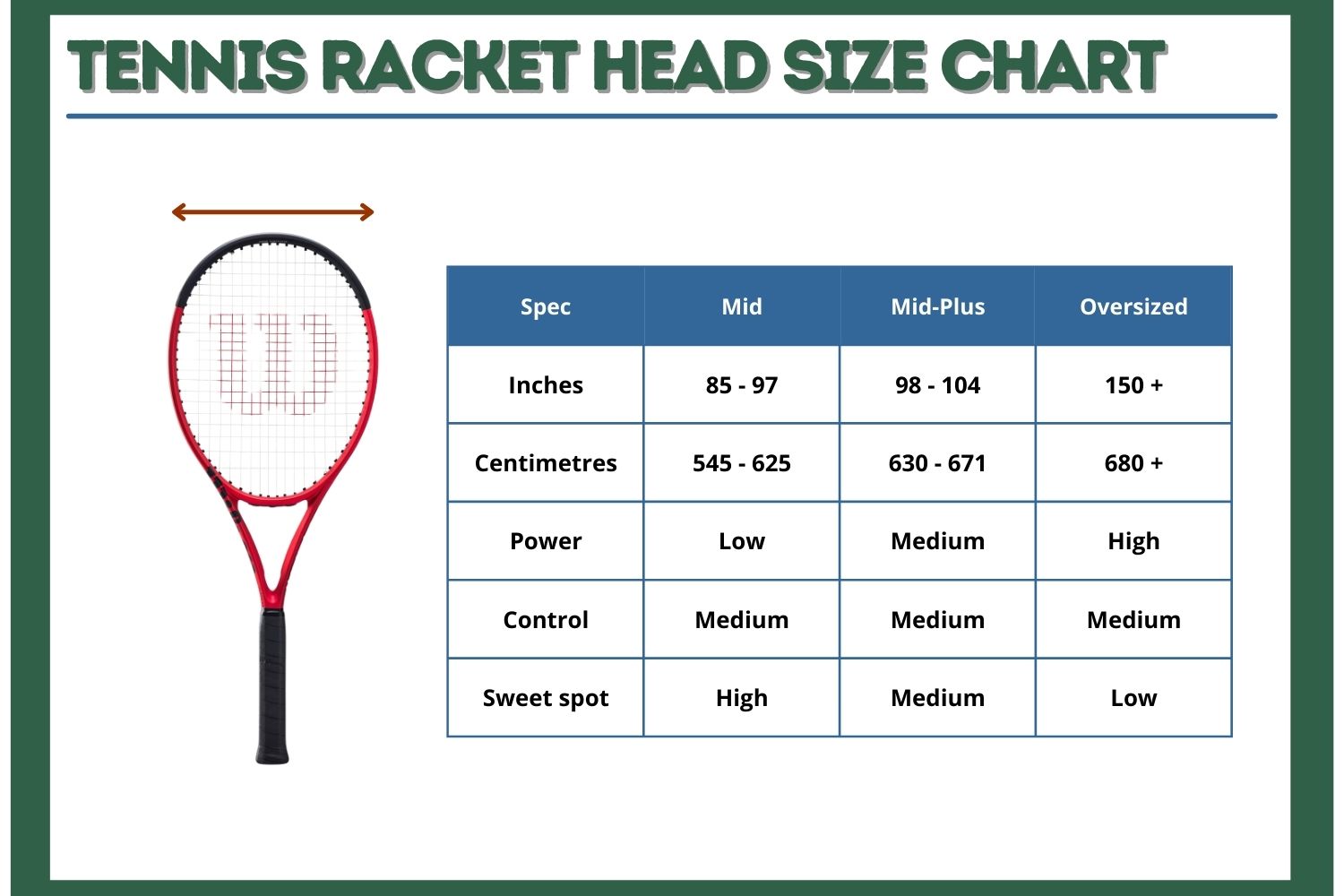 Head Size
The tennis racket's head size is one of the most important factors that directly impact performance. Depending on how large the frame is, rackets can fall under any of these categories; 
Power rackets: Beginners and recreational players should always go for rackets with a head size that is 104 square inches or more and classified as oversized. The reason is simple; these types of rackets provide a more "user-friendly" experience. Overall, larger head sizes offer four big advantages: explosive power, a bigger sweet spot, easy maneuverability, and more comfort. 
Tweeners: or midsize rackets fall into intermediate sizes varying from 98 to 100square inches. They provide a blend of everything; power, spin, maneuverability, control, and stability, but without actually excelling on any of these features. Tweeners are best suited for all ranges of intermediate players. 
Players' rackets: feature a smaller head size, varying from 85 to 97 square inches. Professional and advanced players use these rackets as they provide heavy spin and high levels of stability and control. However, their frame is usually very stiff and low-powered, meaning that the player should compromise on comfort and maneuverability and provide enough physical power for each shot.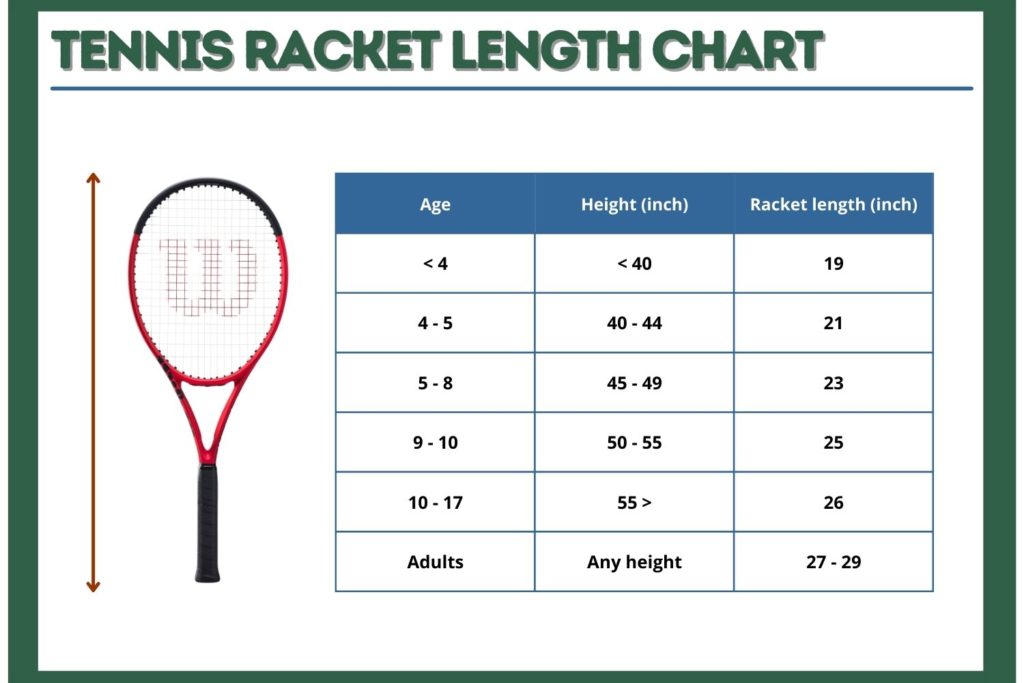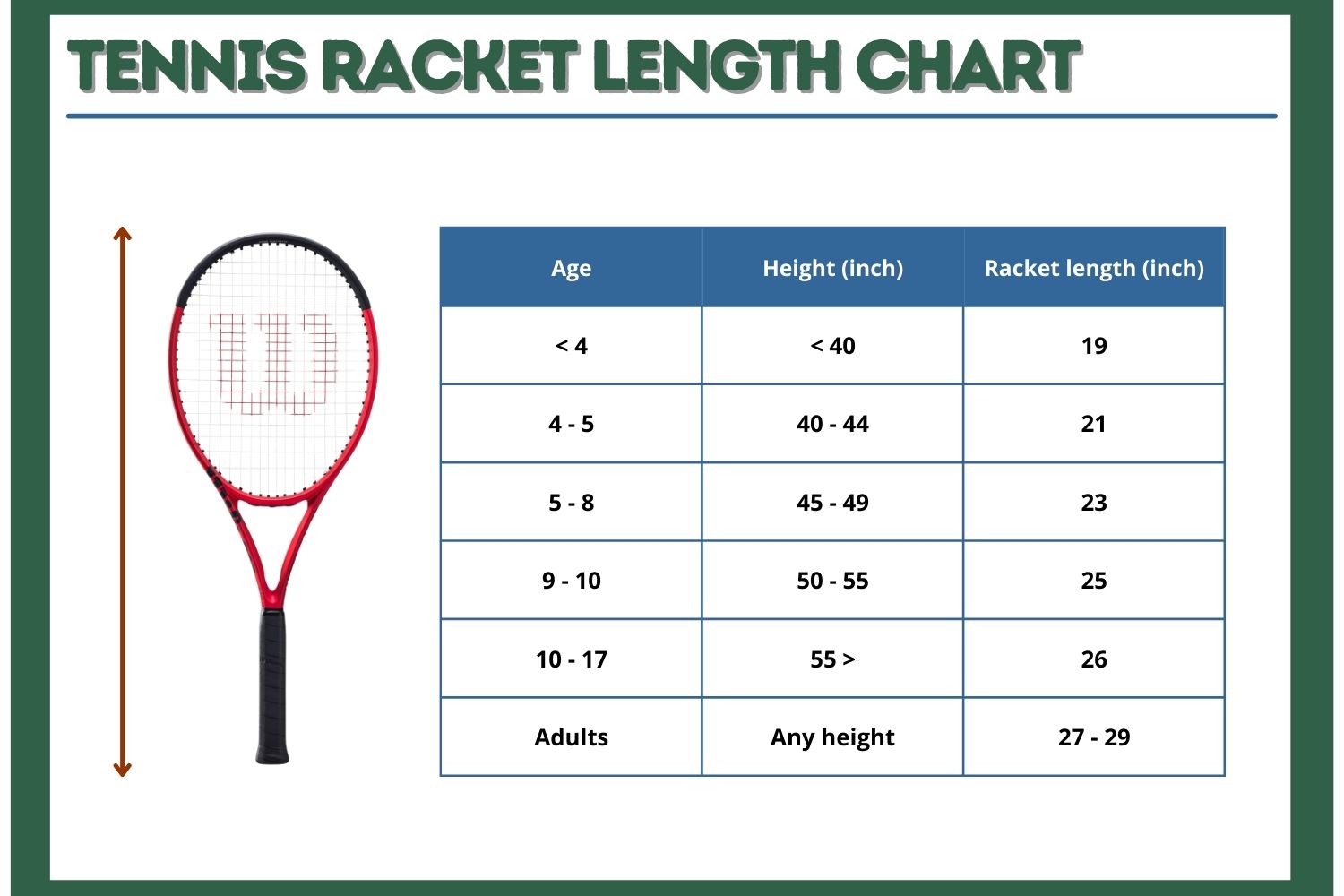 Length
The standard length of a tennis racket is 27 inches, which provides enough leverage on the court to reach even the most difficult angles. Anything smaller than this size classifies as a children's racket. While most of the adult players' models stick with the standard, there are some rackets with an extended length. 
According to ITF guidelines, the maximum length of a tennis racket for official tournaments is 29 inches. The added length increases power and swingweight while offering more easy reach on groundstrokes and serves, making the racket more beginner-friendly.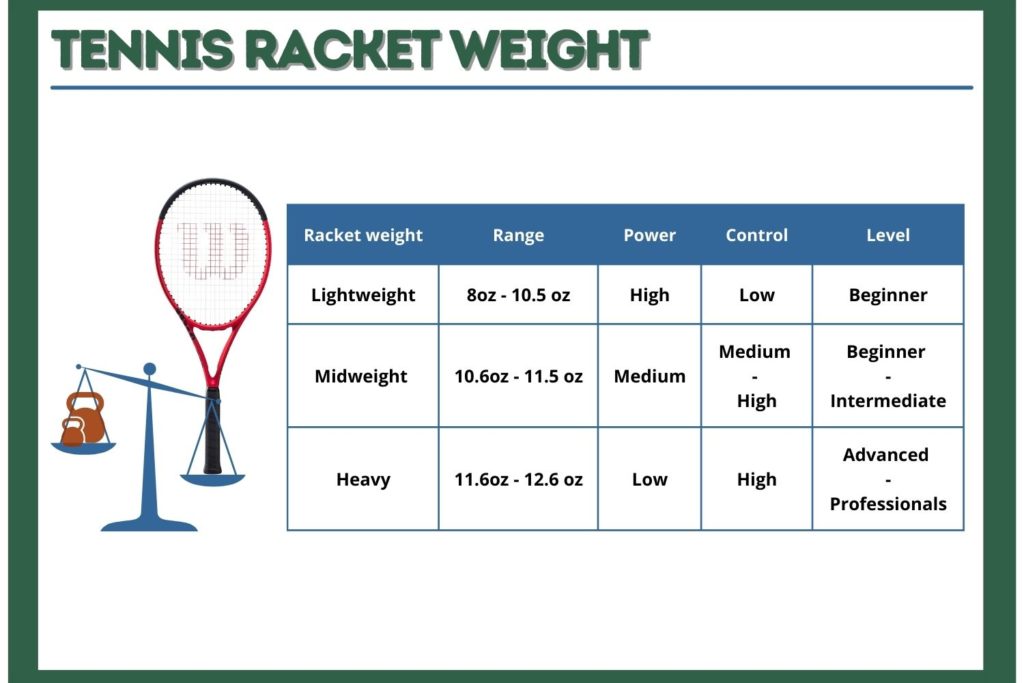 Weight and Balance
The tennis racket's weight and balance are very important factors to evaluate when choosing your tennis racket. Both of these feature impacts performance, playability, and feel, but also the way you connect with the racket. 
For most beginners, understanding how this stuff works might seem complicated, so the best thing you can do is learn the basic concept that will help you make a smart choice. Here is what you should know: 
Based on how much they weigh, rackets classify as; 
Lightweight rackets: these tennis rackets usually have high levels of power and are extremely easy to maneuver on the court. Mostly suitable for beginners, recreational, and junior players. 
Midweight racket: provide average maneuverability, control, and stability levels. They suit the best intermediate players. 
Heavy rackets: are the hardest to maneuver but provide excellent levels of stability and control, allowing the player to hit the target with precision. These rackets are suitable for advanced levels only. 
Now that you know all about weight, it's time to explain balance. Hang in there; it's not hard at all. Balance refers to the way how the racket's weight it's distributed on the body. 
Here are the three main categories of the rackets' balance
Head heavy: the racket's weight is more concreted on the head. These rackets provide more power and maneuverability but lack control.
Balanced: the weight is distributed equally between the head and the handle. These rackets combine power, control, and stability. 
Head light: the racket's weight is distributed towards the handle. These rackets are made for control and stability.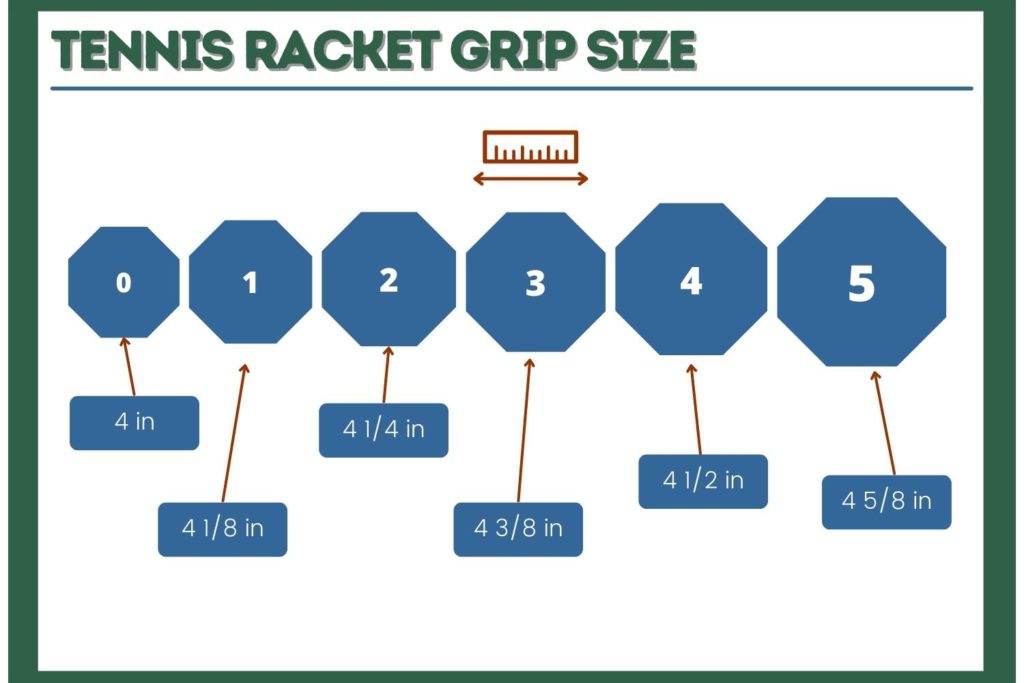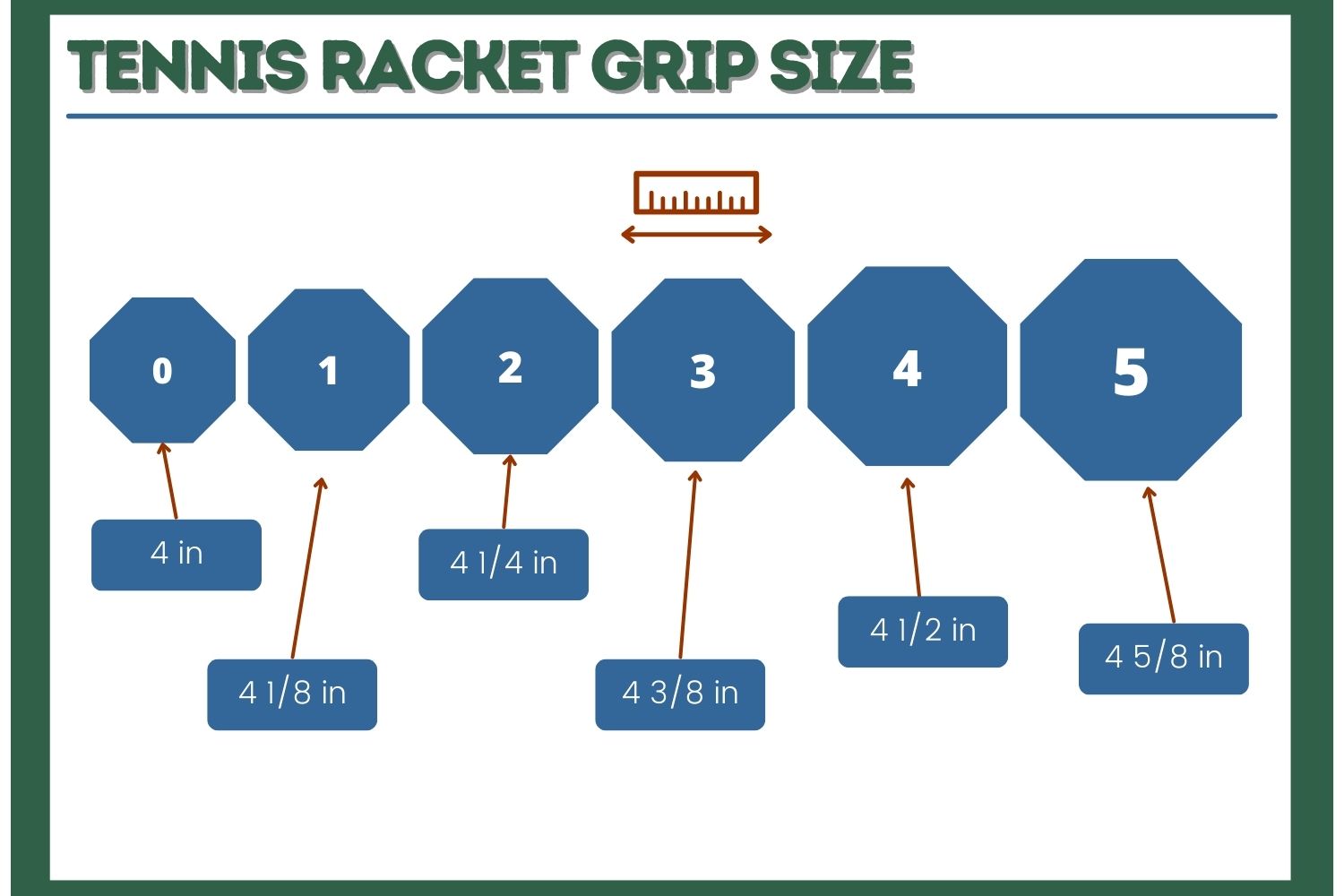 Grip Size
A tennis racket's grip size refers simply to the circumference size across the handle and can vary from 4 inches to 4 3/4 inches at max. Picking the right measurement is personal because it depends on the player's hand size. That's why learning how to measure a racket grip size is one of the most useful skills, which will save you a lot of trouble in court. 
There is nothing worse than an ill-fitted grip size on the court. It doesn't matter if it's too small or too big; in both cases, it will make you feel exhausted while trying to get a good hold of the racket. It will also cause you to underperform and feel disconnected from the racket, even though you'll probably spend much more energy and effort trying to control it. 
Skill Level 
Last but not least, you should always consider your skill levels when picking up a tennis racket. As you have already figured out, specific technical features significantly affect the racket's performance and playability. You want a racket that will feel like an extension of your arm and not like a burden that you roughly carry around the court. 
Generally speaking, there are three main types of players based on their skill levels:
Beginners: are still learning the basics of the game. They should choose power rackets with oversized heads, which are light in weight and easy to manage.
Intermediate: players that have already mastered the basics techniques and are actively trying to improve their athletic performance on the court. Twieenerr rackets are the best choice for this category, as they provide a good blend of every feature. 
Advanced: players with a well-developed game strategy and technique that can compete at a professional level. Almost every time, they chose a "player's racket" with smaller head size and heavy weight, which can provide spin, stability, and control. 
The table below is a general description of racket size based on the players' skill levels.
| | | |
| --- | --- | --- |
| Skill levels | Weight  | Head Size |
| Beginners  | 8 - 9.5 oz / 226 -269 grams | 100-108+ sq. in / 645 – 697 sq. cm |
| Intermediate  | 9.6 - 11.5 oz / 272 -326 grams | 98-100 sq. in (632 – 645 sq. cm) |
| Advanced  | 11.6 - 12.6 oz / 328 -367 grams | 95-100 sq. in (613 – 645 sq. cm) |
How We Chose the Best Cheap Tennis Rackets
When choosing the best cheap tennis rackets, the first key factor we consider was obviously the tennis racket price. Our maximum limit was 150 dollars, but none of our rackets that made it to the final list even reached this sum. They all come at incredibly affordable prices while also delivering great quality. 
We bought and tested these rackets ourselves to evaluate their performance. We based our reviews on a few important elements, such as power, spin, touch, comfort, control, stability, and maneuverability. To make sure that players of all levels have at least one suitable option and we made sure to include a few different categories. 
Our Verdict 
While we are a fan of all the options in this list, we rate the best overall the Wilson Federer racket. It comes at a great price and delivers easy playability. This racket is loaded with power, features a very forgiving frame, and works well all around the court. 
The Wilson Blade Team, which we featured as the best for women players, is also a great option. This racket does everything right, delivering a great performance and an excellent blend of power, spin, and control. 
FAQs
Cheap tennis rackets are a great affordable way to get you started with the sport. But if you're new to the game, you may have a few more questions. Read on for answers to some frequently asked questions about the best cheap tennis rackets.
We are sorry that this post was not useful for you!
Let us improve this post!
Tell us how we can improve this post?