Upgrading to an intermediate level is a very exciting event in a tennis player's journey, but it doesn't come without its struggles. After years of training to learn the basics and the right techniques, you are finally ready for a new tennis racket for intermediate players. With such a wide range of options that are available in the market is understandable why choosing the best intermediate tennis racket is an overwhelming process. 
To help you make the right choice, which will fit your needs and help you perform better on the court, we have selected and reviewed the best tennis rackets for intermediate players. This article will also serve as a guide to help you better understand what you are looking for in the new racket upgrade and how to make an educated choice. 
Best Tennis Racket for Intermediate Players Reviewed
Based on our research, these are the best intermediate tennis racket. These models offer an incredible blend of control and power. Other important features we considered for these tennis racket reviews for intermediate players are spin, speed, comfort, performance, playability, and technical specifications. 
Beginner vs. Intermediate Vs. Advanced Players' Skill Levels
Your skill level as a player is the first important factor to consider before choosing a tennis racket. There are many technical specifications specific to tennis rackets based on the type of player they are made for. That's why you should always be honest and objective when deciding which category you fit in. 
Don't overestimate your abilities, but don't be humble either, because the wrong racket will make you feel out of place when you hit the court. On the other hand, the right tennis racket should feel like an extension of your hand and help you boost your shots, enhance your abilities, and improve your skills. 
When you are in the beginner phase, your racket should help you learn all the basic techniques. Usually, beginner tennis rackets are lightweight that provides a boost of power.
At the intermediate level, a player always aims for better performance and playability, focusing on improving strokes. With the newly gained abilities and skills, a good intermediate tennis racket should provide a balance between power and control.
An advanced tennis player is able to generate a lot of strength, has mastered all of the techniques, and has a defined game style and strategy. These players always look out for more control and stability from their rackets. 
NTRP Ratings for Tennis Players
But how does one tells the difference between a beginner, an intermediate, and an advanced player? By comparing their main characteristics, of course. Listed below are the NTRP ratings of tennis players based on their skill levels. 
2.0 – 3.0 Beginner: even though the player is familiar with the main rules of tennis, is still learning the basics. Knows the main positions but can't cover them up yet. The strokes are weak and can't dictate where the ball will go. It needs a lot of practice to hit the groundstrokes, volleys, serves, and returns because it lacks execution and consistency. 
3.0 – 4.0 Intermediate: this player can maintain a descend pace shot and has mastered all the necessary basics. It is now good at intentionally directing the ball; it's better at covering the different positions on the court and is even starting to become more aggressive while developing its own game style. It's good at using backhand and forehand slices but still needs a lot of practice. And patience. At this phase, an intermediate player needs to master both power and control alongside the difficult shots. 
4.0 – 4.5 Advanced: these players have a good understanding of the game, and are comfortable and confident in the field. They have dependable strokes, can maintain a fast pace, and are experienced in both backhand and forehand slices. Advanced players can direct the ball with depth and precision, have a strategy, and good footwork, and can close the shots. Can compete at a professional level. 
How to Choose the Best Intermediate Tennis Racket
Now that you are upgrading to the intermediate level, the best tennis racket for you is one that can provide a blend of power and control. It is time to switch to oversized rackets with smaller frames for a smooth transition. The key is to look up the technical specification, which will help you understand what type of rackets you are dealing with. 
Intermediate rackets, also called tweeners, usually fall in the midsize category, with a head that can be from 98 inches to 100 inches. They will still offer high levels of power you can easily tap into and a nice sweetspot, but at the same time, they now have more stability and also provide a nice feeling of control over the ball. 
Usually, intermediate tennis rackets come in a standard 27 inches length, a feature that provides more than enough leverage and comfort. They are well-balanced, meaning the tennis racket weight is distributed equally throughout the racket's grip and handle. These rackets are also easy to maneuver and can generate a lot of speed and spin. 
Your performance will also depend on your game style and fitness level, but the right racket will highlight your abilities, helping you shine on the court. You have worked hard to go past beginner level, and now it's time to show off your new skills. 
To help you with this process, I broke down all the main features you need to consider when choosing the best tennis rackets for intermediate players, so keep scrolling to learn more. 
Power vs. Control
When you are a beginner, high levels of power are all you look for in a tennis racket. But as you upgrade to an intermediate tennis level, you also improve your footwork and physical strength, meaning it's easier for you to generate more power on your own. 
Usually, intermediate players also start craving more control over the ball and precision with their shots. That's why now it's the time to start considering the tennis racket size and weight.
In tennis, bigger racket frames translate to more power, while smaller ones provide more control. At this level, you need both, so I recommend looking for middle-size rackets. Racket with a head size anywhere from 98 inches to 104 inches, with a weight from 11 to 12 oz, and that are well-balanced fit into this range. 
At this phase, you will have to give up on a certain among of power, but I promise you once you learn to take advantage of rackets' stability and control, there will no be going back anymore.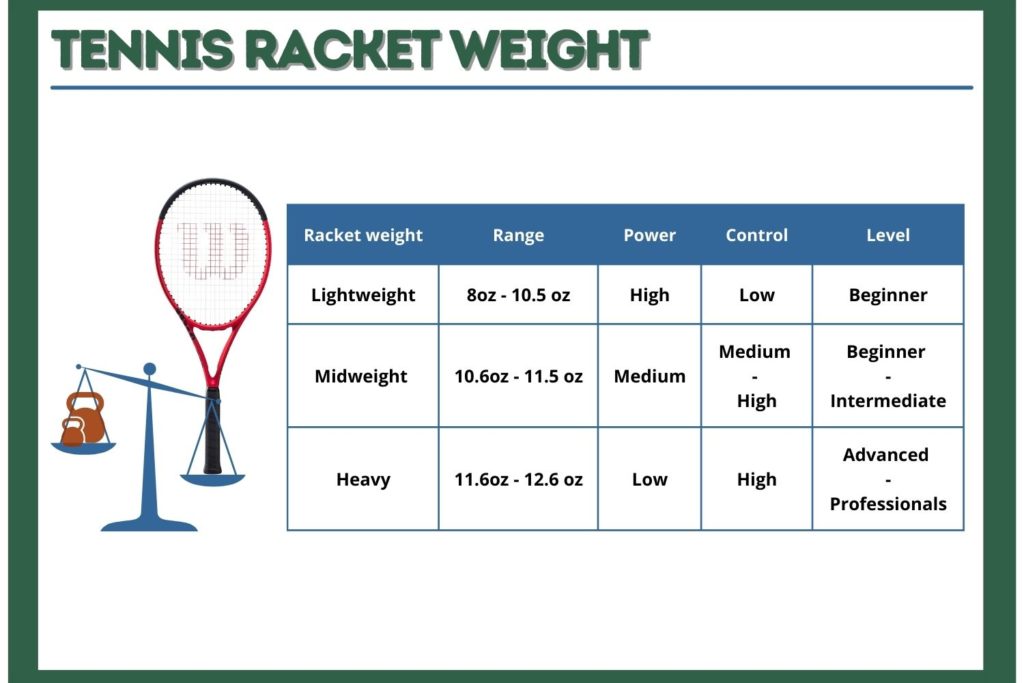 Racket Weight
Tennis racket weight is one of the first technical specifications you should check when picking up good tennis rackets for intermediate players. Understanding how weight impacts the racket's features, performance, and balance will help you differentiate between the main types and narrow down your options. 
Lighter rackets are easy to maneuver and comfortable to carry around the court, but a heavy racket means more control and a great sense of stability. As your skill level upgrade, your tennis racket will increase in height. How heavy you will go depends solely on you and your physical training, stamina, and abilities. 
Usually, intermediate tennis players go for medium-weight rackets, that is anywhere from 285 to 305 g; these rackets are well balanced, versatile, and easy to maneuver. They generate a lot of speed and spin, are quite comfortable, and offer that golden combination of control and power I just mentioned.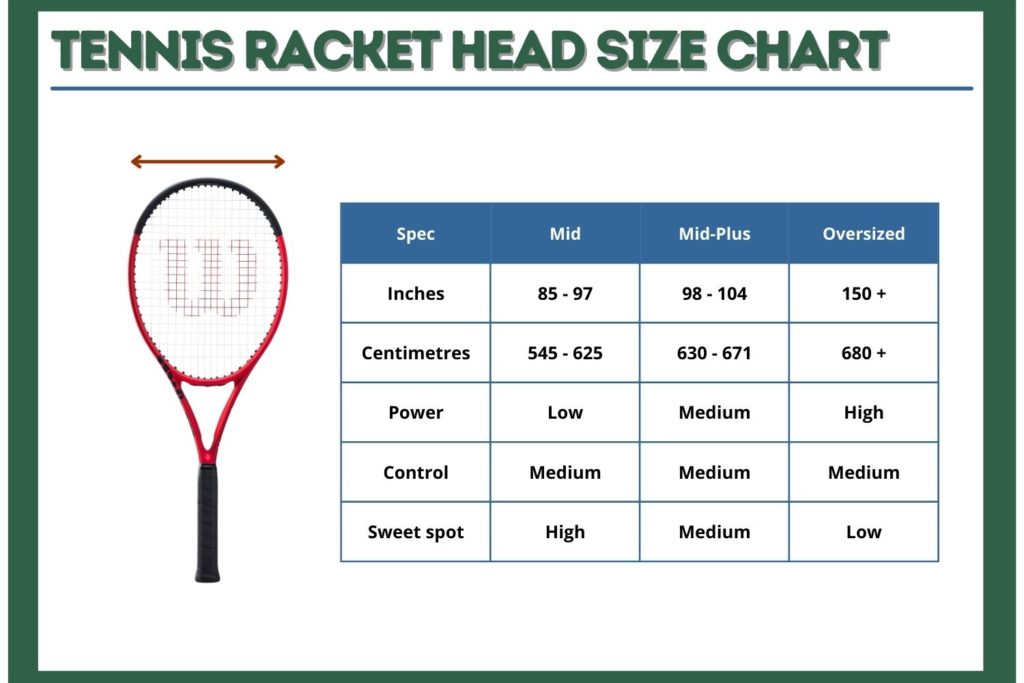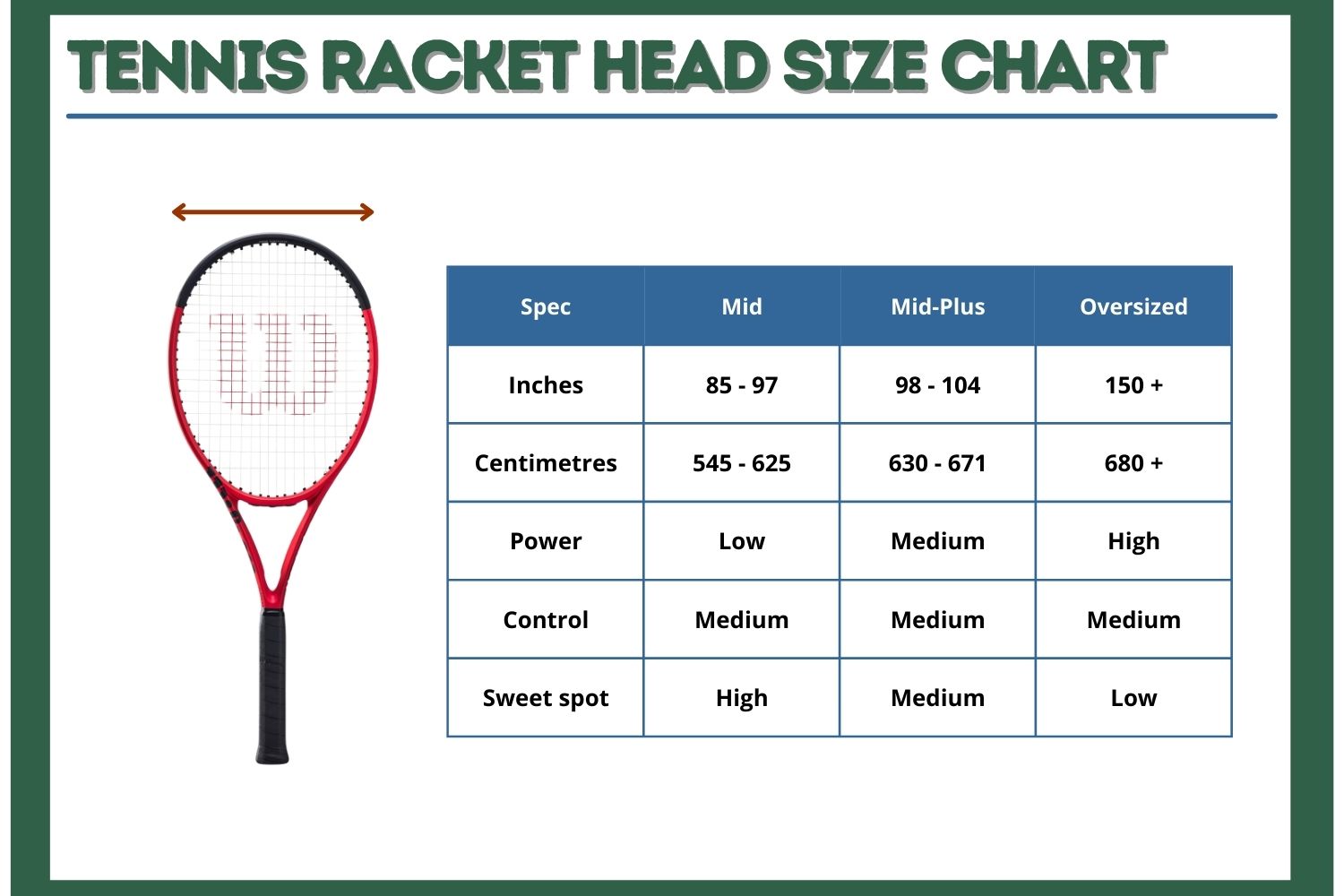 Racket Head Size
The easiest way to differentiate between different types of tennis rackets is by comparing head size. Oversized heads provide high levels of power, a large sweetspot, and comfort, all of which make them perfect for beginner and recreational players. 
The extra power also means that your swings are short and slow, which is great when you are learning how to maintain a decent pace during the game. It gives you more time to react.
Usually, these rackets classify as heavy head rackets, where the weight is mostly distributed at. This feature makes them lightweight and easy to maneuver.
A smaller head size translates to more control and stability during the game. These types of tennis rackets are very precise, stable, and fit for more advanced players, who are aggressive in the field, and able to finish off points. 
These rackets are also heavy, usually with a light head, which means the weight is distributed mostly towards the handle. They generate heavy topspin and speed and can absorb more shock and vibration. 
If you aim for powerful, long swings, smaller head rackets are the obvious choice. However, they do lack power, which means the players should be able to generate enough strength themselves. The smaller sweetspot is also a downside, but the advanced players are usually very skilled and will deliver a great performance regardless. 
A good intermediate tennis racket stands in the middle range of tennis racket size, taking the best of both options. Tweener rackets have a great mix of power and control, have a well-balanced weight, and provide a nice topspin, speed, comfort, and flexibility. 
As players start feeling more confident with their swings, their pace and strength increase, even though not as for a skilled advanced athlete. The most common size for a mid-range racket's head is 100 squares an inch, but they can also go down to 98 inches or up to 104 inches at maximum to still classify as an intermediate level. 
Style of Play
Last but not least, when purchasing the best tennis rackets for intermediate players, you should consider your game style. This is not something to be ignored as it will greatly impact your performance. 
If you are a single player who feels more comfortable when hitting the groundstrokes and prefers to stay on the baseline, you should pick up a racket with a large sweetspot, which boosts power. You will feel more comfortable with such a racket, and it will help you elevate your skills. 
For double players, who are up in the net most of the time, need a highly adaptable and versatile racket. Smaller racket frames will help them maintain fast swings and avoid possible injuries, especially during returns. 
An intermediate player should always stick with the mid-range as their best option. Even though intermediate players still lack important abilities to control the game, they need to get out of their comfort zone. 
Our Verdict
While there are many great options, we rate Babolat Pure Drive as the best intermediate tennis racket for its impressive performance and playability. This racket has an amazing blend of power and control while delivering a lot of spin and speed. It caters to a wide range of players, and it doesn't surprise why it is so popular. 
Another great choice is Wilson Clash 100, a very powerful and flexible intermediate tennis racket. The new technology used during the manufacturing process has revolutionized the market, setting new quality standards. Truly outstanding! 
How We Chose the Best Tennis Rackets for Intermediate Players 
The best tennis racket for intermediate players should have a combination of power and control without compromising the arm's comfort. We went through a long process of selection, playtesting, and reviewing to curate this list. 
We judged performance, playability, power, control, flexibility, speed, and more. Considering the needs of an intermediate player, we tried to pick those tennis rackets that are in the golden mean, between beginners and advanced, offering the best features from both sides. 
This list includes a model from different categories and brands, which will help you narrow down your options further. The technical specifications make it even easier for you to dive in, so you'll have a clear view of what to expect if you decide to purchase one of these rackets. 
FAQs
There is a lot of useful information in the article above, and we've answered many questions you might have had about technical specifications and performance. However, while we were researching the best tennis rackets for intermediate players, we came across a number of related queries that deserve more focus, so we have responded to those here.
Q: What is the best tennis racket for intermediate players?
There is no definite answer to this question as different players have different preferences. However, we believe that the Babolat Pure Drive is the best tennis racket for intermediate players because it offers a great balance of power and control. It also provides impressive spin and speed, making it a great choice for a wide range of players.
Q: What level is an intermediate tennis player?
An intermediate tennis player is someone who has been playing for a few years and has developed basic strokes. They have a good understanding of the game and are able to keep a rally going.
Q: How do I choose an intermediate racket?
When choosing an intermediate racket, you should consider a number of factors such as power, control, spin, and comfort. You should also make sure that the racket is suitable for your playing style.
Q: Can you recycle a tennis racket?
Tennis rackets are made of a variety of materials, including metal, plastic, and rubber. All of these materials can be recycled.
To recycle a tennis racket, start by finding a local recycling center that accepts plastics. Take the racket apart into its component parts – the metal frame, the plastic casing, and the rubber grip. Wash all of the parts with soap and water to remove any dirt or grease. Dry them off with a towel. Then put all of the parts in a bag or container and take them to the recycling center. They will be melted down and turned into new products!
We are sorry that this post was not useful for you!
Let us improve this post!
Tell us how we can improve this post?