You have heard that old saying that "practice makes you perfect," but in tennis, practice can be a leading cause of a medical condition that is known as tennis elbow. To put it in simple words, the overuse of the arm's joints and muscles with repetitive motions can cause inflammation, swellings, and pain.
Dealing with this condition as a tennis player is not easy; that's why we came up with a selection of the best tennis rackets for tennis elbow. 
Yes, you read that right! You don't have to quit the sport you love but instead can switch up to an arm-friendly tennis racket to help with your recovery process. In this guide, you will find everything you need to know regarding the technical aspects and what would suit you best.
Best Tennis Rackets for Tennis Elbow Reviewed
Based on our research and playtesting, these are the best tennis rackets for tennis elbow in the markets, right now. These models are very comfortable for the arm, have the ability to reduce vibrations, and offer great overall performance on the court. Let's dive in!
What to Consider When Choosing the Best Tennis Rackets for Tennis Elbow
Choosing the best tennis rackets for tennis elbow might be tricky, especially if you need to switch up your racket for a new, cozier one. It's only normal that you don't want to completely change your game style and strategies if you are an advanced player with a lot of experience on the court. 
However, a few key elements greatly impact how comfortable you'll be during the game, which can also help reduce stress and pain from your wrist, shoulder, and arm. Listed below is everything you should know that will help to make an educated choice without compromising comfortability or performance.
Weight
When dealing with tennis elbow, you must check your tennis racket's weight. The heavier the racket, the more stress you will be putting on your arm and shoulder. This can make your condition worse and cause even more pain.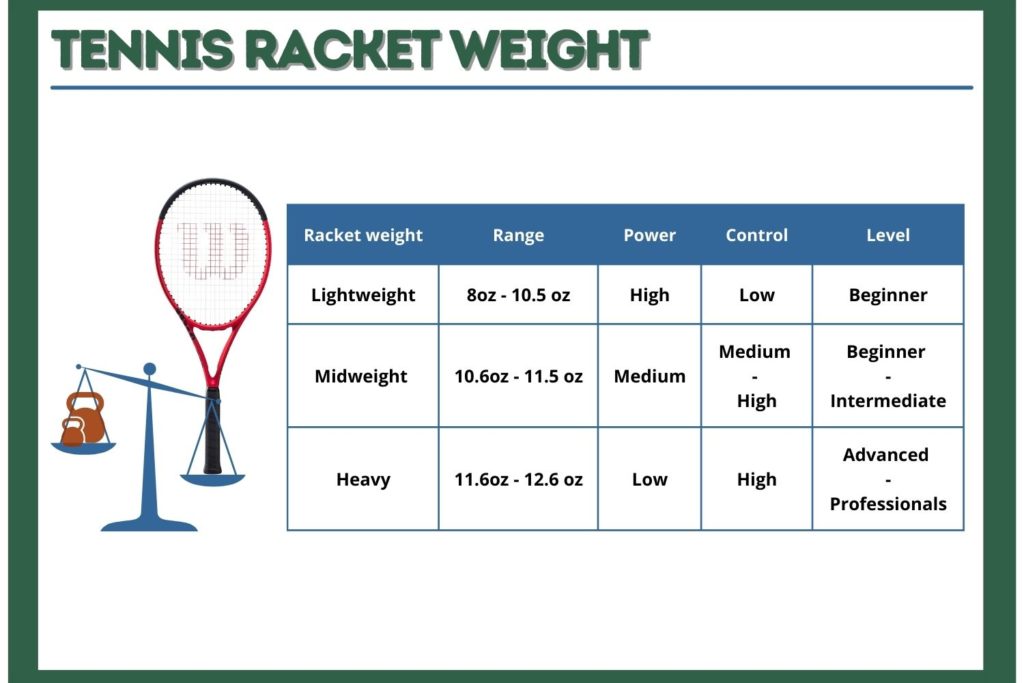 Heavy rackets are also low-powered, meaning that the player should generate a lot of physical strength for each shot. Heavy rackets are usually the first choice of advanced and professional players for the great amount of spin they produce, but that's simply dangerous and can lead to more complications, including degeneration of muscle tissue. 
If you are thinking of switching it up for a lightweight racket, that's also a big no-no. Lightweight rackets lack control and, more often than not, require a lot of body power for the shots, which will also put stress on the arm's joints and muscles.
The mid-range of weight is where you should stay at. A racket that's not heavy, but not too light either. These types of rackets are usually classified as 'twinners" and weigh anywhere from 200 grams to 300 grams when strung.
They are more comfortable for the arm, generate a great amount of easy power, and deliver full, powerful swing; that's why middle-weight rackets are the best tennis rackets for tennis elbow.
Stiffness
Flexible rackets are more comfortable for the arm than those that are stiffer. The flexible frames will bend more when it comes to contact with the ball so that it will reduce the harsh vibrations and shock. 
Stiffer frames, on the other hand, can be a major contributing factor to developing tennis elbow conditions when used uninterrupted for a long period of time because they tend to pass harsher vibrations on the arm and shoulder. 
However, stiffness levels can be a little tricky because they immediately impact your game style. Professional or advanced players use stiffer rackets because they add stability, control, and power. 
Again, if you rely on your racket to deliver high performance, based on your game style and strategy, you might as well go for a more balanced racket in terms of flexibility. Rackets that have a stiff level of 61-70 RA can suit many different game styles. These rackets have two main advantages; they are very comfortable for the arm and offer a great blend of power and control. 
Head Size
Your tennis racket head size is another important aspect when considering an elbow-friendly tennis racket. When missing the off-center shots, you will feel the harsh vibration all throughout your arm, which can cause the development of the tennis elbow condition, or make it worse. That's why a smaller head size is not recommended in these cases.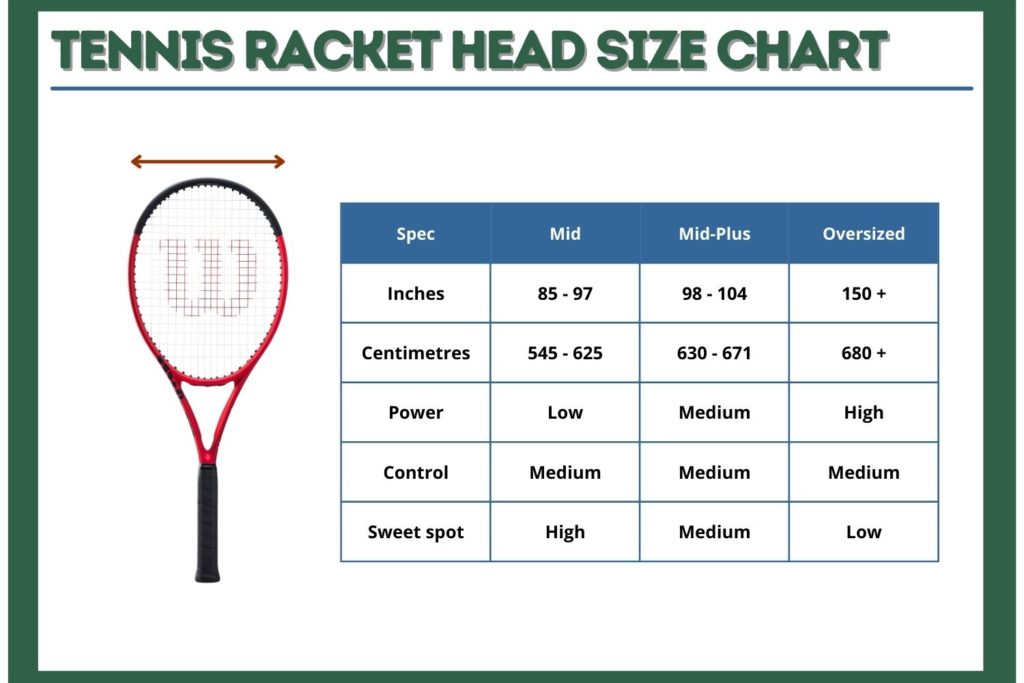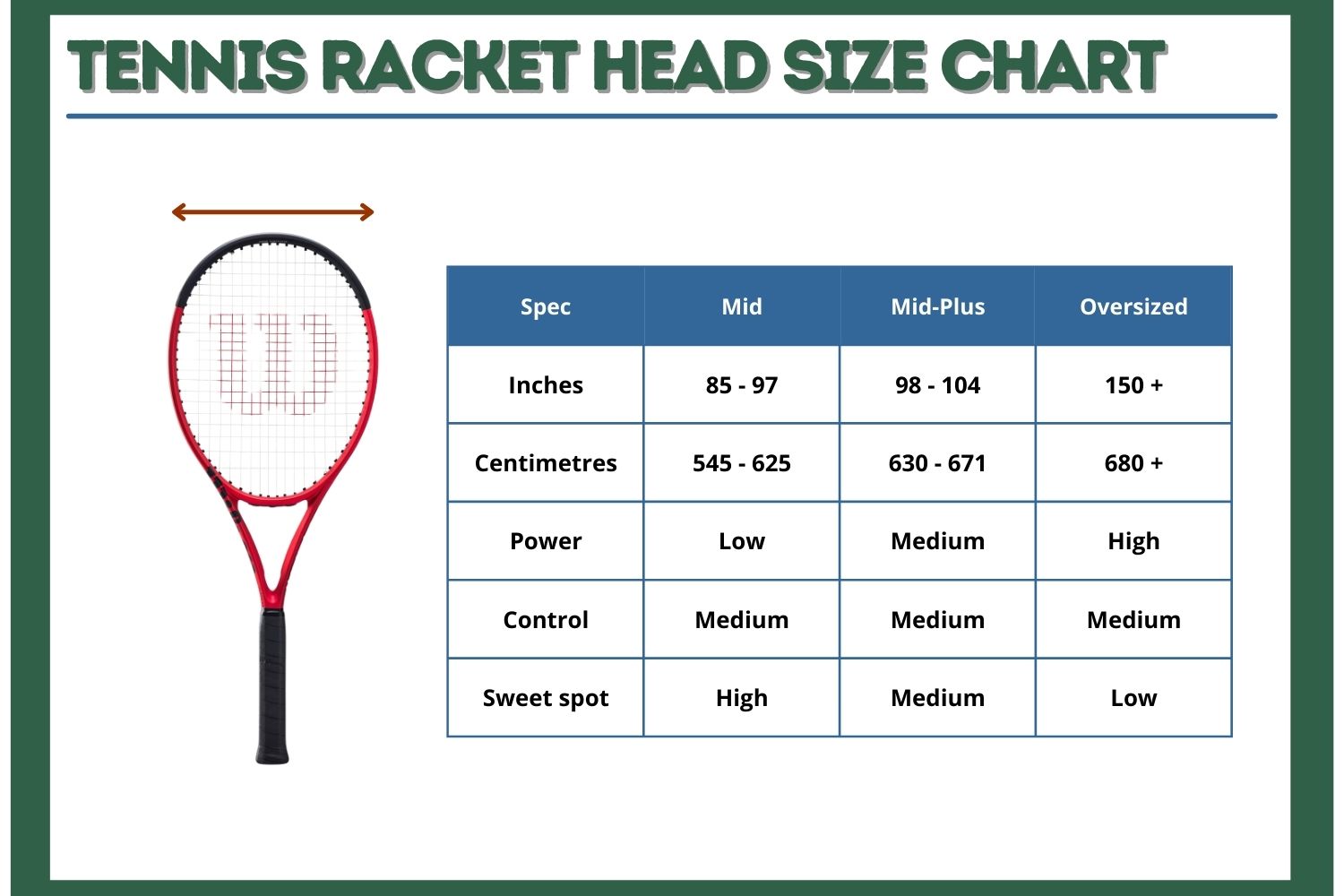 The best tennis rackets for tennis elbow have large head sizes, which are more forgiving and feature a bigger sweet spot. These rackets are also loaded with power so that you won't put much stress on your muscles. 
If you are an advanced player and are used to a smaller head racket that generates heavy spin, you can switch it up for another racket with a head size anywhere from 98 square inches to 105 square inches. This can be more suitable for an advanced game style because these head-size rackets generate both power and spin. 
String Pattern
The string pattern is always stated on the specification when choosing a tennis racket. This is a key factor in the racket perfomance but also impacts how comfortable the arm of the racket will be. If you are dealing with tennis elbow issues, the best option would be an open string pattern, which usually is 16×19 or 16×18.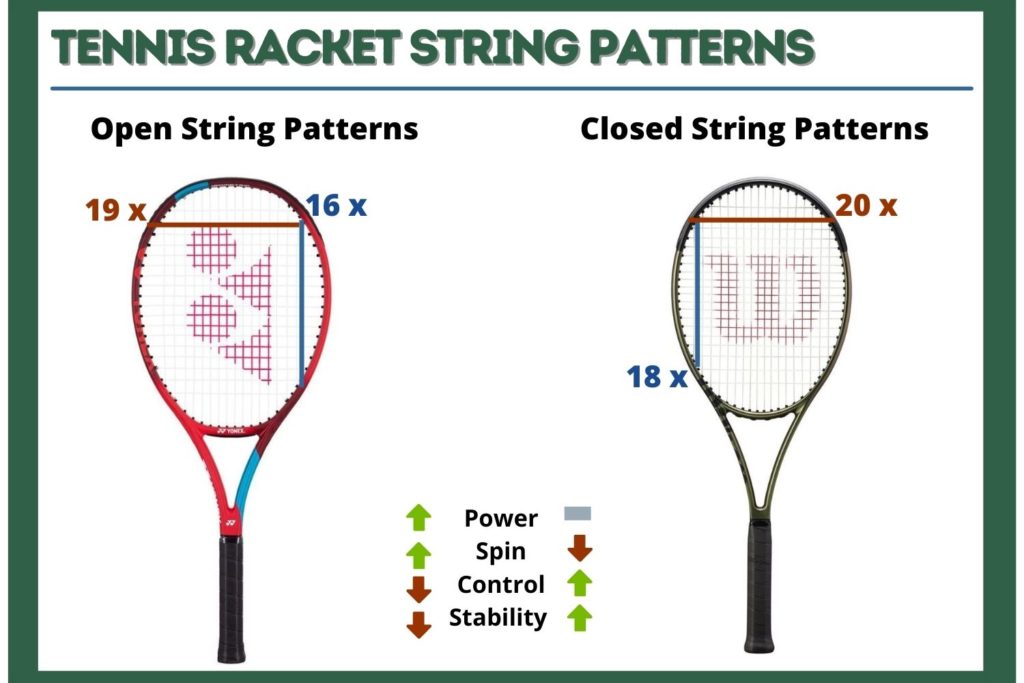 An open string pattern frame does a better job at absorbing vibrations and reducing shock because the ball takes more dwell time in the stringbed, which helps to minimize the impact on your arm and shoulder. 
It also produces more power and spin and makes adding more depth to each shot easier without spending too much physical energy.
A dense string pattern, on the other hand (18×20), provides more control and stability, but at the cost of comfortability since the harsh vibration and ball impact will distribute at the arm. 
Types of Strings
The softer the strings are, the better. The best tennis rackets for tennis elbow are made with soft strings, such as the natural gut or multifilament, that reduce shock at impact and greatly relieve stress from the joints and muscles.
If you have a tennis elbow, you should choose softer tennis strings made of natural gut or multifilament.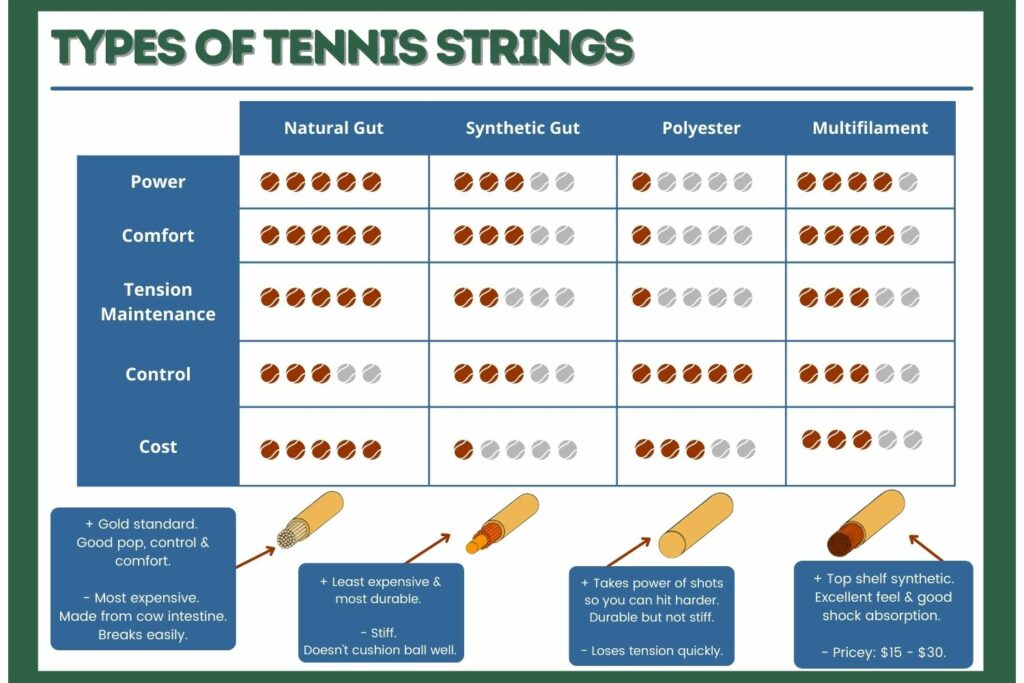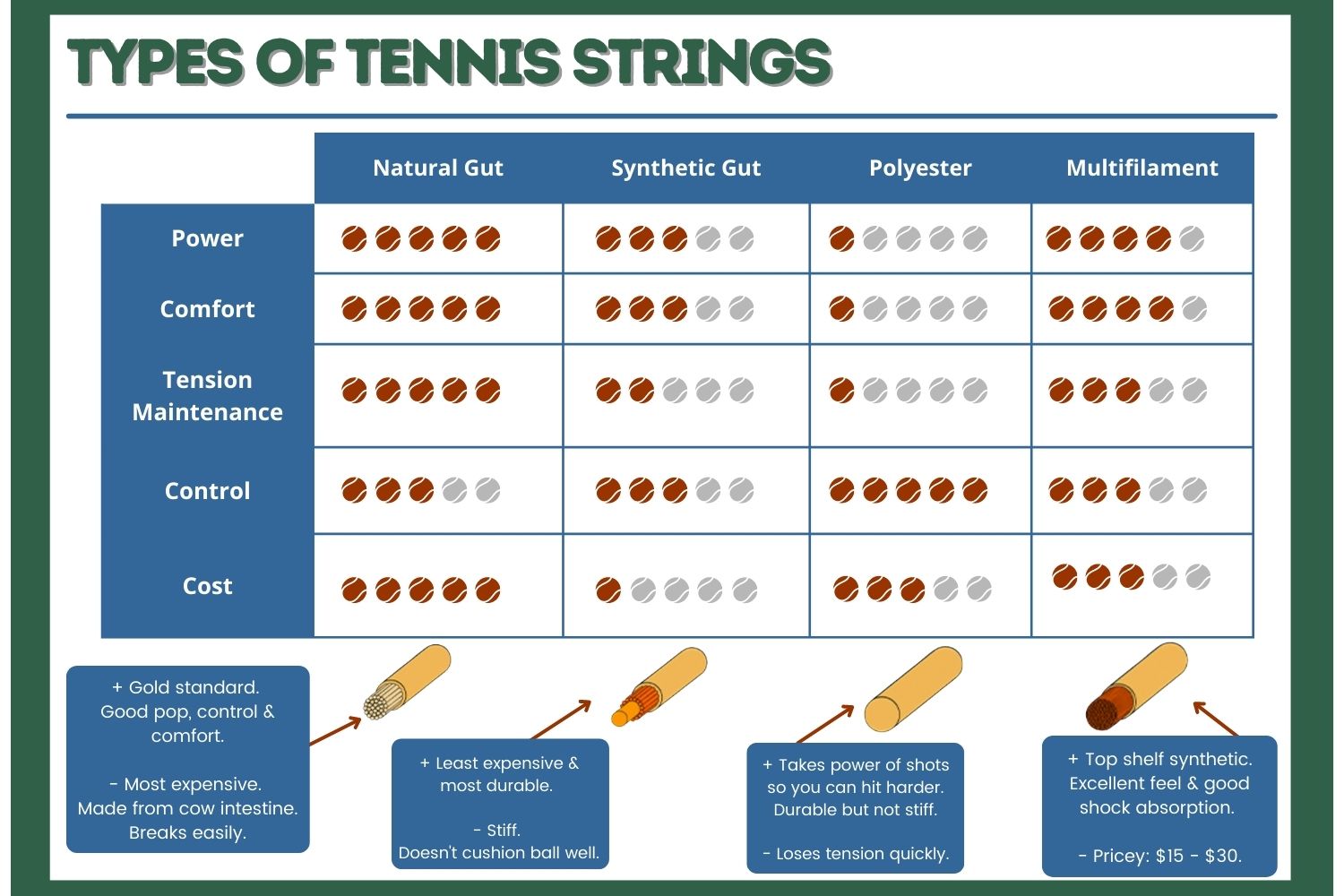 Polyester and Kevlar strings are also another great choice because they tend to be the most flexible and help reduce harsh vibrations. Also, keeping a low string tension is very effective in making the racket more arm-friendly because it creates the trampoline effect on the stringbed, giving the ball more dwell time. 
Technology 
Many well-known tennis racket brands are featuring new innovative and pioneering technology at the release of their newest models that aim to make tennis rackets more comfortable and perform better. Usually, they will proudly state all the technology used and how it impacts the racket, so it will be easy for players to tell the model they are considering has enhanced comfortability and feel. 
These new updates will help to reduce the stress on joints and muscles; however, the specific features and designs of the racket will not change, so you can always tell the type of the tennis racket by observing details such as the head size flexibility rates or the weight. 
How We Choose the Best Tennis Rackets for Tennis Elbow
Tennis elbow condition is pretty serious, and players often need to seek medical help when dealing with pain and inflammation. That's why when recovering; you need a racket that will cater not only to your skill levels and game style but also to your health and overall wellbeing. 
To choose the best tennis rackets for tennis elbow, we researched the markets and tested many different options ourselves. The main unnegotiable criteria we had was that the models that made it to the list must be comfortable. That's why we prioritized a few key factors, such as flexibility, weight, head size, string patterns, etc., that are decisive on how to arm friendly and comfortable a racket is.
All of the models in this list deliver a high performance and easy playability and can be a great fit for highly advanced players too, that are currently recovering from tennis elbow. 
We also made sure to feature a few different categories to give the best options to a wide range of players. In this guide, you'll find all the instructions you need to make yourself an educated choice when picking the racket that fulfills your needs and wishes, so you'll keep playing tennis in a safe and healthy way. 
Our Verdict 
There are many great models on this list, but if we had to pick the best tennis racket for tennis elbow, then our first choice would be Wilson Clash 100. The brand has used innovative new technology to make this racket very comfortable, reducing its impact on the wrist, arm, or shoulder.
This Wilson tennis racket is also lightweight, very flexible, responsive, and easy to maneuver while delivering a great blend of power, speed, and spin. 
Head Gravity Tour Graphene 360+ is another great option, as this is one of the best arm-friendly tennis rackets that delivers a great performance all around the court. It is lightweight, offers a dynamic feel and response, and does a great job at transferring energy and minimizing harsh vibrations. 
Last but not least, we would like to mention Yonex EZONE 100 as one of the best tennis rackets for tennis elbow on our list. Due to the technological updates, this racket offers a superior comfort level and amazing all-court performance. It provides a great blend of power and spin; it's very flexible and absorbs vibrations. 
FAQs
Even after reviewing all of this information, you might still have some questions about which tennis racket for tennis elbow is right for your game. Read on to find answers to some frequently asked questions about tennis rackets for tennis elbow.
Q: What is the most arm friendly tennis racquet?
There is no definitive answer to this question as different players have different preferences. However, Head Graphene 360+ Speed PWR is a popular choice among players with arm injuries as it is lightweight and has a large sweet spot.
Q: Is a heavier racket better for tennis elbow?
No, a heavier racket is not necessarily better for tennis elbow. In fact, a lighter racket might be easier on your arm because it requires less effort to swing. Look for a racket that has a comfortable weight for you and that feels good when you swing it.
Q: Is Yonex EZONE good for tennis elbow?
Yes, the Yonex EZONE 100 is a great choice for tennis elbow as it is designed to be arm-friendly. It is lightweight and has a large sweet spot, which makes it easier to hit the ball without putting too much strain on your arm.
We are sorry that this post was not useful for you!
Let us improve this post!
Tell us how we can improve this post?