As you may know, choosing the right fit for the racket you'll play with is an important part of the game. With such a wide range of different tennis racket brands and options in the market, it can easily become overwhelming to pick what is right for you. 
Choosing the best women's tennis racket is an important decision because the racket can and will have a crucial role in your game style and performance and determines if you will achieve your full potential in the court.
In this guide, I have reviewed some of the best tennis rackets for women on the market and helped you decide which one is right for you. Whether you are a beginner or a pro, there is sure to be a racket out there that meets your needs! 
Best Women's Tennis Rackets Reviewed 
The women's tennis rackets on our list, which come from trusted tennis racket brands, include models for both beginners, intermediates, and advanced players. These models offer power, excellent topspin, and impressive control.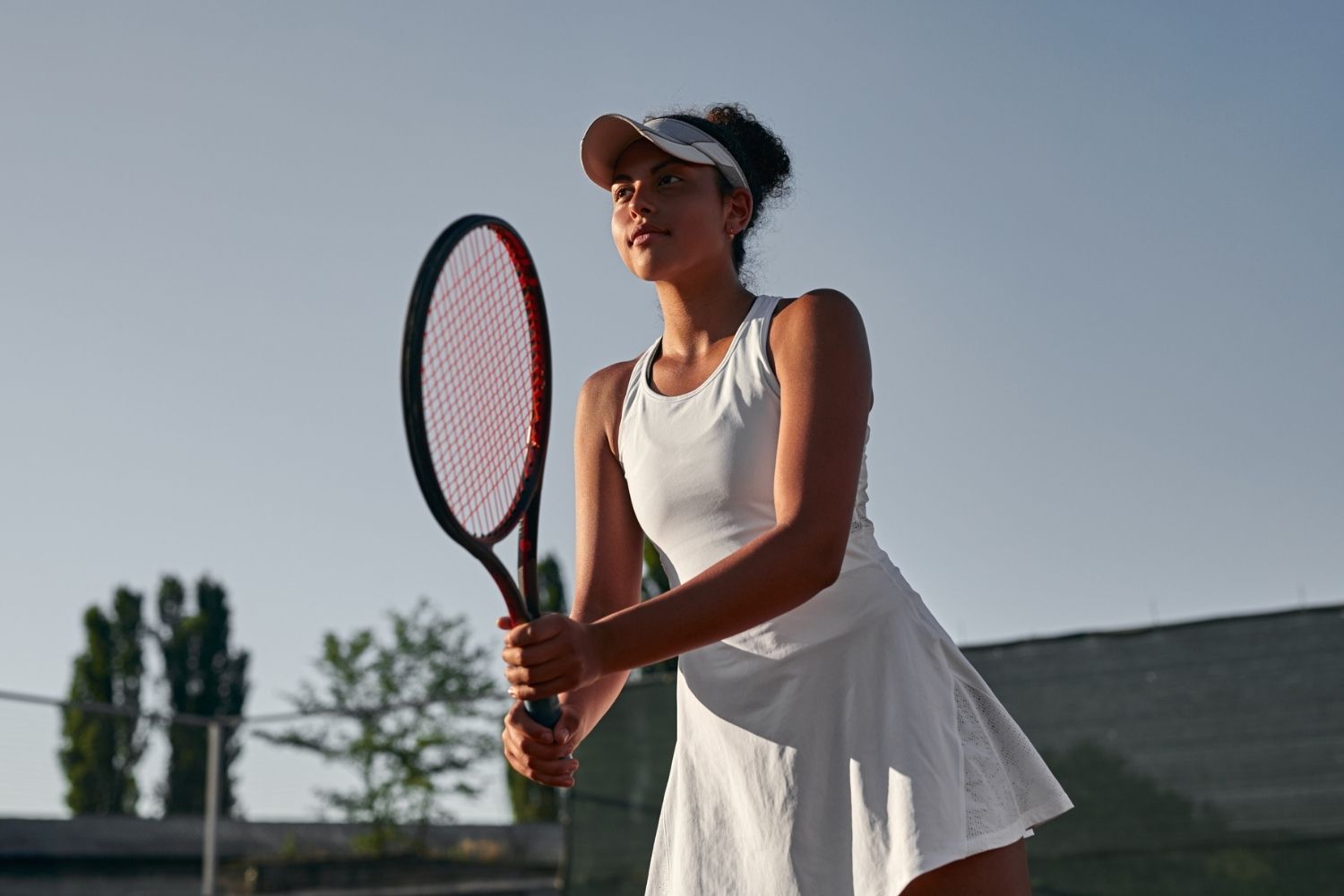 What to Consider When Choosing a Women's Tennis Racket
There are a lot of different factors to consider when looking for the best women's tennis rackets. The right racket can make all the difference in your game, so it is important to find one that is perfect for you. 
Grip Size
There are a few important things to keep in mind when picking out your tennis racket. One important thing to consider is, without a doubt, the grip size. It's all about finding the perfect balance between the measurements of the racket's handle and your hand size.
Based on their circumference, tennis racket grips are labeled from 1 to 5. If you are unsure of what grip fits you best. I recommend going for a smaller size, and then if you want to change it, you can get more grip at a small cost.
Choosing the right size grip for your tennis racket will make the time you spend on the field much more enjoyable since it will add comfort and prevent any possible injuries. If you are a beginner, try different grips and go for what feels right for you. 
As long as you are comfortable, there is not a definitive answer of what the best is since the grip size is often a player's personal choice.
Budget
Deciding how much you are willing to spend on a women's tennis racket is also an important factor in making a choice. There is a wide range of tennis racket prices, which can fit the personal budget of all players. 
Before purchasing your tennis racket, my best advice is to consider your goals and skills. If you are just a beginner and curious to start learning and playing tennis, I recommend you go for a cheap option. Test the waters first, and then you can upgrade. 
If you are looking to improve your skills in the field, though, a great racket can be pricy but is also an investment in the long run, which will help you make a lot of progress in the court.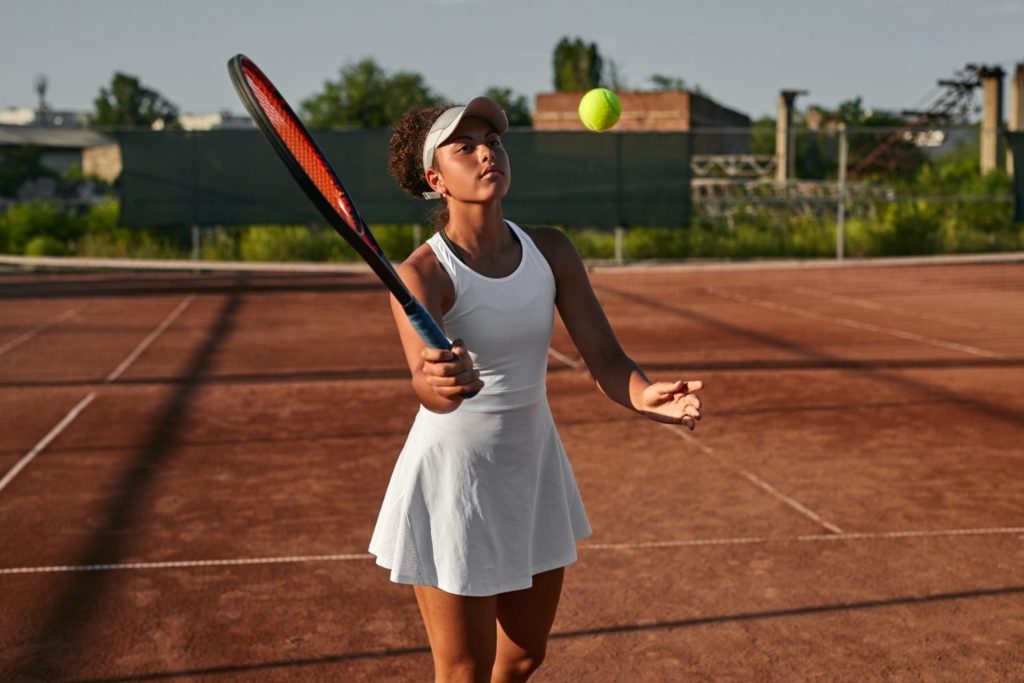 Style of Play
If you have already spent some time playing in the court and have at least intermediate skills, you know your game style. Overall, tennis players fall into three main categories
All court – comfortable playing in all court areas without feeling like you are out of your element or losing the pace and rhythm. 
Aggressive baseliner – tend to favor the baseline, generating a lot of topspin and preferring groundstrokes shots.
Net rusher – prefers to hit volleys to close out the point and is more comfortable staying close to the net as much as possible.
Depending on which category you fall into, you should choose what type of tennis racket fits you best. Not necessarily will your racket determine what kind of player you are or your game style, but it will definitely enhance your skills and talents in the court and help you achieve your goals. 
If you are still a beginner, don't worry; there is no need to rush yourself to find out your style. With time you'll find out what likes you best, develop new skills, and eventually, you'll find out what is your game style. 
Long-term Goals
Be honest with yourself when determining your long-term goals so you can make an objective choice. Not everyone will become a professional player in tennis, and that's okay. Tennis is still such a fun game to play, which will keep you entertained and help you stay fit. 
Before purchasing the best tennis racket for women, ask yourself what your long-term goal are? If you are a beginner, just learning the basics go for a simple, easy-to-grip tennis racket for women. 
A cheap women's tennis racket will work just fine, and they are so many great options out there that will leave you satisfied. So if you just want to try tennis out and have fun with your friends, you don't have to spend a lot of money at all, unless this is your personal choice of course.
In case you aim to become a professional, it's wiser to start with a simpler and cheaper option too. Don't worry; it will work just fine and help you achieve your training goals and elevate your skills while saving you money.
You don't want to spend a lot on an expensive tennis racket while still learning. It will wear off with time, and you will not be able to take advantage of its quality and features. 
If you are a professional, highly advanced player, choose the racket that fits your skills and needs the best and make the needed adjustment. Whenever you are on your tennis journey, choose based on the level and skills you have now! Be realistic if you want to enjoy your time in the court and upgrade your skills.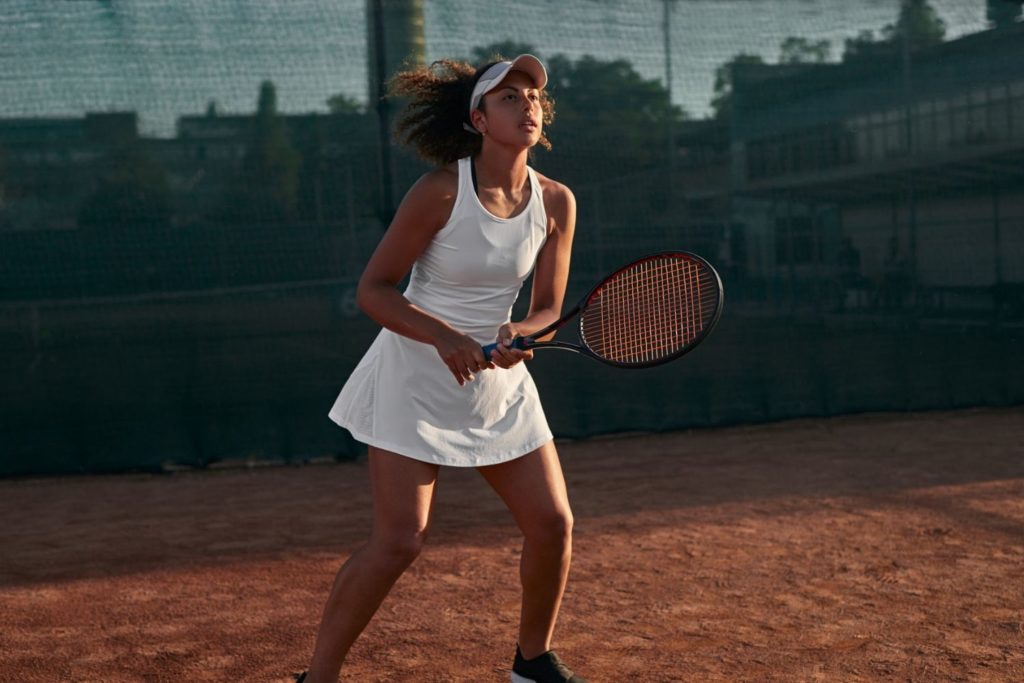 Body Size
Before purchasing the best women's tennis racket, your body size is an important factor to consider. Yes, you read that right, your body size. This is something many people neglect, but it makes perfect sense. Women's body compositions are different, affecting how the racket responds during the game.
Consider the racket as an extension of your arm; it will significantly impact your performance and results. If, by any chance, you don't have a strong natural physique, for example, a tennis racket with a wide frame will fit you best. This racket type produces much more power than the rest, so you don't have to try and exert power yourself. 
If you are strong, go for a narrow frame racket to avoid overshooting since your body produces power. Save your energy on what you do best, rather than trying to make up for what you don't have. 
Height is also important to consider. The taller you are, the longer and more powerful shots you'll have, making narrow frame racket your best fit in the court. 
And if you are more on the shorter side, go for a wider frame tennis racket to add power to your shots. This way, you'll enhance your abilities in the court and prevent the rackets from wearing out too fast. 
Men's vs. Women's Tennis Rackets
There is no such thing as a women's only or a man's only tennis racket. Most of the rackets available in the market are considered unisex, fit for both genders.
With that being said, it's important to highlight two important differences, affected by your gender, that should be considered when purchasing your tennis racket, especially if you are a beginner.
Weight – men and women are biologically different in terms of body composition and muscle mass. Men are naturally stronger, and they usually prefer a heavier racket to add even more power to their shots, while women find these types of tennis rackets difficult to control. For the most part, women prefer lighter tennis rackets, which are easier to maneuver and control.
Head Size – usually women tend to favor small-headed size rackets, which are more forgiving, easy to control, and flexible. This is important, especially if you are a beginner. You will find it much more comfortable to play with. As your skills improve, you can go for a bigger head size.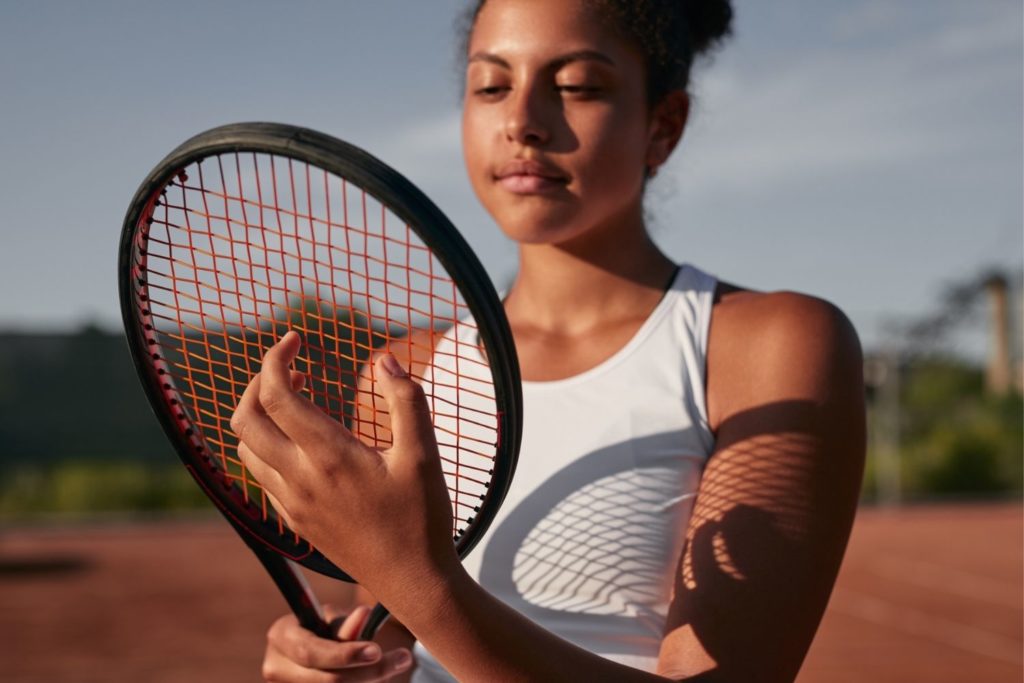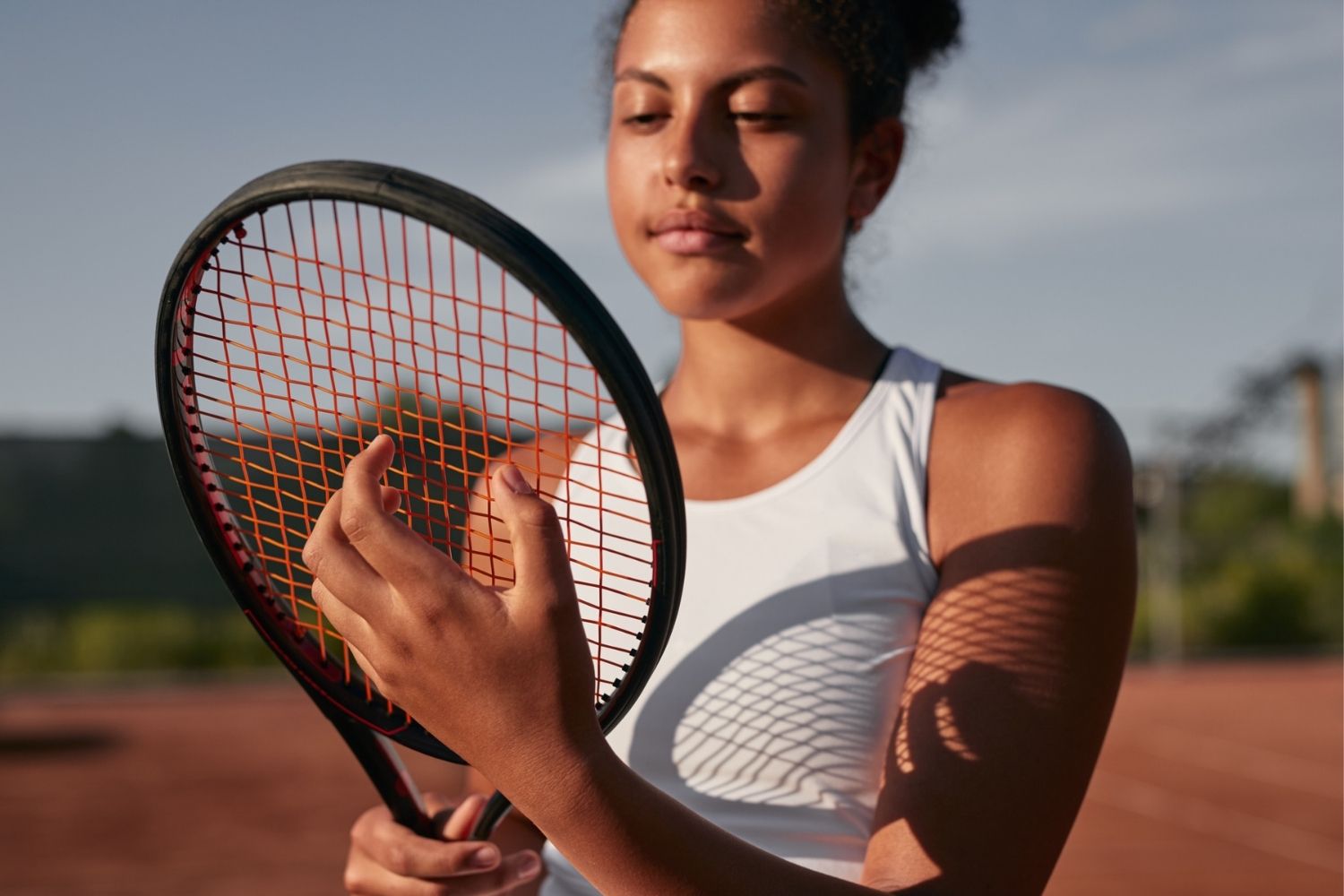 Strings for Your Racket
The strings are to a racket what an engine is to a car. Consider the strings you choose as the powerhouse behind the tennis racket's performance, playability, and durability. Because the strings are the only part of the racket that makes contact with the ball, their quality is the most important aspect of the racket itself.
Depending on the players' abilities, skill levels, physical performance, etc, different types of strings can be more suitable than others.
Opened strings patterns have more space between them, allowing the tennis ball to sink in during the shot and bounce with more energy, reducing the power input of the player. Closed string patterns are closer to each other, having less space in between, and therefore don't allow the ball to sink in. It's more flexible, but it requires much more power from the player.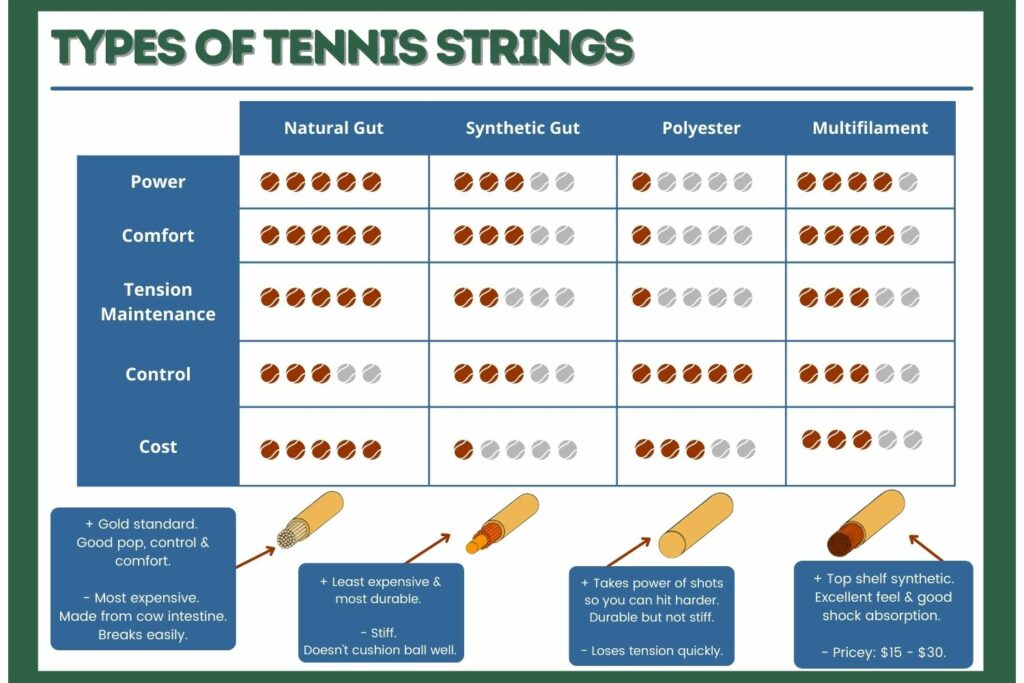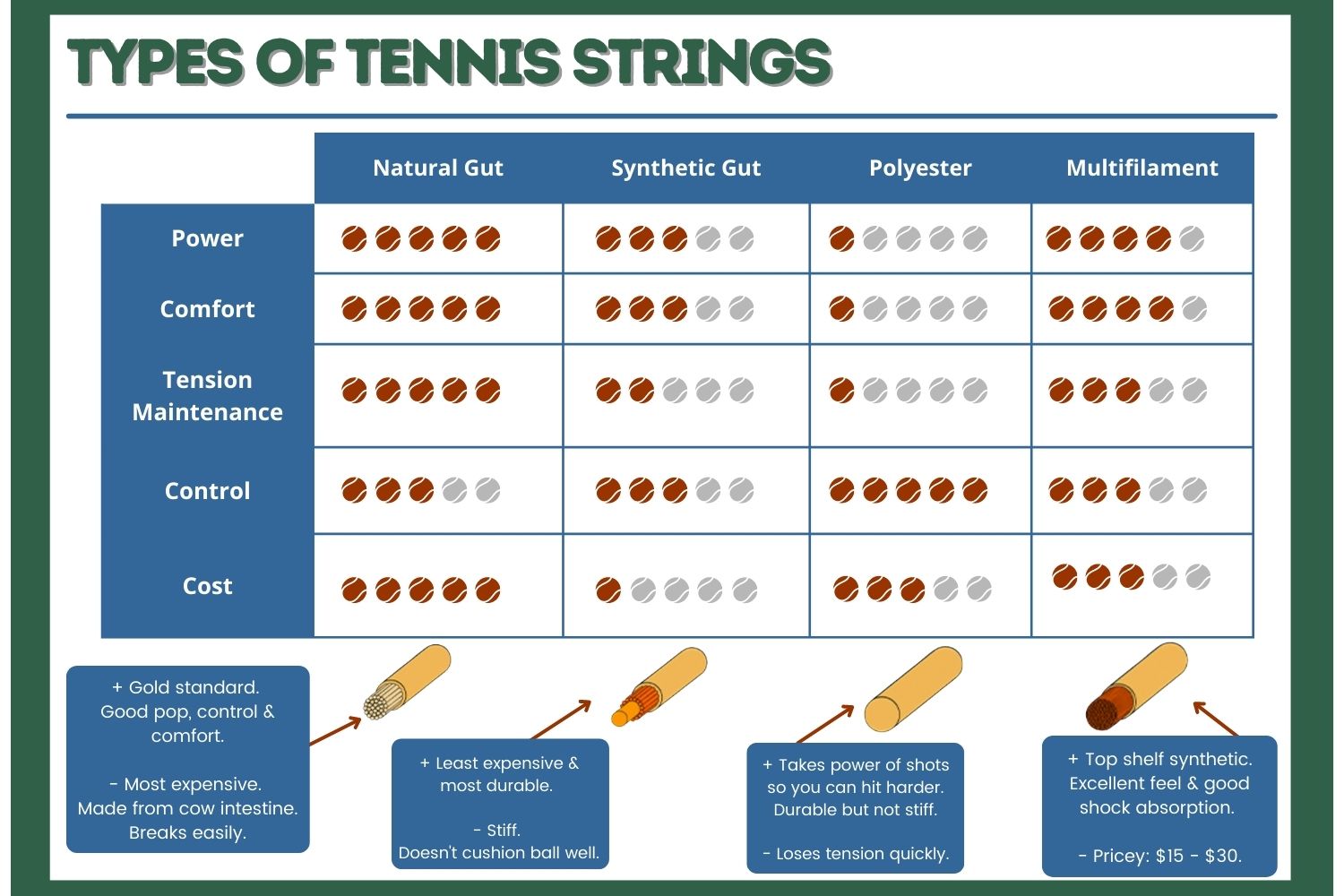 Types of Strings
Women's tennis rackets are made of these main types of strings.
Synthetic string  – made of nylon, provides a solid core string to enhance performance. It's the best choice for beginners since it's easier to learn and has a great price.
Natural gut string – made of natural cow gut, which is more resilient in nature. It provides optimum playability, is the best at maintaining a high tension, and even offers more comfort for the arm. It generates a lot of power and spin. This is considered the best string type of all, which most tennis professionals use. The only downside it has is the high price.
Multifilament – it aims to replicate the supreme feel of natural gut strings. Overall it has very good playability and tension maintenance. It is soft for the arm, and the prices are much more affordable. However, it may lack control and durability, which are the downside.
Polyester – this is suitable for experienced players and has an aggressive game style. It has a high level of durability and control and generates a lot of spins. However, it doesn't provide much power; it might feel harsh on the arm and lose tension faster than other options.
Racket Choice: Does It Matter?
The simple answer is yes! Your tennis racket choice matters because it will help you upgrade your skills and game style and unlock your maximum potential. 
Your racket choice is particularly important if you are an intermediate or even advanced player. However, if you are a beginner, you want to focus more on learning the basics of the game, tapping in your skills, and developing your game style. 
Please, don't go for a particular tennis racket because your favorite star is using it. Before making a purchase, take into consideration your needs, goals, game style, and budget. I promise you; there are great options out there, fit for different categories of players. Keep reading on to find out what might be the best women's tennis racket for you.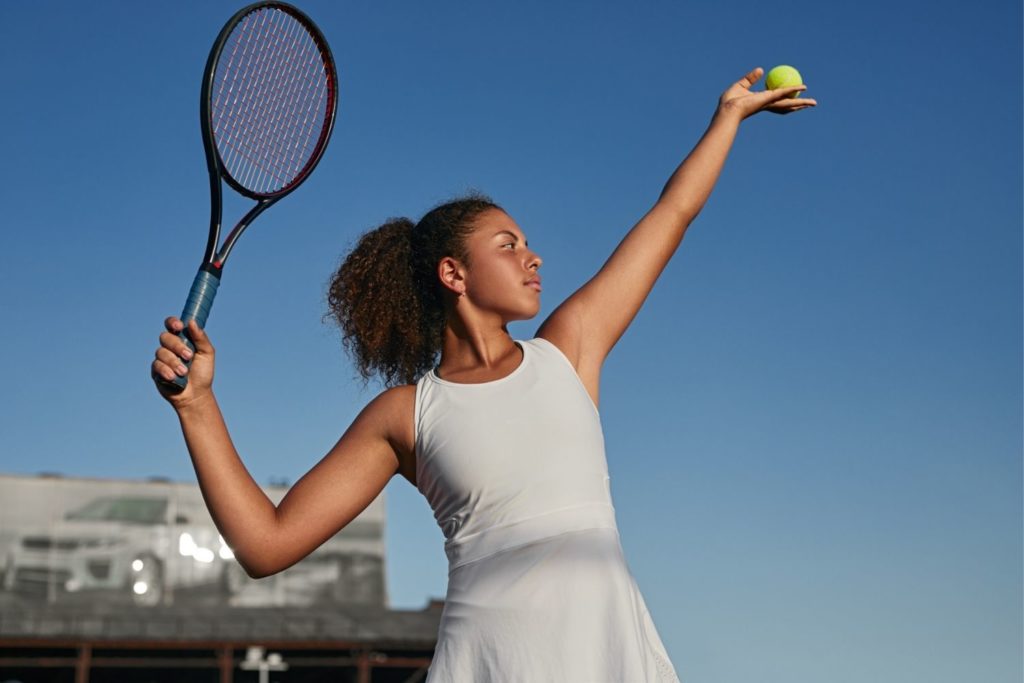 Our Verdicts
While there are many great options, Babolat Pure Drive is the best women's tennis racket, available in the market. It has a great structure and design. It's flexible and delivers all the promises for power and control in the field. It's not a surprise why so many famous players use this particular racket during their matches. 
Another top pick is, without a doubt, the Wilson Clash 100 tennis racket or its new version Wilson Clash 100 v2. It uses advanced new technology, which makes it powerful and flexible. Truly outstanding! It deserves all the hype that has gotten those last years. 
How We Chose the Best Tennis Rackets for Women's
The best women's tennis racket should have a very high performance in the field without compromising arm's comfort. To create this list, we went through a long process of test-playing and reviewing some of the best options that were available in the market, picking one for each of the categories above. 
There are many factors that make a good tennis racket great. We based our selection on playability, durability, power, control, spin, speed, flexibility, and comfort. Based on the differences that set apart women's rackets from men's rackets, we also favored those tennis rackets that were light in weight, had better control, and were easy to maneuver. 
The list above has a wide range of tennis rackets and brands, which will satisfy your need and preferences, from beginners to professionals, and all in between. There is a model and an option for everyone, depending on your game style, your skill level, and physical abilities. The specifications on the reviews will make it even easier for you to navigate through these options, with a clear explanation of what to expect. 
FAQs
A good women's tennis racket can be game-changing. It can increase power, spin, and flexibility. However, many decisions go into picking a tennis racket for women. We've answered a few more questions to help you choose. 
We are sorry that this post was not useful for you!
Let us improve this post!
Tell us how we can improve this post?