In early 2019, the Wilson brand launched a new tennis racket in the markets, grabbing immediately huge interest. The representatives of the well-known tennis racket brand went as far as making bold statements, claiming that their newest product would render all the other rackets obsolete.
According to Wilson's lab, Wilson Clash 100 tennis racket was produced by combining powerful new technology to provide unmatched comfort and feel.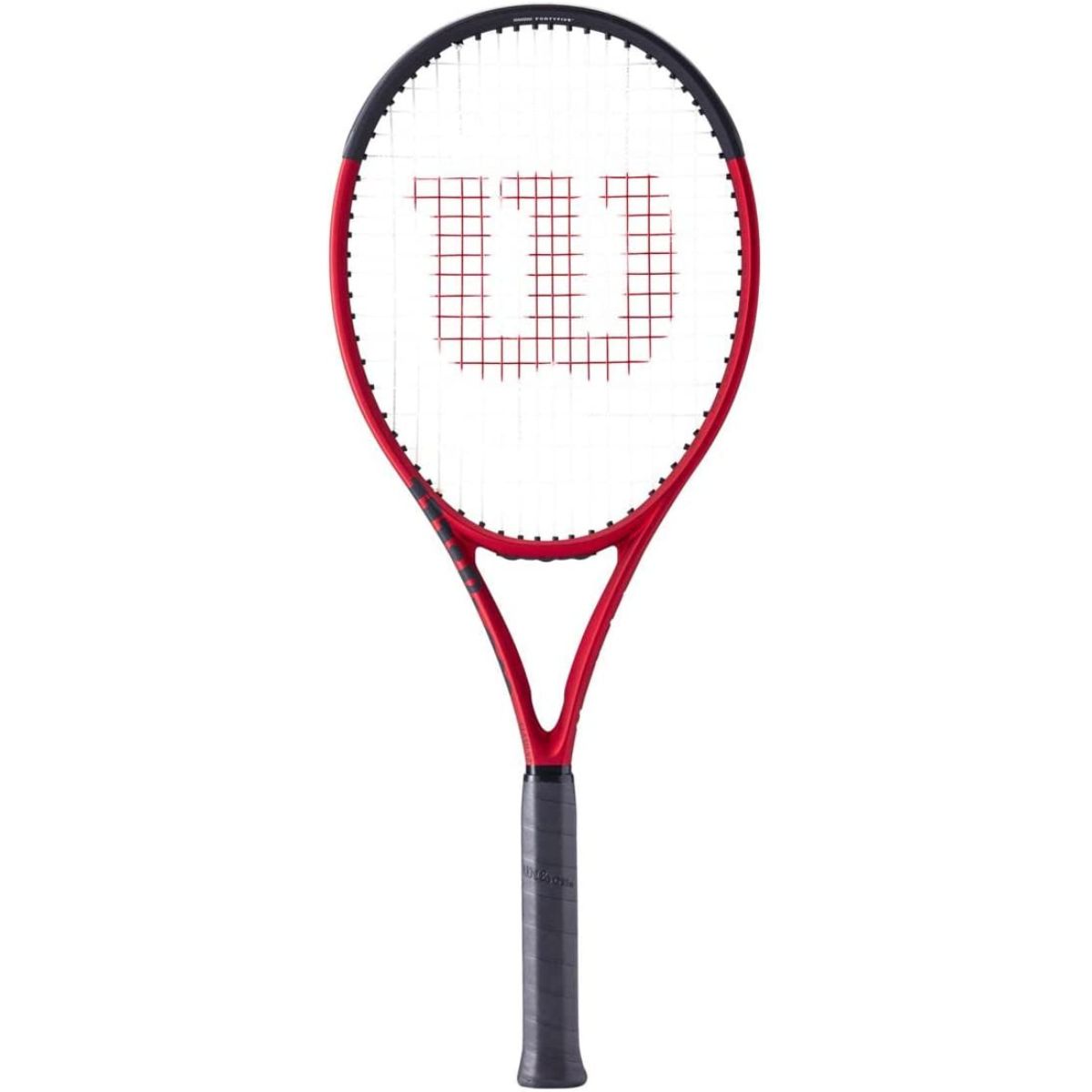 Wilson Clash 100
Best tennis racket for arm comfort
Groundstrokes: 8.6
Volleys: 8.4
Serve: 8.3
Returns: 8.5
CHECK LATEST PRICE
If you are a tennis enthusiast, you have heard at least once about Wilson Clash 100. It has been in the limelight for such a long time now, and it's marketed to be the best tennis racket ever made. But is it really worth the hype? Or is it just a really good marketing strategy?
Stay with me to find out, because I bought it and tested it, so you don't have to. My review in all technical aspects it's brutally honest, so if you are considering buying this racket, you want to read this article.
| | |
| --- | --- |
| Overall | 8.53/10 |
| Serves | 8.3 |
| Volleys | 8.4 |
| Groundstrokes | 8.6 |
| Returns | 8.5 |
| Topspin | 8.4 |
| Slice | 8.6 |
| Power | 8.5 |
| Control | 8.4 |
| Comfort | 9.1 |
| Touch | 8.6 |
| Maneuverability | 8.8 |
| Stability | 8.2 |
Wilson Clash 100 Specifications
I got to admit, when holding this Wilson tennis racket for the first time, I was quite impressed. It has a great design, and the beam is thick, but somehow the racket feels very flexible. 
Wilson Clash 100 tennis racket features a 100 hundred head size, which is surprisingly light feel. The opening string has a 16×19 pattern, and the flat beam size is 24.5 mm, to provide more power and generate topspin. 
The Wilson Lab have used two groundbreaking technology in the making of this racket.
Stablesmart – enhances flexibility without compromising the high performance on stability. It also applies a unique geometry to the racket frame.
Freeflax –  which enables horizontal and vertical flex, is way above the average level, while the players still have control over the ball. 
Specifications 
Head size: 100 in
Leingth: 27 in
Weight: 10.9 oz 
Balance: 7 points HL
Stiffness: 55
Swing weight: 312 
Beam width: 24.5 mm
String pattern: 16 main
Groundstrokes – Score: 8.6
In my many years of playing tennis, I had never connected better or faster with a racket, as I did with Wilson Clash 100. The feeling is unique, at least in my experience. It delivered all the promises for having control and power over the ball while still being very comfortable for the arm. The racket is also very easy to maneuver.
One thing is for sure; you will feel the flexibility of the racket right away you start playing. The lively response and the energy return in contact with the ball was my favorite feature of Wilson's clash 100. The ball really moves, and I found myself being able to generate much more topspin than usual.
Wilson Clash 100 tennis racquet is a weapon in the baseline, and I found myself going from the forehand to backhand slice with so much ease, even when I was hitting the ball from difficult angles. It helps to go switch between offense to defense and vice-versa quite fast. 
I crave a little bit of added weight and swing weight, so it would be easy for the players to redirect the ball. That was the only downside for me. 
Overall, the Wilson clash 100 tennis racket is a great choice, in particular for beginners and intermediate players.
Volleys – Score: 8.4
Up at net, Wilson clash 100 racket performs pretty well, thanks to the high level of flexibility it has. It was quite easy to dictate where my volleys went to the court; even when I had to hit the ball directly, I never felt like I was losing control.
However, the volleys were the part when I wished the most that the racket had more added weight because it felt a bit too lightly, and it definitely could use some tension for more stability. I also wish the crispiness of the racket felt a little bit softer than it actually does.
With that said, though, the more time I spend in the volleys, the more I connect to the racket, and the better it gets in the net, feeling the unique response of the racket. 
If you are more of an aggressive baseliner, then this is definitely the racket suitable for you. It's very easy to switch positions of the tennis racket grips, to keep up with fast exchanges, or to keep the angle sharp.
The dropshots are also a strong point of Wilson Clash's racket. I found it quite easy to direct the ball without being worried that the shot was too long.
Serve – Score: 8.3
For serves, I found the Clash tennis racket to be overall well-balanced. The blend of control and power it's very impressive. The racket generates a lot of topspin, and trust me when I say it would put the opponent in a defensive mode quite fast. 
The best feature of the racket when it comes to serves is definitely the maneuverability, which helped make the slice serves very effective and low to the ground, making it harder for the opponent to return. 
I would definitely recommend the Wilson Clash 100 tennis racket if you aim to hit with more slice or kick.  This tennis racket favors the flatter serves, giving you the advantage of more penetrating serves, and making the opponent have less time to react. 
However, during the playtest, I noticed that if I missed the sweet spot, I would immediately feel the vibration shock on my arm.
The one thing I struggled with Wilson's Clash racket was that sometimes I couldn't predict where the ball would go. If you don't produce enough pace, it can quickly become a little erratic, so in a sense, this is one of those "all or nothing" kind of rackets. 
Returns  – Score: 8.5
As expected, the Wilson Clash racket's low weight and headlight balance make returns so much easier to maneuver. I felt very confident when hitting the returns, generating more than enough spin to land the ball at the side of the court.
The racket never felt rushed or late on the returns, thanks to the player's great control over it, particularly if you flattened out your backhand slices.
Although it has the tendency to get pushed around for the heavier serves, the Wilson Clash 100 tennis racket is very stable for its weight. This racket can be such a good weapon in returns, especially if you have a more aggressive approach in your game style. 
During the playtest, it was quite easy to get into positions. Wilson Clash racquet allows to step in and start the point aggressively, or at least in the neutral position.
Some might argue that the racket lacks a bit of stability because, in the big serves, the returns can be more difficult. But apart from that, there is nothing else to complain about, and frankly, the more I played, the more I connected with the Wilson Clash tennis racket.
Overall – Score: 8.5
At first, I was quite skeptical about the Wilson Clash 100 tennis racket, attributing its popularity more to a great marketing strategy than to the racket's features. The bold statements of the brand, which claimed to have revolutionized the market, sounded too good to be true, to be completely honest.
After having tested out the Clash tennis racket, I can safely say that the racket's quality backs up the talk of the producers. In simple words, it is really the best tennis racket, and now definitely one of my top favorites.
I have to applaud Wilson for their innovative technology and creative approach when creating this racket. That's why Wilson is the best tennis racket brand.
The Wilson Clash 100 racket is overall very flexible, has an amazing blend of power and control, generates a lot of topspin. Those players who have an aggressive approach to their game style will definitely love this racket because it has such an explosive power in the attacks. 
Overall, the Clash tennis racket allows the player to have good control over groundstrokes, serves, and volleys, thanks to the unique design and strings patterns.
Who Should Use It?
I would recommend this racket to single players. Also is great for those who don't have a very athletic physique but rely more upon their flexibility on the court. If you are a beginner or an intermediate player, the Wilson Clash tennis racquet would be such a fun racket to play with.
However, if you are highly advanced, I must warn you this is not the most powerful racket out there, and you might want to consider other choices. 
The only main downside I've noticed is the slight lack of stability, which might put you off, but the other great features make up for it. 
Wilson Clash 98
Wilson Clash 98 tennis racket is suitable for highly advanced players or even tennis professionals. The racket feature has been adjusted to add more power and better control. It preserves the same comfort and advantages of the Clash technology.
This is probably the most flexible Wilson tennis racket on the market, which also allows great power and precision during hits.
Wilson Clash 98
Best tennis racket for aggressive advanced players
Groundstrokes: 8.6
Volleys: 8.4
Serve: 8.4
Returns: 8.7
CHECK LATEST PRICE
Wilson Clash 98 is very fast in the groundstrokes, giving the player nice control over the forehand and backhand slices. It generates a lot of spins, giving you the advantage of more penetrating shots. Overall, it delivered a very good performance in the baseline. 
This racket has very good stability at the net, which allows you to direct your volleys with precision everywhere on the court. It has a great mix of mobility, feel and power. For serves, the shots require a lot of power to generate spin. 
Overall, Wilson Clash 98 tennis racket is a great option for advanced players who aim to emphasize control and comfort in their game style. I would not recommend this racket to beginners, who would find it quite frustrating to play with.
Specification 
Weight: 11.5 oz strung.
Length: 27 inches
Balance: 310 mm
String patterns: 16 x 19
Head size: 98 square inches 
Wilson Clash 108
Wilson Clash 108 is probably the most beginner-friendly tennis racket available on the market. It has an amazing blend of comfort, adaptability, and flexibility, making it great for those who are just starting out on the tennis court. It classifies as an oversized racket since it has a slightly bigger head and length.
Wilson Clash 108
Best tennis racket for beginners
Groundstrokes: 8
Volleys: 7
Serve: 8
Returns: 9
CHECK LATEST PRICE
Wilson Clash 108 will be a great option if you aim to learn and practice your slices and generate topspin to elevate your skills.
This racket is mobile and flexible in the baseline, with a big sweet spot. The level of control during groundstroke shots is quite impressive. The open pattern makes it possible to generate o lot of spin, allowing the player to go after the groundstrokes with confidence and be more precise.
At the net, it might take a while to adapt with the size of Wilson Clash 108, but when you do, it will be so much easier to maneuver your volleys at the court. It has a lot of stability, comfort, and a nice forgiveness factor that a beginner would love. For serves, this racket has a decent performance, producing enough spin and power. 
Overall, this is a very good racket to play with. Wilson Clash 108 can be a refreshing change from your usual smaller head racket, especially if you are recovering from an injury and want some relief and tenderness for your arm.
Specifications 
Weight: 10.4 oz strung
Length: 27.25 inches
Balance: 345 mm
String patterns: 16 x 19
Head size:  108 square inches
Conclusion
Wilson Clash racket line is very innovative, bringing up so many much-needed market changes. The use of new technology, which aims to make these rackets more effective and comfortable, deserves a standing ovation.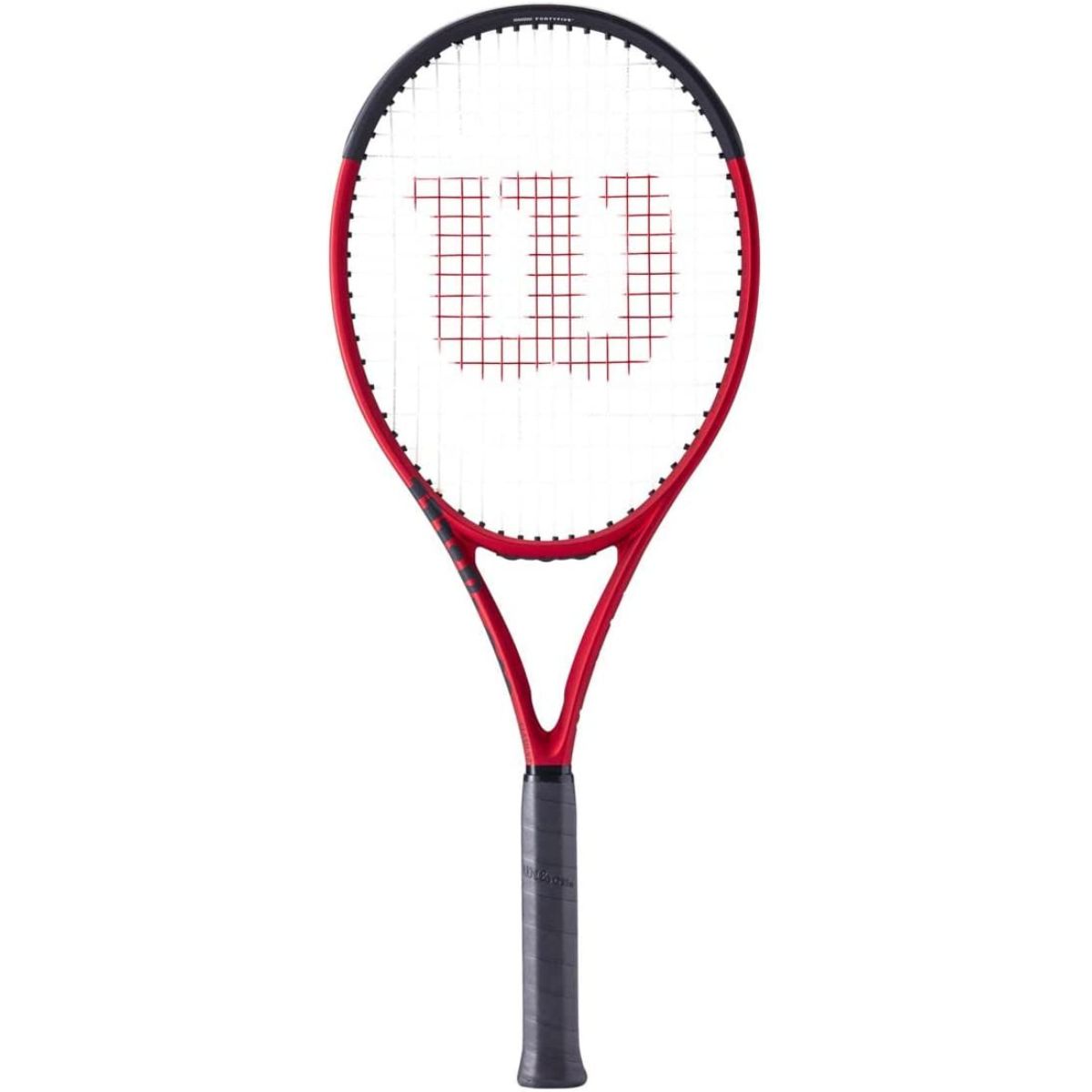 Wilson Clash 100
Best tennis racket for arm comfort
Groundstrokes: 8.6
Volleys: 8.4
Serve: 8.3
Returns: 8.5
CHECK LATEST PRICE
The Clash line has a suitable option for a wide range of players, whether you are a beginner or highly advanced. If I had to choose a favorite option, my personal best is the Wilson Clash 100, which is such a flexible racket, generating a lot of power, spin, and control. 
One last thing I want to highlight is that the Wilson Clash line uses eco-friendly materials, reducing the footprint on the environment. As if there are not impressive enough already. Well done, Wilson! Well done!
We are sorry that this post was not useful for you!
Let us improve this post!
Tell us how we can improve this post?