It is safe to say the Yonex EZONE 98 series has been a fan favorite among both avid tennis players and proverbial professionals such as Nick Kyrgios and Naomi Osaka. This collection, which started in 2010, is known for its flexibility and comfort. The series is filled with variants for players to find the build that hits that sweet spot, such as the EZONE DR 98. 
Yonex EZONE 98
Best tennis racket for intermediate players
Groundstrokes: 8.8
Volleys: 8.5
Serve: 8.6
Returns: 8.5
CHECK LATEST PRICE
In 2021, this collection was updated with a new model that I've been enthused to try out and review, especially since the Yonex EZONE 98 2020 was such a charm. I'll get straight to the meat here; it lived up to its reputation as a great experience on all fronts and was certainly an upgrade from its predecessor. Without a doubt, it's something I'll have a lot of fun using in the future. So, let's get right to business!
| | |
| --- | --- |
| Overall | 8.54/10 |
| Serves | 8.6 |
| Volleys | 8.5 |
| Groundstrokes | 8.8 |
| Returns | 8.5 |
| Topspin | 8.6 |
| Slice | 8.3 |
| Power | 8.2 |
| Control | 8.9 |
| Comfort | 8.6 |
| Touch | 8.7 |
| Maneuverability | 8.5 |
| Stability | 8.3 |
Yonex EZONE 98 Specifications 
If I had to characterize them, the Yonex EZONE 98 specs aim to span the needs of a sizeable domain of passionate tennis players. Each swing aims to give you a bang for your buck with how it balances power with a sense of control and facile maneuverability. Overall, the racket aims for consistency and minimizes trade-offs. I'll break down what the numbers mean for you here. 
The EZONE 98's length stays at a rather conventional 27 inches (69 cm); it prioritizes control and precision by sacrificing a tiny head size of 98 square inches (632 cm2). 
It weighs 10.8 oz unstrung, which complements that maneuverability and makes it accessible to many. Its strung weight is 11.3 oz, but this largely depends on the strings you choose to use (I go for polyester here because I'd like spin and control in my play).
Its swing weight is at a respectable 317, which is a good middle ground. Its balance is at 9 pt HL at 12,4 inches unstrung, and 6 pts HL at 12,75 inches strung, absorbing shock at the frame. Thus Yonex tennis racket is light on the arm with a stiffness rating of 64. Its width beam shifts from a narrow 0,75 inches handle, wide 0,94 inches shoulder, and standard 0,9 inches at the head.
Finally, its standard 16×19 string pattern keeps control and spin balanced. 
Remember that specifications can serve as a guide, but your experience always takes priority, so always give the racket a try.
Head size: 98 sq. in / 632.26 sq. cm
Length: 27 in / 68.58 cm
Strung weight: 11.3 oz / 320 g
Unstrung weight: 10.8 oz / 305 g
Strung balance: 6pts HL / 12.75 inches
Unstrung balance: 9pts HL / 12.4 inches
Swingweight: 317
Stiffness: 64
Beamwidth: 0.9 inches / 0.95 inches / 0.75 Inches
String pattern: 16×19
Groundstrokes – Score: 8.8
The racket's feel was amazing to me here; more than anything, it's fun. I could move around and maneuver myself while drawing a lot of power; it worked well in many positions and angles. I'd describe the feeling of using it as something very potent due to the balance and stability; there's a lot you can try with it.
As an avid tennis player who's played for years, the Yonex EZONE 98 felt like something special due to how I could work with it. It's so comfortable on top of that too. 
When I went for a more relentless offense, it didn't come at the expense of control which was satisfying; I felt like finetuning the ball on the court. The racket's power showed most when I tried to play softer shots or defensive, though; I could maintain my momentum through them thanks to its responsiveness. 
Switching from forehand to backhand was smooth. The racket could be stable against some tedious hits from my opponents too. 
I love some spin in my hits, and that was satisfactory too. That sense of ease and power that was promised is aided by the compact string pattern and the slightly smaller head size. 
Overall, the Yonex EZONE 98 will enable you to use many styles of groundstrokes. It's good for all levels, but it'll help you find and develop a style you're comfortable with if you're between beginner and intermediate.
Volleys – Score: 8.5
My netplay with the Yonex EZONE 98 left me in disbelief. I could consistently be accurate here, both in my control of guiding the ball and timing. The head lightness aided in that sense of control. 
I also loved the speed, and I could leverage it to play at my pace against big hitters. It largely held up against quicker exchanges, too, I could maintain my grip, and I'd say the feel is remarkable. 
But I would say I wished for maybe a tiny bit more balance when I tried to go for a fast playthrough, but nothing I couldn't work around since I could receive on the racket's sweet spot, which is plentiful. I think some tweaks to the tennis racket weight may help with this.
When I went for block volleys, the racket's responsiveness aided me. The racket's moderate weight made it serviceable here; it's something that gives it that flexibility and accessibility. 
I responded pretty efficiently when I was pushed to go for swinging volleys, thanks to the power and airy swing the racket offered.
The performance was respectable, and the Yonex EZONE 98 certainly holds its own at the net. 
Serve – Score: 8.6
When serving, I felt this racket's strengths come in handy, and it pretty much offered me everything I needed. There's plenty of control and flexibility at my disposal that I can't go too wrong with. 
I could get many easy points because of how effortless the racket felt to use; it could move with a lot of speed which let me execute powerful flats to strike the ball with impressive output.
I wouldn't say it felt tedious, and I was offered great control that let me puncture the court in the places I intended. Even when it didn't give me a free point, it helped me set the pace for the rest of the point. 
I could tap into spins when I wanted them, too, which helped throw my opponent off guard when it came to slices and kicks for which the precision and control were important; the string pattern mattered here. It's a well-rounded racket, I'd say.
Confidence is important in service, so using a racket where I get consistent results feels good and reassuring, and the Yonex EZONE 98 is exactly that. 
Returns – Score: 8.5
The Yonex EZONE 98 was super in returning serves and packed a punch. Its maneuverability came in handy here, aided by its head lightness and slightly lower weight. I could easily make significant returns, as you would expect from these specs.
The stability was also notable for me; I didn't lose my balance against serves too often, which let me pick up the pace for groundstrokes. But I would say the risk is noteworthy against big serves if you have the wrong technique, but it's easily fixable.
Personally, my timing adjusted to the racket's speed rather easily so I could respond accurately; I find it easy to adapt to and enjoy speed. There's a sizeable sweet spot you can take use in your favor.
If you like to time yourself for slower, more controlled returns, then maybe a slightly heavier racket like the Tour model might also be worth trying, but most of my returns landed where I aimed.
There's a fair amount of spin you can tap into aside from the impressive yields to take charge of the point. Predictably, this part of the playtest held up to the standards of the rest.
Overall – Score: 8.6
Yonex EZONE 98 certainly lived up to expectations and made it one of my favorite rackets to play with. Its identity is in how it is an all-in-one package in power, feel control, spin, and speed that you can't go wrong by using it and do not have to worry about some major trade-off.
Groundstrokes and serves were arguably the highlights of this playtest session; I enjoyed the airiness and speed I could feel in both. Yet it performed well across all fields, getting nothing below an 8.5 which speaks volumes about its consistency with different play styles.
It's user-friendly, and no matter what level you're on, this racket will be useful and worth a try. I can see more intermediate and advanced players capitalizing on their balanced strengths to take control of the court with the liberties the 98 EZONE offers. 
I am impressed by this Yonex tennis racket's design and how it manages to perform as well as it does. It is easy to be dull when you're a jack of all trades but master of none, yet this is far from the case with the Yonex EZONE 98. 
Overall, this is a fantastic addition to the EZONE family that could easily win you over.
Different Models
We loved what the EZONE 98 had to offer as a well-rounded racket, but if there are some specs you're looking to specialize in, you may also want to look at alternate models in the EZONE line that should be similar with slight tweaks. 
There are 15 rackets in this family, but we will focus on the two you might want to look at most.
Yonex EZONE 98 Tour
The Tour model of the EZONE 98 is a slightly heavier version of the original, which should give players a tweak in stability. Compared to the former, it weighs 0.4 ounces more, is two points less in head-lightness from the increased weight, and gains 13 more swing weight. The Tour also has 2 points lower in stiffness, giving you a better feel.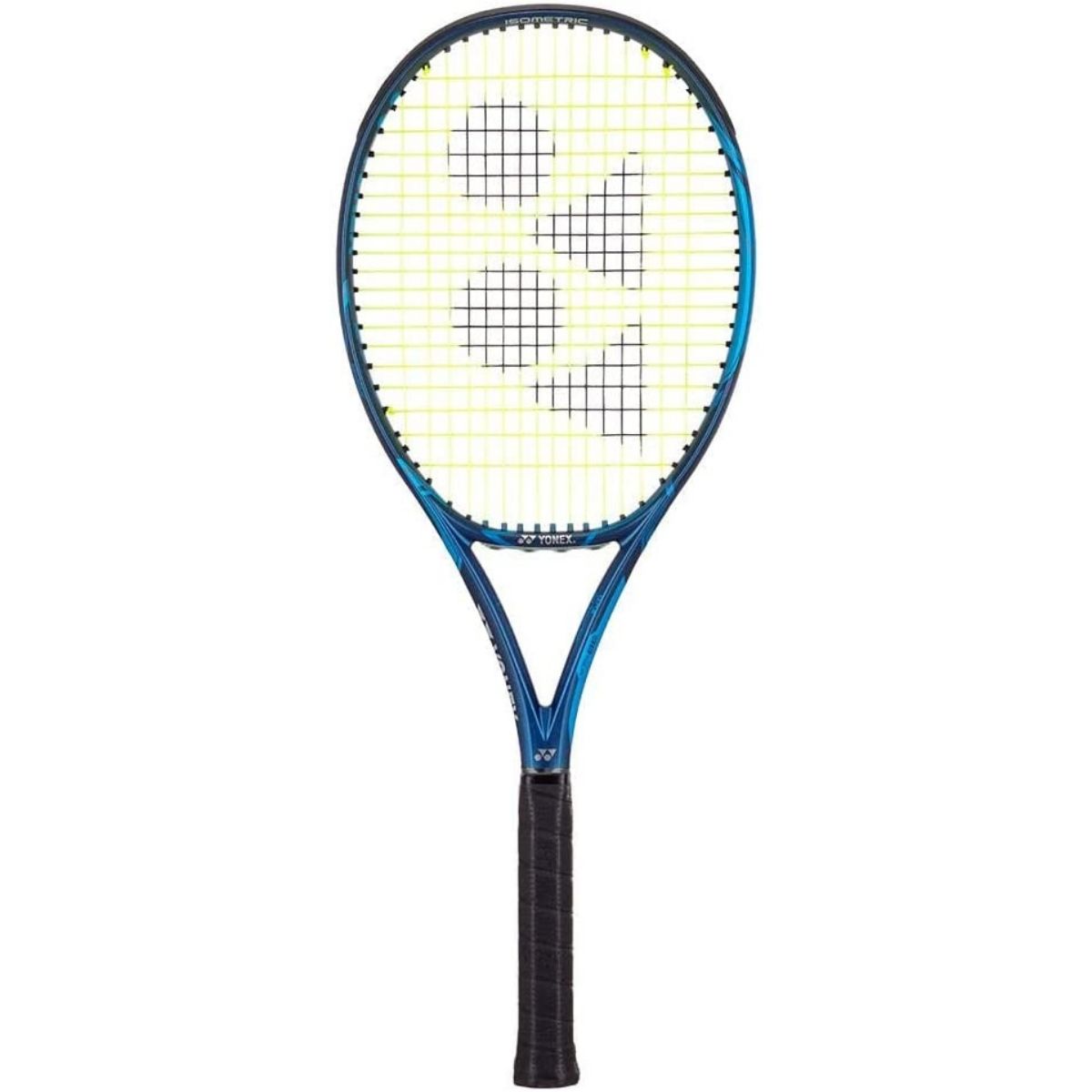 Yonex EZONE 98 Tour
Best tennis racket for advanced players
Groundstrokes: 8.6
Volleys: 8.6
Serve: 8.7
Returns: 8.4
CHECK LATEST PRICE
This model is arguably best for more advanced players as it's a bit less easy to use and less maneuverable than the base Yonex EZONE 98 model. You may have some time adjusting, but it's worth giving it a shot if you have trouble returning hard hitters or are one yourself; the balance and stability may favor your style well here. 
Yonex EZONE 98 Plus
The EZONE 98 Plus is a longer version of the original, 27.5 inches in length. This should give you more speed, a more lenient sweet spot for more control, and more stability than before. 
Aside from the length, the main difference is the head lightness which is 1 point less, and the swing weight which is increased by 17.
Yonex EZONE 98 Plus
Best tennis racket for intermediate players
Groundstrokes: 8.7
Volleys: 8.5
Serve: 8.9
Returns: 8.1
CHECK LATEST PRICE
This tennis racket is also best for intermediate and advanced players. You'll find less maneuverability, but the strengths mentioned above can easily make up for it. This racket is good for those who enjoy aggressive offense in their tennis; it should also strengthen flat serves due to the combination between the higher contact point and power gains. 
So if these changes sound appealing, definitely give the plus model a try.
Conclusion
The Yonex EZONE 98 is the ideal jack of all trades, offering you good power, speed, control, comfort, and maneuverability. It doesn't do much wrong; it's a racket that works with any player or style but is best for intermediate players. 
Yonex Ezone 98
Best tennis racket for aggressive offense
Groundstrokes: 8.8
Volleys: 8.5
Serve: 8.6
Returns: 8.5
CHECK LATEST PRICE
This racket is a must-try and safe option if you're unsure of what to use. But don't let its well-roundedness convince you it pales against more specialist rackets, as this adaptability is precisely what makes it potent, and there's a lot you can do with it.
If you're a more advanced player, then the alternative EZONE models discussed, such as the EZONE 98 Plus and Tour models, may also be worth checking out, which depends on your preferences in power, control, and the parts of tennis play you want gains in. However, my personal favorite would be the original Yonex EZONE 98 for everything it offers.
FAQs
Keep reading to find out who uses Yonex EZONE 98 and to find out more about this tennis racket.
Q: What is the difference between the Yonex EZONE 98 and 100?
The Yonex EZONE 100 has a slightly different head shape, which is longer and wider. The 100 is also a bit lighter, weighing only 9.9 ounces strung. Both rackets have the same length and string pattern.
Q: Who uses the Yonex EZONE 98?
Some well-known players who use this racket are: Garbiñe Muguruza, Madison Keys, Stefanos Tsitsipas, Naomi Osaka, Karen Khachanov, and Denis Shapovalov.
Q: What is the difference between Yonex EZONE and VCORE?
The main difference between these two series is that the Yonex VCORE has a bit more power and spin potential, while the EZONE is a bit more comfortable. The EZONE also has a bit more control and feel. 
Q: Is Yonex EZONE good?
Yes, the Yonex EZONE 98 is a great racket for intermediate and advanced players. It's versatile and has a good mix of power, control, and comfort. Beginners may also find success with this racket if they are willing to put in the time to adjust to its slightly less forgiving nature.
We are sorry that this post was not useful for you!
Let us improve this post!
Tell us how we can improve this post?