Tennis shoes are very important on the court since they greatly impact the player's performance. You can not be at your best if you aren't wearing something that feels comfortable and adjusts to your needs. Remember that tennis is a very intense sport, including a lot of footwork and a wide range of different movements.
Finding the best tennis shoes that fit and feel good can be quite challenging. There are many options available in the market, but trying all of them until you find what's best for you is not realistic or cheap. That's why we are here to help. After a long process of reviews and the help of experts, we have shortlisted some of the best tennis shoes for men and women.
Take a look, there is a category for everyone, and with our guidance, you too can have a Cinderella moment, not in a palace, but on the tennis court, of course.
Best Tennis Shoes Reviewed
The list below includes a broad range of good tennis shoes to suit various situations. It includes the best tennis shoes for women and men and models suitable for people with plantar fasciitis or high arches.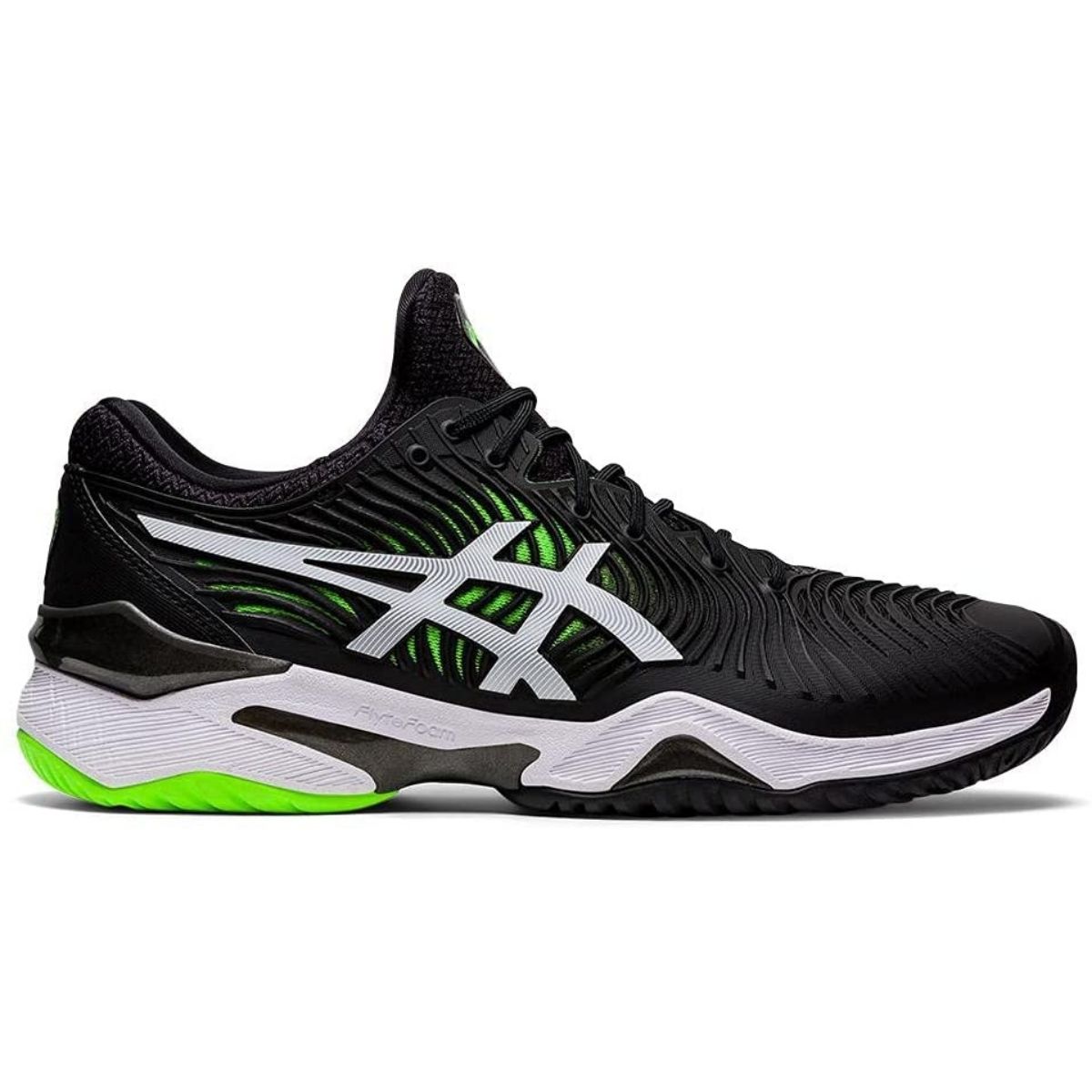 Our top pick as the best tennis shoes for men is Asics Court FF 2. It also happens to be the favorite of Novak Djokovic. Conscience? I think not!
Overall, these shoes are pretty great and offer a lot of comfort and stability. The outsole is made of extra durable rubber material, which allows a lot of traction. It is manufactured with a unique herringbone-like pattern, making these tennis shoes work particularly well on hard court surfaces. The outsole also provides extra protection for the feet.
Asics Court FF2 tennis shoes are very comfortable, as the company has used FlyteFoam technology for better cushioning than the standard. The shoe's upper part also has a great design and is very comfortable, but it wouldn't hurt if it were more breathable.
Overall, Asics Court FF2 are the best tennis shoes for men, and they will continue to be a favorite, even in the upcoming years.
Product Specs
Size: True
Width: Medium
Arch support: Medium
Weight: 14.8 ounces at size 10.5
Color: Black, white, green, red
Top players using it: Novak Djokovic, Borna Coric
Pros
Comfortable
Lots of stability
Durable
Suitable for all courts
Cons
They tend not to be very breathable
As the best tennis shoes for women, we have picked Adidas Adizero Ubersonic 4 shoes. Overall, these shoes have a great performance and offer a lot of comfort and stability.
These shoes provide great traction, thanks to the outsole made of Adiwear, which is an extremely durable material. At the midsole, the brand has used the updated Lightstrike cushioning system. This makes the Adidas shoes very comfortable while still allowing a wide range of movement.
The upper part is in the form of primeknit bootie, a lightweight and breathable fabric, which brings a sock-like fit for more support.
Product Specs
Size: Slightly large
Width: Medium
Arch support: Medium
Weight: 11.6 ounces at size 8.5
Color: Black, white, gray, orange, pink
Top players using it: Kristina Mladenovic
Pros
Very comfortable
Great stability
Synthetic sole
Lightweight
Cons
Suppose you are looking for a great pair of tennis shoes that are not too expensive then Adidas SoleCourt Boost might be an excellent choice for you. These tennis shoes are comfortable and stable. They perform well in the court and also have high durability.
The herringbone pattern of these Adidas shoes is very durable and offers great traction on all types of courts surfaces. In the midsole part, the company has used Boost technology to increase comfort and preserve a high level of response. The upper of the shoe is made of TPU materials, which provides both comfort and stability.
Product Specs
Size: True
Width: Wider in the front
Arch support: Medium-high
Weight: 15.5 ounces at size 10.5
Color: Black, white, gray
Top players using it: Domenic Thiem, Stefanos Tsitsipas, Jo-Wilfired Tsonga
Pros
Soft padded collar
Rubber sole
All courts usage
Durability
Lightweight
Cons
Best for Plantar Fasciitis
If you suffer from chronic pain and discomfort in your foot and ankles, also known as plantar fasciitis, we have the best tennis shoes recommendation for you. Hoka One One Bondi 7 tennis shoes are extra comfortable, made with a high percentage of the cushion. The feeling of softness and comfort is next level.
The midsole part is made of heavy layers of cushion for that outstanding comfort. The brand has used meta-rocker geometry to add more stability and reduce the impact. The outsole is made of rubber pats, which increases the shoe's stability even more.
Product Specs
Size: True
Width: wider in the front
Arch support: Medium
Weight: 8.9 ounces at size 10.7
Color: Black, White, Gray, Yellow, Orange, Pink, Blue
Pros
Extra comfort
Protective
High stability
Breathable
Solid foam
Cons
Nike Air Zoom Pegasus 38 tennis shoes are the triumph after many years of trials and improvements. Players with medium to high arches who are looking for shoes that will give them both support and comfort will definitely love this.
The midsole is a classic of the Pegasus line of React foam. Nike has used an updated version of the Air zoom to increase the cushioning on the forefoot part of the shoe. This makes the women's shoe version feel softer, but the male version is slightly firmer.
The midsole part is firm, which increases stability, while the outsole part of the shoe is made of thick rubber material, which makes it very durable. These tennis shoes will be a great choice if you are a beginner or back in the field after injury recovery.
Product Specs
Size: True to size
Width: Narrow in the front
Arch support: Medium to high
Weight: 8.2 oz (W) 10 oz (M)
Color: White, Black, Gray, Light pink, Blue
Pros
Extra support
Comfortable
Durable
Lightweight
Cons
Finding a great pair of shoes, that fit just right when you have wide feet can be quite of a challenge, most of the time. But this doesn't mean you have to settle for less comfort and stability than you deserve while on the field.
K-swiss Hypercourt Express 2 tennis shoes will certainly be one of the all-time favorites if you are a player with wide feet.
Overall, these shoes have a great performance in the court, are highly durable, and are one of the most comfortable tennis shoes. As you can imagine, they have a wider fit, making it easy to take it on and off, and it doesn't feel lost. To make this shoe, the brand has used an updated Surgelite technology on the midsole part to make it lightweight and with some extra layers or cushion.
The shoe's traction is very good, and the player can move around with ease. You can feel the responsiveness during all the movements. It also had tight lacings, which makes the foot feel locked in
Product Specs
Size: True
Width: Slightly wide
Arch support: Relatively low
Weight: 10.8 oz at size 8.5
Color: White, black, gray, light pink, blue, yellow
Pros
Synthetic leather upper
Rubber outsole
Comfortable
Good stability
Durable
Cons
Nike Air Zoom Vapor Pro is the latest improved addition of Vapor's line, which is known for its lightweight feature. These shoes deliver great performance while maintaining their stability and softness.
The shoe's upper part is made of double breathable mesh layers and has asymmetrical lacings. Nike has used Zoom air technology for the shoe heel, which offers great traction and responsiveness of the movement. The midsole is made of soft foam materials to increase comfort.
These Nike tennis shoes also have an amazing and stylish design, with various color options.
Product Specs
Size: True
Width: Medium
Arch support: Medium
Weight: 12.9 oz at size 10.5
Color: White, black, gray, red, blue, teal
Top players using it: Andrey Rublev, Lorenzo Musseti, Carlos Alcaraz, etc.
Pros
Lightweight
Comfortable
Soft
Good response
Synthetic sole
Cons
During the playtest for our review, these shoes were a top favorite. Nike Air Zoom GP Turbo tennis shoes are comfortable, highly durable, and deliver great performance overall. Nike has used new technology to provide lightweight cushioning and water-resistant materials during the manufacturing process.
The shoe's outsole offers great traction due to the durable herringbone pattern. The inside end of the shoe is wrapped by a prominent toe guard, which stays up all the time, providing stability.
For the midsole, the company has used boost technology to increase the level of comfort without losing excellent responsiveness. The upper of the shoe is made of TPU material, covered with small dots at the front to increase durability and abrasion-resistant.
Product Specs
Size: True
Width: Slightly small
Arch support: Slightly narrow
Weight: 16.2 oz at size 10.5
Color: White, black, yellow, orange
Pros
Comfortable
Good traction
Great for rainy days
Cons
It's safe to say that Nike has made a great job with these particular tennis shoes. We decided to feature them as the best tennis shoes for hard courts since they allow grip and sliding. Adidas SoleCourt Boost tennis shoes deliver a great performance and are highly resistible and abrasion-resistant.
The Nike Air Zoom Cage 4 HC is a top quality tennis shoes that provides excellent stability and comfort on the court. It has a herringbone outsole pattern that gives good traction, and the midfoot shank provides support during quick movements.
The Zoom Air units in the forefoot and heel add cushioning, and the TPU overlays provide durability. This shoe is a great option for players who need a stable, comfortable, and durable tennis shoe.
Product Specs
Size: True
Width: Wider in the front
Arch support: Medium – high
Weight: 15.5 oz at size 10.5
Color: White, black, gray
Pros
Fast and comfortable
Lightweight
TPU material
Great for hard court
Cons
What to Consider When Choosing the Best Shoes for Tennis
A few key factors are important to consider before purchasing a pair of tennis shoes. This list includes comfort, durability, cost, and so much more; that's why finding out the pair that fits right is a struggle.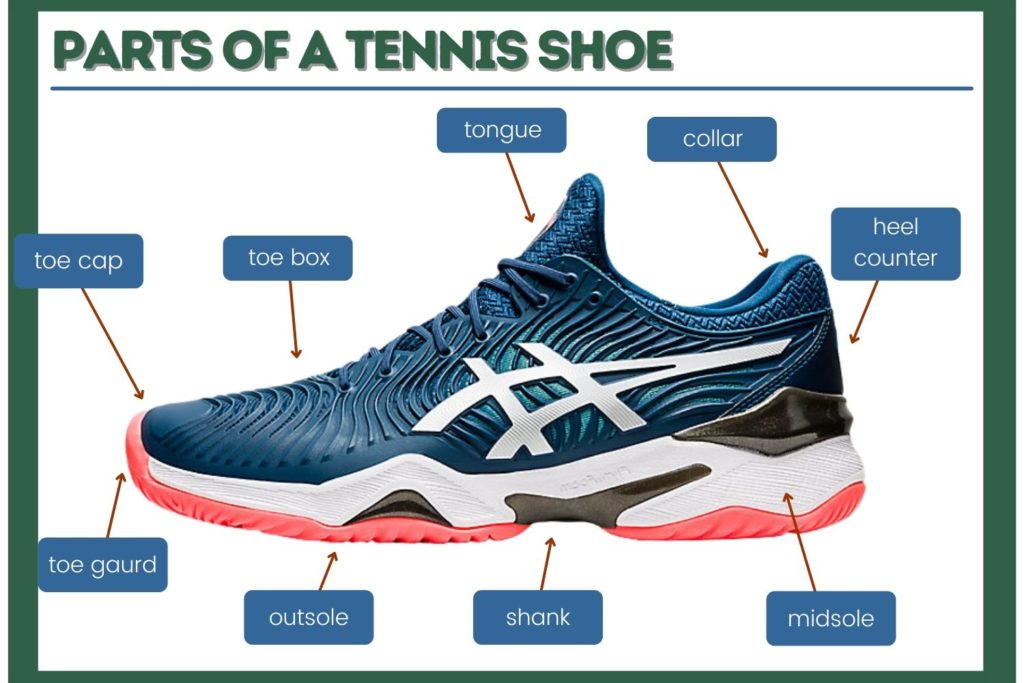 The best shoes for tennis not only will help you perform better on the field but will protect your feet and also prevent any possible injuries. Here are the main things you should look for,
Comfort
By nature, tennis shoes are heavier than sneakers or running shoes, and they can even be described as stiff. That's because they are made to support the player's footwork and a wide range of motion, lateral movements included. These are essential when hitting the court, whether for matches or practice.
However, this doesn't mean a player should overlook the comfort feeling when picking out tennis shoes. Now, more than ever, brands are emphasizing comfort during the manufacturing process. To make sure you find the most comfortable tennis shoes, look for a pair that offers a generous midsole. The Insole part might also offer added support, but you can remove this part from the shoes to make them extra comfortable.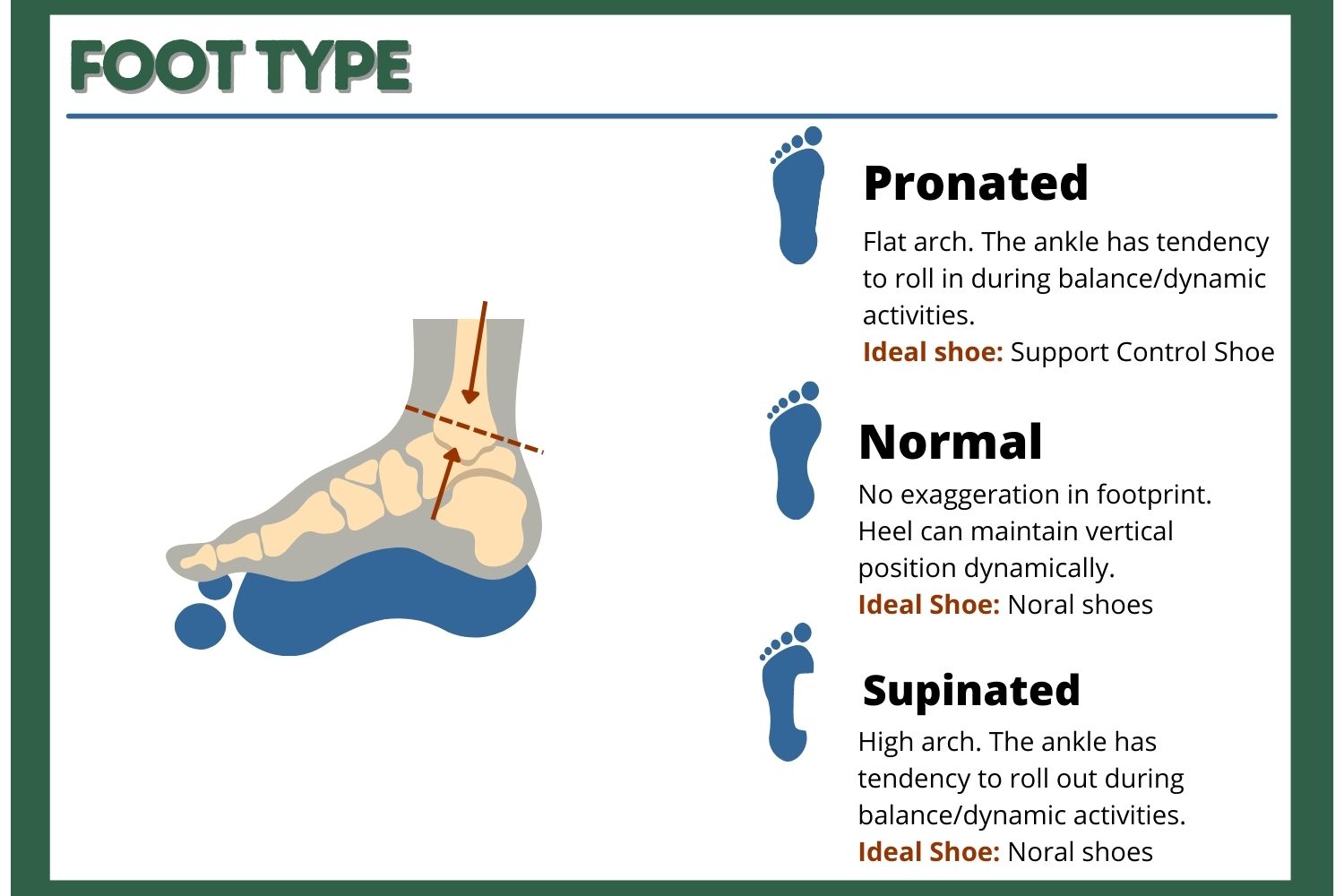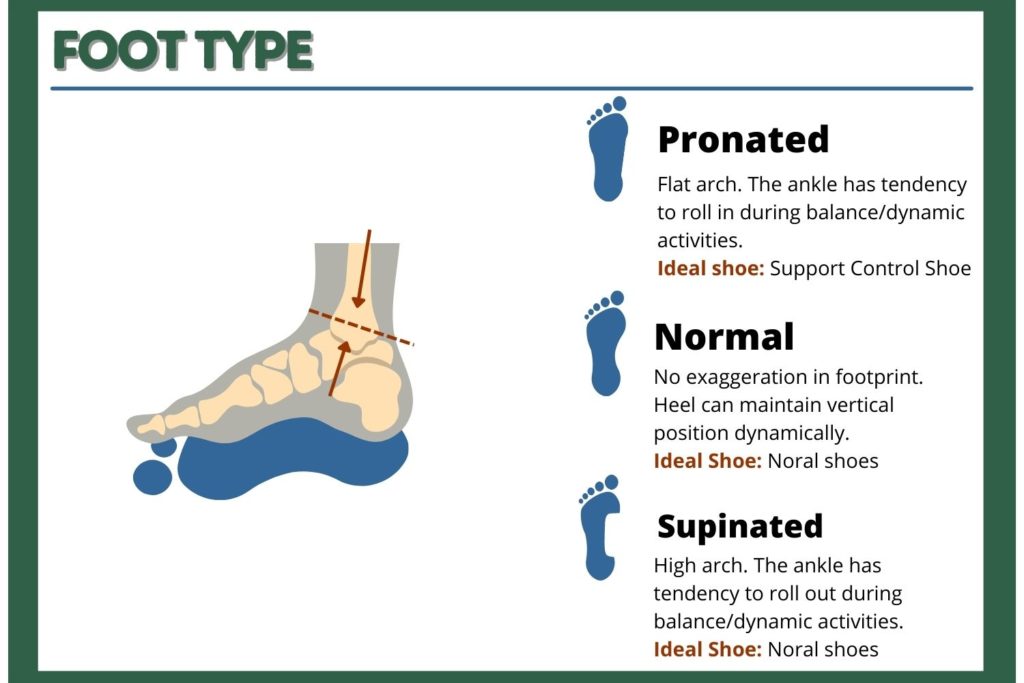 Arch Support
The arch support level in tennis shoes varies greatly, depending on different brands. This is an important factor to consider since arch support helps to reduce pressure on the foot and ease the pain.
Most of the tennis shoes out there have a moderate to low-end arch support, fit for a wide range of players from different categories and skill levels. If by any chance, you need some added support, you can adjust the arch support by replacing the insole of a shoe, with a costume-made one, according to your own needs.
Durability
If you are showing up constantly on the tennis court, your tennis shoes' durability factor is very important for your games and practices. No player would like to keep buying new shoes every month or so constantly.
Given the fact that the outsole of the shoe bottom is in constant with the court's ground, this is one of the most crucial parts that determinants the durability of tennis shoes. The toes of tennis shoes and the forward upper section are also critical components of durability due to the high impact from ground contact and scrapes.
Different game styles can also impact the durability level of tennis shoes. Different player movements can cause unexpected wear out, even in unusual parts of the shoe.
If you tend to drag your feet during your serves, you need shoes with a more durable shoe cap. Before you choose what tennis shoes to buy, you need to decide which areas you will need extra protection. An easy way to do this is by evaluating your old tennis shoes and the wear-out areas to avoid the same mistake as the last time.
Stability
Sharp and abrupt movements, which are common and normal in tennis, can be very harsh on your joints, ankle, and feet. That's why making sure that your tennis shoes give you the stability you need on the court is crucial.
Different parts of the shoe can make it supportive enough for a tennis player. The shoe's sole needs to be flexible enough to handle the non-stop action around the field. Many tennis shoe brands insert a shank in the middle of the shoe sole, which is rigid plastic. This is done to prevent twisting and also to increase stability.
The width of a shoe sole can act as a platform base for the shoe, which gives the player more balance and stability. A shoe's upper can also make the shoe more stable, especially around the ankle, by not letting the foot slip. That's why lacings are also important in good tennis shoes.
Traction
The traction a player will feel on the court comes from the quality of materials and textures used and the outsole's pattern. Good tennis shoes will offer you an excellent grip on the court, especially on hard surfaces.
The traction of the tennis shoes will make your moves more natural, adding ease, consistency, and predictability.
The court surface makes a big difference when it comes to tennis shoe traction.
Tennis Shoes for Different Types of Courts
It's important to note that the type of court that categorizes tennis shoes is intended to be used. Usually, they are fit for hard court or clay court surfaces, but you can find options for other surfaces as well. It's common for the brands to release the same shoe model, with variations for different courts.
If the description doesn't specify the type of court the shoe is intended for, usually, that means that the shoe can be used on all court surfaces.
Hard Court
Hardcourt surfaces are made of asphalt or concrete and often are covered by acrylic layers on the top. The game in this type of court is faster and more touch, with higher traction, which can be hard on your body, particularly on your feet.
To protect your feet from possible injuries and ease the impact during movements, you need very comfortable and durable shoes. The outsole of hard court tennis shoes is usually made of a multi-directional pattern that allows both grip and slidings; the outsole lugs are highly durable.
The midsole is stuffed with more cushions to protect the feet from the harsh impact of the concrete, while the upper has solid material that helps with the stability of the feet.
Hard courts are the most common and popular in tennis; that's why most tennis shoes have designs and features well-suited for this type of surface.
Clay Court
Clay courts are made of crushed stones, bricks, or shales and have a textured surface. The game in this type of court is slower, softer, has less traction, which means it can get slippery, and is easier for the body and the shoes.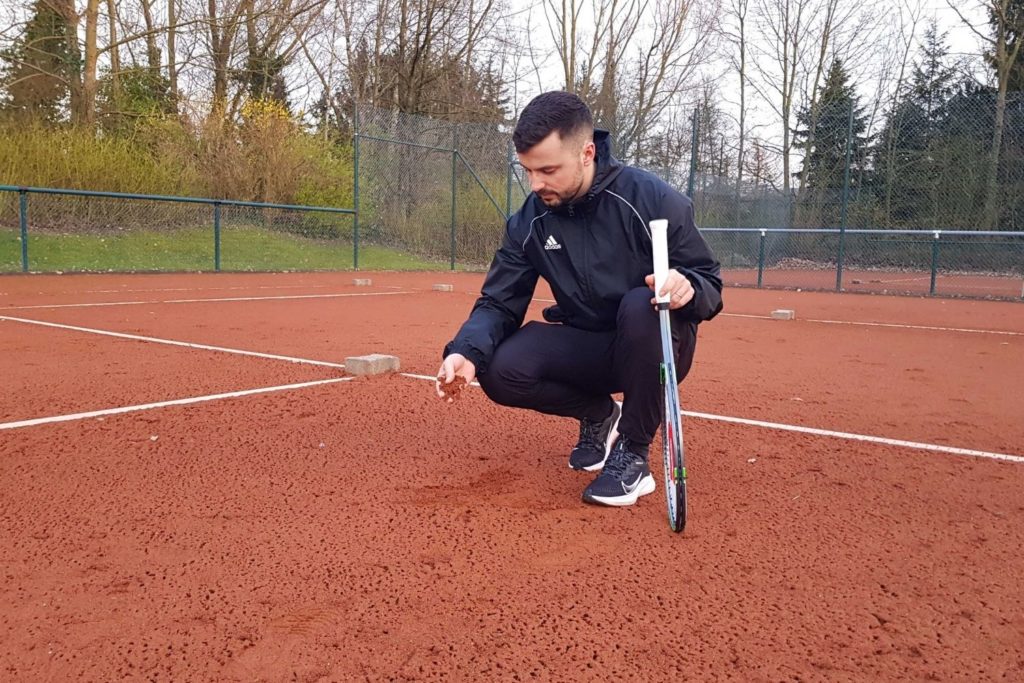 For clay court surfaces, you will need shoes that help maximize the player's performance. The outsole of a clay court tennis shoes is made of a herringbone lug pattern to provide a better grip and prevent collecting dust. 
The midsole has less cushion, which gives the player a close-to-the-ground feeling. This also makes the shoe feel more lightweight. The upper is made of materials that prevent dust from entering the shoe and has a tight lace fit so as not to let the shoe slip.
Grass Court
As you can already tell by the name, these types of courts are made of grass. These aren't as common as they used to be, even though many players would prefer this surface instead. If you play on a grass court, you should keep a few characteristics in mind before purchasing the best shoes for tennis.
The shoe sole is usually flat, covered with little studs to maximize traction since the grass court is slick. These tennis shoes have to be subtle to avoid damaging the fields. Since grass-court tennis shoes are low in demand, the range of variations is quite narrow.
All Court
These types of shoes fit both hard and clay surfaces courts. These are a great option for recreational-level players, especially beginners.
The outsole of an all-court tennis shoe is made of a hybrid pattern, which can easily adapt to different courts.
The cushion level in the midsole part of the shoe depends on the model, while the upper part comes in a wide range of materials.
Our Verdict
During the playtest, there were too many great options that stood out for their performance, and high quality. For that reason, picking up a top favorite was a challenging decision that we put a lot of thought into.
As the best men's tennis shoes for this review, we rate Asics Court FF 2, which delivers all their promises for a good performance, high stability, and extra comfort. We rate Adidas Adizero Ubersonic 4 as the best tennis shoes for women. They offer a great level of stability and traction by allowing a lot of complex movement and excellent performance overall.
Another honorable mention that stood out is Adidas SoleCourt Boostoost, for being extremely durable and having a very good price, considering their high quality.
How We Chose the Best Tennis Shoes
To curate this list, we went through a long process of test playing. Our goal was to pick up the best performers for different categories, which would apply to a wide range of players' needs and wishes.
Many elements play an important part when rating tennis shoes' quality. We based our selection on factors such as durability, comfort, traction, quality, court performance, etc. The best shoes for tennis featured in this list have options for both women and men. Our specifications will make it much easier for you to choose the right pair of shoes for you, which will help you be comfortable in the court and help you focus on your game.
FAQs
Read on to find out which are the most popular men's tennis shoes and to know the difference between a tennis shoe and a running shoe.
Q: Can I wear tennis shoes for walking?
Tennis shoes are designed to be worn during tennis matches to provide the player with the best possible performance. However, you can wear them for walking or running if you feel comfortable.
Q: What are the most popular men's tennis shoes?
Q: What is the difference between a tennis shoe and a running shoe?
Tennis shoes are designed to provide stability and comfort during quick movements and changes of direction. They also have extra toe protection to prevent injuries. Running shoes are designed for long-distance running and don't have the same level of support and protection as tennis shoes.
Q: Are tennis shoes the same as court shoes?
Tennis shoes and court shoes are similar but have some key differences. Court shoes are designed for squash, badminton, and other racquet sports. They have a low-cut design and are lightweight to allow for quick movements. Tennis shoes have extra support and protection around the toe area to prevent injuries.
We are sorry that this post was not useful for you!
Let us improve this post!
Tell us how we can improve this post?