Key Takeaways
Tennis court resurfacing costs typically range from $8.000 to $12.000, with a national average of $10.000.
Factors that influence cost include location, size, type of surface, cause and severity of damage, labor costs, and additional considerations such as tennis court fence repair or outdoor lighting system replacement.
Tennis court maintenance can range from $1,000 to $6,000 depending on size and type of court.
Resurfacing is an unavoidable process, which, sooner or later, you just have to do, no matter how well-maintained your tennis court is. This is the only way to preserve it in prime conditions for a long time while keeping up with the professional standard required for the game. 
Tennis court resurfacing costs can vary from $8.000 to $12.000 on average, depending on where you live, court type, possible damages, or any new changes and updates. To resurface, you have to go through two phases; first, find and repair damages and, if possible, the source of the problem.
The second phase is where new installments for the court take place, which will make it look as good as new. If you are considering having only some tennis court repairs ad painting the lines, then the price will be fairly less, at around 3.600$. Having a clear idea of what you need to change at your tennis court and coming up with a budget is the best way to keep track of expenses while still achieving all of your goals on this.
Typical Range: $8.000 to $12.000 
National Average: $10.000
Factors in Calculating Tennis Court Resurfacing Cost
Before starting your tennis court resurfacing project, it's important to consider some important factors that play an important role in how the finished result will turn out. From the location to size, materials or physical labor will cost you money, so you better don't forget any of them when calculating the budget.
Tennis Court Location
Location is a determining variable when planning the budget for your tennis court resurfacing costs. Depending on your country or area, the prices will vary due to the cost differentiation of labor or materials. The average national cost is 10.000$ dollars, but this is not a fixed sum. On the lower end, prices can be only 3.600 $, which is, for the most part, a great deal.
But if you really want to go overboard and splurge some money for fancy renovations, it can cost as much as 20.000$. However, the average range of the costs is between 8.000$ and 12.000$. To plan out your budget, you should look up your finances first, but also the prices of the local area, so that you can have a clear perspective of what to expect. 
Tennis Court Size
When a tennis court is mentioned, we all visualize the official tennis court size, as seen on tv during the grand slam final or at your local club. However, many people take it upon themselves to build a home court in the backyard or anywhere with a little place and adjust to their available options. 
That still counts as a court, so the resurfacing cost is still something you have to deal with. In this case, the prices should normally drop, as the reduced size also means a reduction in materials needed, time of repairs, physical costs, etc.
Tennis Court Material
The materials used based on the type of court surface you have are for sure one of the most important aspects to consider when planning out a budget. The average cost for court material might vary from 2.000$ to 80.000$. Yes, that's a huge gap, but it's fairly reasonable as the price is significantly higher for certain materials, like synthetic grass or asphalt.
Generally speaking, if the court is well-kept and needs only minimal repairs, that would be a tremendous help for your wallet.
Here is a chart with the average prices of the court's surface materials. Keep in mind that in the price, the cost of labor is also included. 
| Surface type  | Average cost  |
| --- | --- |
| Rubber  | $2.000 - $10.000 |
| Clay  | $2.500 - $3000 |
| Acrylic  | $4.000 - $10.000  |
| Concrete  | $4.000 - $10.000 |
| Asphalt  | $20.000 - $40.000  |
| Synthetic grass  | $25.000 - $80.000 |
Cause of the Problem
Needless to say, before preceding with court's resurfacing process you must fix the cause of the problem. Why is it that your court needs repairing in the first place? There might be one or several problems, like drainage system damages, cracks that need filling up, etc. The average price depending on the type of repair that the court needs, can be anywhere from 300$ to 8.000$, including the labor cost. 
Some of the most common problems regarding court surface damage are as listed below;
Crack repair. The weather element and extreme cold or hot temperatures will eventually cause cracks on the court's surface after long exposure. While this might be after only a cosmetic problem, when left untreated, it can cause serious damage to your court's structure. Depending on the damage, the repair cost might vary from 400$ to 500$. Sometimes, the price might be hundreds or even thousands of dollars higher than average if the damage is serious and has been aggravated with time. When repairing the cracks, the contractors will first clean the area, let it dry for as necessary time, and then fill it in to even out the surface. 
Cement skim coat. Minimal cracks and uneven surfaces can ruin the tennis experience. Sometimes, your court might need a cement skim coat to fix these problems, which can cost you anywhere from 300$ to 3.000$. 
Water damage. It is quite usual and can cause serious damage and depression in court. If you notice that a part of the surface is suddenly accumulating water, make sure to dry it out immediately to prevent further destruction. The average repair cost might be anywhere from 300$ to 8000$. 
Drainage. This might be more complicated than other problems and, as a result, more expensive to fix. The price might vary from 4000$ to 8000$ dollars, including the labor cost. Drainage systems might be installed in the surface or subsurface and are absolutely necessary not to let the court collect water. 
| Repair Type  | Average repair cost  |
| --- | --- |
| Crack repair  | $400 - $500 |
| Cement skim coat  | $300 - $3.000 |
| Water damage  | $300 - $8.000 |
| Drainage  | $4.000 - $8.000 |
Labor
The labor cost depends on where you live, as well as the amount of job to be done, the time necessary for the repairs, the equipment, etc. These fees can make up 70% or even 80% of the total budget. The tennis court resurfacing process requires a lot of intensive and hard labor, so it would be ideal if you left it in the hands of professionals.
If you can do it yourself, that's great because it will significantly reduce expenses. However, keep in mind that the good part of the court's resurfacing job is completely automated, so you have to rent out some of the machinery at least. 
Tennis Court Line Painting
Repairing your court's line can cost you anywhere from 260$ to 600$. If you do it yourself, then you can cut the expenses down to 150$, or even less, depending on where you live. If you own an outdoor court, you might have to do this way often as the exposure to the sun will cause the line color to fade.
The type of surfaces that needs frequent line repainting is the grass and clay, as they tend to lose color sooner. You can always invest in a small 50$ paint roller to keep the line in check, all by yourself. When your tennis court line painting starts to fade out, that's when you know it's time to resurface again, so keep a close eye on other possible damages, just in case.
Additional Costs and Considerations
When planning out your tennis court's resurfacing cost, always make sure to look up details that might add more expenses to the budget. These are usually part of the second phase of the resurfacing process. After getting over all the basic steps of fixing the problems, and evening the court, maybe it's time to replace other accessories that are worn out.
Outdoor lighting, court fences, net replacement, widescreen repair, etc., can make a huge difference and make your tennis court feel brand new. Let's take a look at the average cost of these factors, so you can make an overall estimation of how much you can afford. 
Tennis Court Maintenance
First things first! The yearly maintenance fees are something you should consider even before building a tennis court. Depending on the size and type of court and the accessories used, the average cost can vary from $1000 to $6000.
Keeping the court in good condition will minimize damages in the long run and delay the need for a resurface; however, maintenance fees are not something you can avoid. 
With that being said, some court surfaces are less expensive than others, so picking your materials wisely might save you a lot of money.
Grass, specifically synthetic grass maintenance is more expensive; however, natural grass doesn't fall far behind either. Additionally, this type of surface needs daily care, so add labor expenses to your budget. 
Clay is somewhat expensive and needs regular water spraying so that it doesn't get crack fast. 
Hardcourt requires fewer expenses and less effort to maintain. While asphalt might get occasional cracks, concrete is by far the most resistant material to damage. 
Tennis Court Fence Repair
A good fence is always a good investment for your tennis court, whether it's in your own backyard, at the local club, or at the park. You might be surprised at how much a fence can impact a player's performance; it cuts off the wind or even shuttered debris and doesn't allow the ball to get lost.
However, with time they will need replacement or at least some serious repairs. Depending on your chosen material, the cost of a brand new fence might range from $5000 to $12.000. If you decide only to do partial replacements, a chain link price is anywhere from $45 to $300. 
Repair Outdoor Lighting
The tennis court lighting system is a crucial accessory, not only for indoor courts but for the outdoors as well. A full modern lighting system for professional courts is incredibly expensive, with prices ranging as high as $168.000. Obviously, you don't have to spend a fortune, but make sure to take good care of whatever lighting you have installed.
To replace a single light bulb can cost you only $50 or less, while the average cost of lightning repair can range up to $580, at max, as long as you don't have to replace poles or the entire system. If you stick with LED lights or a cost-efficient type, it will help you spend quite some money on your monthly electricity bill.
Types of Tennis Courts.
The type of tennis court affects not only the cost of building a new tennis court but also of resurfacing it. It can make a huge difference in the overall cost of the repair and resurfacing process. The average price range from $2.000 to $80.000, varying on the surface material and the damage severity.
Concrete Tennis Court
A concrete tennis court resurfacing cost ranges from $4000 to $10.000. As mentioned above, concrete is most resistant to damage and requires little maintenance labor or financial cost. However, when cracks start forming, it's very hard to ignore them because not only will they ruin the court's aesthetic but also put players in serious danger of possible injuries. 
If well-kept, a concrete court will need resurfacing every once in four or eight years. After filling in all of the cracks, the handymen usually finish the process with an acrylic resurfacer and color coating. After that, you can repaint the sidelines and replace or repair accessories.
Asphalt Tennis Court
For the asphalt court surfaces, the average repair price can vary from $20.000 to $40.000. The cost for this type of material is one of the highest compared with others due to the reason the repairing process needs a total replacement, not just resurfacing. 
The good news, though, is that asphalt can be installed quickly and is durable. For the most part, this surface doesn't need much maintenance, and it can last up to ten years if kept in great condition. However, most of the players need to replace the asphalt surface every four to eight years.
Acrylic Tennis Court
To resurface an acrylic tennis court, the price can range from $4.000 to $10.000. The repairing process on this one can be a little tricky, as it typically has a base layer of concrete or asphalt. When dealing with this type of surface, the first step is to fill in all the cracks and then proceed to level out the court.
The resurfacing itself can require several layers of acrylic materials to finish it off. Acrylic courts don't require a lot of work to maintain in good condition and are quite resistant to cracks or other damages. Most players claim that it also offers a better playing experience than other hardcourts, so the salty price tag is well worth it.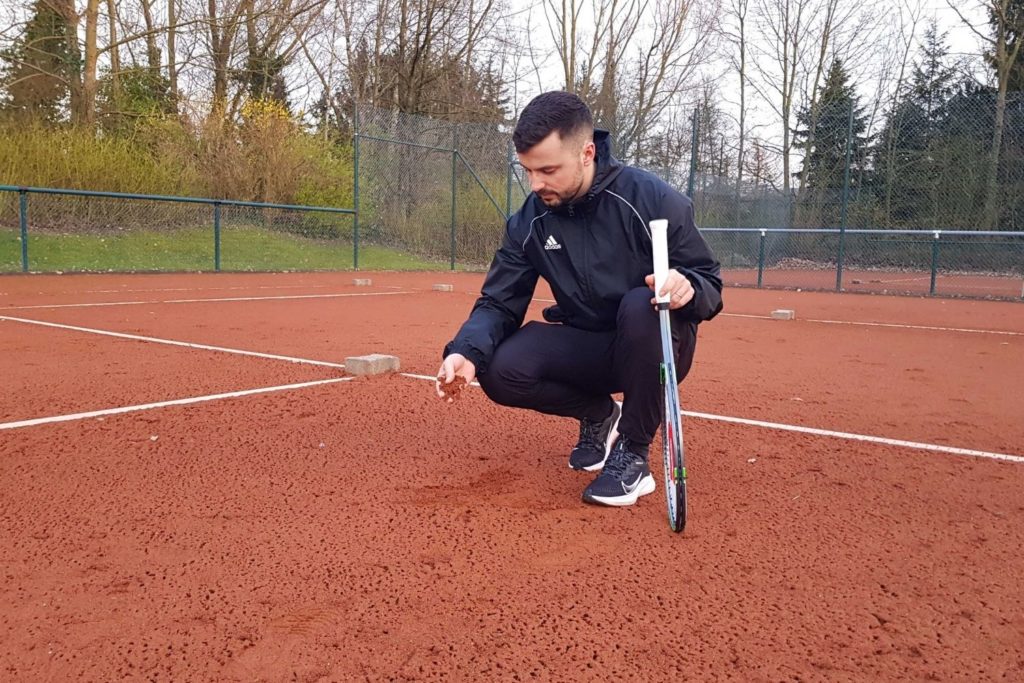 Clay Tennis Court
The resurfacing cost for a clay tennis court range from $2.500 to $3.000. Depending on the damages, this process is needed every four to eight years. During the resurfacing process, the first layers are completely removed, and the handymen add new material to it. After it is watered and moisturized to a satisfactory level, the surface is rolled up and leveled evenly. After this, it's necessary to paint new lines and add accessories.
For the most part, clay is the only material that is not very affected by weather elements, so if taken care of properly, it will last in good condition for a rather long time.
Synthetic Grass Tennis Court
Synthetic grass is the most expensive type of surface when installed, so it comes as no surprise that the resurfacing prices are also considerably high, ranging from $25.000 to $80.000. For full repairs, the whole layer of the synthetic grass surface is removed and replaced with a new one.
However, the lifespan of this type of material is up to twelve to twenty years, and it's very rare to have it replaced early unless there is a serious problem. Partial resurfacing or repairs are done when the synthetic grass starts wearing out due to the intensity of the game.
Cost to Resurface Tennis Court: DIY vs. Hiring a Professional
Resurfacing a tennis court all yourself is one of the possibilities, and if you feel that you are up to the challenge, go for it. This would be a great way to reduce the cost and save a good amount of money from the budget. Assuming you know how to resurface and already own all of the equipment, you can save up to $35.000, which you would pay in labor costs.
However, we wouldn't recommend this if you don't have some previous experience in similar projects and don't know what to expect or how to use the machinery. The amount of hard work and expertise that this process requires is beyond the abilities of the average person. It also requires time and a step-by-step, intensive process that might become overwhelming and tiring for a person that has no idea of what he is doing.
As a result, you'll be stuck for days or even weeks on a project that can be finished in 3 to 7 business days. Not to mention, the lack of proper knowledge can leave the court uneven, which can completely ruin the game and even become a risk for injuries.
Simple mistakes on the installation of material layers, drainage system, accessories, etc., will make you have to do repairing work all over again, despite the efforts. In other words, this is not a fun DIY project; leave it to those who know what they are doing, and you won't regret it. 
Questions to Ask About Tennis Court Resurfacing Cost
Now that we have gone through the average cost of all aspects of tennis court resurfacing cost is time to consider some simple questions that you should ask yourself before hiring professionals.
Does the agency have previous experience with tennis courts installment and/or resurfacing process?
Can they provide a portfolio of previous projects and references of their quality of work?
How long is this process estimated to last?
Do they have a warranty period for the court resurfacing process?
Is it necessary to hire a geotechnical engineer to estimate the area before preceding the resurfacing process?
Does the agency provide all the necessary equipment for the resurfacing?
How much will the labor fees cost you?
FAQs
Still wondering if tennis court resurfacing is still worth it, or will it fit your budget? Read on for answers to the most common questions about tennis court resurfacing costs.
Q: How often should tennis courts be resurfaced?
Depending on how often the court is used, weather conditions, and other factors, tennis courts should be resurfaced every four to eight years. Courts that are used more frequently may need to be resurfaced more often, while those that are used less often can go longer between resurfacing. 
Resurfacing a tennis court can extend its lifespan by many years and help keep it looking and performing its best. If you have a tennis court at home or your club, it's important to keep up with resurfacing to get the most out of your investment.
Q: What is the life of a tennis court?
The life of a tennis court can vary greatly based on how well it is maintained and how much traffic it sees. Typically, an outdoor hardcourt made from asphalt or concrete may last anywhere between 15-25 years, while an indoor one may last up to 40 years. 
Good maintenance practices include regular line sweeping, filling in surface cracks, resurfacing every two to five years (depending on the surface type), and proper care when cleaning after use. Such good habits are necessary for keeping the playing surface even and safe for play.
Q: How much does it cost to fill cracks in a tennis court?
Repairing minor cracks in a tennis court can be surprisingly inexpensive as long as you take action quickly. Depending on the size and quantity of the cracks, repair can cost anywhere between 400$ to 500$. It's important to note that if left untreated, even small surface cracks can cause much larger damage down the line – including premature aging and more expensive repairs. 
Q: Can I repaint a tennis court?
Yes, you can repaint a tennis court. Depending on the surface of the court, the method and materials needed will vary. Generally speaking, to repaint a hard-court tennis surface, you'll need to pressure wash and clean it first before applying a new coating of acrylic or asphalt paint according to manufacturer instructions.
When painting your court, you have multiple options for colors but be sure that they meet USTA (United States Tennis Association) specs for tournaments. You'll also want to make sure there are no areas of bare concrete where moisture could collect and cause issues down the line. 
We are sorry that this post was not useful for you!
Let us improve this post!
Tell us how we can improve this post?