If you bought a new, unstrung tennis racket or your racket's strings need a change, you might want to know what strings to buy. Worry not; I have got all the answers. Whether you want to find the best tennis strings for control, power, spin, and more, you will find them here.
As a tennis player, no matter your level, you might have noticed how different types of tennis strings and how old they are will affect your performance. Additionally, depending on what you aim to get from your racket (power, spin, control, etc.), you will need specific strings to achieve your goals.
To make it easy for newcomers or give a hand to the pros that may find themselves at a crossroads, I have composed a detailed guide on types of tennis strings, what to look for before purchasing them, and lastly, a full review of tennis strings you may want consider for more control. Read on for more information.
Best Tennis Strings for Control Reviewed
We tested a variety of tennis strings for control with different materials and in different gauges, and we are happy to present you with the following options. Hopefully, one of them will suit your needs. Here's how our choices performed in our playtests, and why we think they are some of the best tennis strings for control around.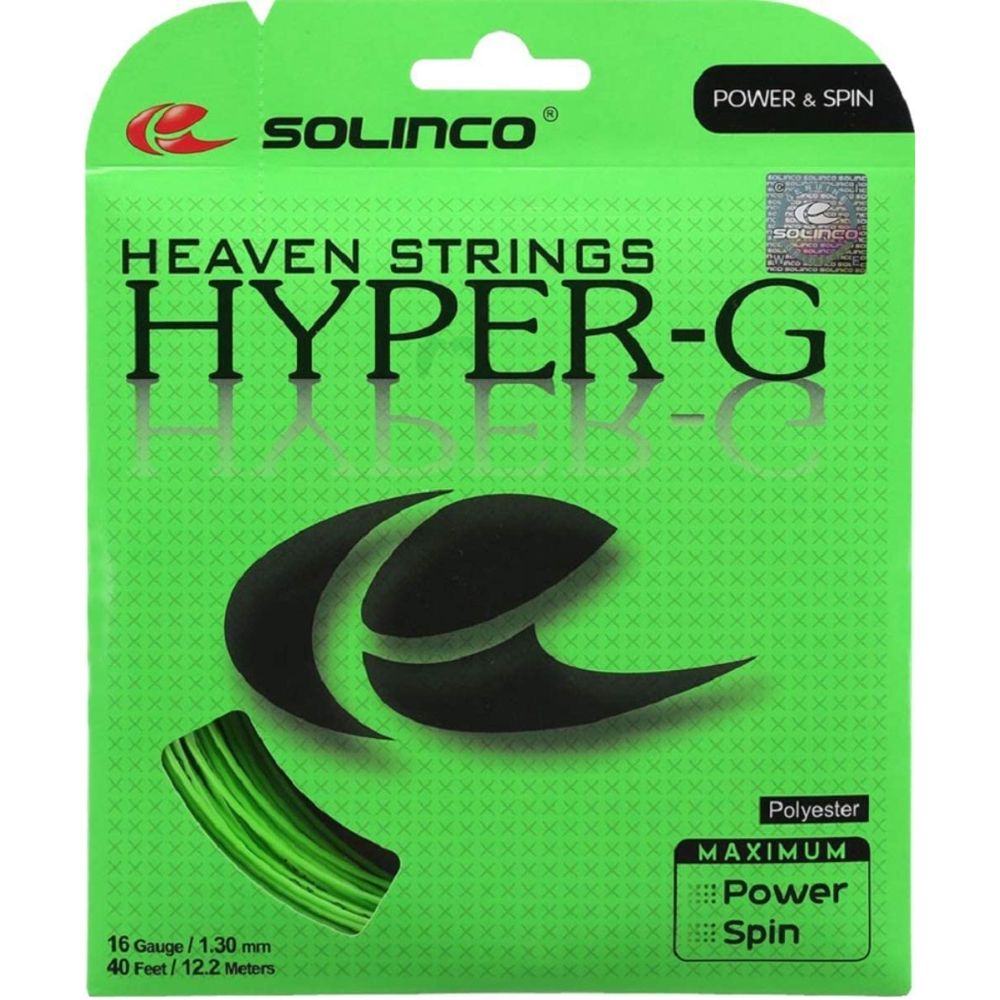 If you are looking for the best tennis strings for control, Solinco Hyper-G would be the best choice. These polyester strings manage to deliver amazing control while not sacrificing feel. The main reason that makes the Hyper-G strings so fantastic is their control. If you are somebody that values control above all else, you will find these strings ideal for your playstyle.
Polyester strings are also known for the spin they can generate, so it is not surprising that the Hyper-G's excel in that area. I believe myself decent at generating spin, but that was much easier with these strings.
Strings made out of polyester are not usually the first choice regarding feel, so I was not expecting the Hyper-G's to offer much in this area. Nevertheless, I was mistaken. They offered a decent amount of feel, which further added to the feeling of control that the strings provided me with.
I believe these are the perfect strings control-wise, but they are low-power, expected from polyester strings. I would consider this their only downside. However, when you are looking for specific string sets that will offer you the best control, you should already expect power to be a tradeoff. So, considering how much control I had while testing this string set, I can confidently say that these are the best overall strings for control.
Product Specs
Control: 9.5
Spin: 9.5
Power: 4.5
Touch: 9.2
Pros
Cons
Get the Solinco Hyper-G on Amazon or at Do It Tennis.
Best for Control and Spin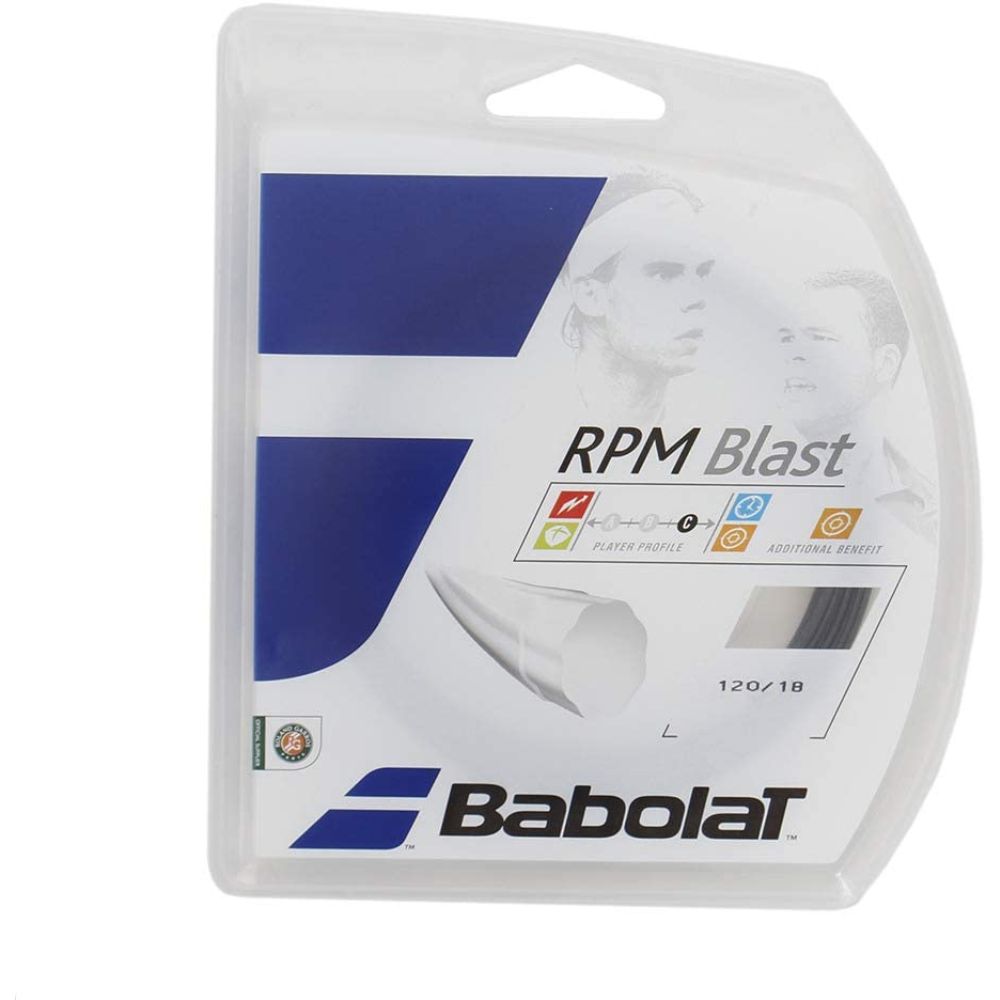 The Babolat RPM Blast strings are another amazing option, especially if you value both control and spin in your game.The control that these strings offered me was amazing. I performed cuts and big swings without worrying about any mistakes. I also felt confident around the court and could easily handle any shots from my opponent.
What I appreciated the most was this racket's ability to generate spin. The polyester material aided me in generating an incredible amount of spin. It felt pleasant seeing how I could toss any ball that came my way across the court with enough spin to throw my opponent off-guard. It felt effortless to hit any forehands or backhands with the right amount of spin, which I greatly appreciated.
Those who often break their strings should note RPM Blast's durability. I used the same set of Blast strings for a long time to see how long it would take until they broke, and I was surprised to find how durable they are. I still use them with one of my rackets, and they have yet to break.
Of course, power is not an upside in these strings either. Nevertheless, I believe that these strings are the best in the mixture of control and spin categories.
Product Specs
Control: 9.5
Spin: 9.5
Power: 4.6
Touch: 8.5
Pros
Cons
Get the Babolat RPM Blast on Amazon or at Do It Tennis.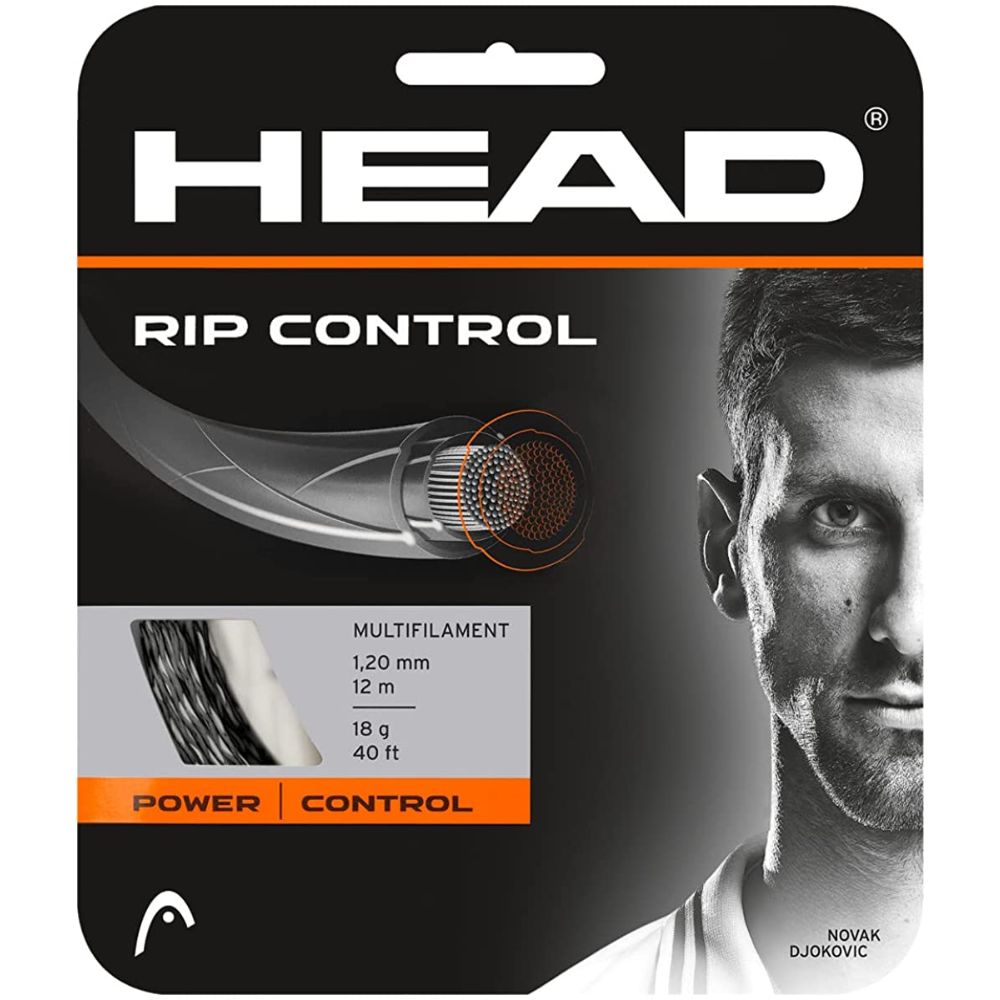 For those needing budget-friendly tennis strings, the best budget ones you can find are the Head RIP Control strings. Unlike the two first options in our list, these are multi-filament strings. The Head RIP strings provided me with a decent amount of control. Hence, I found it easy to switch up the pace and the power generated during the game.
The multi-filament composition ensured that I could generate plenty of power. So, this racket offers you a balance between control and power, which is somewhat tricky to find in control rackets. I tried playing from the baseline to test the strings, and I can confidently say that with the help of these strings, I could send the ball flying across the court.
Since multi-filament strings strive to be a cheaper replacement for natural gut strings, I was expecting them to feel comfortable. Needless to say that I was not disappointed; they did not feel too rough, so I would recommend them for players who have arm problems. On top of everything, these Head strings are pretty durable. I have put them to the test for many games, and I have not noticed any sign of breakage.
Although these strings are a decent option for their price, you should know that you will not have the same feel as other options. Due to a decreased sense of touch, you may find it somewhat tricky to hit the ball properly. All in all, I find these strings to be a decent option for a fair price.
Product Specs
Control: 8.8
Spin: 7.5
Power: 7.5
Touch: 4.8
Pros
Control
Power
Comfort
Durability
Cons
Get the Head RIP Control Tennis Racket String on Amazon or at Do It Tennis.
Best for Control and Power
The hybrid Wilson Champions Choice string set is the best alternative for a healthy balance between control and power. These strings are a mixture of natural gut and polyester, which will provide you with the upsides of both materials.
Firstly, the polyester material aids you in control. Although it did not offer me as much control as a full bed polyester set, I still found the control provided quite satisfactory.
Having natural gut mains played to my advantage as I could generate plenty of power. It also did not feel overpowering, which is definitely an upside of the natural gut in this set. Lastly, these two materials, especially the natural gut's properties, provided me with extra comfort.
Unfortunately, those who prefer to add some spin to their shots will be disappointed to know that these strings are not ideal for generating spin. Regardless, the Wilson string set is perfect for people focused mostly on power and control.
Product Specs
Control: 9.2
Spin: 8.0
Power: 9.1
Touch: 9.0
Pros
Cons
Get the Wilson Champions Choice Hybrid on Wilson's Official Site or on Amazon.
Best for Control and Feel: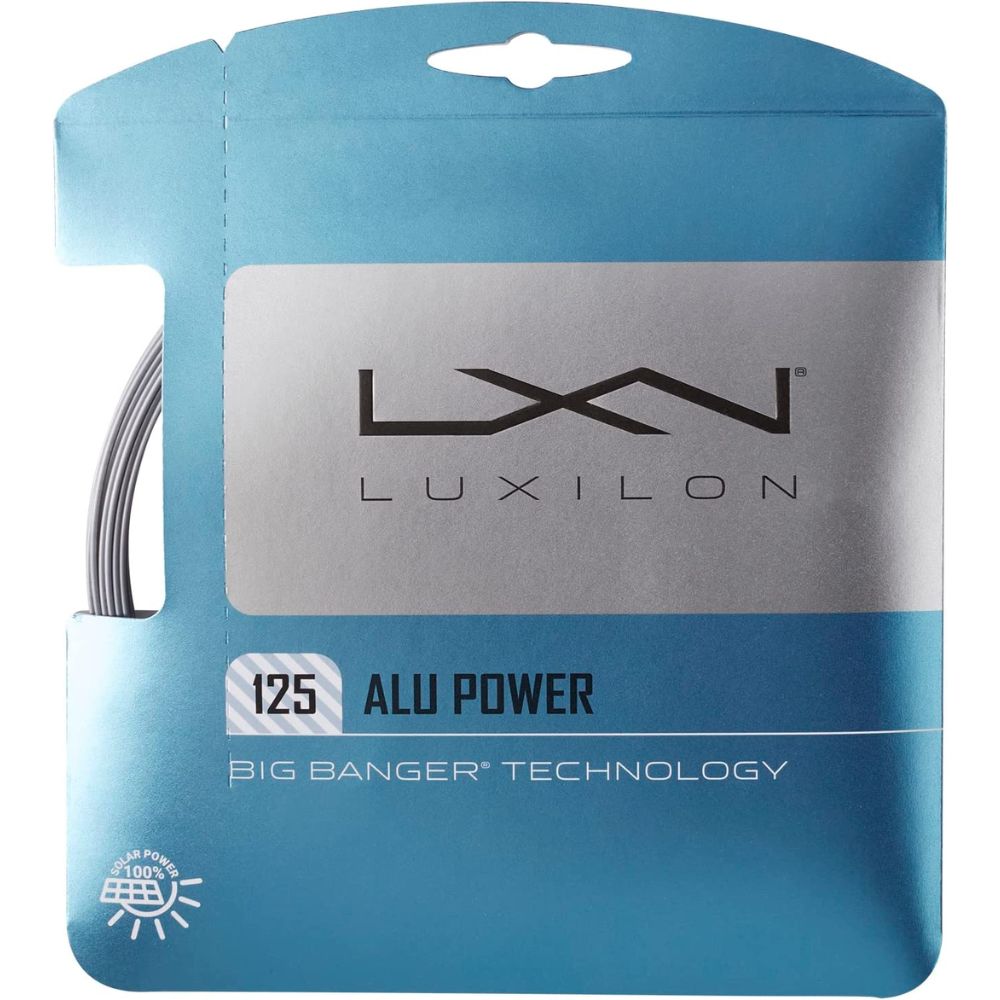 The best strings for control and feel are the Luxilon ALU Power. Yes, you read that right. The set's name is deceiving; although these strings will offer you a decent amount of power compared to other polyester strings, it is by no means their strongest suit.
What these strings excel at are control and feel. These full bed polyester strings deliver amazing control. You can try your hand at full swings, and you will not miss a single point in the control area. Big swings felt effortless with these strings. Additionally, the Luxilon strings do not sacrifice any touch and feel despite an incredible amount of control.
Although not the main focus of these strings, they are also pretty durable. You will hardly notice any wearing down in them for many games in a row. I found these strings somewhat uncomfortable, so if you are looking for a touch of comfort, this may not be the greatest choice. Nevertheless, if you lean towards control and feel, I recommend the Luxilon ALU Power strings.
Product Specs
Control: 9.3
Spin: 8.7
Power: 6.0
Touch: 9.6
Pros
Cons
Get the Luxilon ALU Power on Amazon or at Do It Tennis.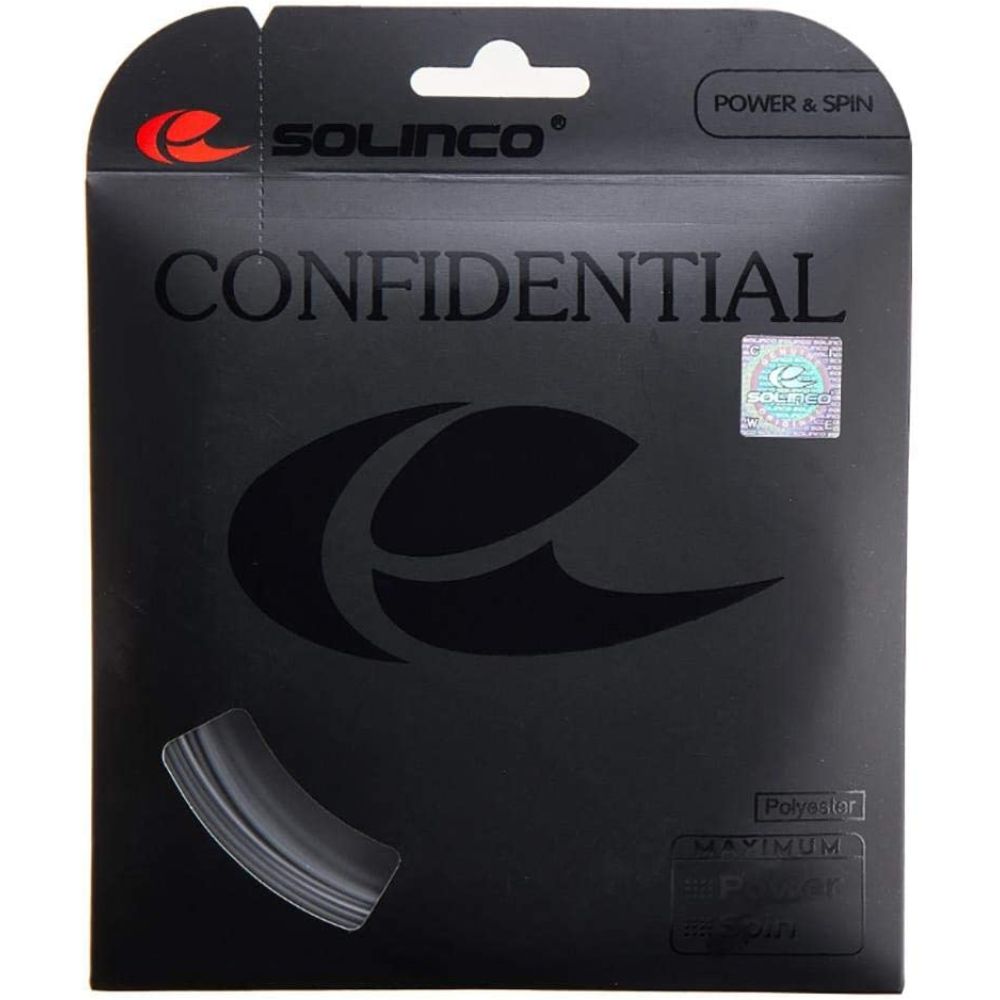 The best durable tennis string set you will find is the Solinco Confidential set. You can already guess that these strings have high durability, and you would be right to assume that. I struggle with breakage from time to time, and sometimes I do not want to change the strings for a while. During such times, I opt for the Solinco Confidential strings. This string set is the one that has always lasted me the longest. I am a heavy hitter, which makes it easy for my strings to break, and I can testify to their high durability.
Additionally, you will be happy to know that these strings will provide you with a pleasant amount of spin. I could effortlessly generate spin, which was a great addition to the durability offered.
Lastly, the Solinco Confidential string set was perfect control-wise. It gave me a hand around the court to throw my opponent off-balance with how easy control came, making it easy to maneuver the racket accordingly.
Like the majority polyester type of strings, these ones also fall short of power. However, if you can generate power yourself and need some extra control and spin with top-notch durability, these strings are the ones for you.
Product Specs
Control: 9.5
Spin: 9.0
Power: 4.2
Touch: 8.7
Pros
Cons
Get the Solinco Confidential on Amazon or at Do It Tennis.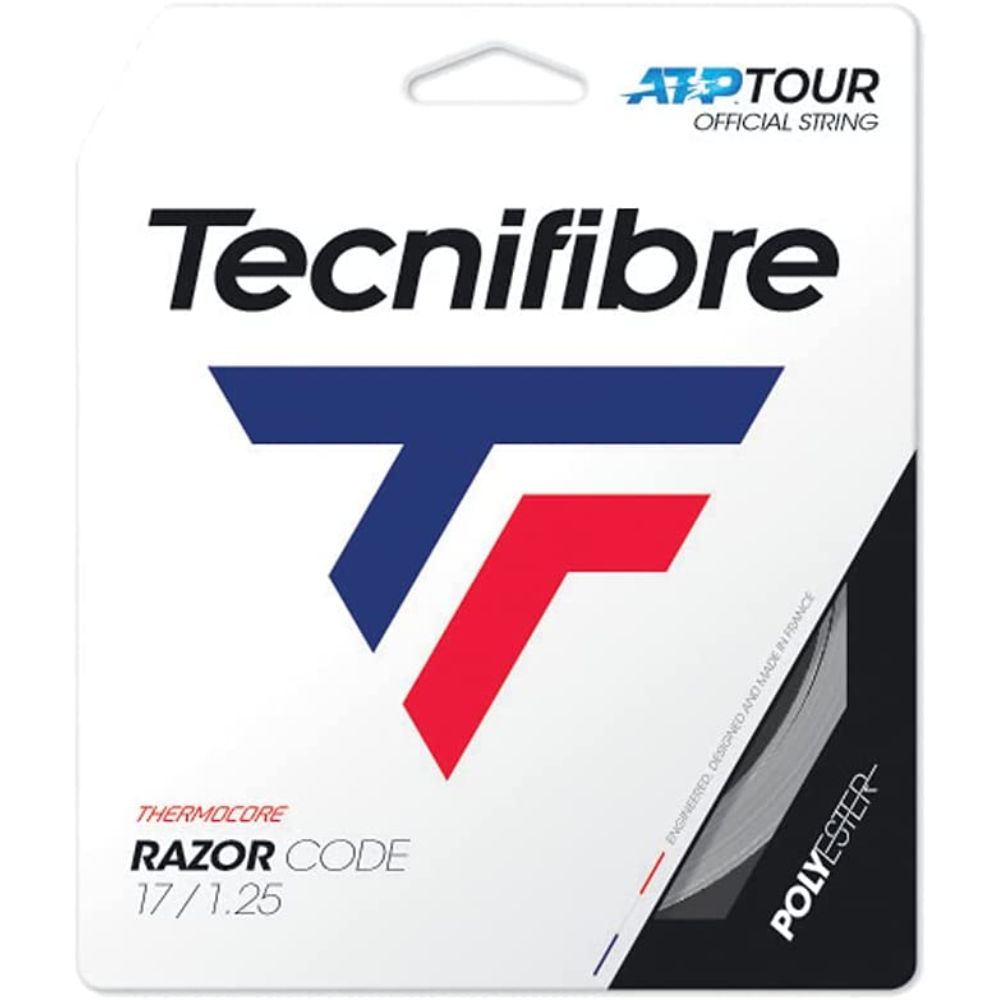 You should consider the Tecnifibre tennis strings if you are into popular choices. They are lacking in the spin department, but they barely sacrifice much in other areas. I could generate plenty of power, which felt great for hitting forehands and backhands.
Although there usually is a tradeoff between power and control, the high amount of power generated from these strings did not result in a lower control capacity. Even during full swings, I still had a great sense of control with the Tecnifibre strings.
Moreover, these strings are pretty comfortable for those who do not want their strings to lack in that area while still providing you with enough power.
Product Specs
Control: 9.0
Spin: 7.2
Power: 9.0
Touch: 8.9
Pros
Cons
Get the Tecnifibre – Tennis string on Amazon or at Do It Tennis.
Types of Tennis Strings
There are five types of tennis strings on the market: synthetic gut, natural gut, polyester, multi-filament, and hybrid strings.
Synthetic gut. This type of tennis string is usually made of nylon. This is your cheapest option if you are on a budget or do not want to spend much on tennis strings. Despite being the most inexpensive, it will provide decent playability.
Natural gut. You may have to brace yourself for this: the natural gut tennis strings are made from cows' intestines. In contrast to synthetic gut strings, these are the most expensive strings on the market. However, their price reflects their quality; they are some of the best tennis strings. They excel at maintaining tension. Additionally, if you are someone suffering from arm problems, you will be delighted to know that natural gut strings are extremely comfortable and make it easier to play.
Polyester. You could already guess from the name that these strings are made from polyester. They have become quite popular during the past ten years and continue to rise popularity-wise. Polyester strings are favored by advanced tennis players as they are stiffer than many other types and provide players with more spin and control. However, their stiffness makes them unsuitable for most beginner players, so I would not recommend them to the fresh starters.
Multi-filament. This type of string is an emulation of natural gut tennis strings. These strings are made out of microfibers. If you would like to have the quality of natural gut tennis strings but cannot afford to spend that much, multi-filament tennis strings will do the job. They are similar to natural gut strings playability-wise, and despite not being the real thing, multi-filament strings will offer a similar feel.
Hybrid. The hybrid tennis strings are the most interesting type. Hybrid means that the strings for the mains and the crosses are made out of different materials. Put simply, there are two different types of strings combined together. The most common combination you will encounter in hybrid strings is natural gut and polyester.
What to Consider When Choosing the Best Tennis Strings for Control
You have come to the right place if you want to know what you should look for in tennis strings before buying them. What will matter in your decision is essentially your style of play, racket, material, and price of the strings.
Your Style of Play and Preferences
First and foremost, it is important to consider your style of play and your preferences before deciding on your new tennis strings.
As mentioned previously, different strings will offer different boosts in specific areas. Depending on your playstyle, you may be looking for certain things to get out of your new string set. For instance, baseline players rely heavily on their ability to generate power and spin. In this scenario, you should look for strings accentuating those two areas. Likewise, if what you value above anything is control, you should choose your strings accordingly.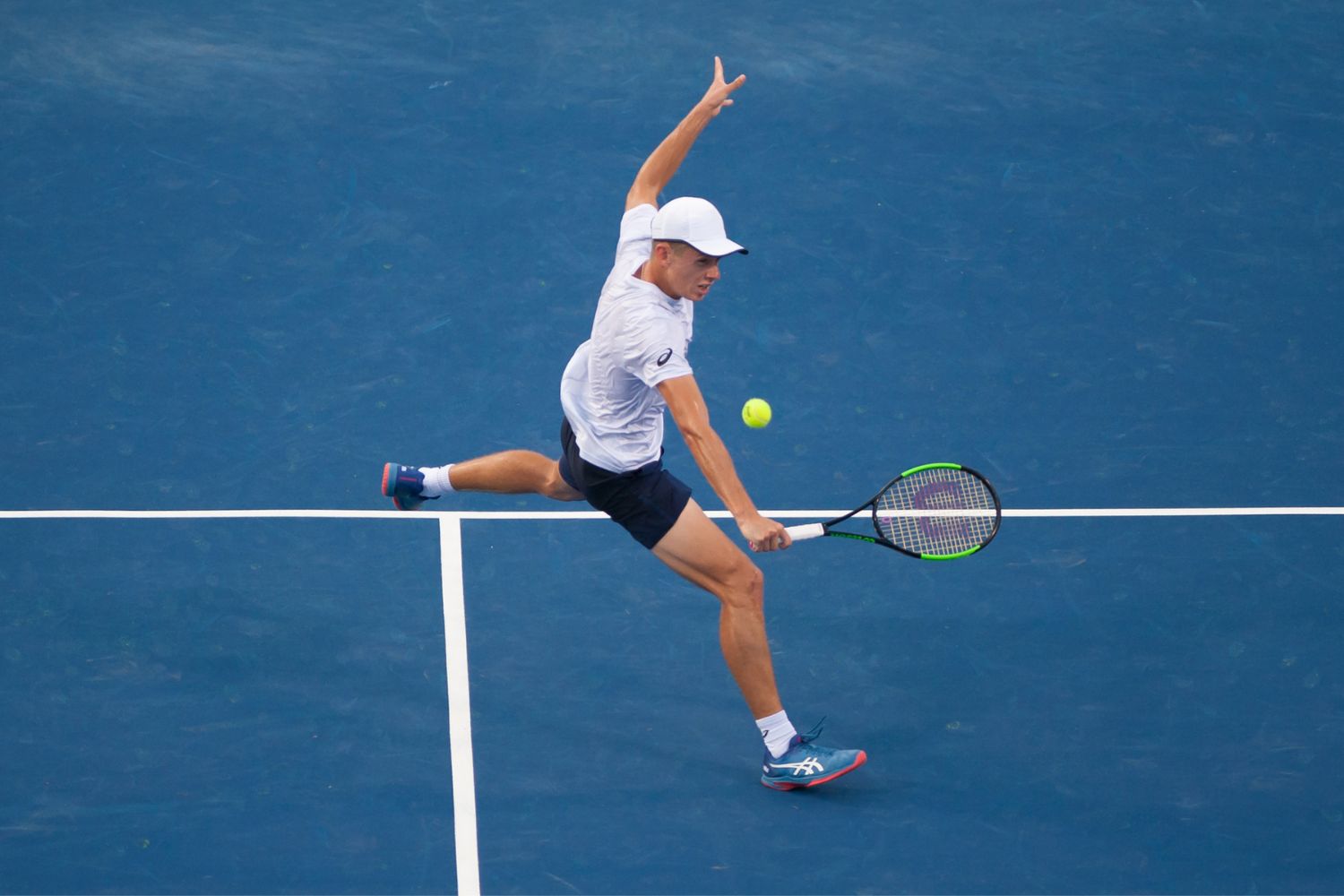 Playstyle aside, you should also consider your preferences. Perhaps you are a baseline player, but you can already generate power and spin easily and aim for more control coming from your strings. Hence, you should also seek to make up for what you lack and what you would prefer to accentuate, regardless of your strengths and playstyle.
Of course, you should know that as you progress and step to a higher level as a player, you may need different types of strings. We are constantly developing and changing our playstyle, and we may want different things out of our strings during our journey.
Last but not least, I would encourage you to experiment with different types of strings and see what works best. You should not waste too much time and money changing your tennis strings too often. However, whenever you feel like you need to substitute your current strings, try changing them to something out of your comfort zone and see if you like them.
Your Racket
It should be no surprise that different types of strings will function differently in various tennis rackets. Just like different strings accentuate certain areas, different rackets are created with specific emphasized areas. Some rackets are made to have more control, others to have more power, etc.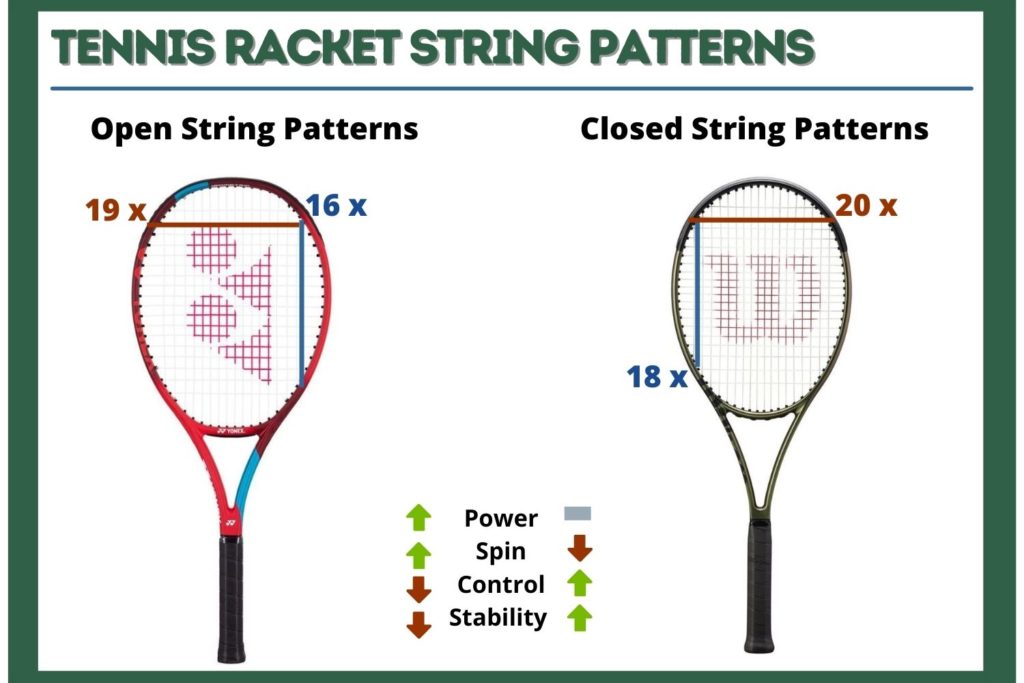 If we assume that you chose your racket based on one of these attributes because that is what you want to achieve during your games, then the strings you should choose should have similar attributes to further highlight those areas.
However, you should note that certain strings that bring the best out of you and your racket may not work so well paired with somebody else's racket that does not excel in areas that your racket does. I know that asking your fellow tennis player friends for suggestions on strings may sound like a good idea, but it may cause you more harm than good.
I say this as I had fallen victim to that mentality before and purchased a set of strings that did not work for me simply because I believed that what did the job for my friend would also do it for me. Therefore, I encourage you to research before and see which types of strings are best suited for your racket.
Material
What you should also consider before choosing your tennis strings is the material. As we established above, different strings are produced from different materials, which will benefit you differently.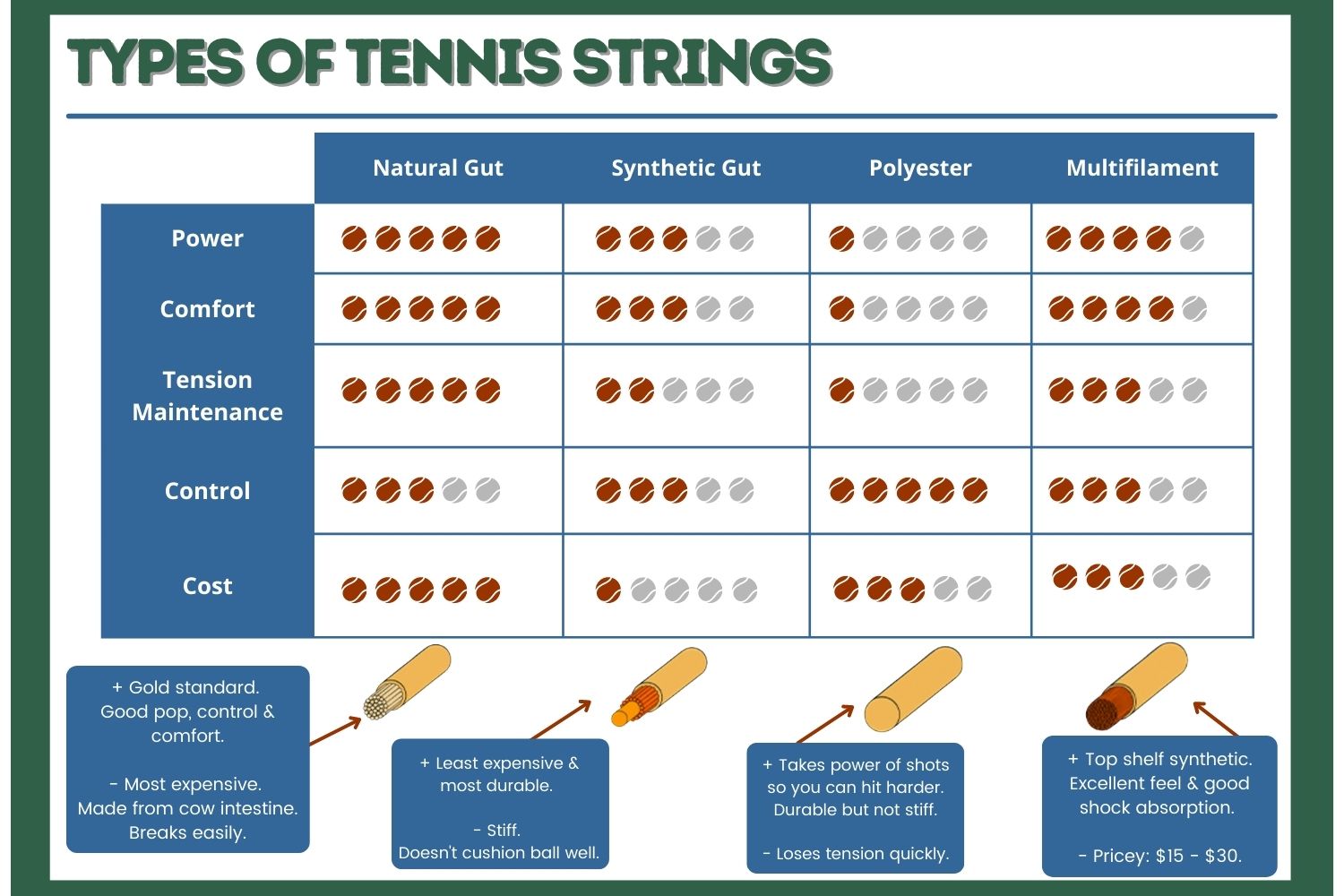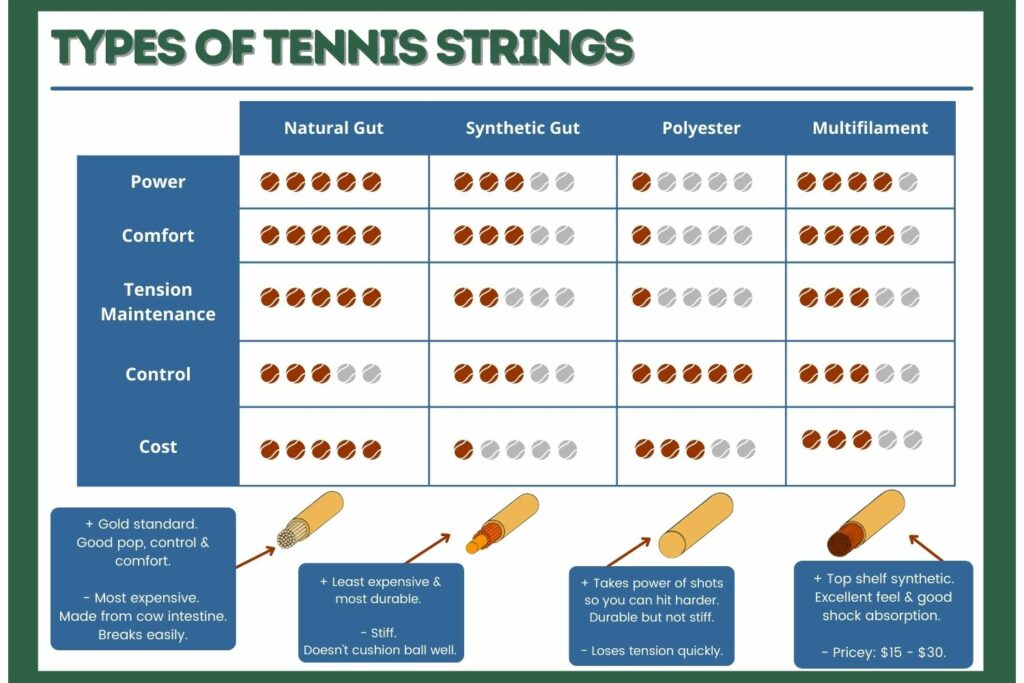 So, if you are a beginner or intermediate player who has difficulties generating power and spin and needs something comfortable, you should opt for nylon or natural gut strings. Otherwise, if you are an advanced player and need an amplified sense of control on the court, you should opt for polyester strings.
You should also decide whether you would like a full bed or a hybrid string set. A quick reminder: hybrid sets use different materials for mains and crosses. Since two different materials are combined in hybrids, you will reap the benefits from both. For example, mixing polyester and nylon strings will give you the best of both worlds: power, comfort, control, and spin.
If you are a beginner, I believe a full bed will do the trick. And if you want a taste of hybrids, search for a comfortable set of strings that will not feel rough on you. Intermediate or advanced players should look for a hybrid set or a full bed polyester for added control.
Gauge
Aside from the material used in the strings, they also have different thicknesses. Thicker gauges (such as the 16 one) will provide you with the most control. These tennis string gauges are also more durable, perfect for players who often break their strings.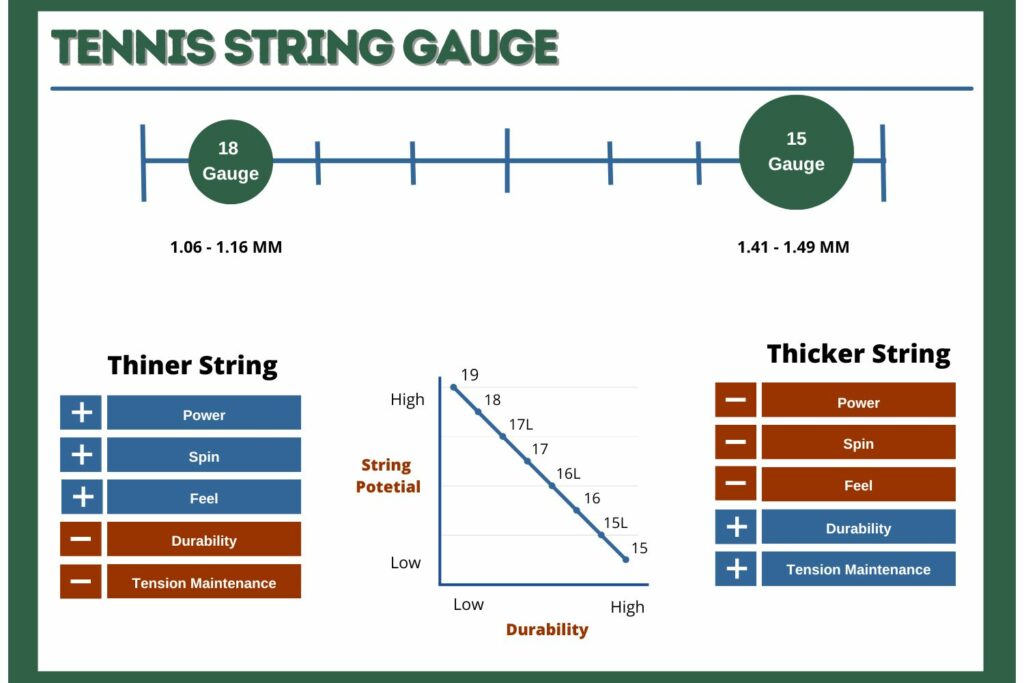 Medium-thick gauges fall in the middle and usually offer you a mixture of power and control. Lastly, gauges on the thinner side of the spectrum will offer you maximum control. As you go down the thickness scale, you should note that strings are less durable and more prone to breakage.
Price
Of course, it goes without saying that you should also consider the price of the strings you want to purchase. Most tennis strings will range from 4$ to 40$.
First, you should look at string set prices to see if you would be able to afford them and if you are willing to spend that amount of money. Second, the price of tennis strings is a quick giveaway to quality more often than not. If you are looking for high-quality strings, you will be spending some cash on your next purchase.
Nevertheless, I would recommend beginner players to buy strings for up to 10$ maximum, intermediate players for up to 20$, and advanced players for up to 40$. Of course, it all boils down to your preferences; however, as a beginner, any type of string will do the job, whereas more advanced players need higher-quality options to fit their needs.
Our Verdict
Our top tennis strings for control in the list are the Solinco Hyper-G and the Babolat RPM Blast. These are the best tennis string recommendations I could give regarding control as they excel at it. You will be able to easily maneuver your racket accordingly with these strings. The spin generation is top-notch with both string sets, and it will be useful to catch your opponent off-guard.
The only downside to these strings is that they are low-powered. However, if control is your main issue, these strings will make up for the low power generation in this area. They barely sacrifice in any department, so overall, they are the best string sets you will find.
How we Choose the Best Tennis Strings for Control
To bring to our readers the best list of tennis strings recommendations for control, we carefully examine a range of alternatives: different string types, low-budget ones, different parameters, etc.
Since we are looking at ideal tennis strings for control, we tested various string types and selected the ones that performed best in this area. However, we ensured that they barely lacked in other areas and had other things to offer outside of control, such as power, touch and feel, durability, etc. All strings in the list are playtested to guarantee your satisfaction.
FAQs
Now that you have read through the characteristics of tennis strings for control, you may still have a few questions. Read on to see some of the commonly asked questions about the best tennis strings for control.
Q: Does tighter string give more control and spin?
Yes, it is absolutely true that tighter stringing of your racquet gives more control and spin to your shots. This is because the tighter strings reduce the flex in the strings, giving you better control over your ball speed and placement.
Q: Which tennis strings give the most power?
When it comes to finding the most powerful strings for your tennis game, nothing beats natural gut strings. Natural gut is an incredibly strong and resilient material that offers a lot of power to the ball when you hit it. Naturally, this means more control over where you place your shots on the court. 
The key benefits of using natural gut are its flexibility and durability, as well as its ability to absorb shocks from hard hitting. This gives players more forgiveness compared to other string types; allowing them to hit with greater force yet still maintain accuracy and spin potential.
Q: Which tennis racket has the most control?
The Wilson Pro Staff 97 v13 is the best tennis racket for control on the market. It is the perfect choice for competitive players who want to have complete control over their game. With its unique construction and powerful frame, the Pro Staff 97 v13 provides outstanding power and precision. It also has a comfortable grip that ensures complete control during play.
Q: Does a heavier tennis racket give you more control?
Generally, tennis rackets that are head heavy will provide players with more power and stability. This is due to the fact that the weight is concentrated towards the head of the racket, which allows for more kinetic energy to be transferred to the ball. However, this also means that there is less maneuverability, so it is important to find a balance that works for your playing style.
We are sorry that this post was not useful for you!
Let us improve this post!
Tell us how we can improve this post?