It doesn't matter if you are a star athlete or a beginner on the court; you need a good tennis racket as a tennis player. This is probably one of the most important decisions you should make, as it will greatly affect your overall performance. The best tennis rackets should feel like an extension of your hand and help you bring out your best skills with ease. 
However, with so many options in the market, and new upgrades popping up constantly, it might feel overwhelming to pick the best fit for you. You should consider many things before purchasing a tennis racket, such as technical specifics, type, game style, grip size, etc. But don't stress it; with my experience as a USPTA certificated tennis instructor, I will help you navigate amongst the top tennis rackets.
Best Tennis Rackets Reviewed
We went through a long process of playtesting and reviewing a bunch of tennis rackets that dominate the markets. In this list, we have selected some of the best tennis rackets that include different models, designs, and features to ensure that they apply to a wide range of players.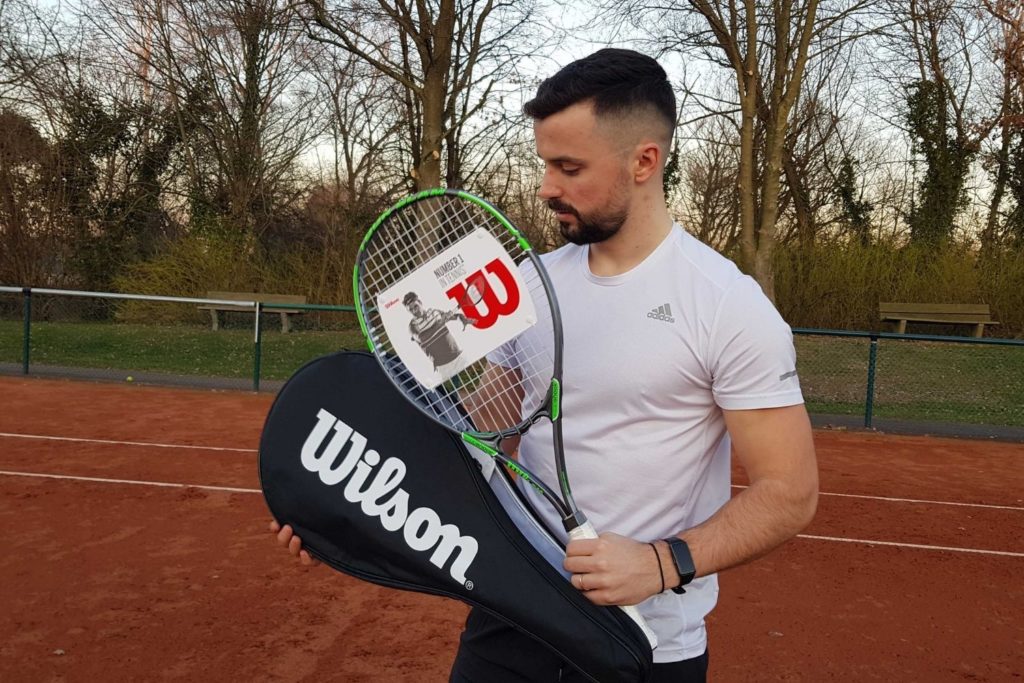 What to Consider When Buying the Best Tennis Rackets
Before choosing a tennis racket, there are a few other things to consider. Technical details are important, but so is understanding your game style and the level of skills you have already mastered on the court. 
Finding the best tennis racket possible can be challenging, but learning this stuff will make a choice easier. 
Your Style of Play
It might not look like it, but your game style is important when choosing a tennis racket. The different technical features of the rackets can enhance your abilities on the court or make the game much harder than necessary. 
Let's say you are the kind of player who is great at hitting a big serve and then like to close the point quickly, with fast volleys, up in the net. In this case, a smaller head size racket, which offers precision and control, with added weight for more stability, is the best option for you. Anything else might as well ruin your performance. 
Our best advice is for you to identify your game style and find the best tennis racket that performs great in the court areas that matter the most to you. 
Your Old Racket
Before deciding which tennis racket to buy, look at the one you already have. It can help you tremendously to decide what exactly you are looking for. 
You should first consider what you like and dislike the most from the racket you are currently using. This process will help make comparisons with new options and narrow down the wide range of types and features. 
The main things to consider are the usual technical specification, such as the head size, tennis racket weight, length, string patterns, balance, stiffness, and swing weight. Most importantly, you should consider the feel because you want a racket that feels like an extension of your arm, not a burden to carry around the court. 
Racket Head Size
If you are a beginner, the technical specifications might seem like a whole other language and quite tricky. Don't worry; it happens to the best of us, but the good news is that you don't have to hang up a lot on them when choosing your tennis racket size.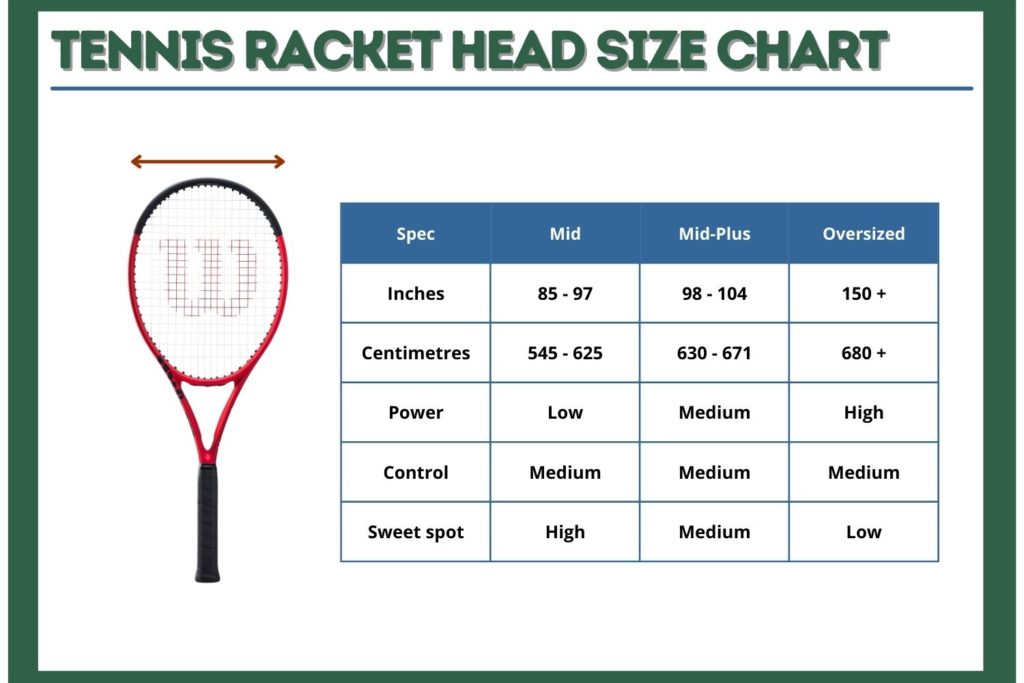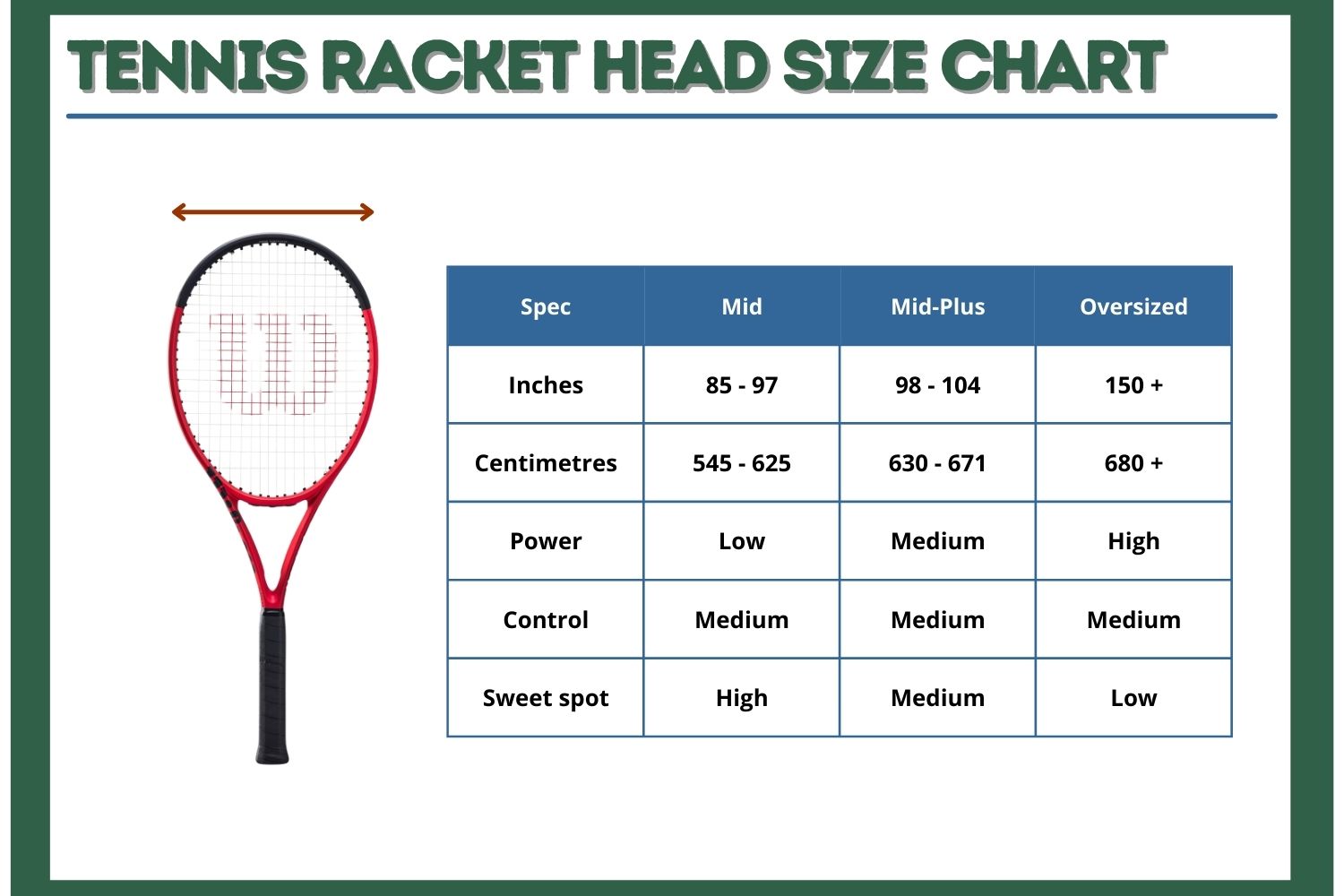 One easy way to understand the differences between different rackets is by comparing the head sizes. 
A big head-size racket has a larger surface area and provides a trampoline-like effect during a shot. As a result, these rackets offer more power and allow different levels of force for a player to adjust to. It also generates more springs and topspins. Usually, oversized rackets have a size head of 110 inches and greater. 
Since the surface is larger, these rackets have a bigger sweetspot and allow a higher margin of error. Tennis rackets with a larger head are excellent for beginners and recreational players.
A smaller head size is 100 inches or less and is more suitable for advanced or professional players. These rackets have a smaller sweetspot; the player using it should be very skilled not to miss it, to avoid being at a disadvantage.
Small-sized head rackets provide a lot of control over the ball and flexibility and are well-balanced. They don't offer a lot of power and are not as forgiving, but they are precise and allow a good consistency during the shots. 
Mid-sized rackets are also an option for players looking for an upgrade. As we mentioned above, these rackets offer both power and control. They come in a wide range of designs and are lightweight and comfortable for the arm. 
String Pattern
String patterns greatly impact the performance of your racket; that's why learning some basic information about this is important. When buying a new racket, the number of string patterns will always be specified in technical aspects. So what are those exactly, and what does it mean?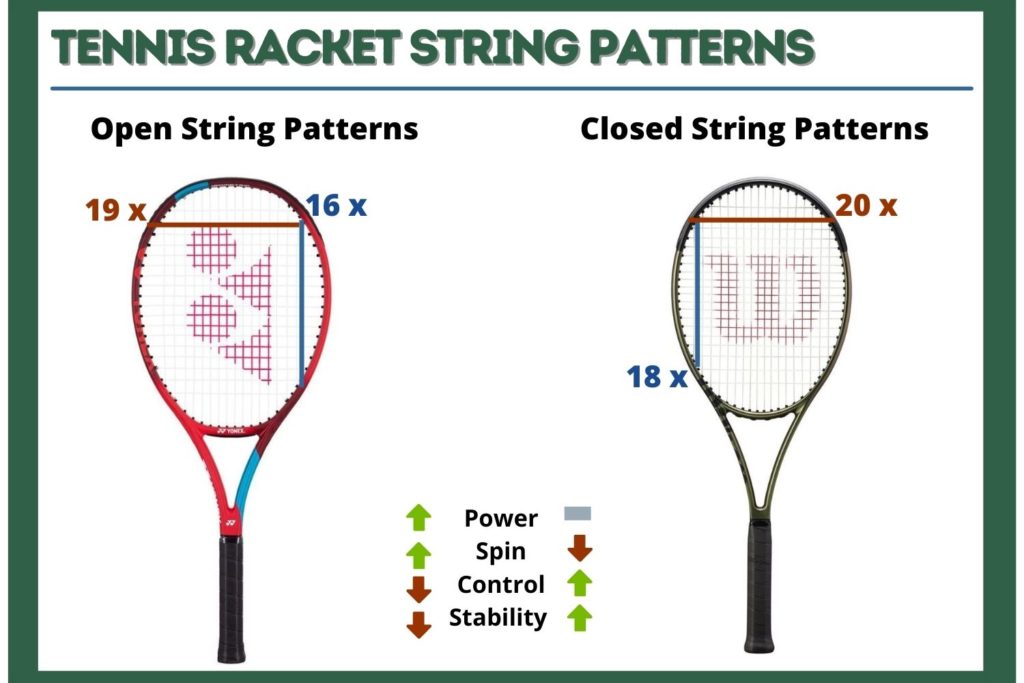 The number of strings simply refers to the main (horizontal) and cross (vertical) strings. The most common patterns of the tennis rackets are 16 x 19, 18 x 20, 16 x 18, and 16 x 20. Depending on the string numbers, the rackets have a few types of string patterns. 
Dense string patterns – are those rackets with 18 x 20 string numbers. The strings have less space between them, providing more stability and control. A racket with dense string patterns is great for slice shots but has a lower shot trajectory and doesn't produce as much spin. 
Open strings patterns – have 16 x 19 or 16 x 18 string numbers and are the most common type. The space between string squares is larger, making the racket feel more lively and forgiving. An open string racket generates a lot of topspin and can hit a ball with depth. However, this type of string pattern tends to lose tension much faster. 
In-between patterns – even though this pattern is not common, you can find rackets with a 16 x 20 or 18 x 19 strings number. They offer a mix of the main features that dense and open string patterns have. 
Stiffness
In simple words, stiffness measures how much the racket's frame bend during contact with the ball. When buying a racket, you'll notice the stiffness measurement at the technical measurements quoted in RA ratings. Usually, it is anywhere from 50 to 70, making it easier to tell how stiff the racket is. 
Stiffness is a key factor that shows the tennis racket's level of power and control. 
Contrary to popular belief, a stiff racket has more power because the frame absorbs less energy and bounces back faster. On the other hand, flexible rackets offer much more control over the ball. 
Here's what you tell how stiff a racket is a next time you look at the technical details. 
Flexible: 63 and below 
Medium stiff: 63 to 67 
Stiff:  68 and above
Grip Size
Finding out the right tennis racket grip size is highly important because it will perform your overall performance and prevents possible injuries. Even if the grip size is slightly bigger or smaller, you will feel uncomfortable on the court and risk harming your hand, wrist, or elbow.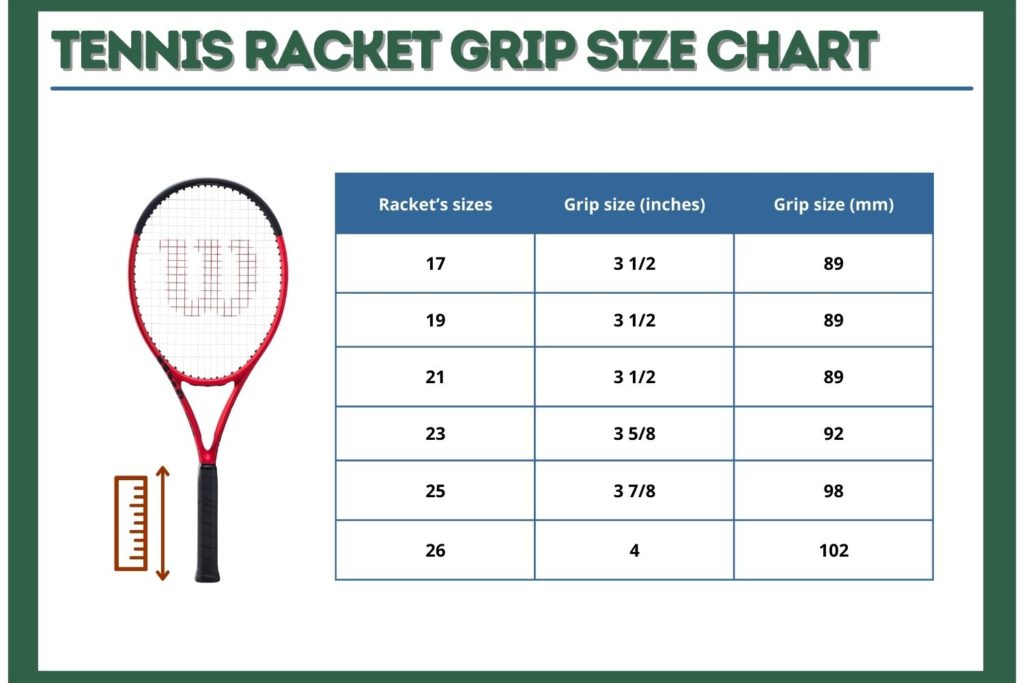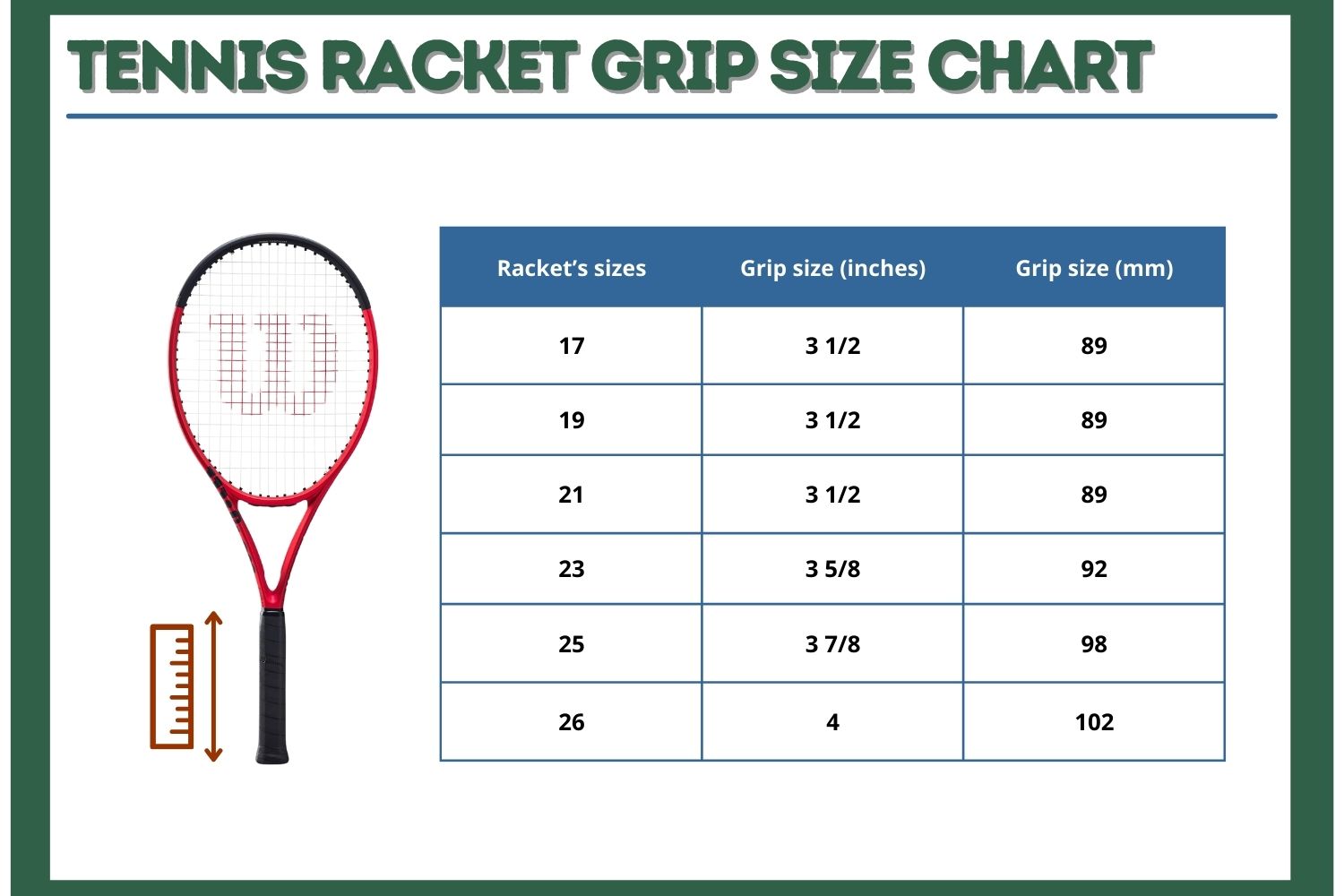 What is the grip size, one might ask? It is simply the circumference of the racket's handle. 
Before finding the right grip size, it's important to consider the size of your hand size. You can determine your grip size using a ruler to measure your hand or holding your racket in a forehand grip to decide if the grip is too big or too small. It's important to stress that the grip size is not an exact science, and finding what suits your best depends greatly on how good the racket feels.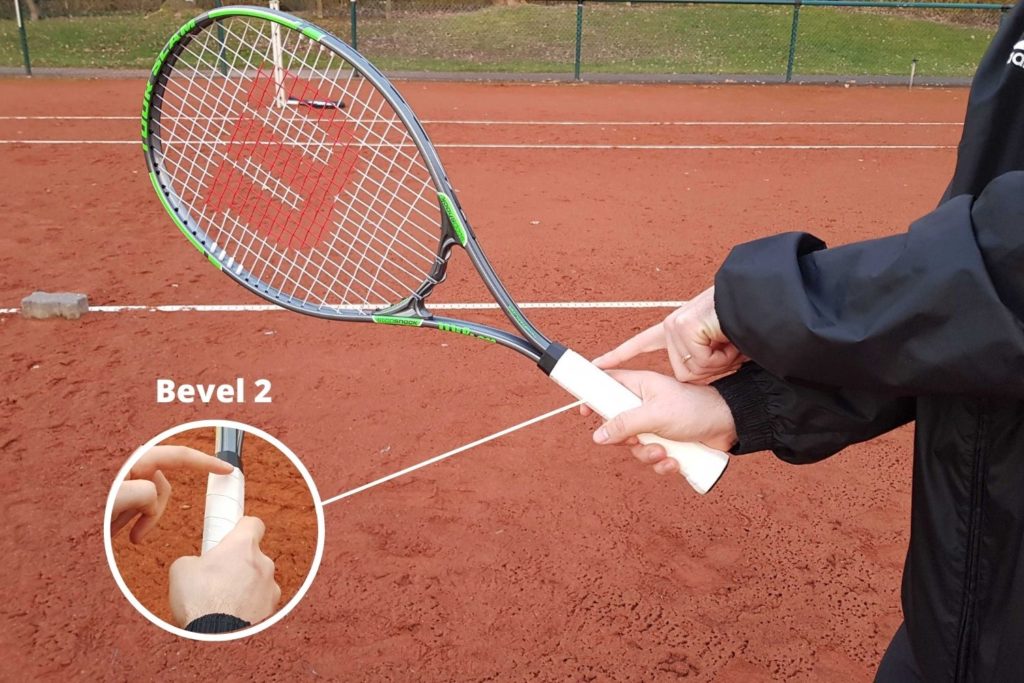 Types of Tennis Rackets
The shape might be pretty much the same, but not all types of tennis rackets fall into one category. There are several racket type, which has different features, and it suits players best in terms of their skill levels and game style. 
This is the first and most important feature you should consider before choosing which racket is the best choice for you. Let's say you are an aggressive baseliner and aim for control during your shots. Picking up a lightweight racket with a high level of power can be more of an obstacle to your game and even ruin your game. 
There are types of tennis rackets, which we have listed below alongside their main features.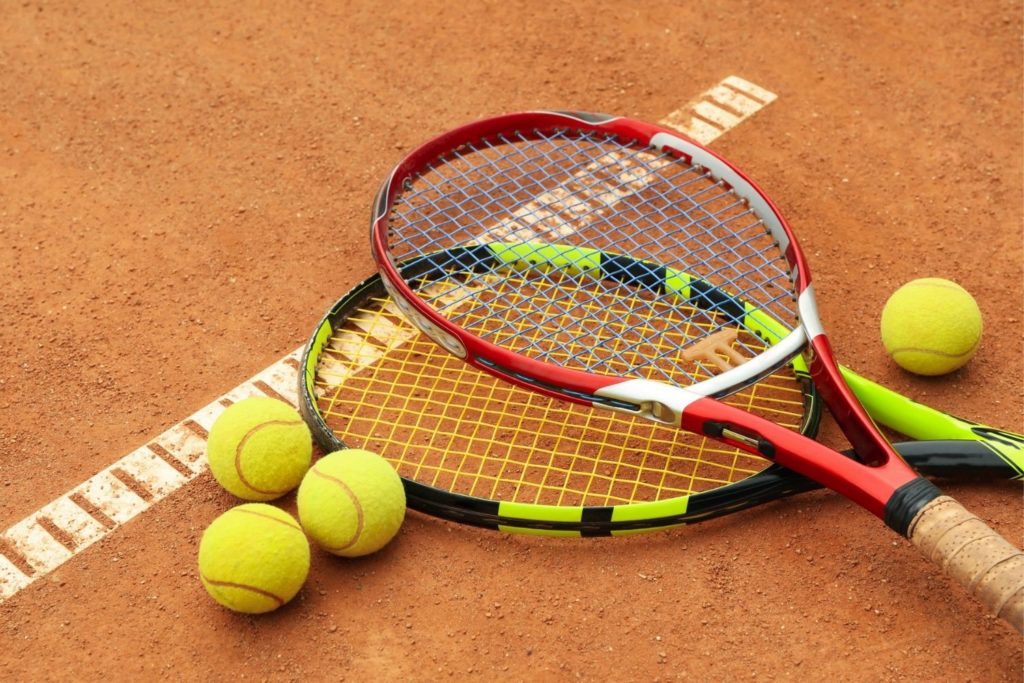 Power Rackets
If a player wants more power and depth for the shots, a power racket is an optimal choice. They are often referred to as the "game improvement" type of racket because power rackets are an excellent option for beginners. It's also suitable for women and players who struggle to generate a lot of strength and power.
This type of racket will help players master the skillset and perfect their technique and form by generating more power for the player. Power rackets are usually shorter and more compact; they are also more forgiving, allowing a higher margin of error. 
A power racket design has a few specific features which differentiate them from other types. 
Oversized head – there are a few advantages that a larger head offers in power rackets. There generate more topspin, provide a larger sweet spot, are more forgiving, and offer more power. All beginners love these features, as it helps them perform better and learn their technique faster. 
Extended length – is one of the best forms to increase power levels. A long racquet offers more leverage for the player, providing more strength and depth for the shots. 
Stiffness – it's usually for a power racket to lack flexibility. However, the ball can rebound more quickly with a stiffer frame, allowing the player to generate more power and speed with ease.
Lightweight construction – is a common threat of power rackets, making them much easier to maneuver and adapt during the game. 
The usual technical specifications of a power racket are listed below. 
Head: 105 sq. in (677.4 sq. cm) or greater
Length: 27 to 29 inch
Frame: 66 or greater 
Weight: 8 to 9.5 oz 
Control Rackets
Control rackets are optimal for advanced players who aim to have more control and accuracy of their shots. To take full advantage of these rackets, you should have mastered the right form and technique and possess fast full swings.
Control rackets are friendly with the arm, absorb the shock pretty well, and have a nice feeling overall. They are the opposite of power rackets and are often referred to as the players' rackets. Also, they are notorious for being quite heavy but also flexible. 
Control rackets have a few distinguishing features.
Small head – this decreases the margin of errors, and the sweetspots will be smaller too. The trampoline effect is not as bouncy either, generating less power for the player. 
Standard length – gives the player more than enough leverage and maneuverability to hit the ball. It's easy to keep the rhythm during shots. Usually, the length of the racket is 27 inches. 
Flexible frame – when hitting the ball, the frame of control rackets it's designed to be flexible, absorbing the energy. This makes a control racket easier to switch into different grip positions and more friendly to the arm. 
Heavier construction – control rackets tend to be quite heavy, but this feature has a few functions. First and foremost, it provides different power levels from which a player can adjust force and speed. It also provides a stable and controlled feel. Lastly, it will reduce shock and make a control racket comfortable for the arm. 
The usual technical specifications of power rackets are listed below. 
Head: 85 – 97 sq. in or greater
Length: 27 in
Frame: 50 -70 
Weight:11.6 – 12.6 oz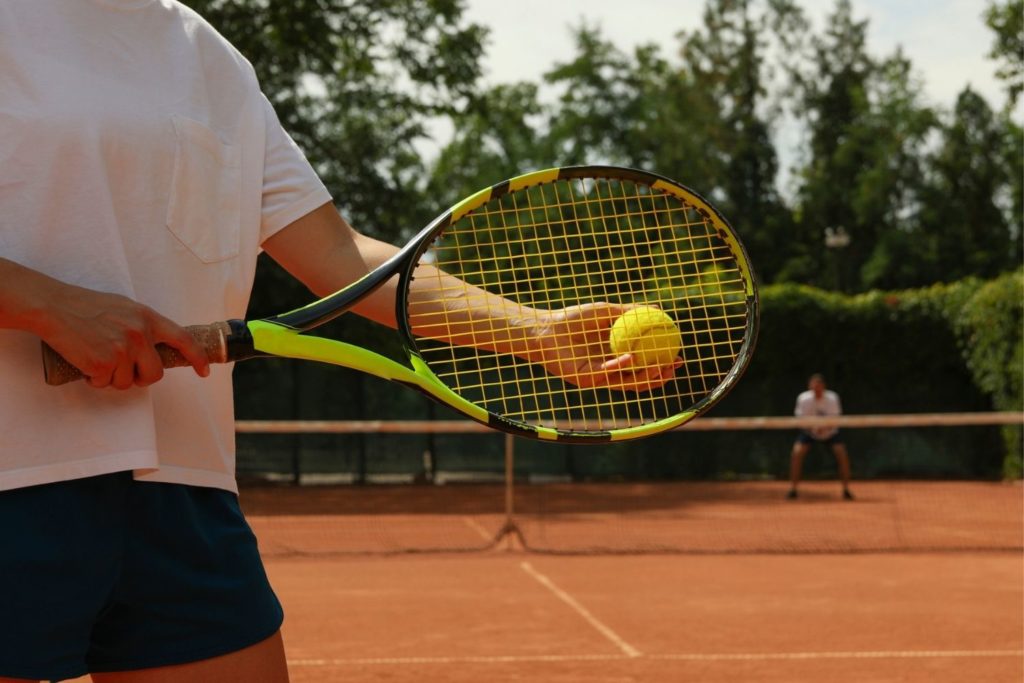 Intermediate Rackets
Can you blend both power and control in a racket, so a player can have the best of both worlds, so to say? Yes, it can! Intermediate tennis rackets, also known as "tweeners," offer just that. 
These rackets are optimal for intermediate players and beginners as well. Overall, they perform great at the court and appeal to a wide range of players. These rackets are lightweight, durable, comfortable for the arm, and allow powerful swings. 
Intermediate tennis rackets come in every design, making them highly adaptable and appealing to players of skill levels or game styles. 
Some of their main characteristics, which you should look for in such a racket, are 
Head: (mid-size) 98 – 104 sq. inch 
Lenghth: 27 inch 
Stiffness: (mid- range) 61 – 70 
Weight: (mid- range) 9.6 – 11.5 oz 
Modern Player Rackets
Modern player rackets have become more and more popular in recent years. This type of tennis racket is the optimal choice for advanced players, and even professionals are starting to use them, as their design is continually evolving and improving. 
The head of a modern player racket is slightly larger and less stiff than a standard pro racket. They generate a lot of topspin, have a nice sweetspot, and allow powerful swings. These rackets are perfect for those players who are aggressive heavy hitters on the court. 
The main technical details of modern players' rackets are listed below. 
Head: (plus mid size) 98 – 100 sq. in
Length: (standard) 27 inch 
Stiffness: 61 – 70 
Weight: 11 – 12 oz
Men vs. Women's Tennis Rackets
There is no such thing as an only-women or only-man tennis racket. The vast majority of the best rated tennis rackets are indeed unisex, which means they are fit for both genders. 
However, there are a few specific things you should keep in mind when choosing your best tennis rackets, depending on your gender. 
Bodyweight – Men naturally have bigger body mass and muscle composition than women. That's why men usually go for heavier rackets, which provide control and stability in the court since they can produce a lot of power themselves. On the other hand, women tend to favor lightweight rackets that are flexible, easy to maneuver and produce a lot of power.
Racket size – Usually, women players use slightly lighter rackets than men, who are more on the heavier side. This, however, is based on individual physical traits and not a rule you should follow mindlessly. It's worth noticing that many women players use heavy rackets and are known for their power in court. If you are just starting in tennis, you should also keep in mind the racket head size since based in your gender can affect your performance. Women tend to favor standard-size head rackets since they are easy to control and comfortable for the arm. In comparison, men beginners start with a plus mid-size racket.
Design – Many brands produce rackets with specific designs and colors that only appeal to a particular gender. For example, pink rackets are marketed for women, but they perform the same as black ones that men prefer best. Marketing is also a very important aspect of sales since brands use a female star athlete for their promotion campaign to appeal more to women and male athletes when they intend to attract more men clients. 
Upgrading to an Advanced Tennis Racquet
Upgrading to an advanced racket is important in your tennis journey. However, this is very personal and based on your physical abilities and set skills, so please don't feel pressured if you don't feel ready yet. 
So what makes a player classified as advanced? Advanced players train and play regularly for most parts and can control all of their slices. They can control their shot's placement, spin, and power level with precision. An advanced player should rate at least 4.0 or higher on the USTA scale.
Our Verdict
While there are many excellent options, we would rate it as the best all-around tennis racket Babolat Pure Strike. It delivers amazing performance while offering high levels of power and a lot of topspin. This is well suited for a wide range of players from all skill levels, including beginners. 
Another top favorite that stood out during our playtest was Wilson Clash 100. This racket delivers all the promises for a great performance all around the court. It is lightweight and flexible, with a unique blend of power and control.
How We Chose the Best Tennis Rackets
To come up with these selections of the best tennis rackets, we considered three important factors: control, power, and feel. We picked up those rackets that delivered the best performance during the playtest and stood out for their quality and features. 
We tried to include a wide range of options for different categories to give the best recommendation possible for players of all kinds of game styles or skill levels. The reviews also include other important details, such as topspin, speed, technical features, etc. 
Our best advice is that you try to evaluate your needs first, based on where you stand in terms of skill level, game style, and physical abilities. Once you know what you are looking for, there is no way you will go wrong while considering our recommendations. 
FAQs
If your head is still spinning with all that information about the best tennis rackets, don't fret. The following sections include some common questions about tennis racket recommendations. Be sure to check for an answer to your question listed below.
Q: What is the most popular tennis racket for pros?
The most popular racket for pros is the Babolat Pure Drive. This racket has been used by many professional tennis players, such as Roger Federer. It is a very versatile racket that delivers great power and control.
Q: How much money is a good tennis racket?
There is no definite answer to this question as it depends on your budget and what you are looking for in a racket. You can find good quality rackets at different price points. However, we would recommend spending around $200 on a good quality racket.
One of the best budget-friendly options would be Wilson Burn 100. This tennis racket is great for beginners and intermediate players because it delivers good power and spin.
Q: What is a good tennis racquet for an intermediate player?
If you are an intermediate player, we would recommend a racket that is versatile and delivers good power and control. A great option would be Babolat Pure Drive.
This tennis racket is used by many professional players and is very versatile. It is also one of the most popular rackets on the market.
Q: What do I do with old tennis rackets?
You can recycle them or donate them to a charity or school.
If you choose to recycle your old tennis rackets, most recycling centers will accept them. However, be sure to remove all the strings and padding before you recycle them, as they can be harmful to the environment.
If you choose to donate your old tennis rackets, contact your local charity or school and ask if they're in need of any sports equipment. Many schools and charities are always happy to receive donations of gently used sporting equipment.
We are sorry that this post was not useful for you!
Let us improve this post!
Tell us how we can improve this post?