If you are looking to stun your opponent with powerful shots or add more strength to your swings, there are a few ways to make it happen. Surely, putting in the work for your physical training and picking up a good racket is a good start, but you would be missing out if you don't use only the best tennis strings for power.
Many people need to be made aware of how much of a difference strings make in the performance of a racket and the features it displays. Think about it: the strings are the first and only point of contact with the ball, so it's only normal that their quality determines playability, the feel, and the accuracy of the shots. In this article, we will teach you everything you need to know when choosing power tennis strings and to make things easier; you'll also find a selection of the finest options available on the market.
Best Tennis Strings For Power Reviewed
With so many options on an overfilled market, picking up the best tennis strings for power can be a real struggle and often a mission impossible. To make your life easier, we came up with a selection of the best options on the market that specifically prioritize power but can also shine in other features. 
Babolat VS Touch Natural Gut are the most powerful strings you can get your hands on. After trying out many different options, there was no doubt in our minds that these would be our top pick on the list. They are made of natural gut material and can generate an incredible amount of power that makes the ball fly over the court with ease. Furthermore, the Babolat strings deliver good control as well and remain comfortable even when set at higher tension rates, which is a nice surprise.
The unique, soft feeling is one of the best features these strings have to offer, which makes the bed string very responsive, and helps the player to connect almost immediately with the racket. With a little bit of effort, generating spin for long swings and fast strokes is not a problem at all. Overall, Babolat VS Touch did everything right on the playtest and gave us nothing to complain about other than the salty price.
Product Specs
Material: Natural Gut
Gauge: 16
Length: 40 ft / 12.2 m 
Pros
Explosive power
Comfort
Feel
Humidity resistant
Cons
Get the Babolat VS Touch Natural Gut on Amazon or at Do It Tennis.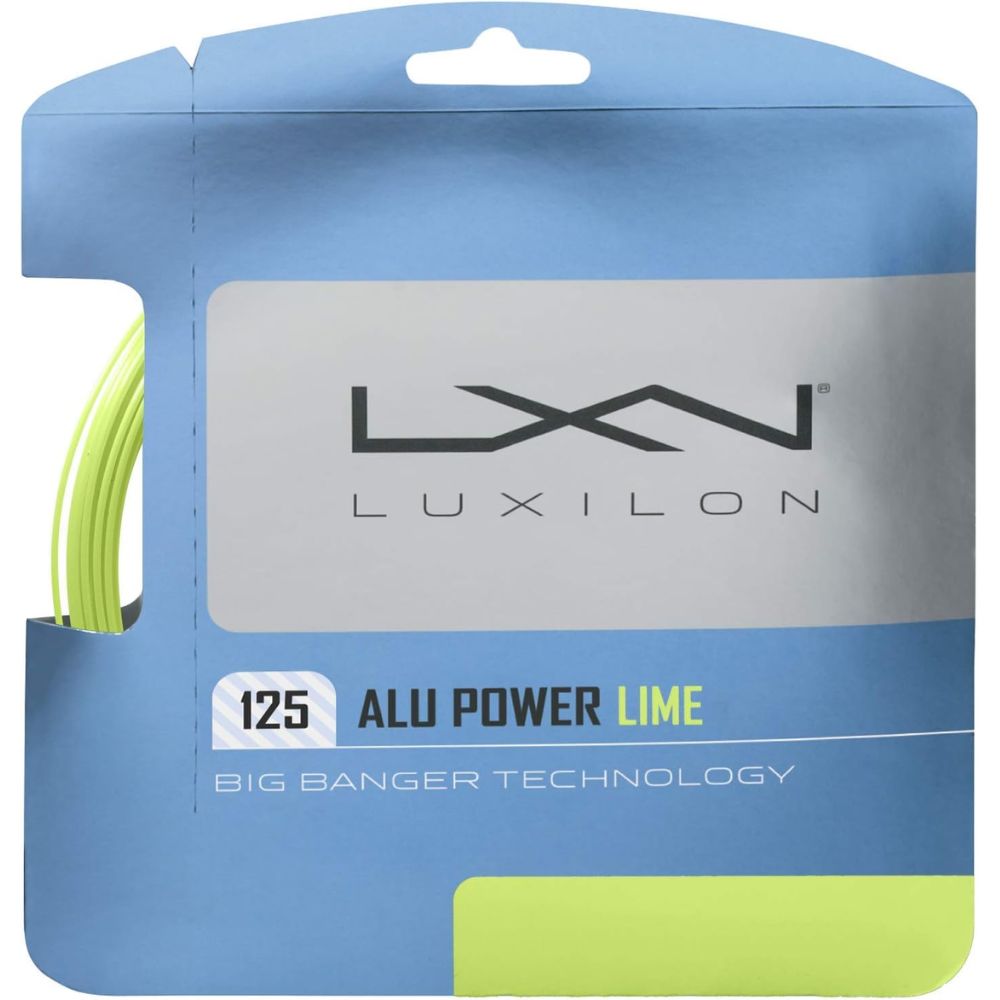 Luxilon Alu Power is the best option for players looking to inject more power into their game but, at the same time, are conscious of their budget limits. These strings come at a favorable price and can last for a long time, making them a rather smart investment for your tennis equipment.
Alu Power strings are made of multifilament material, whose construction adds more power potential and allows the stringbed to take huge cuts during shots. As a result, these strings can also generate impressive levels of speed and spin. They also provide a good sense of control, helping the player direct the ball's trajectory, and hit targets. The Alu Power strings are quite comfortable for the arm and offer a soft touch.
They would make a great choice for all ranges of intermediate players or lower advanced levels looking for affordable strings that can enhance power. Fresh beginners or recreational players might find these strings underwhelming, so it would be better to look for other options instead.
Product Specs
Material: Multifilament 
Gauge: 16 L
Length: 40 ft / 12.2 m 
Pros
Affordable price
Power
Control
Durability
Cons
It feels underpowered for lower beginners or recreational players 
Get the Luxilon Alu Power on Amazon or at Do It Tennis.
Wilson NXT Power is one of our favorite picks on this list. These strings impressed us with their performance and explosive power potential during the playtest. They are made of multifilament material and were frankly the closest to mimic the superior soft touch and the features of natural gut.
These strings allow the player to easily tap into different levels of power, making it easy to generate massive speed on the court. The NXT Power string construction has twice as many fibers as a regular multifilament string to enhance their comfort levels, increase the sweet spot, and dampen harsh vibrations.
They do a good job at offering a decent mix of control and spin, too, even though they are times when the pop can make these features feel dull. These Wilson strings are suitable for a wide range of players regardless of the skill levels of style play. What makes them even more tempting, the strings come at an affordable price, which is less than half of what a natural gut would cost.
Product Specs
Material: Multifilament
Gauge: 16
Length: 40 ft / 12.2 m 
Pros
Explosive power
Feel
Affordable price
Comfortable
Cons
Control levels are underwhelming 
Get the Wilson NXT Power on Amazon, at Wilson's Official Site or at Do It Tennis.
Best for Power and Control
Wilson Champion's Choice Duo are hybrid strings made of premium natural gut and polyester. As a result, these strings combine various features that offer players the best of both worlds; control and power. The natural gut in the mains makes it easy to tap into different levels of power and even offers some extra pop. It is very responsive, soft, and comfortable for the arm.
The exceptional feel allows the player to connect immediately with the frame. The polyester crosses provide a good sense of control and stability, which is just what you need to control the ball's trajectory and aim successfully at targets. Not one of the best tennis strings for control but the ideal ones if you are looking for a great balance of power and control. 
Additionally, these strings can get a good cut of the ball without compromising comfort. With some extra effort, it can generate an impressive amount of spin and speed, too. We would love some extra depth on the court and more affordable prices; however, we have to admit that Wilson Champion's Choice Duo barely gave us anything to complain about.
Product Specs
Material: Hybrid (Polyester and natural gut)
Gauge: 16 / 16L
Length: 20 ft / 6.1m
Pros
Controllable power
Good levels of control
Comfortable
Feel
Cons
Expensive price
Some extra depth at long shots would be nice
Get the Wilson Champion's Choice Duo on Amazon or at Wilson's Official Site.
Head Velocity MLT strings have been around for quite some time now, since their first release in 2015, and have been established as one of the most popular options on the market. The reviews are overwhelmingly positive, and they did not disappoint. These tennis strings can deliver an impressive amount of power combined with heavy spin, which can transform your racket into a deadly weapon on the court.
They are a perfect choice for big hitters with an aggressive style in the game. Velocity MLT are made of multifilament materials and are quite comfortable for the arm while offering a nice, soft feeling. The above-average control levels are what you need to dictate the ball's trajectory and keep the opponent tense when aiming for difficult targets. The strings come at a reasonable price; however, they lose tension in a relatively short time, so you might need to replace them often.
Product Specs
Material: Multifilaments 
Gauge: 16
Length: 40 ft / 12.2 m 
Pros
Controllable power
Heavy spin
Soft touch
Good control
Cons
They lose tension over a relatively short time
Get the Head Velocity MLT on Amazon, at Head's Official Site or at Do It Tennis.
Best For Power and Comfort
Yonex Rexis strings are the obvious choice for all players who want to prioritize comfort above all else while adding some extra power and energy to their shots. These strings are made of multifilament materials with a very flexible and elastic construction. They do a great job absorbing harsh vibrations and shock impact, just what players with injuries and sensitive tendons need.
These Yonex tennis strings generate a great amount of power, in which is quite easy to tap into. The plush feeling and the extra soft touch are an elite experience in itself, which make the game much more enjoyable and fun.
On the downside, the control levels of the strings were underwhelming and often disappointing, which made the game the performance inconsistent. Of course, beginners or recreational players would barely notice this lack, but for more advanced levels, a trick that can work is setting the strings at higher tension rates.
Product Specs
Material: Multifilament 
Gauge: 16 L
Length: 40 ft / 12.2 m
Pros
Supreme comfort
Absorbs harsh vibrations
Extra power
Plush feeling
Cons
Disappointing control levels 
Get the Yonex Rexis Comfort on Amazon.
Best For Power and Durability
Ashaway Monogut ZX strings are one of the most unique and exceptional market options. Made of engineered Zyex material with a monofilament construction, they are versatile and extremely durable. These strings are resistant to abrasions and do a good job of holding tension for prolonged periods, making them a worthwhile investment.
Additionally, these Ashaway strings have enhanced power potential and can deliver reliable performance throughout the game. Surprisingly, the strings are exceptionally comfortable for the arm and deliver a soft touch. The Ashaway strings are suitable for all-court players with different game styles, including those with an aggressive approach.
They can generate a good amount of spin and offer decent levels of control, enough to predict where the ball will land. These strings are arm-friendly and feel comfortable even when hitting off-center shots. The only downside is that the string performance highly depends on the tension rates. It might take quite some time to string them just right, so you can adjust performance based on your needs on the court.
Product Specs
Material: Monofilament
Gauge: 16
Length: 40 ft / 12.2 m 
Pros
Maximum durability
Extra power
Spin and control
Good string movement
Cons
Get the Ashaway MonoGut ZX on Amazon.
It's not a coincidence that Solinco Hyper G strings have been taking the tennis market by storm the recent years. These strings deliver a vivid performance and high playbility. Made of polyester, they can generate a good amount of power with ease, enough to add some energy to the shots without reaching the point of becoming overwhelming.
It's perfect for aggressive intermediate and advanced players that want to accelerate their strokes. Hyper-G strings deliver exceptional control levels to help the player be more accurate with ambitious targets and add depth to each shot.
While these strings are not the most comfortable of forgiving option on the market, we have the admit that we had no issue when it came to these features. Usually, polyester strings are not in the soft range when it comes to feeling, so these really surprised us with their touch. However, we wouldn't recommend these strings for beginners or players recovering from injuries that will find them to be too stiff.
Product Specs
Material: Polyester 
Gauge: 16
Length: 40 ft / 12.2 m 
Pros
Power and control
Heavy spin
Nice feel
Mentains tension
Cons
Get the Solinco Hyper-G on Amazon or at Do It Tennis.
The Best String Types for Power
Deciding which type of tennis string is the best to inject extra power into takes work. If you are looking for a clear, straightforward answer, we are sorry to inform you that there is no such thing. It's important to evaluate options and technical details before making a decision.
First and foremost, a player should choose between different types of tennis strings;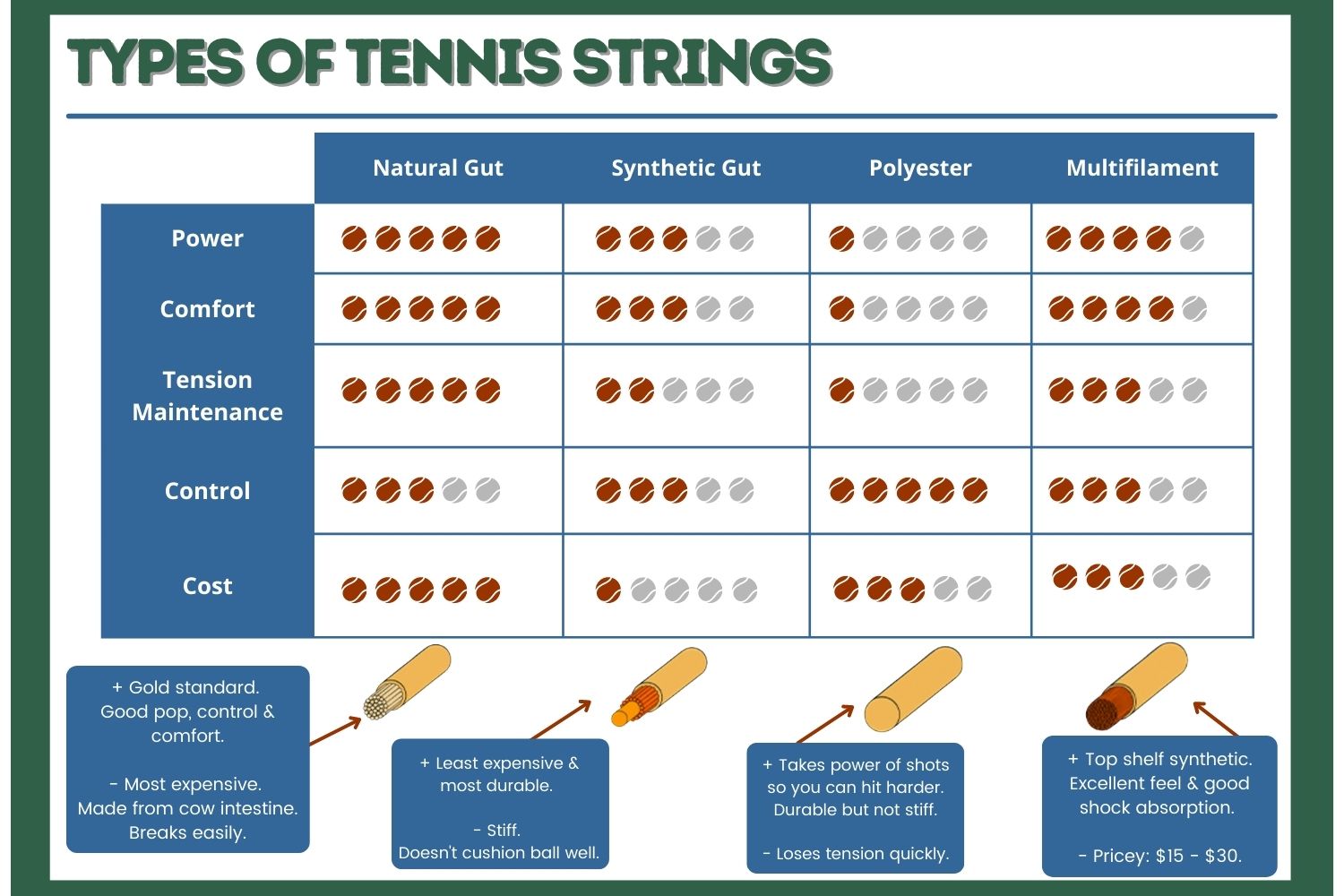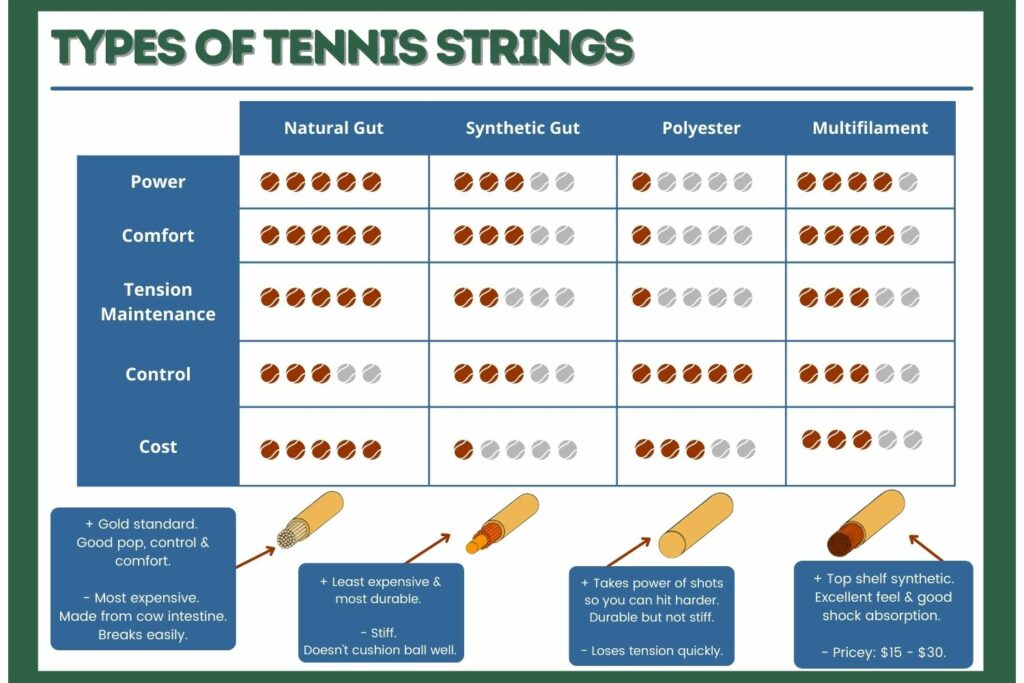 Natural Gut
Made of animal gut intestines, these types of strings can generate pure power, which one can easily tap into. They are very popular among professionals and avid players that prefer natural gut strings for the supreme feel, the extra pop, and the flexibility they offer. The unique structural design of natural gut strings makes them very responsive and comfortable for the arm. 
However, natural gut comes with an expensive tag price and notoriously lacks durability, control, and spin.
Synthetic Gut
Synthetic gut strings, made primarily with nylon, are made specifically to imitate natural gut features and performance but with some very convenient twists. Synthetic gut cost is affordable for all players, is more durable, and last longer. They have versatile features and can easily generate high levels of power.
On the downside, the performance of synthetic gut strings is always average at best, suitable for lower intermediates, beginners, and recreational players that don't mind the muted feeling as long as the strings are also comfortable and provide a good learning experience.
Multifilaments
Multifilament tennis strings are also a more affordable version of natural gut. These types of strings are made of synthetic materials and are a very popular choice among players for their versatility. Multifilament strings offer explosive levels of power, are able to maintain tension well and have a soft, comfortable feeling. However, they come with a few disadvantages, such as a lack of control and low spin potential. 
Polyester
Polyester strings are mostly suitable for advanced and higher intermediate players that want to enhance control over the ball and its trajectory. These strings are a perfect choice for full swings and heavy spin. While they do last long, the feeling is muted, and they are quite stiff, which can be uncomfortable for the arm after using them for long periods of time.
Combining polyester with another type of string, such as the natural gut, can soften the feeling and help generate incredible power levels, which a player can easily tap into.
What to Consider When Choosing the Best Tennis Strings for Power
Now that you have made up your mind as to what type of tennis strings to use, it's time to look up the technicalities. Once you learn some simple tricks on choosing the right tennis string, you'll be able to determine what is the best tennis string for power.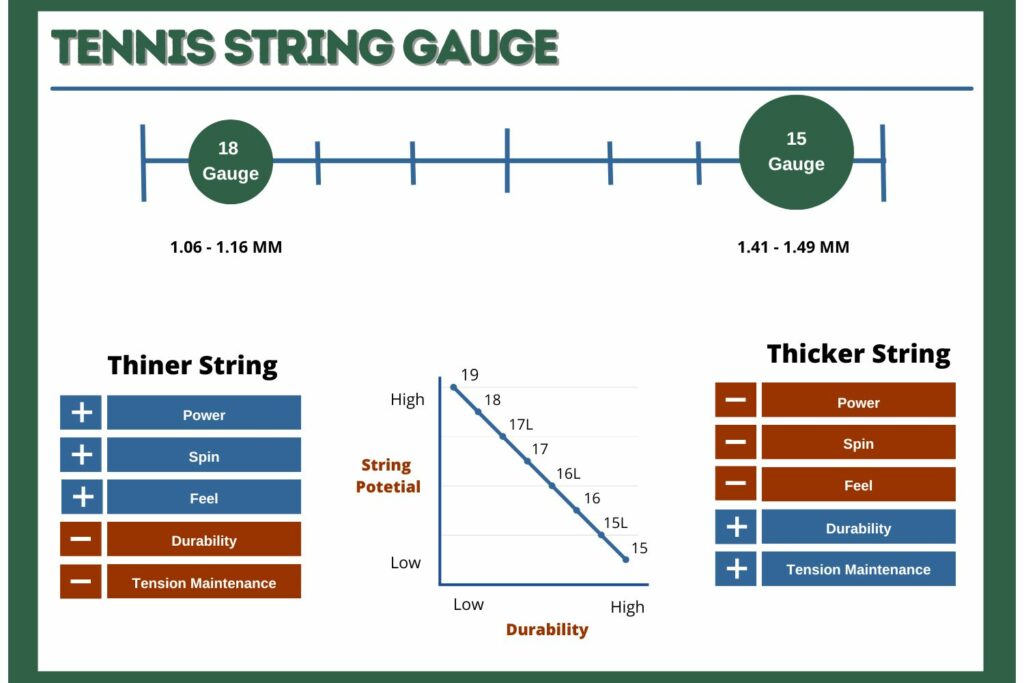 Gauge
The string gauge level is simply the reference of how thick or thin the string is. There is no accepted universal chart for gauge levels, so you have to check the instruction on the manufacturing label. However, a simple golden rule can guide you to make the right choice; the thicker the string, the more power it can generate. Thicker strings also provide excellent durability, but it offers a muted feeling. 
Thinner strings generate less power and break off easily, but they provide heavy spin and are comfortable to play with.
Durability
Durability is a feature dependable on a few factors.
Type of strings: The material and contraction of the strings make a world of difference regarding expectation for its durability. Certain materials, such as polyester and kevlar, last longer than other options, like natural and synthetic gut, which are more prone to breakage. 
Gauge level: The gauge is not expressed in all countries the same, so you should always refer to the thickness of the strings to determine their durability. Remember, the thicker the string, the more resistant and durable it is. 
Tension: Basically, it refers to how strong the strings are pulled within the frame. Low tension means that the strings are let loose on the frame, and they can provide more power and last longer. On the other hand, high tension means the strings are very tight, and while they can offer ultimate control, they'll likely break faster. 
Price
A pair of tennis strings can range from just a few bucks to close to a hundred dollars. The most expensive option is, without a doubt, a natural gut, which makes perfect sense, considering these strings are artisanal and require hard labor. All the other types of strings made of synthetic materials are considerably more affordable. 
Before making a choice, you should always remember that you will eventually need to replace the strings. The more frequently you play, the sooner your racket strings will lose their features and ability to perform. The smart choice is to estimate your yearly budget on the strings by considering the number of times you hit the court per week and the number of times you will need to change the strings for that entire year.
For example, if you choose a pair of 20$ strings and play four times a week, you will need four yearly replacements. 4 x 20 equals an 80$ budget in a year, set apart for strings only.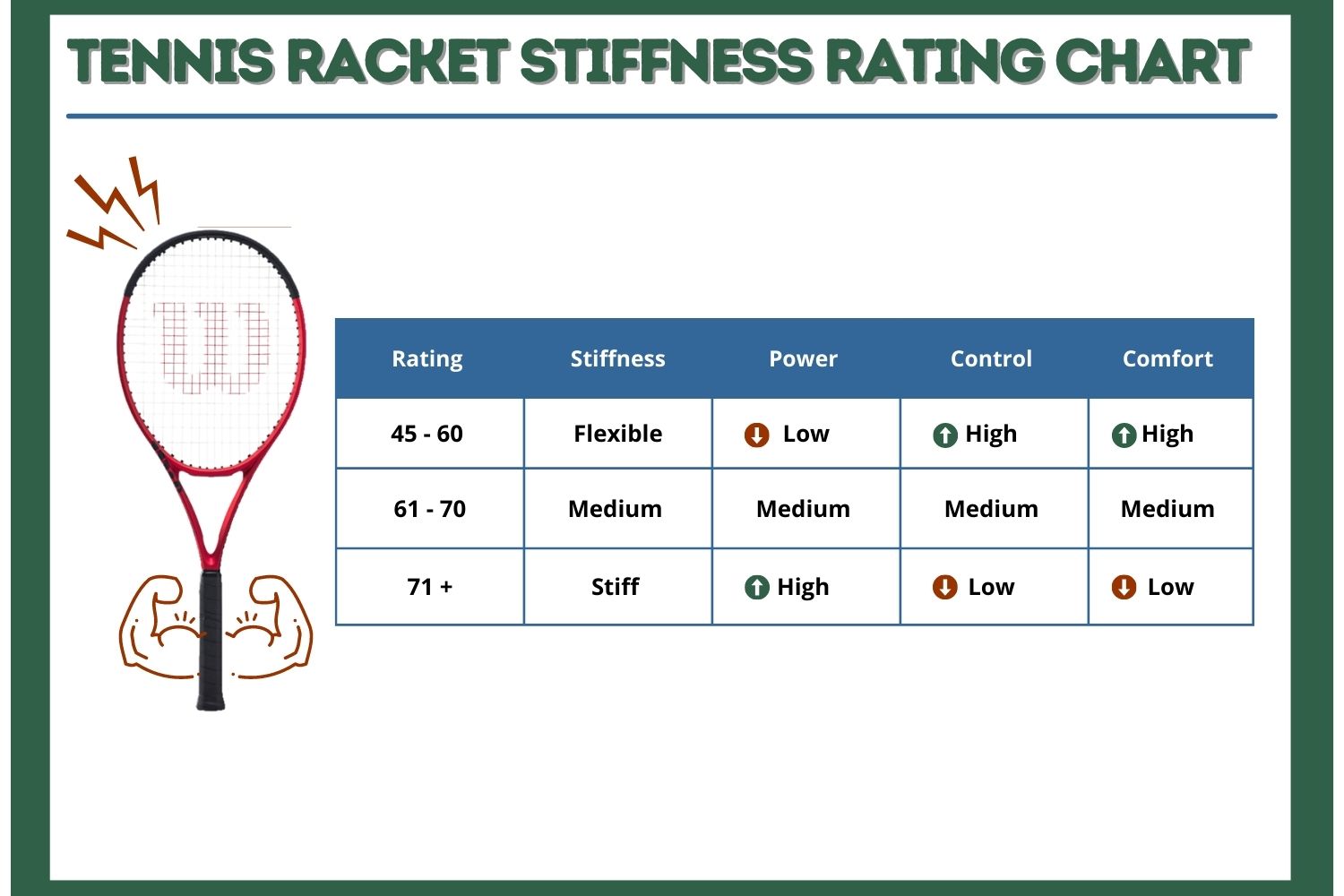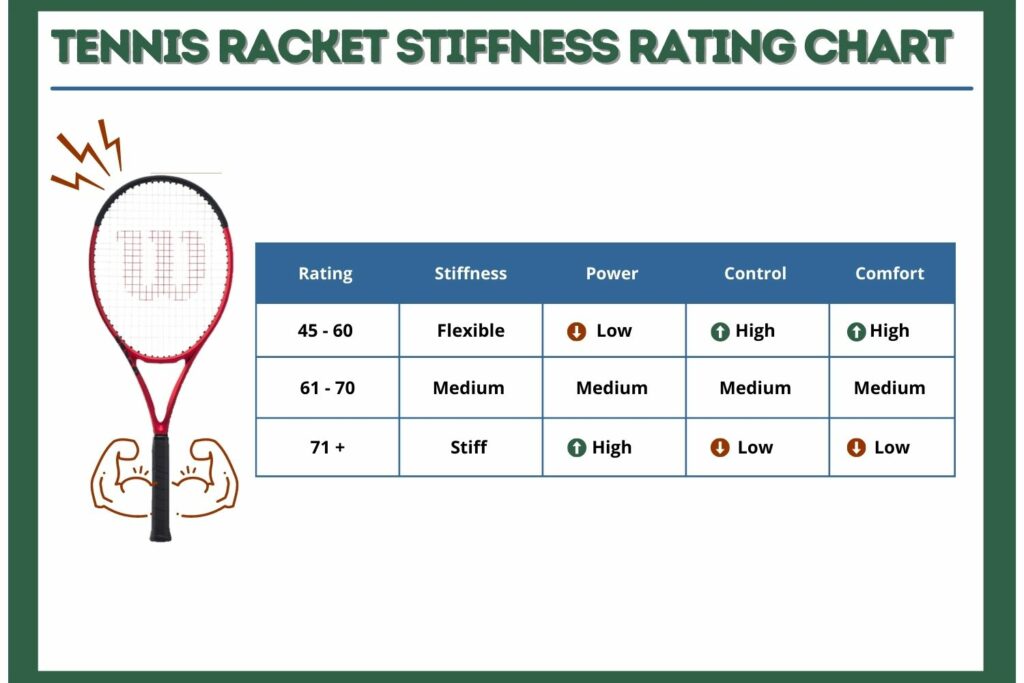 Stiffness
The stiffness rate refers to the ability of tennis string to stretch when it comes in contact with the ball and is quickly impacted. The feeling is softer at a lower stiffness rate; the frame can generate high levels of power while it's also more comfortable for the arm. On the other hand, a higher stiffness rate indicates that the strings can provide heavy spin and control, but they significantly lack power and are harsh on the hand. 
Our Verdict
Our top pick on this list is Babolat VS Touch strings. They offer everything one can expect from natural gut; explosive power, supreme feel, and comfort. 
Wilson NXT Power strings are also a great choice for all the players that are looking for high levels of easy power, soft feeling, and increased sweet spot. For more advanced levels that want to inject power into their shots without compromising on control, we recommend Solinco Hyper G strings.
How We Chose the Best Tennis Strings For Power
It's our standard to follow the guidelines we have set in place to make sure that we pick only the best tennis strings for power. To curate the final list, we went through a long process of market research, costumers feedback analyses, and testing many different options. Only the one that delivered the best performance and offered a variety of features, including power, feeling, and comfort, made the final cut.
FAQs
Now that you've discovered some of the best tennis strings for power, take a moment to explore these tips and tricks that will help you maximize their potential and get the most out of your latest equipment upgrade.
Q: Do thinner tennis strings give more power?
Absolutely! When it comes to strings, thinner strings typically provide more power than thicker ones. This is because the thin string has a higher gauge, which is simply the measurement of its diameter – meaning when you use thinner strings, they vibrate more easily and quickly when struck with the racket, creating increased power. The downside of high-gauge strings is that they tend to snap much faster during play, so may need replacing more often.
Q: How do I string my tennis racket for more power?
String tension plays an important role in your ability to generate power on the tennis court. If you're looking for ways to increase the power of your strokes, adjust the tension on your racket strings. It may be beneficial to string your racket a couple pounds looser than normal. When you have a looser stringing pattern, it will result in more movement when struck with a racket and can provide extra whip and snap that gives shots greater distance and speed. 
Q: Is Luxilon Alu Power good?
Yes, Luxilon Alu Power is good. It's a particularly popular string for tennis players who are looking for extra power and spin without sacrificing control. This string utilizes a polyester monofilament core, surrounded by an outer wrap of aluminum wire which helps to add stiffness and helps the strings hold tension better over time. The end result is a very playable, powerful string that provides excellent ball control and durability.
We are sorry that this post was not useful for you!
Let us improve this post!
Tell us how we can improve this post?