When Babolat came up with their third generation Babolat Pure Strike tennis racket, the interest and expectations were very high. This line has been hyped by players and fans worldwide for its excellent performance and great features.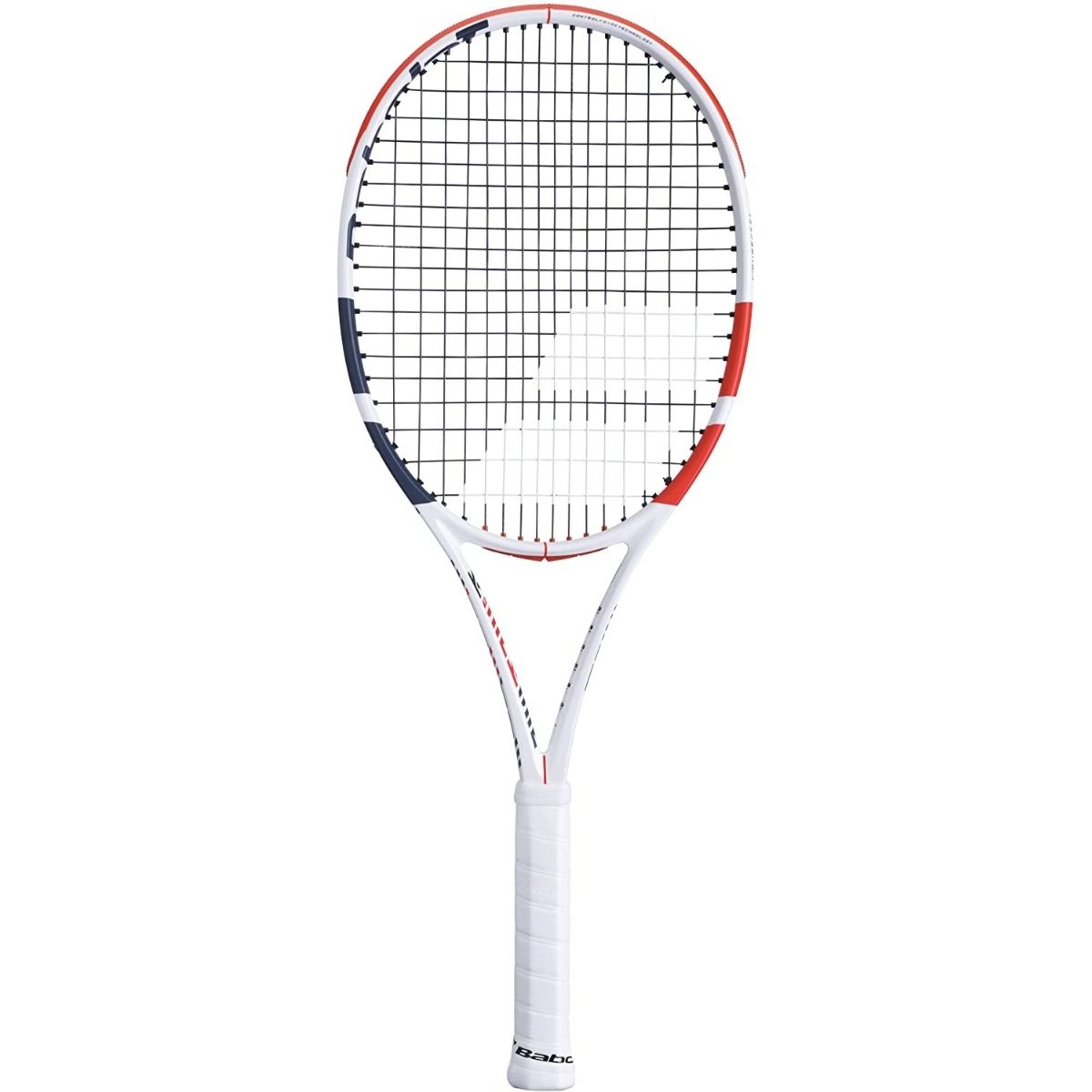 Babolat Pure Strike 16x19
Best tennis racket
Groundstrokes: 9.2
Volleys: 8.8
Serve: 8.6
Returns: 9.2
CHECK LATEST PRICE
I am glad to say that the latest addition to the well-known brand did not disappoint. But before considering whether to buy or not this tennis racket, you should first decide if this fits your skill levels and overall needs. 
Babolat Pure Strike 16×19 has made some important updates from the latest model, which naturally impacts performance and playability. To make a proper and in-depth review, I tested it, and I definitely have some things to say. Stick with me, and you'll be much more prepared on what to expect and if it is the optimal choice for you. 
| | |
| --- | --- |
| Overall | 8.88/10 |
| Serves | 8.6 |
| Volleys | 8.8 |
| Groundstrokes | 9.2 |
| Returns | 9.2 |
| Topspin | 8.8 |
| Slice | 9.0 |
| Power | 8.6 |
| Control | 8.7 |
| Comfort | 9.0 |
| Touch | 8.8 |
| Maneuverability | 9.1 |
| Stability | 8.7 |
Babolat Pure Strike 16×19 Specifications
First things first! What specification does Babolat Pure Strike have? 
This racket is very similar to the previous model or Pure Strike line, but it has some technical changes. It is slightly heavier than the previous one, and the added tennis racket weight increases stability and control over the racket.
The 98 square inch head makes this racket perform better in feel and offers a larger area for sweetspots. It is also more forgiving and helps to generate a great amount of spin.
As listed and explained below, the Babolat tennis racket brand has used a mix of new and powerful technology to produce the new Babolat Pure Strike. 
Hybrid frame construction – the frame uses elliptical and square shapes in the racket's body. A strategic location. Thanks to the unique blend of power and control, this makes the Babolat racket feel more precise and highly responsible. 
Woofer – it allows the racket's strings to move with much more ease, generating a larger sweetspot, reducing the shock impact, and increasing power. 
FSI power – increases the space between cross strings for more power, spin, and comfort when hitting the tennis ball. 
C2 Pure Feel gives the racket a softer, dampened feel. This brand-new technology is applied to this third-generation racket only, with a thin rubbed material at the frame in three and nine o'clock positions. 
Technical Specification:
Head size: 98 sq. in / 632.26 sq. cm
Length: 27 in / 68.58 cm
Balance: 4 point HL 
Weight: 11.4 oz / 323 g
Swingweight: 327 
Stifness: 66 
Beam width:  21 mm / 23 mm / 21 mm
String patterns: 16 main x 19 cross
Groundstrokes – Score: 9.2
Two words can describe this racket at its best, power and control. The incredible blends of these two qualities are impressive, something which an aggressive baseliner type of plower would surely appreciate. 
It offers a lot of spins as well and also a soft feeling. In my opinion, it is definitely much more stable and forgiving than the previous version. Even though it weighs relatively light, the Babolat Pure Strike has an amazing feeling of control and maneuverability, which gives the player a big advantage on the baseline. 
This tennis racket is a weapon for your groundstrokes. The ball kept finding its way to the court, no matter how hard I swung. I also felt like this racket absorbed the impact of big shots and even redirected them. That increased swing weight and the better cushioning at the handle made the Babolat Strike feel much more stable.
Babolat Pure Strike 16×19 also has a bigger sweetspot, and you can feel that right away. 
The only downside I noticed during my playtest was that I had trouble with the transition balls due to the increased power level. Nonetheless, Babolat Pure Strikes is such a power racket when it comes to groundstrokes and one of my absolute favorites. 
Volleys – Score: 8.8
Up at the net, Babolat Pure Strike is a true weapon, and you can really feel the updates compared to the previous versions. Thanks to the stability and how easy it is to maneuver this racket, I found myself being more aggressive at volleys.
It's also very responsive, and it gave me such an advantage during quick exchanges. The touch volleys were also much easier due to the racket's soft feeling. I also found this new version of the racket to be much more adaptable, a feature that gave me more confidence whenever I transitioned up on the court. 
Not for a moment, I felt disconnected from the ball, as it sits in the string bed for a little longer, giving me more time to decide before a strike and always hitting the right target.
The only downside I noticed, though, is the dampened feel, which made touch volleys and drops shots a bit more difficult than usual. However, I was able to get used rather quickly to the crispy feel. Other than that, this Babolat Strike tennis racket is a true force in the net. 
Serve – Score: 8.6
During the serves, I truly appreciated how easy to maneuver the Babolat Strike racket was. It definitely checked all the right boxes, delivering spin, control, and power. 
Overall, the rocket felt solid, and one could feel the strength after every serve. It was also quite easy to pinpoint the ball with precision almost every single time. 
This Babolat racket is probably the most adaptable one available in the markets, a feature that helps the player hit just about any serve without fail. 
I noticed that despite the added swing weight and mass, the racket still had a very good pace and penetration in the court for the first serves. I was able to hit all my targets and move locations with ease. On the second serves, the spin was impressive, and as per the kick and slice serve, I really enjoyed the power that the racket provides. 
A big downside I noticed is that sometimes the racket would lose speed, and the ball would just fall in the net. This was a shame because I think this racket would have had a perfect score at serves otherwise. 
Returns – Score: 9.2
As expected, the Babolat Pure Strike had an overall very good performance during returns. The combination of stability and maneuverability will certainly help an aggressive player to get ahead in the game. 
Even during big serves, the racket allowed me to remain in control, and not for a moment did it feel sluggish. What I really enjoyed was the ease when using forehand slices or taking big cuts, all while generating a lot of spin to drop the shoots into the intended targets of the court. 
With the Babolat Pure Strike, a player can really trust the power levels, stay aggressive and swing big, which certainly will put the opponent in difficulty. 
The sweetspot is probably the favorite part of the racket. With this racket, you won't feel like you constantly have to catch up with the ball. All the opposite, the Babolat Strike gives more than enough time to contact the ball out on the front and guide it back deep into the court. 
The improved features make this racket so easy to weaponize in the court, especially if you are a power – control oriented type of player. 
Overall – Score: 8.95
Is this racket great? Yes, it is the best tennis racket! Does the new feature make such a dramatic change that you should drop your current racket for this one? Hmm… not necessarily. 
Even though the Babolat brand has again done an impressive job, the changes aren't that big compared with the previous version of Babolat Strike. It really doesn't make sense to rush at replacing it with this one. Unless you are already looking up to switch it up and considering new brands and alternatives that the market has to offer. 
Overall, Babolat Pure Strike is a brilliant racket, which is a great option for control-oriented players. It generates a good amount of spin and speed, is highly flexible, and has an impressive blend of control and comfort. This racket works just fine from all court areas, but you love it the most if you are an aggressive baseliner. 
Different Models
The third generation of Babolat Pure Strike comes in several different versions, which have adjusted features, depending on your level as a player. After evaluating your game skills and style, you can choose between them, which will help you decide what fits you best.
Babolat Pure Strike 100
Overall, Babolat Pure Strike 100 is a great racket that delivers high performance levels and playability. This racket works great in all areas of the court, whether you are hitting groundstrokes, serves, returns, or volleys. It generates a lot of speed and spin while allowing the player to stay in absolute control.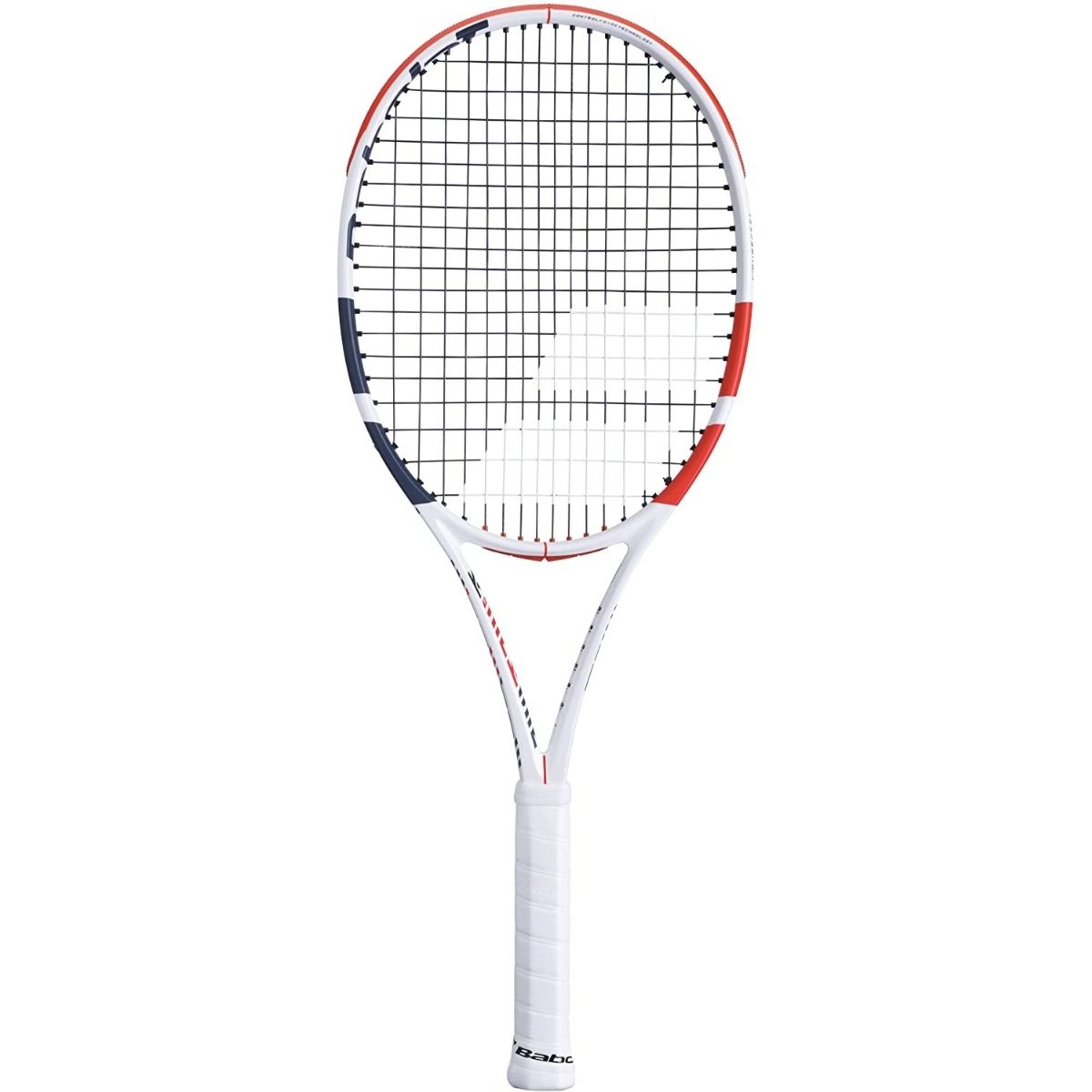 Babolat Pure Strike 100
Best tennis racket for control
Groundstrokes: 7.5
Volleys: 7.6
Serve: 7.8
Returns: 7.5
CHECK LATEST PRICE
This Babolat racket is easy to maneuver and has a high level of control. If your game style tends to be aggressive, you will love all its features. 
This racket is lighter in weight than the rest of the Babolat Pure Strike line, which makes it the best women's tennis racket. Beginners and medium-advanced players will enjoy this racket. 
Technical specification 
Head size: 100 sq. in / 645.16 sq. cm
Strung size: 11.1 oz / 315 g
String power: 16 Main / 19 Cross
Power: Low to medium 
Pre-strung: No 
Players endorsing: Annet Kontaveit, Bethanie Mattek -Sands
Babolat Pure Strike VS
Babolat Pure Strike VS is one of the most impressive rackets of the Babolat Pure Strike line that continuously rates as a top favorite amongst highly advanced and professional players. It delivers an amazing blend of power, control, and stability.
Babolat Pure Strike VS
Best tennis racket for advanced players
Groundstrokes: 8.8
Volleys: 9.0
Serve: 7.8
Returns: 9.0
CHECK LATEST PRICE
It performs well in all court areas, and it also offers a larger sweetspot, than the rest of this line's rackets. Babolat Pure Strike VS is hefty and powerful for groundstrokes and balance. It offers many advantages, especially in the flat groundstrokes and backhand slices.
This Babolat tennis racket performs really well in the net, even at difficult angle positions. Per serves and returns. It offers great access to spin and speed, and it could be easily weaponized if you have the right technique. 
This racket also has better flexibility and is way more precise. However, Babolat Pure Strike might feel heavy, especially if you are a beginner or just not used to these types of tennis rackets that require a lot of arm power. 
Technical specification 
Head size: 98 sq. in / 623 sq. cm
Strung Size: 11 oz / 312 g
String Power: 16 Main / 20 Cross
Power: Medium to high
Pre-strung: No 
Players endorsing: Domenic Theim 
Conclusion
Babolat Pure Strike line offers some of the best tennis rackets on the market that cater to a wide range of players from all skill levels and game styles. The new technology used during the manufacturing process enhances the power and control a player has over these rackets.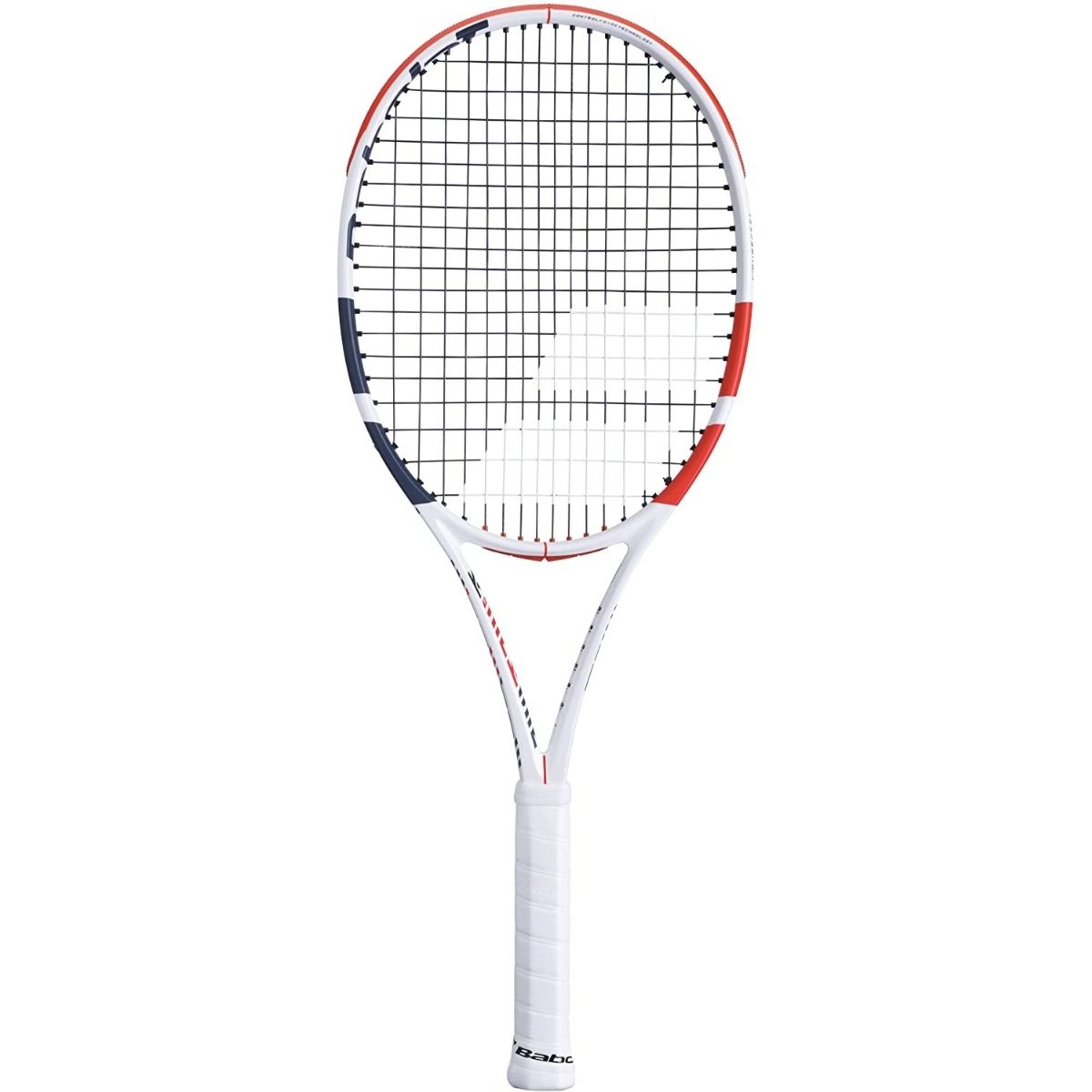 Babolat Pure Strike 16x19
Best tennis racket
Groundstrokes: 9.2
Volleys: 8.8
Serve: 8.6
Returns: 9.2
CHECK LATEST PRICE
Overall, Babolat Pure Strike rackets check all the right boxes, thanks to their flexibility, durability, and playability. These rackets perform great in every area on the court, no matter if you are up in the net or back in the baseline. 
They are generally more suitable for control-oriented advanced players, who prefer a more aggressive game style. Nonetheless, other players with a different approach to the game and from a wide range of skill levels can enjoy these rackets too. 
If I had to choose a favorite from this line, I would go for Babolat Pure Strike 16×19. I loved the performance, the level of control, and its stability. The large sweetspots and comfort during the playtest were priceless. 
The third generation of the Pure Strike has not let down the high expectations of tennis fans. Babolat brand has once proved that they deserve their reputation as the best tennis racket brand, as they set new standards of quality and performance in the markets.
FAQs
Consult the FAQs below to learn more about the Babolat Pure Strike 16×19 tennis racket.
Q: What is the Babolat Pure Strike good for?
The Babolat Pure Strike 16×19 is great for players who want a racket that provides good power and control. This racket is also suitable for players who prefer an aggressive game style.
Q: Is Babolat Pure Strike arm friendly?
The Babolat Pure Strike is considered to be arm friendly thanks to its large sweet spot and comfortable grip.
Q: Is Pure Strike better than Pure Aero?
The Babolat Pure Strike and the Babolat Pure Aero are both great rackets. It really depends on your preferences as to which one is better for you. If you want a racket that provides more power, then the Pure Aero would be a better choice. However, if you prefer a racket that gives you more control, then the Pure Strike would be a better option.
Q: Is the Pure Strike good for spin?
The Babolat Pure Strike is great for spin because of its large sweet spot and its ability to generate a lot of power. Players who are looking to hit a lot of topspin will find this racket to be very helpful.
We are sorry that this post was not useful for you!
Let us improve this post!
Tell us how we can improve this post?