Groundstrokes

What it is:

How well the tennis racket hits forehand or backhand groundstroke. A groundstroke is a shot that can be hit after the ball has already bounced on the court, whether from behind the service line or at the baseline. A forehand groundstroke is the most powerful weapon in the game, while a backhand groundstroke is more defensive.

When it matters:

The groundstroke is a fundamental shot and will be the most common stroke during a match. If you are a baseliner or someone who plays predominantly from the baseline, then a powerful groundstroke with a lot of topspin will be essential to your game.

Score components:
25.0%

Power

25.0%

Control

20.0%

Topsin

10.0%

Maneuverability

5.0%

Touch

5.0%

Comfort

5.0%

Slice

5.0%

Stability
Volleys

What it is:

The tennis racket's ability to hit volleys. A volley is a shot hit out of the air before the ball bounces on the court, typically made in response to an opponent's approach shot. A good tennis racket for volley shots will have high control and touch, as well as good maneuverability for quick movements.

When it matters:

When you are playing at the net or responding quickly to the fast-approaching shots. Hitting volleys makes you more aggressive in your game, and it is a good way to end a rally quickly or catch your opponent off-guard.

Score components:
25.0%

Control

25.0%

Touch

15.0%

Maneuverability

15.0%

Power

8.0%

Comfort

7.0%

Topspin

3.0%

Slice

2.0%

Stability
Serves

What it is:

How good the tennis racket is at hitting serves. A serve is a stroke used to start every point in a match and is the only shot in tennis that the player has complete control over. A good tennis racket for serving should have high power, spin, and control to help you hit powerful, precise serves that your opponent will struggle to return.

When it matters:

Every time you hit a serve, especially if you are a serve-volley player. The better your serve, the weaker your opponent's return will be, and the more control you will have over the point. If you want to be a dominant player, a powerful, accurate serve is essential.

Score components:
22.0%

Power

20.0%

Topspin

20.0%

Control

15.0%

Maneuverability

10.0%

Touch

5.0%

Comfort

5.0%

Slice

3.0%

Stability
Returns

What it is:

The ability of the racket to return the opponent's serve. A good racket for returns gives you a lot of control and touch, so you can simply keep the ball in play or make it harder for your opponent to hit the next shot.

When it matters:

When your opponent is serving in a match. Good returns are a crucial part of any tennis match, as they can set you up for an easy groundstroke or put your opponent on the defensive.

Score components:
30.0%

Control

22.0%

Touch

13.0%

Comfort

13.0%

Power

8.0%

Topspin

6.0%

Slice

5.0%

Stability

3.0%

Maneuverability
The Head Speed line of rackets is one of the lines that I have wanted to try out for quite some time but never got the chance to… up until now. I knew that I should have done this way sooner, but after hearing so many good things about it, I finally got my hands on a Head Graphene 360 Speed Pro, and I can say that it lived up to all of my expectations.
Head Graphene 360+ Speed Pro
Best tennis racket for intermediate players
Groundstrokes: 8.7
Volleys: 8.7
Serve: 8.7
Returns: 8.6
CHECK PRICE
This tennis racket strays from more traditional rackets as it also has a modern side to it due to the spin and speed it generates, which I was delighted to find out. It has a more open string pattern than its predecessor (an 18×20 string pattern); however, it is still a dense, closed pattern, giving a strong feeling of control and stability.
I quite enjoyed playing with this racket, and it has become one of my favorites to use as it is versatile all around. Read along for all specifications and my experience with the racket!
Head Graphene 360+ Speed Pro Specifications
The Head Graphene 360+ Speed Pro is a popular racket used by professional players worldwide. This is a Head tennis racket that even players like Novak Djokovic use regularly. The primary focus of this racket is to be used by players who seek a nice blend of power, control, and feel.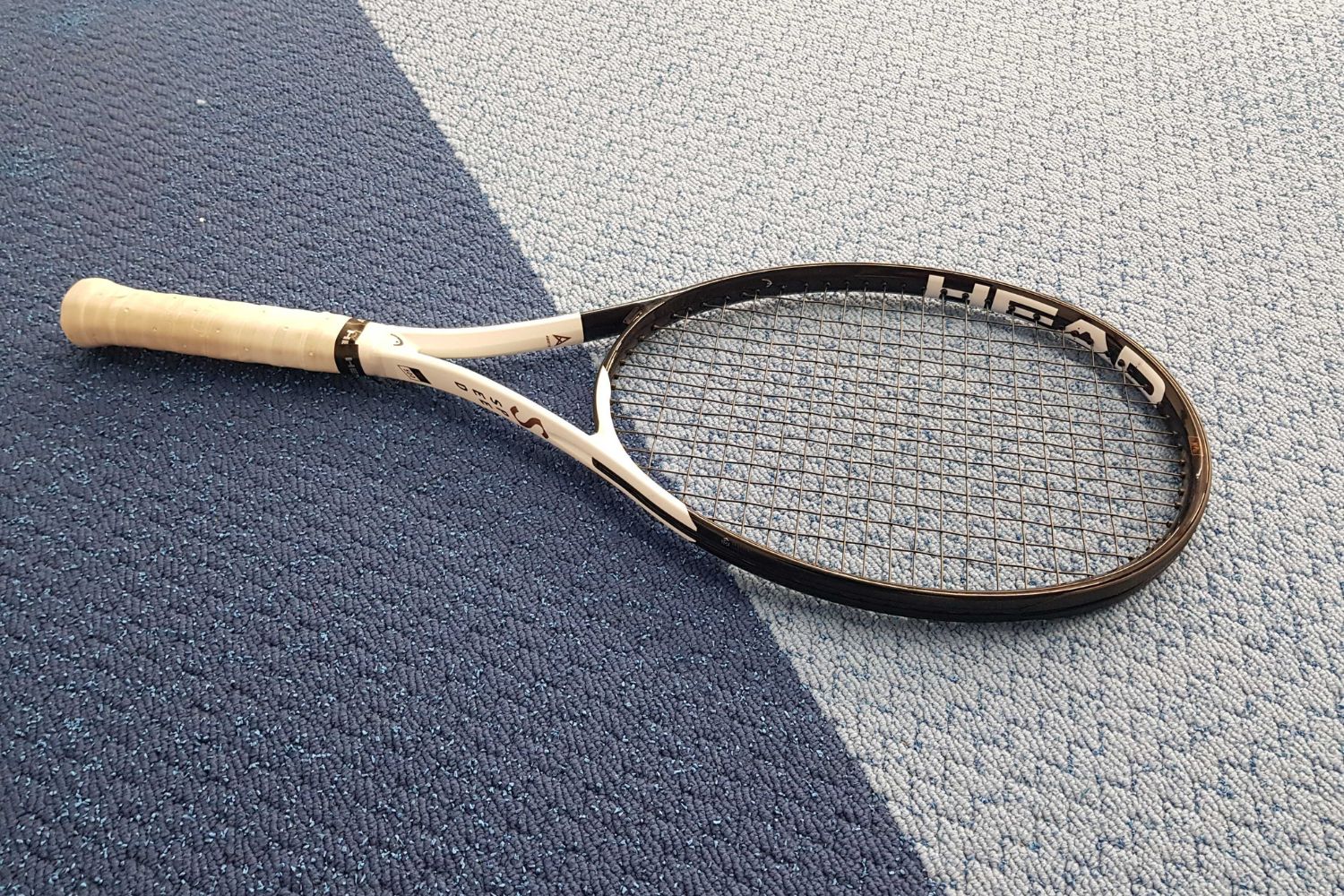 Head Speed Pro racket does not excel in one specific thing but instead has an overall balance of everything. This makes Head Graphene 360 Speed Pro ideal for players unwilling to sacrifice any part of their skillset to focus only on specific techniques that aim for an all-around outstanding racket.
Below I have listed the Head Graphene 360 Speed Pro specs:
Weight: 12 ounces
Head size: 100 square inches
Length: 27 inches
String pattern: 18 mains x 20 crosses
This racket blends a powerful frame with a string bed that ensures no lack of control. The frame is 100 square inches (645 square cm), and it is quite thick, adding a lot of power. On the other hand, the 18×20 string pattern with Head's Graphene 360+ technology gives it its mixture of control.
This is, without a doubt, a tennis racket that effectively has no weaknesses worthy of mentioning. Head tennis racket brand managed to make a racket that does not sacrifice anything to be good; thus, it is exceptional at just about everything. Below you will find my in-depth review of the racket.
Groundstrokes – Score: 8.7
While the Head Graphene 360 Speed Pro really does not sacrifice anything with its performance, if there is one thing I could still point my finger at in terms of its best capability, it would be the groundstrokes. This is the Speed Pro at its absolute best.
Playing baseline with this tennis racket will provide a great experience for if you play aggressively with a lot of control and spin.
The Head Graphene 360 Speed Pro gives you even more access to spin than any other tennis racket. You would still need to use full swings to properly utilize its spin capabilities. Overall, it is easier to use than previous versions, and it feels more responsive.
On the run, the Graphene 360 version of this racket also feels more stable and somewhat more powerful than previous versions, giving you an easy time when you want to turn defense into quick offense.
This change in stability is largely thanks to the change made in the tennis racket weight.
Regarding slices, the 18×20 pattern felt good with my backhand slice, keeping it low and effective without any problem in generating spin. Compared to the Speed MP version of this racket, the MP is slightly quicker, but the Pro packs more of a punch, helping you push your opponents around the court a lot easier.
The racket feels smooth, connected, and comfortable to play with on the baseline. For these reasons, I give it a well-deserved score of 9.2 on groundstrokes.
Volleys – Score: 8.7
The Head Graphene 360 Speed Pro felt really great while I tried using volleys. The tennis racket head size made it feel like it gave me a big margin of error while also feeling quick, responsive, and stable. This racket's impressive stability is thanks to its slight increase in mass and swing weight.
The impressive thing about this addition to weight is that it still feels as easily maneuverable, and I had no problems getting it into position in time. To be honest, considering all of its specs, I did not expect that level of maneuverability from it, so I was quite surprised.
Despite it being quite a firm racket, the Head Speed Pro also felt very comfortable at the net. If I could say anything remotely negative is that while facing heavy-hitting players, the racket does flutter a bit occasionally. However, the racket felt very stable and comfortable most of the time, which helped me place my volleys exactly where I wanted them with no trouble.
On the other hand, gauging my depth felt very easy, so I could hit most volleys with little to no problems. The 18×20 string pattern, interestingly enough, does not really feel like an 18×20 string pattern.
You get quite a lot of power and spin out of them, something that I wasn't expecting, considering that closed tennis racket string patterns usually lack in those two areas, but it felt incredibly good to use this way.
Serve – Score: 8.7
On serves, the Head Speed Pro provides easy acceleration through contact. The extra mass ends up working in favor of even more power while still maintaining a good level of topspin generation as well.
However, this does not mean any sacrifice is made regarding precision either. The Head Graphene 360+ Speed Pro is powerful, fast, precise, and generates enough spin for slice and kick serves alike. This is actually quite the improvement from previous iterations of the racket, where it felt like the serves were the only part that was slightly lacking in control.
The weight of the previous rackets also made it a little difficult to keep up the racket's head speed, and sometimes that led me to not be able to hit through the ball properly.
This version, however, makes up for it quite enough, and now even the serves are very easily controllable. The tighter string pattern also made me feel more connected on contact, giving me more confidence in swinging bigger to strike the ball.
If there is one negative thing that I could point out, I initially struggled to get enough bite with my kick serves. However, as I got more used to gauging the angle properly, my kick serves started to land consistently. Therefore, it is not such a big issue; some practice is sure to fix it.
Returns – Score: 8.6
The amazing control of this tennis racket also comes to light when used for returns, which is another area it excels at. The 645 square cm (100 square inches) head size combined with the controlled pattern made it easier to swing big and confident, knowing where my balls would land due to its precision.
The racket felt good against big serves, providing a lot of stability. The Head Graphene 360+ Speed Pros' reliable response helped me with more effective service returns.
The racket's predictable feel gave me the confidence to return aggressively, even if my skill level is not comparable to Novak, while also giving me the mass needed for chip returns. Depth was great and easy to generate while playing.
The 18×20 string pattern and overall maneuverability helped a huge amount, making hitting flat returns effortless and an overall incredible feeling. I had access to easy racket head speed, and I could hit the ball without worrying about hitting it too long.
However, as I mentioned above, the racket sometimes flutters against bigger serves, which is the only recurring issue that I noted.
Though this still remained quite a small issue, it would only really be a problem against heavy hitters. Besides that, I sometimes felt like I had some trouble generating enough topspin on returns, but there were more than enough options if I wanted to hit a return.
Overall – Score: 8.69
Overall, this is a racket that will appeal to a wide variety of people for a good reason, and it is one of the best tennis rackets on the market. It has a blend of everything, never really sacrificing any of its aspects in quality.
Although the racket's overall focus is still on control, the power and spin qualities have been improved to the point where there are hardly any tradeoffs for this racket.
This tennis racket has also improved quite a lot since its previous versions. You were forced to hit through the ball with faster strokes than you do with Head Graphene 360+ Speed Pro with its predecessors, inspiring a more aggressive game. However, with the 360 Speed Pro, it is much easier to play it safe and play on the counterattack.
It is also an extremely comfortable racket that is incredibly forgiving, with quite a large margin of error that ensures that you can play confidently on the court without worrying about missing any balls.
The 18×20 string pattern gives you enough access to flatter shots while also generating more than enough topspin if wanted. With its improvements on power and spin from previous Speed Pro iterations, this is a racket that would serve anyone well, no matter what kind of player you are.
Overall, I think this is my favorite Speed Pro racket so far, providing me with everything I need.
Head Graphene 360 Speed Pro vs MP
The main difference between the Speed Pro and MP is their focus. While being a very good racket for almost any situation, the Head Graphene 360+ Speed Pro still focuses the most on control. The MP is a tennis racket with more power and spin since it aims to be a more specialized racket.
However, the MP does not have the kind of control that the Speed Pro does. Hence, which one you choose depends on what you want to focus on, whether you want to focus on a specific playstyle or you want to be able to do just about anything to a pretty decent level. If you want a precise and forgiving racket that gives you much control with decent power and spin, so the best of all worlds, then you should opt for the Speed Pro.
Head Graphene XT Speed MP
Best tennis racket for maximum power
Groundstrokes: 9.3
Volleys: 8
Serve: 8.1
Returns: 9.5
CHECK PRICE
If you want a racket that goes all-in on power and spin, and you do not mind sacrificing a little bit in everything else, you might want to go for the MP racket.
Other than that, the two are very similar, with not too many differences. Both rackets have the same stiffness, both being very arm friendly. The two are almost identical regarding specs, with their head and length sizes being the same.
The only notable difference to consider is their differing string patterns. The Head Speed Pro has an 18×20 closed string pattern, whereas the MP has the common 16×19 open string pattern. There are barely any significant differences other than these, so choose based on what you like best!
Conclusion
The Head Graphene 360+ Speed Pro definitely lived up, if not exceeded, my expectations. It improved upon its predecessor, and Head managed to eliminate even any noticeable issues that the previous version had.
Head Graphene 360+ Speed Pro
Best tennis racket for intermediate players
Groundstrokes: 8.7
Volleys: 8.7
Serve: 8.7
Returns: 8.6
CHECK PRICE
This Head tennis racket was versatile and performed well all around the court. I felt comfortable using it in every position and in all types of strokes. Despite some of its specs, such as its string pattern, tricking me into being suspicious about how it would perform in certain areas, I was taken back once I saw how they worked in the racket's favor.
I can confidently say that this is one of the best tennis rackets I have been fortunate to use. It generated enough power and spin while maintaining much-needed control and maneuverability.
If I wanted to nitpick, I would also mention the tiny issue about the racket somewhat struggling against big serves. However, any small, negative detail that I may find pales compared to all of its positive sides.
I would definitely recommend this racket to anybody that is not looking for a specific area to focus on but wants an overall flawless racket in every aspect!
FAQs
It's common for tennis players to have questions when they consider buying Head Graphene 360+ Speed Pro tennis racket. Here are a few frequently asked questions to help you find the best tennis racket for you.
Is head speed a good racket?
The Head Speed series is a great tennis racket for beginners and intermediate players. The racket provides good power and spin while also being arm-friendly. It is a versatile racket that can be used in all situations and strokes.
Who uses the Head Speed Pro?
The Head Speed Pro is used by a variety of different players. Some notable professional players that use this racket are Novak Djokovic, Grigor Dimitrov, and Marin Cilic.
What does MP stand for in Head rackets?
MP stands for "Maximum Power." The Head Maximum Power series is a line of rackets that focuses on power and spin. These rackets are less versatile than the Head Speed series but provide more power and spin.
We are sorry that this post was not useful for you!
Let us improve this post!
Tell us how we can improve this post?