If you are new to tennis and are trying to explore your options to find the best tennis racket for beginners, you have come to the right place! I will guide you through the process and make it effortless for you as a newcomer to the tennis world.
I also had to face the difficulty of finding a fitting tennis racket when I first started out as a tennis player. I remember it clear as day — it was frustrating, and I felt clueless about what to choose. As an inexperienced player, I had no idea what features to consider and how different racket components would influence my playing style and the speed at which I would make progress. 
However, after researching these factors, I learned how to choose tennis rackets as a beginner and which rackets are best for fresh players. Below, I will present what factors to consider before buying your racket and some suggestions you may want to look out for. Keep on reading for all the tips and recommendations.
Best Tennis Racket for Beginners Reviewed
The following tennis rackets for beginners earned a spot on our top picks list for their features, power, materials, and durability. Check out our picks for some of the best tennis rackets for beginners below.
What to Consider when Choosing the Best Beginner Tennis Rackets
Since a tennis racket for beginners can last a long time and you may use it frequently, it's important to find a tennis racket that meets your specific needs. Here are some of the top considerations to keep in mind when shopping for the best tennis rackets for beginners.
Racket Weight
Tennis racket weight is important when choosing a new racket. If you are a beginner tennis player, the best beginner tennis racket for you would be a lightweight racket that makes it easier to learn and perfect your form while also making it easier to move around the court. This way, you can concentrate on improving your skills without the racket's weight being an issue.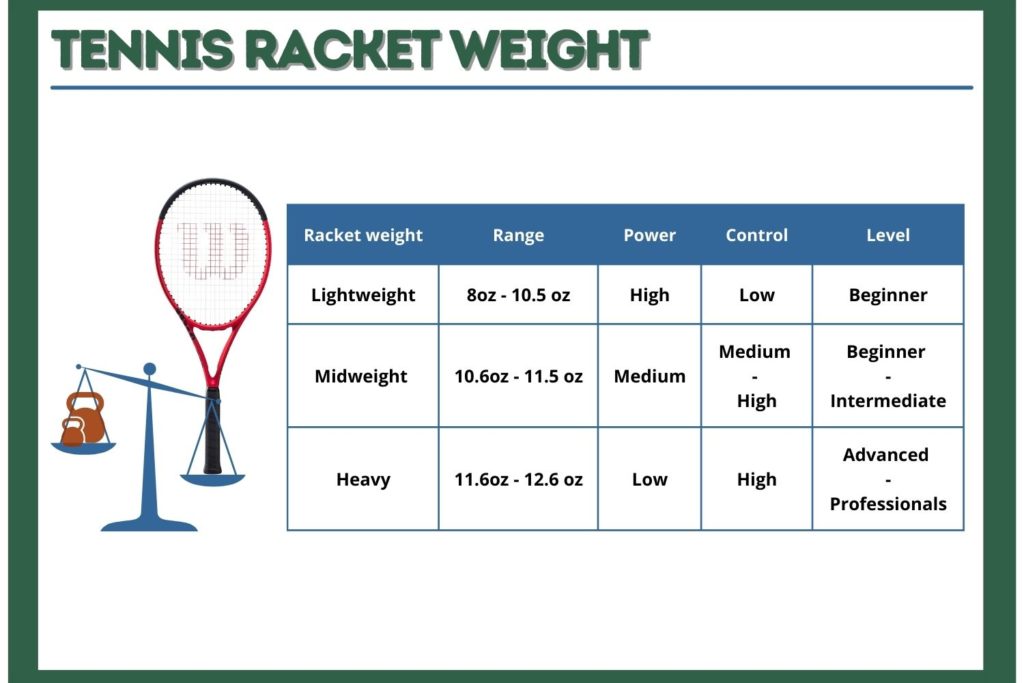 A lighter racket makes it easier to maneuver and improve on things such as your footwork. 
However, this also depends on what your intentions are. If you are only planning to play tennis a few times a year, finding a lightweight racket for you to play easily with is ideal. However, if you are somebody who really wants to improve their technique, you should consider a racket that falls a bit more in the middle or a bit on the lightweight side.
That will ensure a smooth upgrade to a heavier racket when you feel ready. If you want to improve, but you use a racket that's way too light, you might learn bad habits that will hurt you in the long run once you're trying to change the racket you play with.
Racket Size
Pay attention to the tennis racket size. As a beginner, you should use a tennis racket that is quite large in size but not extremely large. A bigger racket will help you find the sweet spot around the center of the racket that every player should be aiming to hit.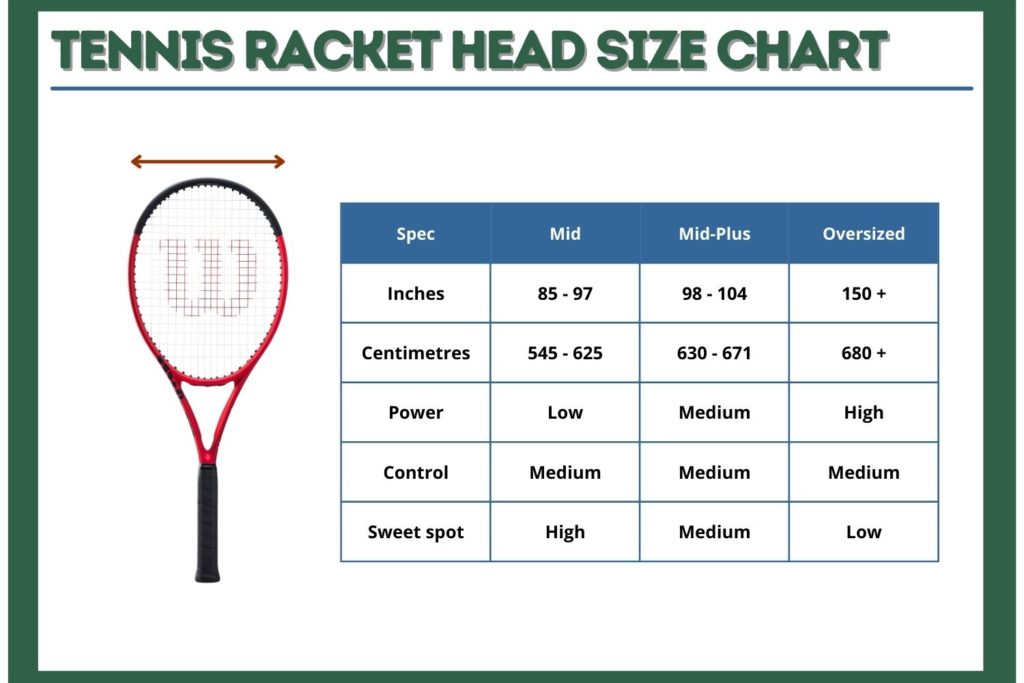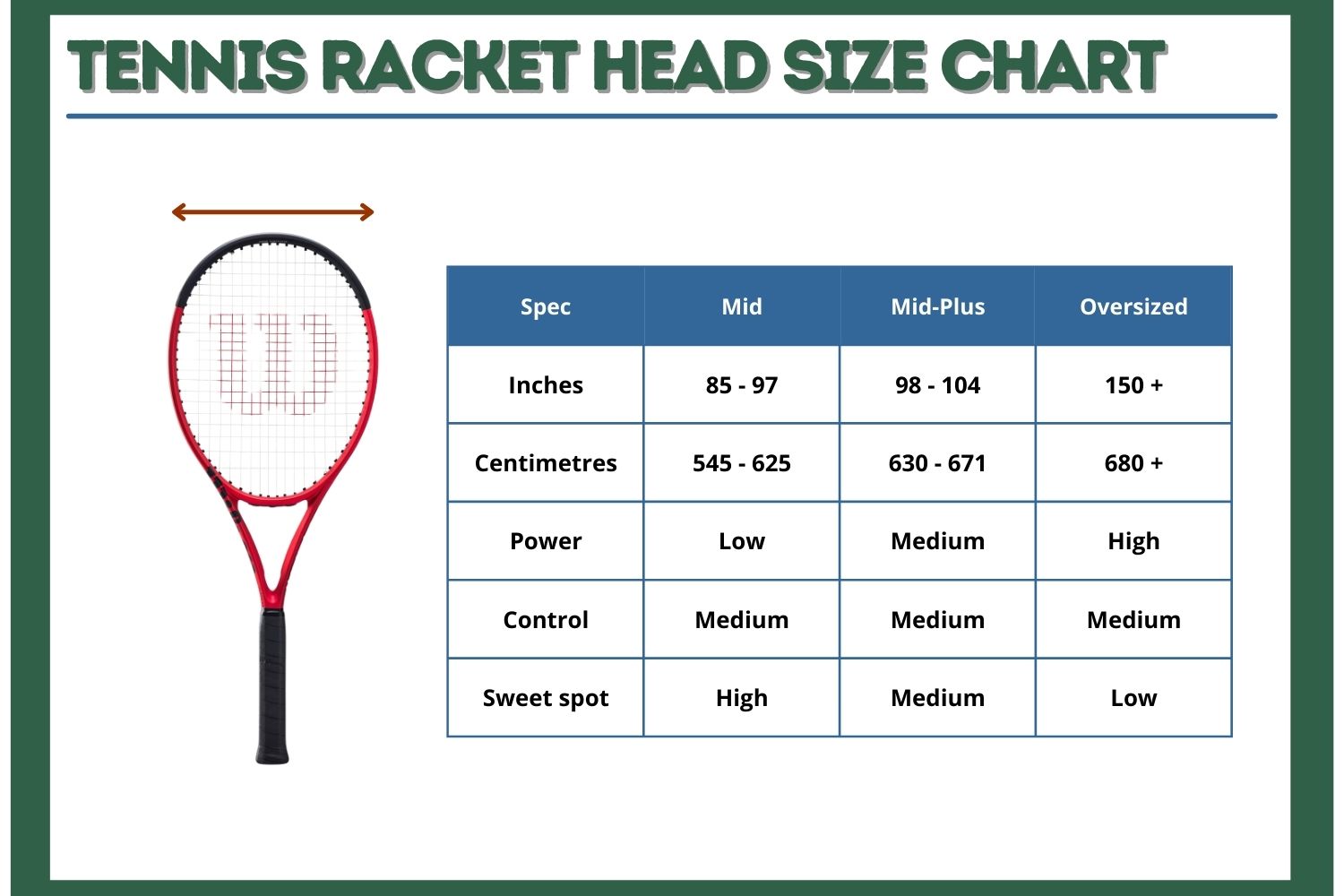 However, just as I've explained this relating to the weight, a too-large size can also result in bad habits that will only hurt you if you're a player eager to improve. For this reason, it's recommended to start with something below 106 square inches.
Grip Size
A good tennis racket grip size will allow you to basically lock your hand in place and relax the rest of your arm more easily. Usually, men's grip sizes will be between 1 to 4, while for women, it's between 0 to 3. The most ideal and commonplace start for a beginner is around size 2.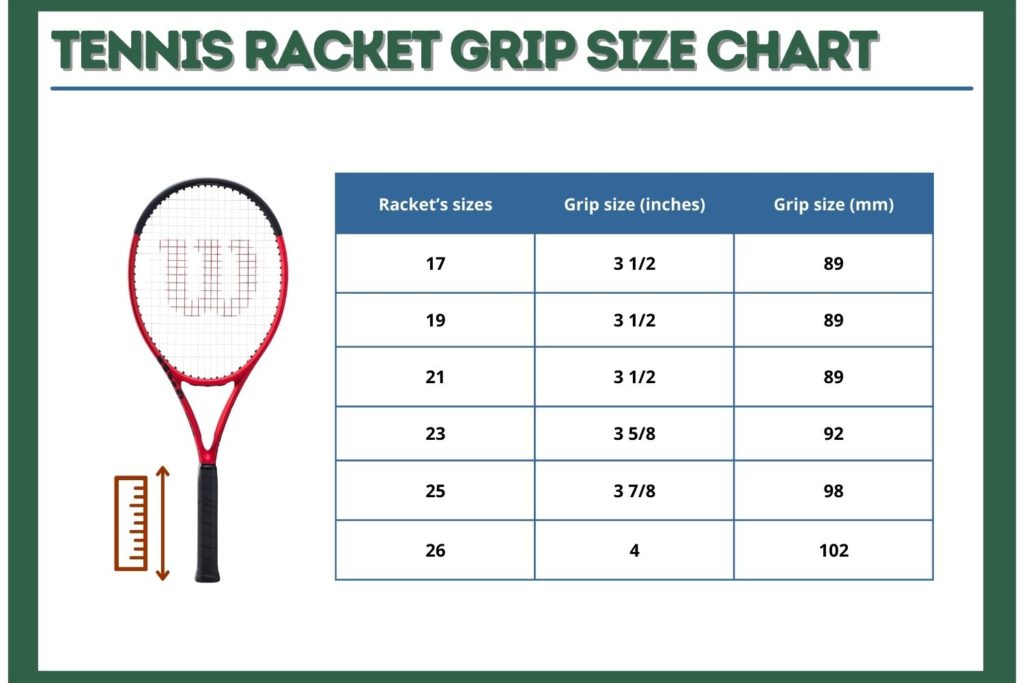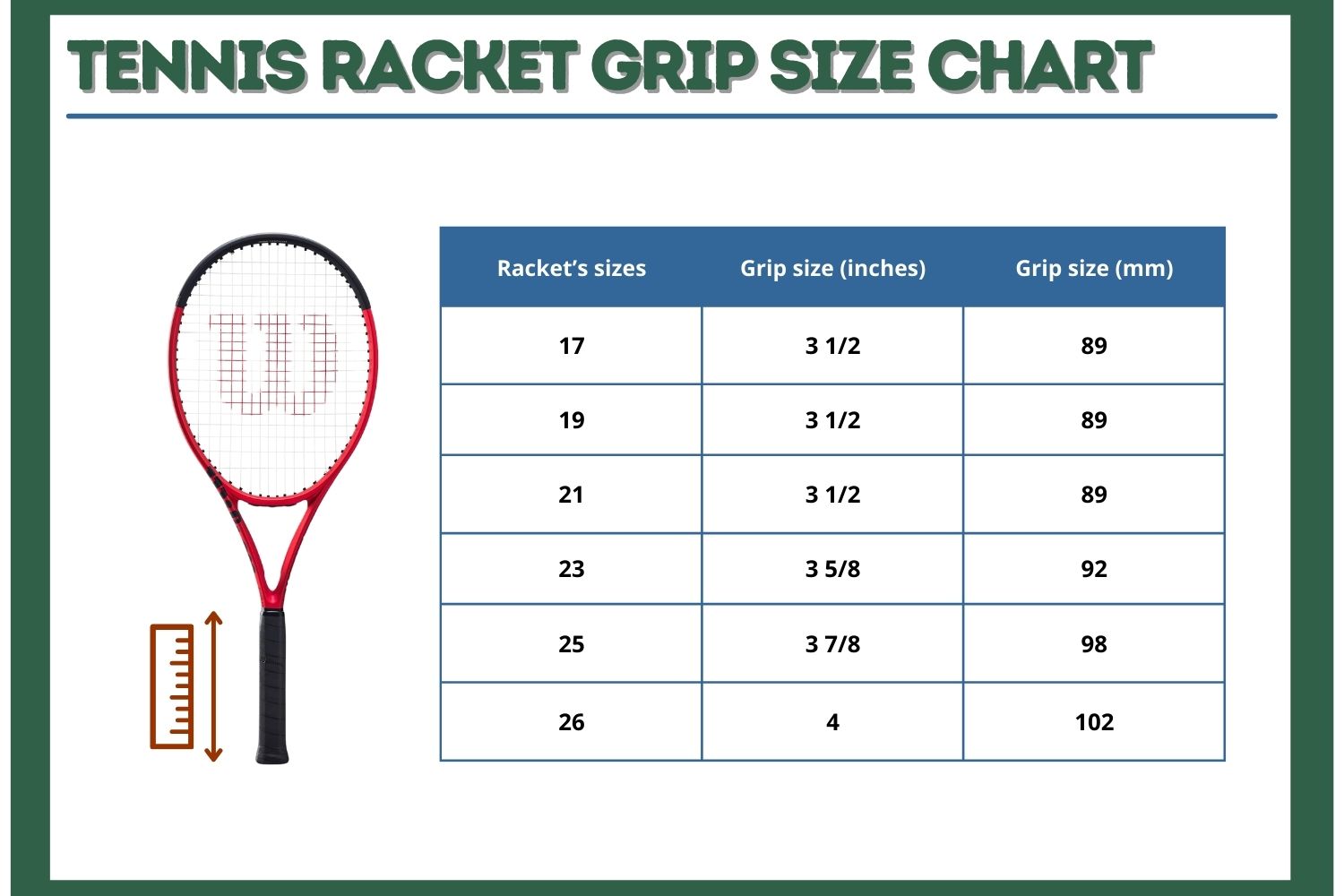 Swingweight and Stiffness
Swingweight is how heavy the racket feels while swinging it. The further away the weight is from the handle, the heavier it feels. The stiffness of a racket represents the amount of flex a racket has.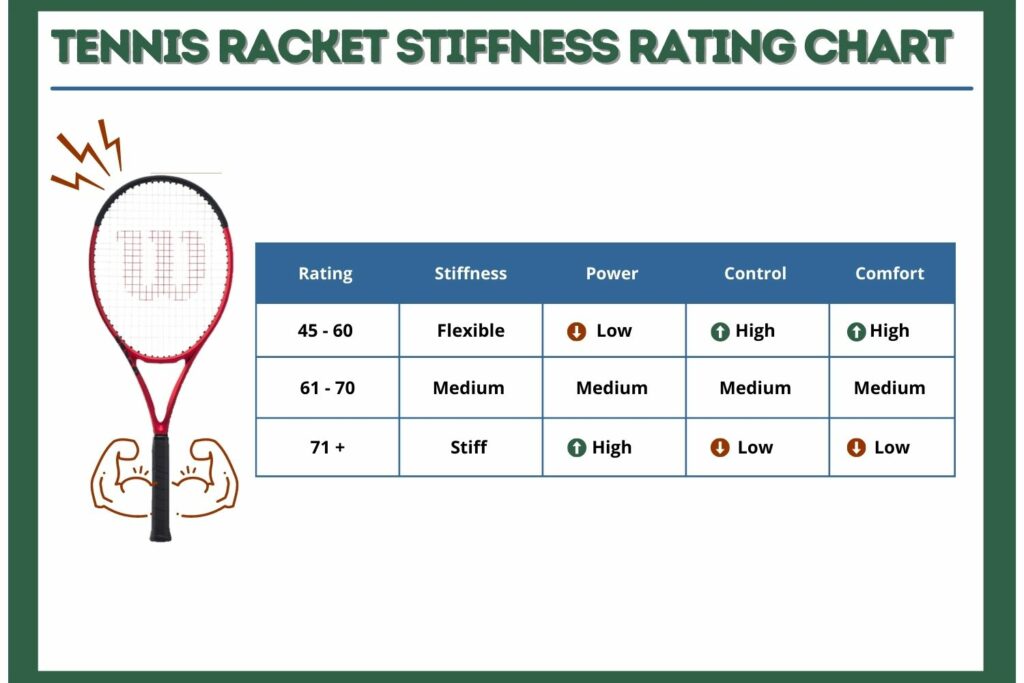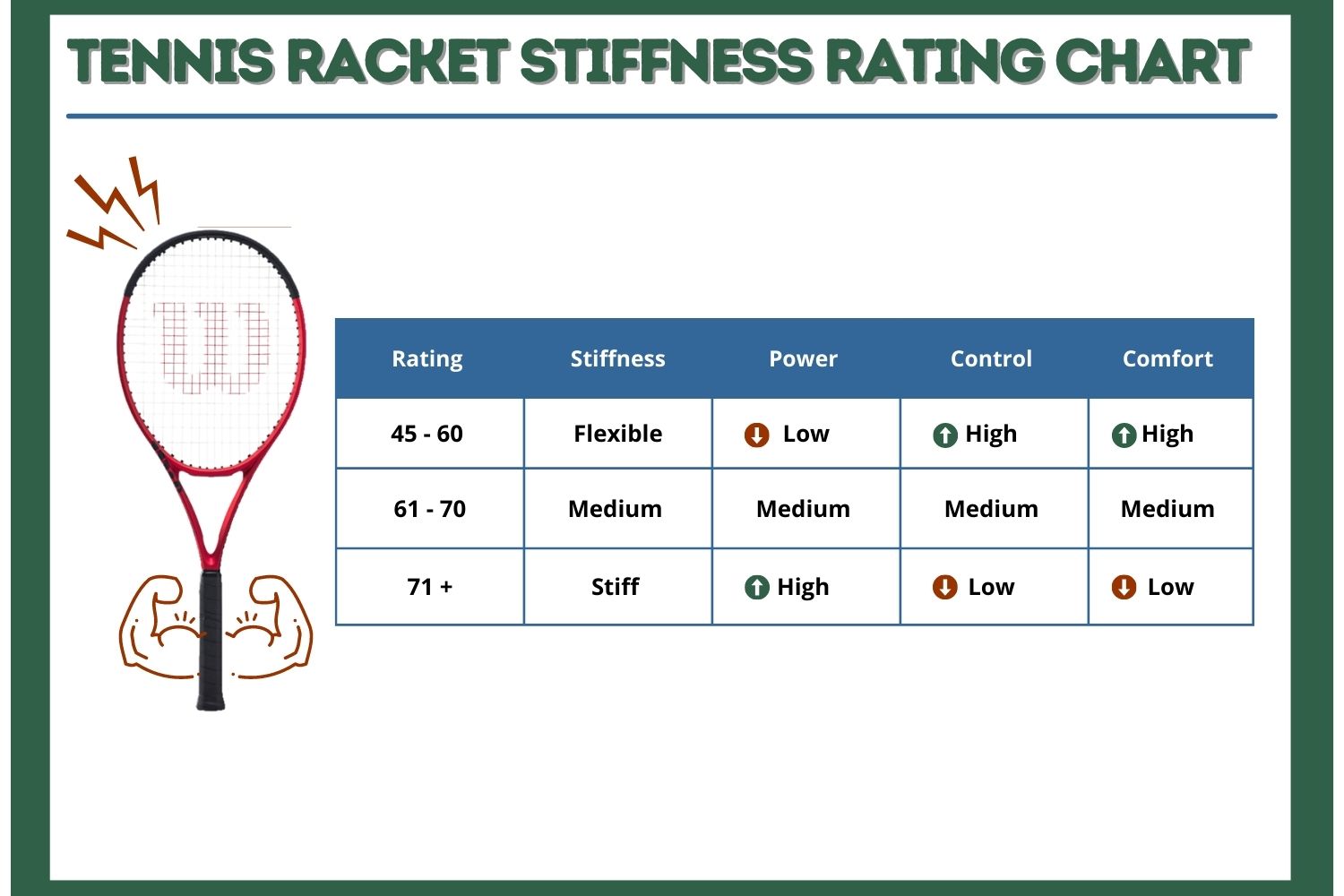 The stiffer the racket is, the more power gets transferred to the ball; however it may be uncomfortable it is to use. This isn't too important because the way you feel about a racket's comfort is entirely up to personal preference, so you do not have to worry too much about the number.
Beginner vs. Intermediate Tennis Rackets
Truth be told, the tennis racket you choose doesn't really matter that much on day one. Even if you buy a professional racket, you won't play better with it; you probably would play worse. 
However, you still need to be mindful of what you're doing to set yourself up for success in the long run. First of all, you need to consider your budget. If you don't have the budget to buy a tennis racket that costs a few hundred dollars, you shouldn't feel like you suddenly can't start playing because you think a cheap tennis racket won't let you improve. 
There are a lot of affordable rackets out there that will work just as well when you're starting out, and you can just upgrade later on. 
On the other hand, as I've mentioned above, if you're committed to improvement and have the money to spend, you should look for the best tennis rackets for intermediate players. A quality tennis racket can complement your style and aid your improvement.
The most important thing is that your skill matters the most no matter how good a racket is, so don't worry too much about the racket you're using. You will definitely appreciate using a good tennis racket, but it won't make you a better player.
Our Verdict
The best tennis racket for beginners that I would definitely recommend is Babolat Boost Drive. This racket cannot go wrong; it is easy to use, has a large head size translating to a larger margin of error, will help you generate the power you may lack as a beginner, and will feel comfortable in your hands.
The second option I got for you is an amazing racket and a low-budget one, Babolat Boost Rafa. It is a comfortable, lightweight racket that you can easily use without straining yourself. Moreover, it will also improve your spin in the long run.
How We Chose the Best Tennis Rackets for Beginners
Our methodology for choosing the best tennis racket for beginners is to carefully consider the racket's weight, head size, grip size, swing weight, and stiffness. We look closely into such specs to ensure that they will aid you as a beginner in feeling comfortable and learning the game faster.
Since we are no longer beginners, we evaluate the rackets bearing in mind the skillset and the play level that our readers might have. So, even if a racket may be easy to use for us, we try to put ourselves in your shoes, and if there seem to be any difficulties that may arise for new players, we rule the racket out as an option.
FAQs
Below are answers to some of the most frequently asked questions about the best tennis rackets for beginners so you can get started playing water and using it on your matches.
Q: Which tennis racquet is best for beginners?
The best tennis racket for beginners is the Babolat Boost Drive. It is easy to use, has a large head size translating to a larger margin of error, will help you generate the power you may lack as a beginner, and will feel comfortable in your hands.
Q: How much should a beginner spend on a tennis racket?
The amount a beginner should spend on a tennis racket really depends on their budget. If you are looking for a high-quality racket that will last you a while, you may want to spend around $200. However, if you are just starting out and are not sure how often you will play, there are many good tennis rackets under $50 options to choose from.
Q: Are lighter tennis rackets better for beginners?
Lighter tennis rackets are not necessarily better for beginners. It is important to find a racket that is the right weight for your specific playing style. If you are unsure of what weight you should get, you can find your suitable tennis racket weight or try out a few different options before making your purchase.
We are sorry that this post was not useful for you!
Let us improve this post!
Tell us how we can improve this post?