Key Takeaways
Tennis shoes come in various types to fit different courts, such as grass, clay and hard courts.
When choosing a pair of tennis shoes for hard courts, look for ones with shock absorption properties that provide stability and toe protection.
Clay court tennis shoes should have tightly knit uppers to keep dirt out while providing good traction via herringbone tread patterns.
Grass court tennis shoes need flat outsoles with slight bumps on the surface to maximize performance on such courts.
The tennis market offers a variety of tennis shoes to fit all tastes, needs, and types of tennis courts. It may be tempting to choose shoes purely based on design or get a pair of shoes that your favorite tennis player has. However, you will find it helpful to know about the types of tennis shoes out there before deciding.
Understanding how different types of tennis shoes and their composition may affect your comfort and performance on the court is of the essence.
So, as always, you can hop in for a ride that will take you through all the things you need to know about different types of shoes, what to look for in them, and what would be the best choice for you! You will find all the information you need below.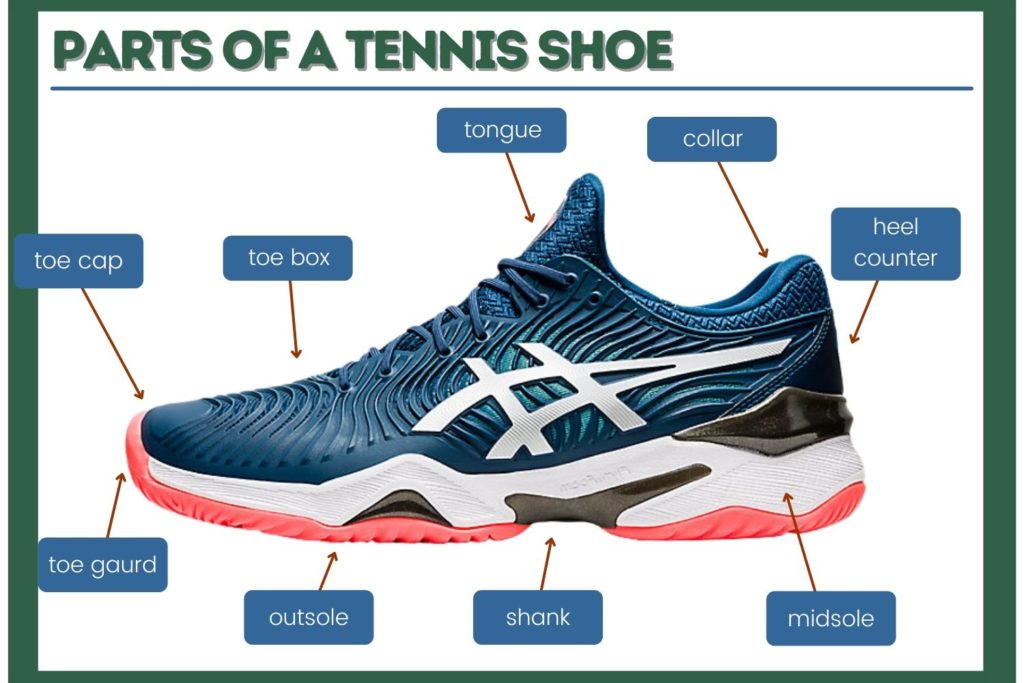 Different Types of Tennis Shoes for Different Courts
To find the perfect tennis shoe, you will need to consider the type of court you will be playing on. Different tennis shoes excel on different tennis courts. There are various types of tennis courts, but the three most common ones you will find are:
Grass courts
Hard courts
Clay courts
Each of these courts has different characteristics. You will need to evaluate these characteristics and find what types of tennis shoes work best on their surfaces. By doing so, you will maximize your performance during games.
I will give you a hand and describe the different types of tennis shoes that best fit the three most common types of courts.
Hard Court
Hard courts are, by far, the most common type of court you will find around the world. They are inexpensive to build and fairly easy to maintain in the long run.
Since this court is the most common, most tennis shoes you will find can be used on hard courts unless the label on the shoes specifies that it is made for grass or clay courts. However, the surface on hard courts can be abrasive, so you might want something more specific to perform best. 
My tips for finding a suitable pair of tennis shoes for this court are as follows:
Shock absorption. The quick movements and sudden stops you need to perform during games can generate a lot of impact on your feet. This impact is amplified on hard courts, so look for shoes that can effectively absorb this impact and minimize its effect on your feet.
Stability. The same quick movements mentioned above require stability, which is important to maintain your balance.
Toe protection and reinforced upper. Shoes with reinforced toe protection and upper will prevent injuries and provide better overall comfort.
Durable outsole. Durability should be one of your main concerns when choosing a tennis shoe for hard courts. With all the stopping you need to do during games, hard courts will wear your outsoles out quickly if they are not durable enough due to the rough surface.
Combine all of these tips, and you should be able to find the proper shoe for hard courts.
Clay Court
Clay courts are the second most common tennis courts you will find. Clay surfaces are the slowest of all types; the ball in these courts bounces more when it hits the ground but loses more energy.
One of the main characteristics of clay courts is that they are slick. The slickness means players are prone to slide and fall on such courts. Another fact to consider is that clay is a material known to be stuck on the tread and outsole of your shoe, which will cause you to lose some of your traction.
When looking for a pair of tennis shoes for clay courts, consider the following:
Stability. You will need your shoes to offer you the stability to deal with the slickness of the court to avoid falling.
Tight knits on the upper. You wouldn't want your tennis socks and the inside of your shoe to get dirty during games. To prevent this, look for shoes with a tightly knit upper.
Herringbone tread pattern. As previously mentioned, clay courts can cause clay to stick to your shoe's tread, which can reduce traction. A herringbone tread pattern can help to improve traction. The solution to this problem is herringtone treads. The pattern of this tread type will minimize clay accumulation while offering you optimal traction.
You can make the most out of your clay court if you look for these suggestions!
Grass Court
Grass courts are typical in the professional men's and women's tennis world but the least common in general due to the difficulties they pose to maintain and how expensive they are to build.
These courts are smooth. The smoothness of the surface makes this type of court fast and more forgiving than its two counterparts. You should note that the most important thing you are looking for is a tennis shoe that gives you enough traction on the court. So, what you should be looking for to maximize your performance on a grass court is:
Stability. You need to find a shoe that offers you stability as this type of court is slick, and your shoe should provide you with a strong footing.
Flat outsole. Combining a flat outsole with slight bumps on its surface will offer you enough friction on a grass court.
You could find a shoe that blends these two, which is also durable, but durability should not be your main concern for grass courts.
Additionally, you should know that although outsoles with bumps are commonly used by professionals, they are not easy to find because grass courts are not so common. So, if you cannot find a tennis shoe like that, you can opt for an all-court type.
All Court
If you are a player who will opt to play on any kind of court, be it grass, clay, or hard court, the ideal tennis shoe would be the all court shoe type.
Tennis shoe manufacturers often make such shoes as they have realized that most people (and I am guilty of this) will not settle down on one court type. So, these tennis shoes are efficient to use on all courts. They have many similarities to hard court shoes, as this is the harshest surface that may wear shoes down. Therefore, all court shoes need to be durable enough to endure the roughness of such courts.
However, other details are incorporated into these shoes to make them suitable for other surfaces. For instance, many all court tennis shoes have herringbone treads so that they do not lose traction if you decide to play on clay courts more often. Nevertheless, they will not maximize your performance like a clay court shoe.
As for grass courts, you should note that some of them, residing in renowned clubs like Wimbledon, will not allow you to use all court shoes on their grass courts.
As you know, grass courts are expensive to build and maintain, and such shoes may damage them. So, I would advise you to check beforehand if you want to play on a grass court with all court tennis shoes, as some will allow it, and some will not.
What to Look for in Tennis Shoes
The three main things you should look for in your tennis shoes are stability, durability, and lightweightness.
Stability
Stability is essential to ensure maximized performance on the court. Most, if not all, tennis shoes will be able to offer you some sort of stability, some more, some less. You can tell if a shoe excels at stability by looking at some of its parts. These parts are:
Upper. Certain materials on the upper maximize the shoe's stability compared to others.
Shank. The shank is a part of the shoe between the outsole and insole. It will provide stability and also keep the shoe from bending.
Heel collar. This part of the shoe will help your foot not move around too much during your games.
Heel counter. A heel counter will prevent your shoe from bending, like the shank.
Lacing. Depending on the shoe's lacing system, it will ensure that the shoe is tight enough and will not let your feet slip within the shoe.
You should keep in mind that even though these parts will offer you stability, weight is also a prime factor.
Durability
Durability is the element you should be the most careful with, especially if you are a player who prefers hard courts. Hard courts have a rough surface, as I mentioned previously; therefore, the abrasiveness due to the constant contact of your soles (mostly the outsole) will wear out your shoes quickly.
You should be looking for tennis shoes with a durable outsole to still be intact even after a rigorous game on a hard court.
Although the outsole is the part of the shoe that comes in contact with the ground the most, you should not neglect the other parts, such as the upper. You should check if the tennis shoe you are looking at also has extra protection on other parts to ensure their longevity.
Another method you can try is to identify which parts of your old tennis shoes if you have any, sustained the most damage. That will show you exactly where you need additional protection for extra durability.
Lightweight
Lightweightness might not seem important to consider; however, you will need to look into it if you want to outrun your opponent.
Lightweight tennis shoes will help you run and move faster and more efficiently as your feet will not have to drag along too much weight. That is not the case with shoes that weigh more; they will offer you more stability, but their weight will leave you behind speed-wise.
Depending on what you are looking to get out of your shoe, you will need to sacrifice speed or stability or an additional dose of either of them.
You need to note that weight increases proportionally to your shoe size. So, if you want to compare two types of shoes and see which one is more lightweight, check the same sizes for them.
What Tennis Shoes Should You Buy?
If you are wondering "what tennis shoes should I buy," you should, first and foremost, consider your preferences and find something that you like. And, of course, ensure that the shoe is comfortable on your feet.
However, it is advisable to consider other things before going through with your decision, such as the type of court you will play on, durability, stability, and lightweightness. In short, everything that I have explained above. That way, your shoes will not wear out quickly, you will feel less strain on your feet, and you will not sustain any injuries.
If you carefully examine all details and make sure that your shoe fits all the requirements for the court you will play on, I am confident that your performance will be significantly better than before!
We are sorry that this post was not useful for you!
Let us improve this post!
Tell us how we can improve this post?