If you hit the court on a regular basis, do yourself a favor and only pick the best lightweight tennis shoes. Take this from us; you don't want to learn the hard way why the right pair of shoes make a world of difference, especially when you are playing or training intensively. We all have made that big mistake and spent a lot of money buying some very expensive and stylish shoes that were trending everywhere. Do they look cool? Sure… for the first five minutes of the game. After that, they felt heavy and overhit very fast, to the point that the player feels like dragging not just their feet but rocks across the court. Needless to say, the perfomance will not be good at all, and you can't help but feel bitter about it.
However, it doesn't have to be this way if you just learn to navigate the market and pick the perfect pair for yourself. Stay tuned because we will help you to do just that! In this article, you'll find a selection of the best lightweight tennis shoes and everything else you need to know to help you find the right pair. Keep scrolling!
Best Lightweight Tennis Shoes Reviewed
Listed below, you can find a wide variation of some of the best lightweight tennis shoes on the market. All of these shoes are performance-oriented and can be a perfect fit for all kinds of players. Our model selection includes models for both men and women at various price points.
Asics Solution Speed FF 2 tennis shoes are our favorite choice in this list, so much so we decided to rate them as the best option for men. It was an easy pick considering all the great attributions and the cool aesthetics of the shoes. They perform great on the court as they are made for speed, allowing even the aggressive players to keep up with a high pace. These Aciss shoe models are incredibly flexible due to new technological updates that provide quick transitions and smooth side-to-side lateral movements.
The shoes are incredibly lightweight, to the point that they will make you forget you are wearing them sometimes. Another great thing about them is that you don't ever have to worry about comfort, as the shoes are very well-cushioned and offer a lot of stability. The shoe lacing and grip are just right, which provides the player with all the needed support. The enhanced outer sole and toe draggers are made for both added durability and great traction.
On the downside, the fitting of the tennis shoe might not stay true to size because a lot of players have had serious complaints about the heel part feeling too loose for the likening. It would be better to consult with the seller first to pick the right size for you, or better yet, try them out first before making a purchase.
Product Specs
Weight: 12.3 ounces (348 grams) at size 10.5
Construction: Speed
Material: Mesh
Arch support: Neutral
Pros
Lightweight and soft
Great traction
Well cushioned
Made for speed
Cons
The heel part fitting might feel loose.
Get the Asics Solution Speed FF 2 on Amazon or at Do It Tennis.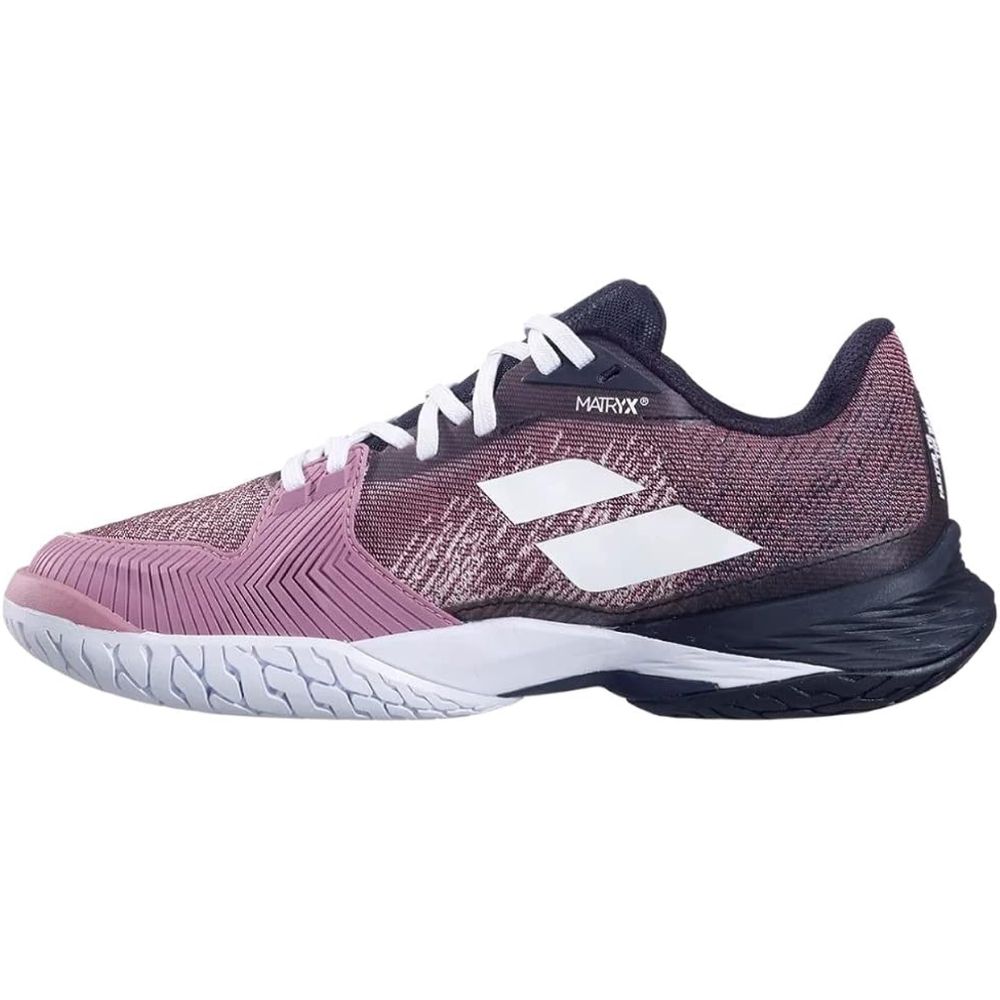 The lightest women's tennis shoes are Babolat Jet Mach III, a model which has been in the limelight for a while now. When they first came out on the market, these shoes grabbed immediate attention for their sleek design and wide range of color options, which players love. However, they have much more to offer than just their aesthetics; these Babolat shoes are very flexible and offer a great deal of support, thanks to the integration of new technological updates on the structure. The outer sole is made of premium rubber, which makes the shoes extremely durable and resistant to abrasive contact with the ground.
They have a nice grip for a secure fit and provide satisfying traction thanks to the grove pattern that can work well in clay courts as well as hard surfaces. The shoe structure has a 30-degree angle on the midsole part, which aim to make the landing on the ground feel much more comfortable, even during aggressive turns or high jumps.
The special EVA cushioning makes the shoe feel very soft, but it can feel quite thin, which might leave some players feeling disappointed, especially if dealing with an injury or when needing extra arch support. Another downside of the Babolat Jet Mach shoes that we couldn't help but notice during the trial period is the lack of ventilation. The shoes can get overheated very quickly, especially during intensive game sessions in warm weather. If you can go past these drawbacks, these shoes will certainly become your new favorite.
Product Specs
Weight: 10.2 ounces (289 grams) at size 8.5
Construction: Lightweight
Material: Textile
Arch support: Normal
Pros
Extremely light
Support and stability
Durability
Great design
Cons
Can get overheated quickly
Thin cushioning
Get the Babolat Jet Mach III on Amazon or at Do It Tennis.
If you are looking for ultralight tennis shoes on the best budget, Asics Gel Dedicate 7 is the pair for you. These tennis shoes are very versatile, have nice aesthetics, and are a great option for beginners and recreational players particularly. The most impressive feature about them is the incredible support they provide, which is rare even for more expensive models out there.
These Asics shoes can hold the feet very well, even when moving from side to side or going low for difficult angles. They provide a great fit and even have a roomy toebox for that extra comfort, which tall players are very fond of. The lacings can come a little short for most people likening, but regardless they do offer a great gripping, to avoid annoying slips during the game completely.
On the downside, they are not very breathable, and the ventilation doesn't feel that great. These shoes are well cushioned; however, the opinions over their comfort levels vary among different players. While many do find them quite comfortable to play with, even on hard surfaces, others claim that the shoes feel firm and can not resist abrasive landings leaving the feet to feel sore afterward.
As expected, the arch support is low, as well. If you are to opt out of these shoes, make sure to try them on first or add some padding and silicone heel pads. Asics Gel Dedicate shoes would fit best for players on the light side of the scale who aren't looking for much support anyway.
Product Specs
Weight: 338 grams (M) / 270 grams (W)
Construction: Stability
Material: Synthetic
Arch support: Low
Pros
Lightweight
Great stability
Excellent gripping and fit
Lateral support
Cons
Not very breathable
Firm cushioning
Get the Asics Solution Speed FF 2 on Amazon or at Do It Tennis.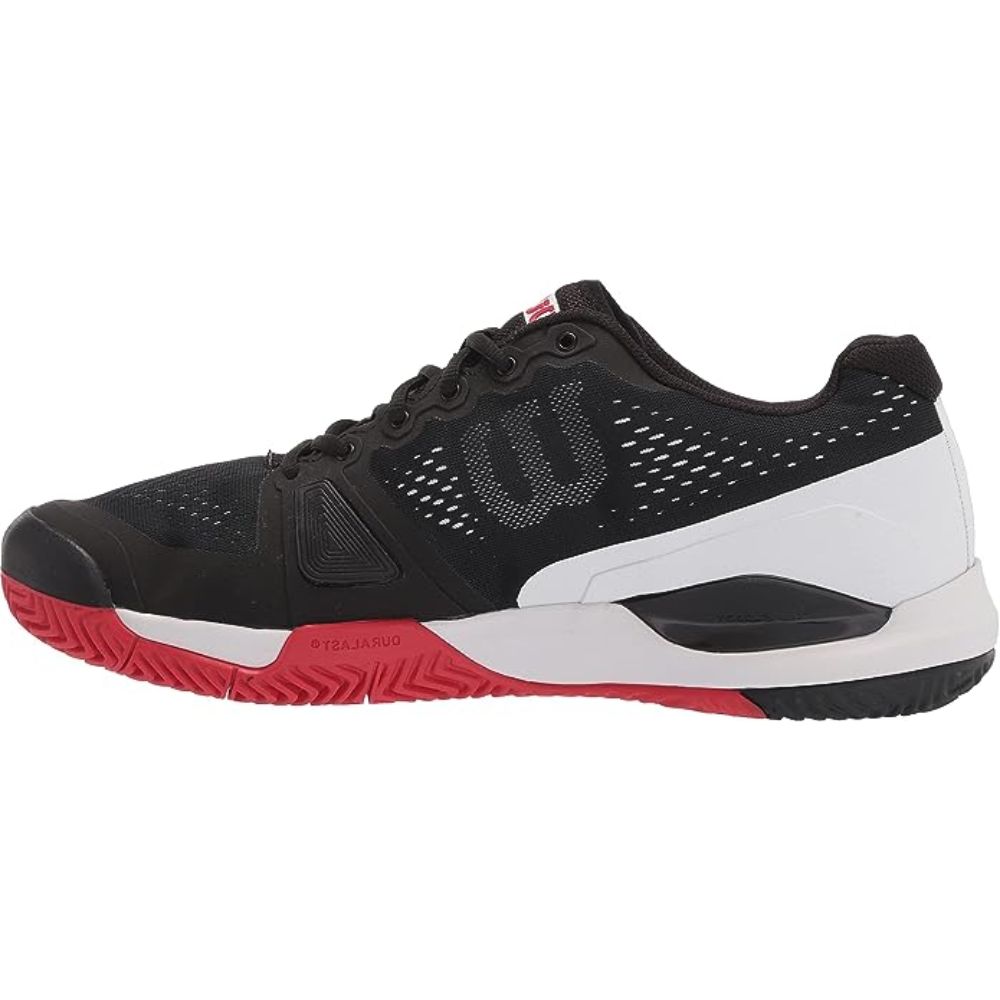 Wilson Rush Pro 3.0 tennis shoes are a powerhouse on the court, known for their amazing durability and resistance to abrasions. If you are an aggressive player constantly hitting the court, these shoes will not let you down. The well-known brand has used Duralast rubber for the base of the shoe, which is known for its density and longevity, which makes the shoe suitable for any type of surface, including hard concrete.
Speaking of the base, it's worth mentioning that the herringbone pattern has been modified so that it can provide better traction, balance, and grip. This feature works perfectly well to avoid slips or bendings of the shoes during fast transitioning or sliding. Not only are these one of the lightest tennis shoes on the market, but they are incredibly comfortable as well. The brand has used R-DST cushioning technology compared with highly suppressed EVA pads on the midsection in order to provide all the support and comfort that a player can have. These shoes do a great job at returning energy during harsh landings to protect the feet and minimize the risk of soreness or possible injuries.
Due to the engineered mesh material, the Wilson tennis shoes are very breathable and have a great ventilation system allowing the air to circulate and avoid moisture. The sock-like construction of the shoes provides an amazing fit and grip. They have a cool, minimalistic design and come in a few different colors for the players to choose from.
The only downside of these shoes that I could find is the slight jamming effect on the toe, which can get overwhelming when wearing them for others and lead to soreness. Other than that, these shoes are simply great and easily one of our favorite picks on this list.
Product Specs
Weight: 360 grams (M) / 310 grams (F)
Construction: Stability
Material: Mesh
Arch support: High
Pros
Extremely durable
Lightweight
Responsive and stable
Breathable
Cons
Slight toe jamming effect
Get the Wilson Rush Pro 3.0 on Amazon, at Wilson's Official Site, or at Do It Tennis.
If you are looking for lightweight athletic shoes that are the best with arch support, then look no further because Saucony Kinvara 12 is the best option for you. These shoes are made for players with high arches in particular and offer everything one can ask for. The model for men players weighs only 213 grams (7.5 oz), while for women weighs 184 grams (or 6.4 oz), so as you can imagine, they are incredibly light. These shoes offer a great deal of support and are very well-balanced.
The comfort is on a whole other level, thanks to the amazing cushioning system throughout the construction, especially on the underfoot part. The amazing plush feeling makes them often rate as the softest tennis shoes on the market, and they very much deserve that title.
These shoes are incredibly flexible as well and can bend completely. However, you don't have to worry about unwanted slips because their design offers more than enough support on the insole part, which makes the shoes more rigid than other similar options. The shoe's tongue is very well-padded and flexible, making it easy to wear or take off. They provide a great fit and have a good lacing system that keeps the shoe in place. Despite the dense cushioning, these shoes are quite breathable and have great ventilation, which helps to keep the feet cool all the time.
On the downside, they tend not to be very durable and can wear off quickly when used often. The lack of durability and resistance to abrasive landings makes them unsuitable for advanced players, so if you have an aggressive style, you might want to consider other models instead. These shoes are not so great for cold climates either, especially if it rains often.
Product Specs
Weight: 213 grams (M) / 184 grams (W)
Construction: Lightweight
Material: Mesh
Arch support: Neutral
Pros
Incredibly lightweight
Removable insole
Great fit and balance
Flexible
Cons
Not very durable
Not suitable for competitive players
Not fit for cold climates
Get the Saucany Kinvara 12 on Amazon.
Finding the best tennis shoes for hard courts, which are also lightweight, among many other features they should have, can be challenging for most people. We strongly recommend NikeCourt Air Zoom Vapor Pro if you are looking for a pair that fits this description. These shoes are built for speed and are a great choice for aggressive and dynamic tennis players, especially for those who prefer to stay most of the time back in the baseline.
They offer incredible support of the foot even during lateral movements or side-to-side slides and are overall very stable. The fit is so perfect and comfortable that you never have to worry about slips and annoying little bends. The asymmetrical lacing system provides a more secure and comfortable fit.
The brand has integrated a Zoom Air unit in the shoe structure, which helps to absorb the shock impact better and make them more responsive. The engineered mesh material at the top offers good ventilation, making the shoes very breathable and helping to prevent moisture. The traction is great, and the added rubber material on the forefront makes up for a nice surprise, for better foot protection, especially during slides and hard landings. These Nike shoes are well-cushioned and offer great comfort on the court.
On the downside, however, they aren't as flexible as we would hope or expect from a Nike model. These shoes fitting are suitable for narrow-width foot players or average at best. If you happen to have wide feet, then the shoes might make you feel quite uncomfortable and sore, so make sure to try them on before making a purchase.
Product Specs
Weight: 365 grams (M) / 315 grams (W)
Construction: Speed
Material: Mesh
Arch support: Neutral
Pros
Very lightweight
Ultra comfort
Stable and reliable
Protective
Breathable
Cons
Lacks durability
Not very flexible
Narrow fit
Get the NikeCourt Air Zoom Vap or Pro on Amazon.
Adidas Adizero Ubersonic is the best lightweight tennis shoe for clay courts. These shoes are made of premium materials and are a great fit for a wide range of players, starting from low intermediates to highly advanced professionals. They offer a dynamic feel that is perfect for speed, intensive turns, or side-to-side slides. One of the best features of these Adidas models is the foot-hugging structure and the molded tongue-less design, which not only makes up for a perfect fit but also avoids clay particles from getting inside. 
The outsole is made of solid rubber material that is resistant and durable, which guarantees prolonged shoe longevity. Addidas has added extended coverage on the midsole part as well for extra protection and to support the lateral movement on a clay surface. The shoes feature a unique herringbone tread design, designed specifically not to leave marks on clay courts, and do not collect dirt between the groves, even when wearing them for hours.
They are well-cushioned on the midsole, offering comfort and a soft feeling, even during harsh landings or aggressive contact with the ground. These tennis shoes have an excellent grip and are quite flexible and responsive as well. They come in a modern design and have a variety of patterns and colors to choose from.
On the downside, however, we couldn't help but notice the narrow entrance, which can be a deal breaker for a lot of players. Before buying a pair, it would be ideal to try them on first, but at least make sure to check out the shoe dimensions or consider going up a size.
Product Specs
Weight: 400 grams (M). / 310 gram (W)
Construction: Stability
Material: Textile
Arch support: Normal
Pros
Lightweight
Responsive and flexible
Excellent grip
Stable
Breathable
Cons
Get the Adidas Adizero Ubersonic 3.0 Clay on Amazon.
Roger Federer is known for wearing the iconic Nikecourt Air Zoom Vapor X tennis shoes on the court, and if they are good enough for the legend himself, they are good enough for us too. These shoes offer everything a player can ask for, from the dynamic performance to the sleek modern design that will make you feel already like a star on the court. This updated version of the famous shoes is noticeably more lightweight and durable due to technological design improvements.
The brand has used innovative and extra-resistant XDR rubber material, which helps to protect the shoes from wearing out too quickly. The responsive level of these shoes is simply impressive due to the integration of pressurized air units on the structure, which make them return quickly to the normal state, even after full stretches after a hard landing.
These Nike tennis shoes provide great stability and support lateral movement. They offer a secure locked-in fit that is very comfortable and protective for the foot and ankle. The shoes are well-cushioned and feature wrapped-in padding around the collar for arch support. They come in a few different colors and patterns and even have a variety of width options. The only downside of these shoes is the lack of flexibility, but it's a fair trade considering everything else.
Product Specs
Weight: 380 grams (M) / 330 grams (W)
Construction: Speed
Material: Synthetic / Mesh
Arch support: Normal to high
Pros
Lightweight and durable
Extra comfort
Great traction
Smooth slides
Wide width options
Cons
Get the NikeCourt Air Zoom Vapor X on Amazon.
How We Chose the Best Lightweight Tennis Shoes
To come up with this list, we followed up our usual playtesting process after a few months of deep market research. The most important feature we looked up was the weight of the shoes, where we prioritized and only classified those made of light compounds.
We also based our reviews on a few other elements, such as performance, traction, cushioning, support, stability, and design. Our final list includes different models for both men and women, in various price points and categories so that we can make sure that all of our readers can have at least one great alternative for them to buy. Last but not least, it is important to highlight the fact that all of our conclusions are based on our unbiased opinions, as we do not accept sponsorships from brands.
Lightweight Tennis Shoes and Your Body Needs
Nothing beats the feeling of a lightweight tennis shoe that provides enough support and comfort for your feet. These types of tennis shoes can be more practical and make the player feel more at ease when wearing them. However, as with many other things, lightweight shoes have their pros and cons. Before picking up a pair, it would be wise to first look at their impact on the feet and overall health. Knowing what your body needs and acting accordingly, it's always better and more important than just following trends.
Advantages
Here are the main reasons why lightweight tennis shoes can work wonders for some players;
Speed: With less weight, it's much easier to get around the court faster because your feet will be holding less weight. The transitions and side-to-side slides tend to be much quicker as well.
Breathability: While it's not always the case, the best lightweight tennis shoes are usually made with breathable mesh material. As a result, the ventilation process is terrific, helping the skin to stay fresh and dry from moisture or sweat.
Stamina: You'll be surprised by how much higher stamina you'll have once you switch to lightweight tennis shoes. The reason for this is simple; less weight means more energy saved in the long run and less soreness or pain in the toes.
Added confidence: Being able to move fast and quickly will give any player a confidence boost on the court, which obviously leads to better performances.
Disadvantages
Some drawbacks are unavoidable, even if you pick only the best lightweight tennis shoes. Here's what you should be aware of;
Durability: Companies tend to use fewer materials on the shoe in order to keep the weight down as much as possible, but this also means fewer protective layers for the structure. As a result, finding durable, lightweight tennis shoes can be quite a struggle.
Comfort: Less weight equals less cushioning and padding for the shoes. This is arguably the biggest drawback, as you must compromise comfort levels and learn to be okay with shock transmission.
Stability: Many companies have done some serious improvements in the later years. However, the general rule of thumb is that the lighter the shoe, the less stability it offers.
Our Verdict
While there are many great options on our list, our favorite part is Asics Solution Speed FF 2 tennis shoes. They provide excellent traction, ventilation, and protection for the feet while offering a soft and comfortable feeling. The dynamic performance combined with a cool design will make any player feel like a tennis star on the court.
For the ladies, our best recomandation are Babolat Jet Mach III. They are incredibly lightweight and offer some great features such as durability, stability, ventilation, comfort, and a sleek design.
FAQs
When it comes to choosing the best lightweight tennis shoes, you may have a few questions. With proper care and maintenance, these shoes can provide you with years of optimal performance on the court. If you're looking to enhance your game with lightweight tennis shoes, here are some frequently asked questions to help guide you in your search.
Q: Should tennis shoes be light?
Yes, tennis shoes should be light for better performance and comfort on the court. A lightweight shoe feels fast and less cumbersome when running around to return shots or rally with opponents. Having lighter shoes also helps reduce fatigue in your feet, ankles, and legs after a long match – something that heavier sneakers can exacerbate if their weight is unevenly distributed throughout the shoe. 
Q: What are the lightest Asics tennis shoes?
The lightest tennis shoes currently offered by Asics are the Gel Resolution 8 and Gel Challenger 12. These models offer a breathable upper with lightweight Flytefoam technology in the midsole for superior cushioning. The FlyteFoam provides more energy return than any other foam on the market, helping you stay energized longer. They also feature a flexible outsole that will provide optimal traction and grip on any court surface so you can move quickly and easily as well as reduce fatigue throughout your match or practice session. Additionally, their low profile design ensures superior stability while you're moving so you can play at your best without compromising mobility or comfort. 
Q: Is it better for tennis shoes to be too big or too small?
When it comes to buying tennis shoes, size matters a lot! In general, it is always better for tennis shoes to fit snugly rather than too big or too small. If your shoes are too big, they will be uncomfortable and unstable which can lead to blisters and other injuries. On the other hand, if your shoes are too small, they won't provide enough support or cushioning and can contribute to pain and discomfort while playing.
The best way to ensure you get the right fit is by buying a tennis shoe that's half a size bigger than what you would normally wear for everyday footwear. This extra bit of space will help accommodate foot expansion while running around the court. There should still be some wiggle room between your toe and the end of the shoe – this space should roughly match with the width of your thumb when held against your big toe at its widest point.
Q: Why are tennis shoes so heavy?
Tennis shoes are generally heavier than running shoes because they are designed to provide more stability and support for the foot when participating in a high-intensity sport like tennis. Tennis involves lots of quick turns and lateral movements which require greater arch support and stability from the shoe. To accommodate this need, most tennis shoes will have thicker soles and stiffer upper materials that add weight but offer additional protection against common injuries.
For example, stiffer midsoles help minimize pronation (turning of the foot inwards), while reinforced toe caps protect against toe drag during matches. Additionally, many modern tennis shoes feature cushioning technology such as gel inserts or memory foam padding, providing extra comfort but also contributing to increased shoe weight. All these features together mean that a typical men's size ten tennis shoe may weigh up to 16 ounces or even more depending on its design features; by comparison, an average running shoe may weigh around 10-12 ounces in men's size ten.
We are sorry that this post was not useful for you!
Let us improve this post!
Tell us how we can improve this post?