Playing on a clay court with the wrong type of shoes can be one of the most challenging and distressing things you can do as a tennis player. Not even mentioning the enormous pain in your entire body, especially in your legs… yeah it's not a pretty picture. But don't worry, we are here to make your life easier; that's why we have made a selection of the best clay court tennis shoes that are available in the market.
In this guide, you'll also find everything you need to know about these kinds of shoes, their unique features, how to tell if they are of high quality or not, and what you should be looking for. In case you are worried about breaking the bank, let me tell you right now that we got you covered; in this list, there are plenty of great clay court shoe options at reasonable prices. So let's dive in.
Best Clay Court Tennis Shoes Reviewed
It took long hours of research and playtesting to come up with a list of the best clay-court tennis shoes. We have made our selection based on durability, comfort, and performance, including different categories for all kinds of players, both women and men.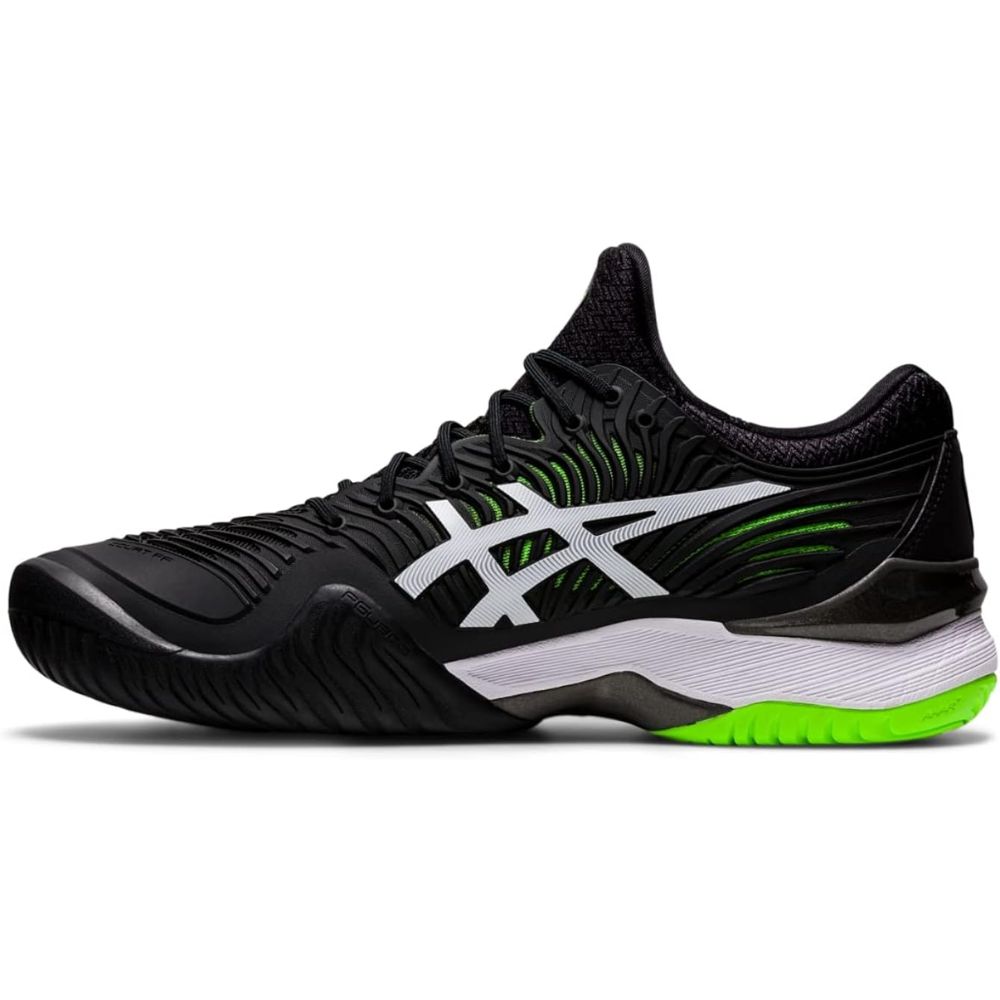 We decided to feature Asics Court FF 2 as men's best clay court tennis shoes for their outstanding performance. These shoes check out all the right boxes and are a smart investment for your tennis games.
The outsole is made of a two-piece herringbone trade pattern for amazing traction on the clay surface. The Twisstruss system used in the middle of the shoe prevents bending and adds a lot of stability. The brand has used new FlyteFoam technology to make their product more lightweight and comfortable, which is a real treat for all players wearing those shoes. They also have the ability to absorb shock and have generous extra cushioning.
These shoes are designed with a Mono-Sock fit system, which is impressive. They have a perfect fit, prevent the clay from entering inside, and are very easy to put on or take off. Asics Court FF 2 tennis shoes are also very durable and have a great ventilation system, helping you to stay cool, even in hot climates.
Product Specs
Width: Medium
Arch support: Medium
Color: Black, blue, red, white
Pros
Comfortable
Lightweight
Durable
Ventilation system
Cons
Get the Asics Court FF 2 on Amazon or at Do It Tennis.
Featuring Asics Gel Resolution 8 Clay as the best women's clay court tennis shoes was an easy decision. These are hands down one of the most popular tennis shoes in the market and for very strong reasons.
The first thing we noticed during the playtest was how lightweight these shoes are. They are made of high-quality materials, which are very durable too, and will last you for a long time. The outsole features a full herringbone pattern and is made of a special Asics-developed rubber, which is three times more durable than the standard clay shoe. This design adds traction and helps to prevent clay accumulation in the back of your shoe.
The new technology used in the manufacturing process has made these shoes stable and highly responsive. The comfort they provide is next level, thanks to the extra cushioning in the heel and midfoot, which helps to absorb shock. These Asics tennis shoes also have a beautiful design, with plenty of bold color options, which adds to their appeal.
Product Specs
Width: Medium
Arch support: Medium
Color: Black, blue, red, pink, grey
Pros
Lightweight
Very durable
Responsive
Ventilation system
Cons
Couldn't find any; these are great
Get the Asics Gel Resolution 8 Clay on Amazon.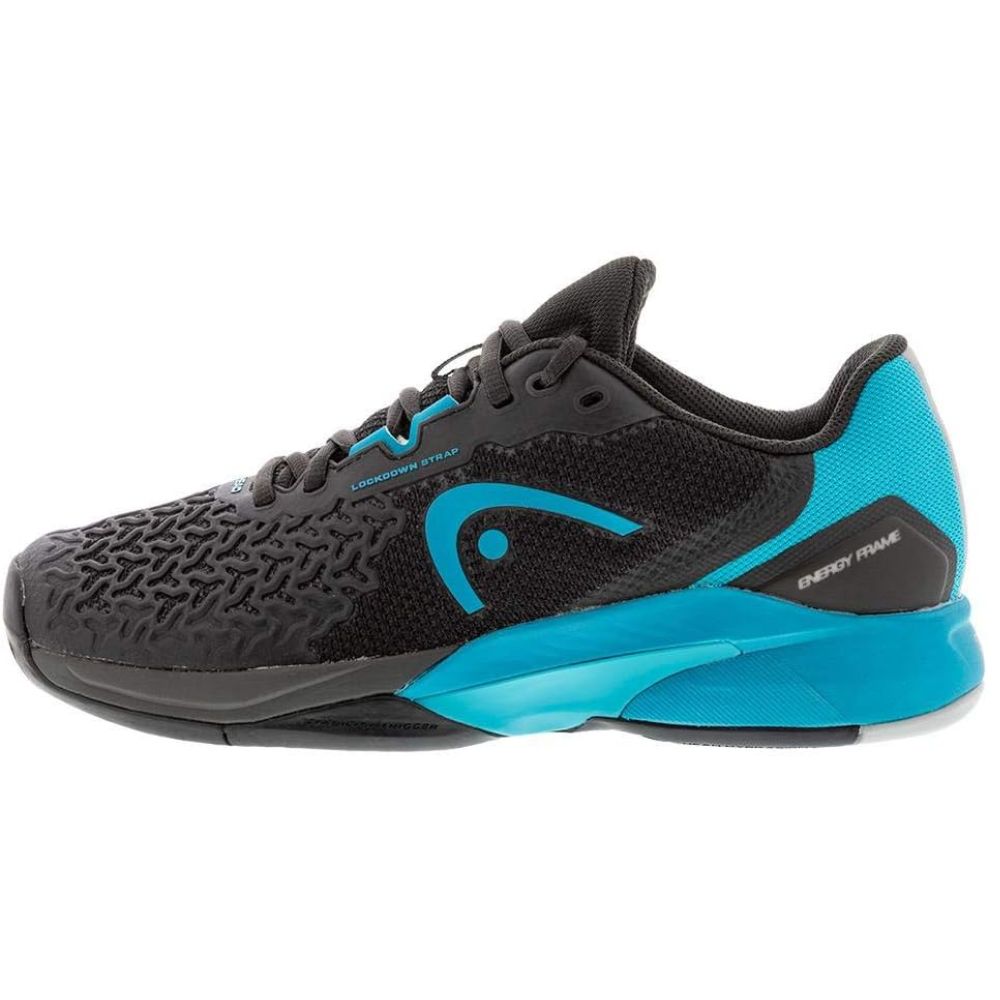 If you are tight on the money right now, we have a great recommendation for you. Head Revolt Pro 3.0 Clay tennis shoes come at a very reasonable price, have all the features you are looking for, and deliver a good performance.
These Head tennis shoes are wrapped in mesh, which makes them very lightweight and breathable, with a great ventilation system to help the player cool down. Durability and stability are two of the most distinguished features, thanks to the new technology the brand has used. The streamlined design makes them very responsive and less bulky. 
The outsole of the shoe has a herringbone tread pattern, with a high protective rubber compound and excellent traction. The lacing system secures a tight, secure fit, while the added padding and anatomical heel make the shoes very comfortable to wear. Overall, these are great options to consider, especially considering the price.
Product Specs
Width: Narrow
Arch support: Medium
Color: Black, blue, white, gray, red
Pros
Best budget
Lightweight
Durable and stable
Ventilation system
Cons
The outsole is sticky at first
Get the Head Revolt Pro 3.0 Clay on Amazon.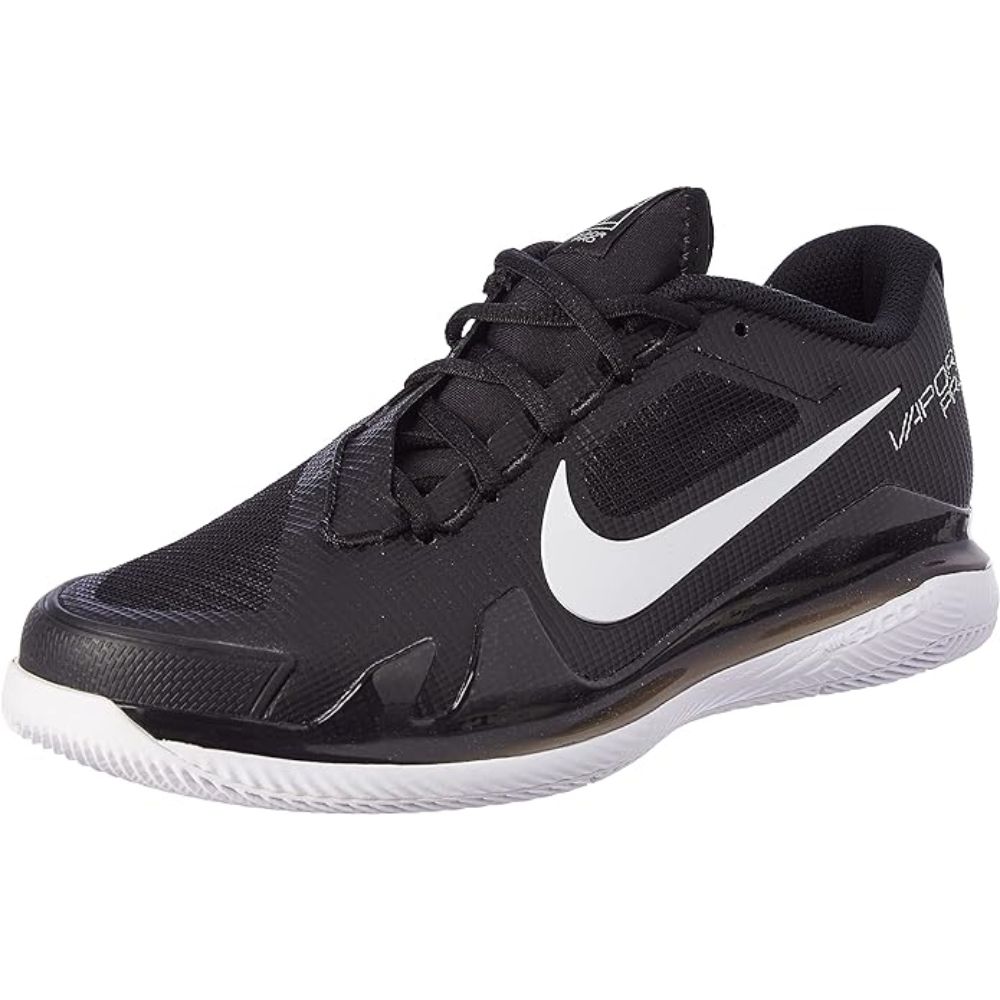 These Har-Tru tennis court shoes are exactly what you need to take full advantage of the first-rate clay surface. Nike Air Zoom Vapor Pro shoes are one of the brand's most popular models, celebrated for their exceptional level of comfort and stability.
The outsole of the shoe has a full-length herringbone trade pattern, which is durable and provides excellent traction. These Nike tennis shoes are made of high-quality mesh materials, making them lightweight and able to fit like a glove.
The midsole has extra cushioning for more comfort that also absorbs shock. These shoes have an asymmetrical lacing system that allows more lateral movements in the field and a personalized fit. The materials are breathable, with a removable sock liner that helps cool down if you need it. Nike has done an applaudable job with these shoes in particular; it was hard not to fancy them.
Product Specs
Width: Medium
Arch support: Medium
Color: Black, white, red
Pros
Comfortable
Great stability
Breathable
Lightweight
Cons
They go out of stock fast
Get the Nike Air Zoom Vapor Pro on Amazon.
Babolat Men's Jet III Clay has a beautiful, sleek design and delivers an overall great performance. During the playtest, these tennis shoes for clay courts stood out for the high stability level and light feeling. The brand has used exclusive new technology and unique materials to add more comfort and durability. 
The outsole of the shoe features a Herringbone pattern made of Michelin rubber, which is long-lasting and hardly wears off. The sole is significantly thicker than previous models to absorb shock better. The unique design of these Babolat tennis shoes makes them very flexible and responsive as well. The midsole is bigger and longer than the average tennis shoes, so if you are in need of a pair with wide width, these are the answer to your problem. It's actually hard to find something to complain about; this Babolat update is just great!
Product Specs
Width: Wide
Arch support: Medium
Color: Blue, black, white, lime
Pros
Highly stable
Durable
Lightweight
Flexible
Cons
Get the Asics Solution Speed FF 2 on Amazon or at Do It Tennis.
Best for Plantar Fasciitis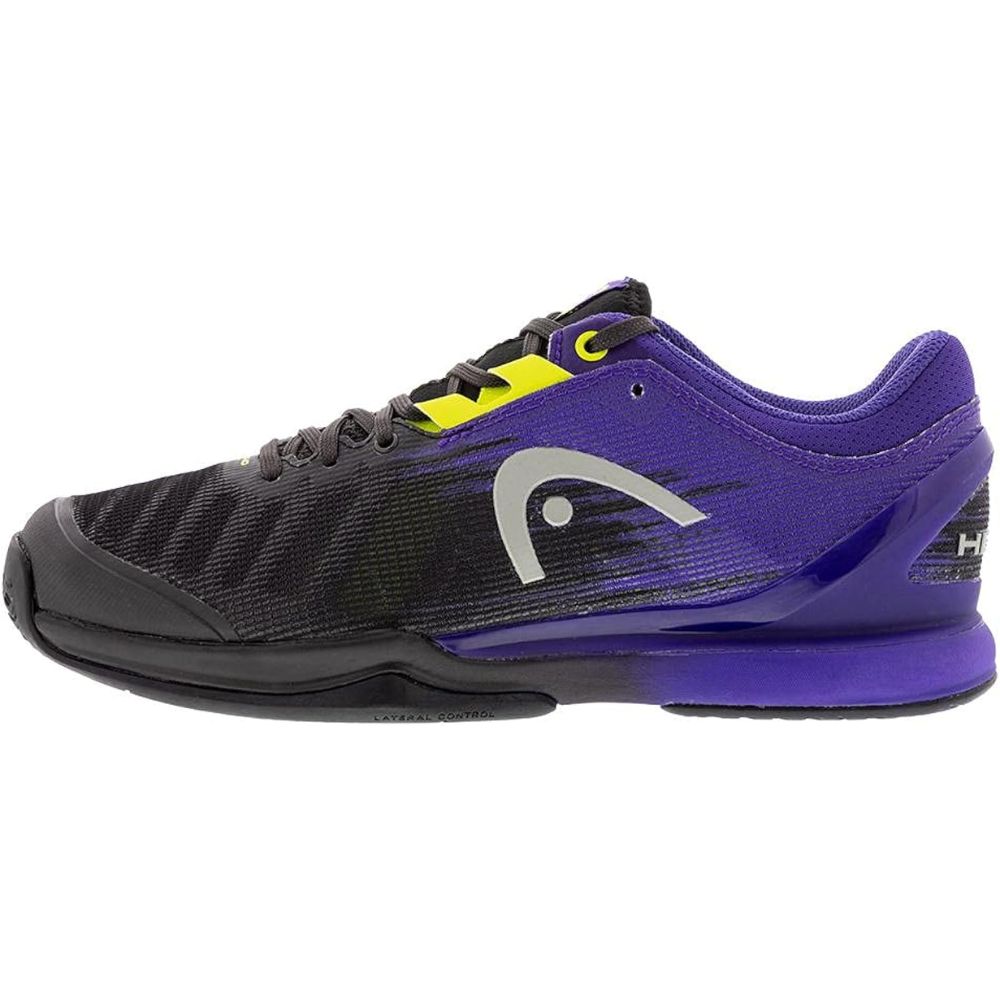 Another top favorite on our list is Head Men's Sprint Pro 3.0 tennis shoes, designed for clay courts. The structure of these shoes is very lightweight, comfortable, and stable, which is able to improve the performance of any player.
The outsole has a full- herringbone pattern with a rubber compound that is resistant to abrasive surfaces. The shoe design features stability triggers, which allow more lateral moves, make sliding side-to-side easier, and helps to keep your feet in a flat position. The brand has used Drift Defence technology for more reinforcement in durability.
The ventilation system allows the temperature to cool down quickly, even during intense training or games. Due to the brand's innovative technology, the shoe absorbs vibrations and dampens the feeling in the heel, meaning less impact, more midfoot stability, and easy to rebound foam. Overall, these shoes are a great option that you might want to consider, especially if you have issues with plantar fasciitis.
Product Specs
Width: Medium
Arch support: Medium
Color: Black, navy, blue, light yellow
Pros
Stable and comfortable
Breathable materials
Absorbs shock
Lightweight structure
Cons
Uncomfortable toe box
Lacing system is too flat
Get the HEAD Men's Sprint Pro 3.0 on Amazon or at Do It Tennis.
The Adidas brand has a long history connected to sports gear and outwear, always coming up with some of the best options on the market. It was only natural to include them as a specific category on our list, as they never seem to disappoint.
As the best Addidas clay court tennis shoes, we have selected Solecourt Boost for their versatility and great performance. These tennis shoes can be used in clay, just as well as on hard court surfaces. It features a full herringbone pattern in the outsole, which is more generous in the midfoot, excellent traction. For the midsole, Adidas has used new technology for more comfort and stability. The materials are very durable for extra protection and to resist abrasion. The soft fabrics not only add more to the comfort level but it makes these shoes more flexible, as well.
Product Specs
Width: Wide
Arch support: Medium-high
Color: White, black, grey, yellow
Pros
Stability
Great traction
Durable
Comfortable
Cons
Feels wide on the forefoot
Get the Adidas SoleCourt Boost on Amazon.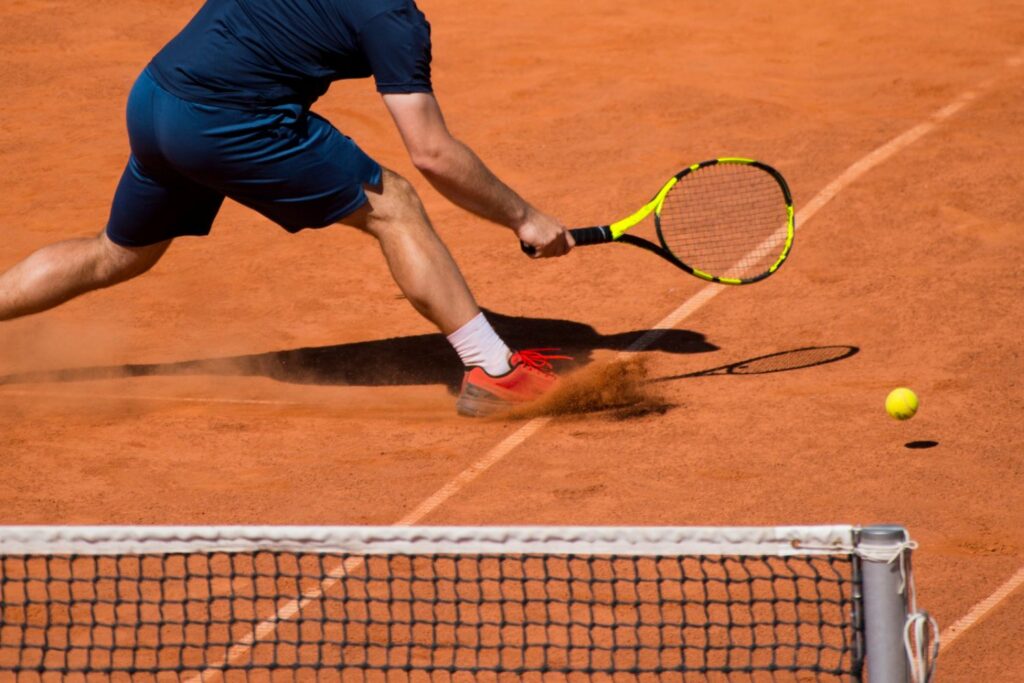 Clay Court Tennis Shoe vs. Hard Court
Their design might look the same, but not all tennis shoes are made the same. Depending on the type of court you are playing on, different types of tennis shoes are designed to handle the surfaces better. Hardcourt surfaces, made mostly of concrete or asphalt, are the most popular nowadays, but clay courts continue to be widespread and are prevalent in most European countries. To make the most out of your training sessions and games, but also to ease the impact on your feet, it's important to pick the right type. That's why it's better to know the main differences before making your purchase. 
Here are some key changes you should be aware of
Outsole. While hard court tennis shoes feature a wide range of tread patterns, clay court shoes use almost exclusively only a full herringbone pattern. This helps to keep the clay off your shoes and to grip the surface better, no matter how intensive your games get. Some simple racket taps on the shoe will help to lose the clay if it gathers and gets stuck in the outsole. Gliding your shots and getting right back into position is significantly easier, as the herringbone pattern helps to predict side-to-side slides.
Durability. Clay courts are known to be more forgiving; that's why the outsole of clay tennis shoes is more long-lasting and doesn't wear off as fast. It also provides more traction due to the more flexible rubber compounds, which adds security as you are sprinting or moving backward or forwards on the tennis field.
On the other hand, Hardcourt tennis shoes prioritize durability the most, as these types of surfaces are very abrasive. The outsole of these shoes has a wide range of trade patterns, which aims to make them more durable and to add traction, as well.
Knit upper. In clay court tennis shoes, the knit upper part is tighter to prevent the clay from entering the shoe and to also add stability. For hard court tennis shoes, this simply isn't necessary.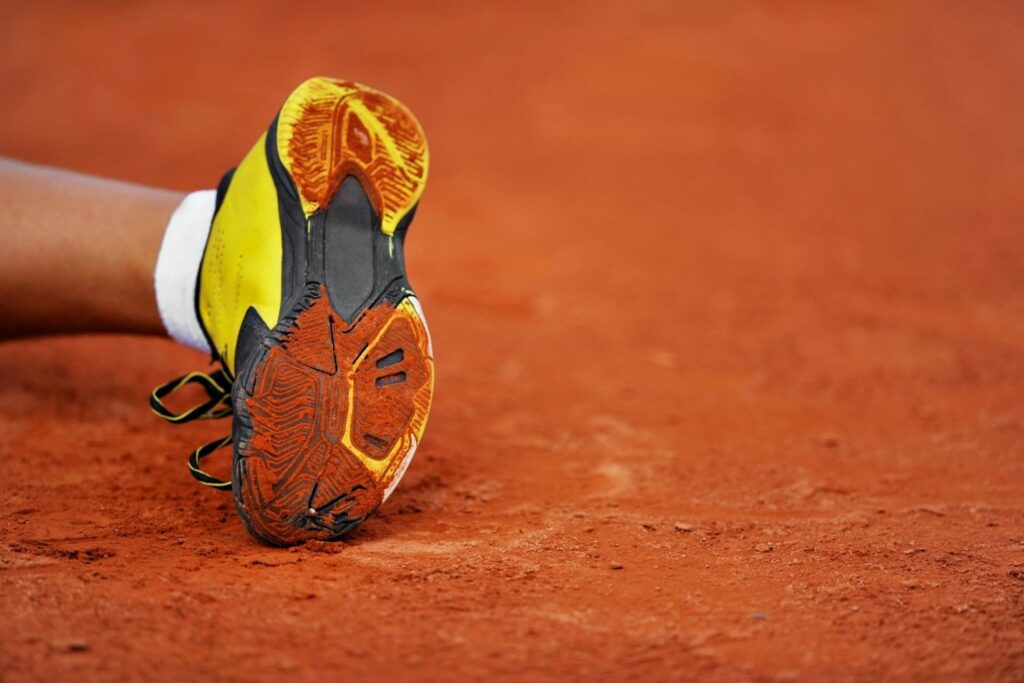 What to Consider When Buying the Best Clay Court Tennis Shoes
Now that you know what sets apart clay court tennis shoes, it's time to take a look at some key factors you should consider before making a purchase. The right pair will help you perform better, be more comfortable, and also will last you for a long time. Here is what you should be looking for.
Color
If you have previously played on a clay court surface, you know how messy it can get, especially if the clay is red. After only a few sessions, your brand new clay tennis shoes can become incredibly dirty, which doesn't happen on hard court surfaces. That's why, if you are a fan of white shoes or tend to lean to lighter colors, you have to compromise.
It's better to opt out for darker colors, as they hide the mess more, giving you a cleaner look. Of course, this is not mandatory if you lack options or really are obsessed with lighter colors, but it's smarter to spend your money on a dark pair that will last you longer in better conditions.
Price
Even if you are on a tight budget, there are still plenty of good options with a reasonable price you can choose from which don't require you to spend a small fortune. If you are spending a lot of time on hard court surfaces and occasionally play on clay courts, then you don't really have to buy tennis shoes for clay.
Even though it's not optimal, your hard court shoes will work just fine for a session or two. However, if you'll frequently play on clay courts, it's better to invest in clay shoes; they will serve you better.
Comfort and Lightweight
Tennis is a very intensive sport, which involves a lot of footwork and a combination of cardio and strength exercises. Therefore, finding a pair of comfortable tennis shoes is a must; you don't want to add more stress to your muscles and feel like you are dragging your feet around the court the whole time.
Our best advice is to go for tennis shoes that are well-padded and are made with extra-cushioning technology. The most comfortable tennis shoes to wear are those with a relaxed open mesh or a woven upper. For clay courts, look out for shoes that have a tighter upper knit.
Another important factor to consider is how lightweight the tennis shoes are. This doesn't necessarily refer to the number on the scale but rather how light the shoes feel when you put them on, their fit, the traction, and the way they perform, whenever you can try the shoes on first, to test the feeling by yourself. When selecting lightweight tennis shoes, prioritize the overall comfort and performance, ensuring they provide a good lightweight feel on your feet.
Durability
We mentioned that clay courts are way more forgiving than hard surfaces, but that doesn't mean you should neglect the durability factor when evaluating which tennis shoes to buy. Durable shoes will make the game more enjoyable and give you a boost of confidence on the field. It also means the materials are of very high quality, firm and thick, which means extra cushioning. This will help you be more comfortable in your games, helping you to keep your feet in an upright, solid position, which is the healthiest way. 
Ventilation
Clay court tennis shoes feature a tight upper knit, so it prevent the clay from entering inside. This is very necessary to avoid the mess and discomfort of clay locking in, but it has a major downside since it can cut down breathability. That's why it's always important to look up a ventilation system that will allow more airflow and help you cool down. The best clay court tennis shoe has this feature to help players be more comfortable and avoid excessive sweating.
Our Verdict
While there are many great options on this list, Asics Court FF 2 tennis shoes are our top pick. They are lightweight, durable, offer a supreme feeling of comfort, and are made of breathable, high-quality materials that allow ventilation. The design is great as well, making these shoes a smart investment for your tennis games that you'll never regret spending your money on.
Another option that we want to highlight is Asics Gel Resolution 8 Clay tennis shoes, which stood out for their lightweight construction, high level of comfort, and premium quality. No wonder these shoes are so popular amongst millions of players in the world; they feature all the right attributes a good pair of tennis shoes should have.
How We Choose the Best Tennis Shoes for Clay Court
Just like choosing the best tennis shoes for all types of courts, we went through a long process to test and select the best option for clay surfaces. The main factors we took into consideration are comfort level, durability, breathability, design, and traction. All of these are essential needs when playing on clay courts.
The right pair of shoes will take your game performance to the next level and also protect your feet' health. That's why we take our reviews very seriously and feature a wide selection for different categories, so every player has an optimal choice, regardless of their skill level or background. The specification at the end of each pair of tennis shoes will make your shopping experience easier and more enjoyable, helping you to make the right choice based on your needs.
FAQs
If you're stepping onto the clay court for the first time or looking to upgrade your current tennis shoes, you might have a few queries. Luckily, we've got you covered with answers to the most common ones. These insights will help you choose the right pair of clay court tennis shoes, ensuring optimal performance and comfort during your matches.
Q: Do you need different shoes for clay courts?
Absolutely! Choosing the right footwear for playing tennis on clay courts is critical to staying comfortable and performing at your best. Clay court surfaces are known for being relatively slow, which may cause a player's feet to sink deeper into the surface than other surfaces like hard or grass courts. This can be problematic as it increases our chances of twisting an ankle on quick changes in direction which occur often throughout a clay court match. With this in mind, there is a need for stability and lateral support when playing on clay.
That's why it's important to invest in a good quality pair of tennis shoes specifically designed for clay courts. Opting for shoes with more cushioning and extra support around the heel can help prevent sprained ankles by providing additional shock absorption when landing from jumps and sprints. These shoe designs also provide increased grip due to their outsole pattern – ideal for slippery clay surfaces where there may be moisture present at all times.
Q: Can you wear running shoes on clay courts?
Yes, you can wear running shoes on clay courts. However, it is important to ensure that the soles of your shoes are fit for the specific type of court. For example, if you're playing on green clay (Har-Tru), then it will be more slippery and much faster than red clay, so you should make sure your running shoes have extra grip and traction.
Keep in mind that any shoe with a thick sole won't move as well on clay courts due to their low-grip consistency, which can cause fatigue from constantly sliding during rallies. It is therefore recommended to choose lightweight tennis shoes with good cushioning and support to reduce impact stress on your joints over long periods of time while also giving you some added lateral stability.
Q: Why do tennis players hit their shoes on clay?
Tennis players hit their shoes on clay courts to remove excess dirt or debris that can accumulate and become lodged in the sole. The more dirt and debris that accumulates, the harder it is to maintain a grip on court surfaces such as clay, making it difficult for players to get the proper footwork necessary for a quality game. A buildup of particles within the shoe can cause abrasions on the feet, resulting in discomfort during play.
Q: Can I use clay court tennis shoes on hard-court?
Yes, you can use clay court tennis shoes on a hard-court, but it is not recommended. Clay court shoes don't provide the same cushioning and traction level as hard-court shoes. This means the wear and tear on your feet will be greater on a hard court if you use clay court tennis shoes.
Your clay court tennis shoes will not last as long on a hard court because they are built with less durability for playing on softer surfaces like clay courts. Hard courts require tougher materials that can better resist abrasion caused by repeated impacts from playing the sport.
We are sorry that this post was not useful for you!
Let us improve this post!
Tell us how we can improve this post?