Your skills and talent are not enough to be a great tennis player. Knowing how to pick and choose the best tennis balls you play with it's very important. So much so that it can and will affect the result of the game. Is it possible to find the best tennis balls in today's market filled with so many different types and brands?
It's a bit tricky, but the answer is yes! However, you must keep a few important things in mind to make the right choice for yourself. There are many factors that set apart good tennis balls from the rest, such as performance, durability, affordability, bounce consistency, etc.
As a USPTA certificated tennis instructor, I have tried and reviewed many of them, and here I give my verdict on the best tennis balls for different categories. In this guide, I have explained all you need to know, and for sure, you will find something that works for you, whether you have been playing tennis for years or are just starting out.
Best Tennis Balls Reviewed
To make your tennis journey easy for you, we have reviewed different types of balls, from some of the most well-known brands on the market. Regardless of your age and level of skills, I am sure you will find the best tennis balls for you, making you fall in love with the game even more.
Wilson US Open tennis balls are a classic on the tennis courts. For more than 40 years, they have been the official supplier of the US Open tournament. They are often considered the gold standard of what a tennis ball should be and feel like, so I had very high expectations.
Well, all I have to say is that the brand's reputation is well deserved. Wilson US Open tennis ball is the best tennis ball, at least in my opinion. It feels light and lively and is made of premium woven felt. These balls have a consistent good bounce and spinning and are quite comfortable for the arm since they are soft and compact.
These tennis balls are a fantastic option for players of all skill levels. As you can imagine, these balls are ITF-approved and are also officially recognized by the USTA. If you are looking for a ball that will last long and perform well on all types of court surfaces, then the Wilson US Open tennis ball is the perfect choice for you.
Product Specs
Type: Pressurised
Number of balls: 3 balls for can
ITF approved: Yes
USTA approved: Yes
Ideal court: Clay or carpet court
Pros
Great consistent bounce
Generate a lot of topspin
Fit for players of all skill levels
Cons
High price
Don't last very long
Get the Wilson US Open Tennis Balls at Wilson's Official Site or on Amazon.
Penn Championship Tennis Balls have been a best seller for years all across the United States of America. You better believe that they are one of the best tennis balls available at the markets. I would rate them right after Wilson US Open balls, based on my experience in the tennis field.
These balls have a nice bounce and lasting durability. Penn's tennis balls are made of interlock wool fiber and have a natural rubber construction that helps to reduce the shock during hits. Penn's tennis balls are great options for beginners and highly advanced players and can be used even at competitive tournaments.
They also cost less than Wilson tennis balls, so it's a great bonus since they are a runner-up in quality. However, a downside of Penn Championship tennis balls is that they lose pressure rather quickly, meaning they don't last too long.
Product Specs
Type: Pressurised
Number of balls: 3 balls for can
ITF approved: Yes
USTA approved: Yes
Ideal court: All courts
Pros
Consistent high bounce and feel
Good durability
Works well for players of all skill levels
Cons
Get the Penn Championship Tennis Balls on Amazon.
If you aim to save some money, Wilson Prime All Court Tennis Ball is the one for you. In my experience, it has a descend performance and a nice bounce. The only problem you might have with it is that it's not as durable as some other brands.
Wilson's prime balls are IFT approved. They are playable on all court surfaces without losing their quality. They have a traditional standard performance, featuring extra exclusive durawave felt, which gives them extra durability.
Wilson balls are great options for the training session and casual play. They can also be used for competitive matches, even though this wouldn't be ideal. These are also some of the best tennis balls for beginners.
Product Specs
Type: Pressurised
Number of balls: 3 balls for can
ITF approved: Yes
USTA approved: No
Ideal court: All courts
Pros
Works well on all court surfaces
It comes at a much cheaper price
Added exclusive durawave felt
Overall good performance
Beginner-friendly
Cons
Not ideal in competitive matches
Get the WILSON Prime All Court Tennis Balls on Amazon.
Penn Tour Tennis Balls have an excellent performance, and in my opinion, are the best tennis balls for hard court. These balls have lasting durability since they are covered with Penn's exclusive LongPlay felt for extended wear.
They are IFT-approved and are a great option for competitive matches and training sessions. These hard court tennis balls are 19% more visible than the standard tennis balls because they are made of smart Optik high visibility felt treatment. Overall they have a great constancy and a high level of bounce.
If you're looking for a tennis ball that can stand up to regular to extra-duty play, the Penn Tour tennis balls are a great choice. These balls are designed for players of all levels who seek consistent performance and exceptional durability.
Product Specs
Type: Pressurised
Number of balls: 3 balls for can
ITF approved: Yes
USTA approved: Yes
Ideal court: Hardcourt
Pros
Best hard court tennis ball
More visible than the standard balls
Great performance and durability
Cons
Lighter weight compared to other balls
Get the Penn Tour Tennis Balls on Amazon.
Wilson Triniti Tennis Balls are the best choice when playing in cold weather. These balls have a high-quality feel and great durability. They also maintain the bounce for a longer time than many other competitors.
Trinity line is the first tennis ball to use fully recyclable packaging. Wilson brand has used new technology to integrate plastomer material that maintains the freshness of the ball four times longer than the standard.
They have an engaged core; the balls are highly flexible and compact. Triniti Tennis Balls are ITF approved and are STR felt. For any purchases customers make, 5% of the profits support worldwide sustainability efforts, which is quite amazing.
Product Specs
Type: Pressurised
Number of balls: 3 balls for can
ITF approved: Yes
USTA approved: Yes
Ideal court: All court
Pros
Best tennis balls for cold weather
Eco-friendly package
Maintain bounce for a longer time
High quality felt
Works well in all courts
Cons
Get the Wilson Triniti Tennis Balls at Wilson's Official Site or on Amazon.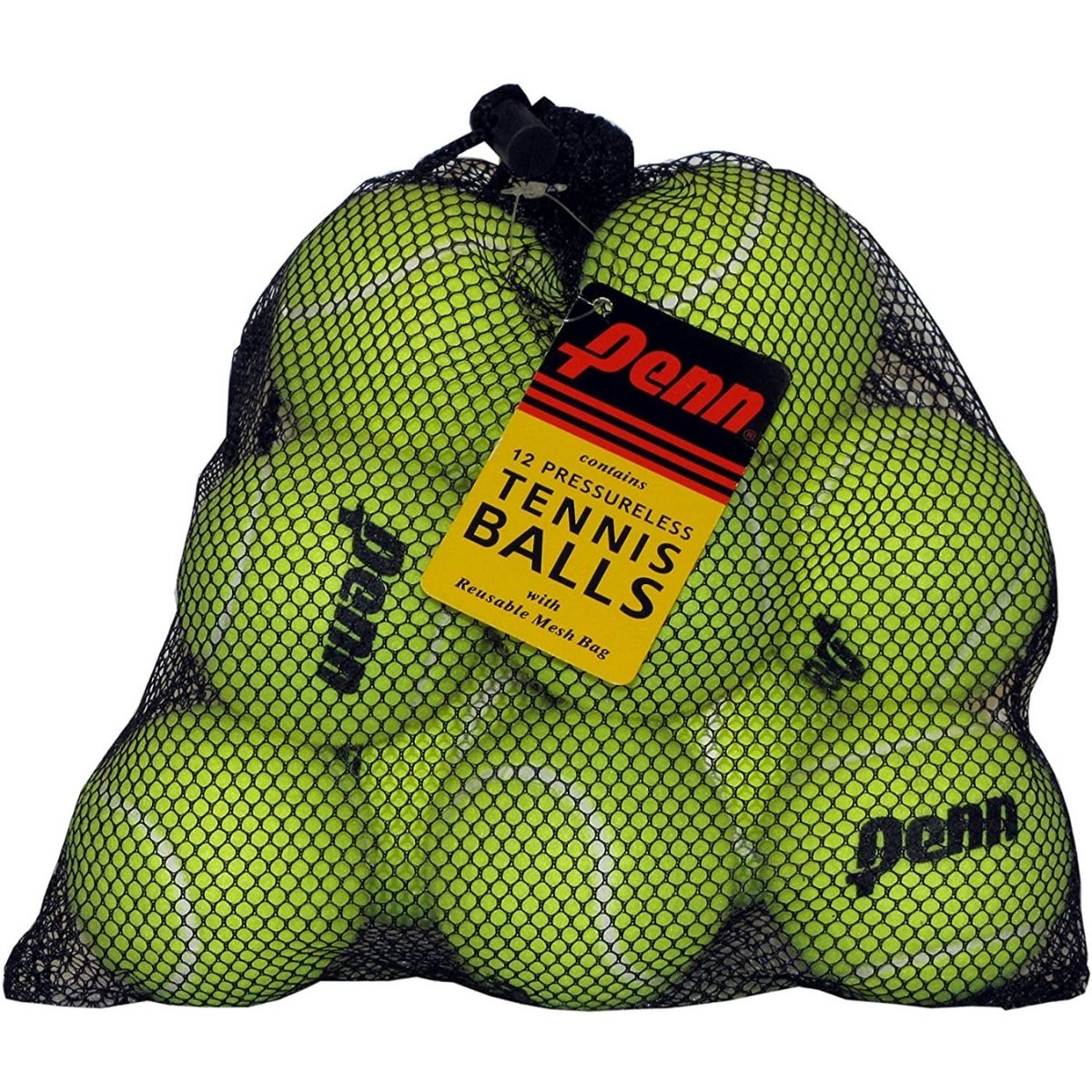 Penn Pressureless tennis ball is the perfect choice for your training sessions, whether practicing with a coach or a machine. These are some of the best pressureless tennis balls. They come in a bag of 12 balls and offer excellent value for your money.
These balls have long-lasting durability and can be used on all court surfaces. They can be used by players of all abilities, in particular beginners. Penn's pressureless balls are made of rubber material and are quite affordable in price. This line has been a best seller for the brand for years now.
The main advantage of pressureless tennis balls is that they can be used for a much longer time than regular ones. They don't get softer over time, which means that your training session will always be at the same level.
Product Specs
Type: Pressureless
Number of balls: 12 balls for a set
ITF approved: No
USTA approved: No
Ideal court: All court
Pros
Affordable price
Long-lasting durability
Cons
Can't be used for a competitive match
Get the Penn Pressureless Tennis Balls on Amazon.
If you are a beginner and in doubt about the best choice for you, I would recommend Dunlop tennis balls. The ball has a very good performance, a pleasant bounce level, and overall great playability.
Dunlop tennis balls are endorsed ATP world tour. It's available in regular and extra duty, so you also have an option if you are playing on a hard court surface. These balls have a good speed and tend to fluff up less than the rest of their competitors.
Dunlop Tennis Balls are one of the most affordable options on the market. Despite this, they offer a very good quality and durability. The ball has a consistent feel and good bounce and it is also quite resistant to wear and tear.
Product Specs
Type: Pressurised
Number of balls: 3 balls per can
ITF approved: Yes
USTA approved: Yes
Ideal court: All court
Pros
Best beginners tennis balls
Affordable price
All court surface
Lasting durability
Cons
Not the best fit for advanced players
Not suitable for competitive matches
Get the Dunlop Tennis Balls on Amazon.
Types of Tennis Balls
Just because they all look round and fuzzy, it doesn't mean all tennis balls are the same. In fact, there are several different types of tennis balls with different features. The manufacturers produce the balls based on three basic levels.
Recreational level – best used for practice purposes.
Championship level – used in different leagues, during matches.
Professional level – the highest quality made, used by the top athletes around the world.
That's why it is important to learn more about the different types of tennis balls, so you can pick what suits you best, depending on your goals, the court you play in, and your skill levels.
The three main categories of tennis balls types are listed below, alongside their main features and their differences. Pay attention because I promise you, even if it is your first time purchasing a tennis ball, you will feel like a pro at the end of this article.
Pressureless
Pressureless tennis balls are the first best choice to use during tennis practice, especially f you are a beginner. Because these balls are not made of air pressure, they may feel a bit heavy or even "dead" during the game. The pressureless balls are made of a much heavier and firmer material, compared with the rest of tennis balls types, and have a solid core.
Nonetheless, they are a great option to improve your skills and performance on the tennis field.
You can also save some dollars since these are the most durable and long lasting tennis balls, which means you don't need a fresh can every time you go to practice. Pressureless tennis balls can even last for a year. The bounce might not be the greatest but hang in there, because it will improve over time the longer you use the ball.
Another benefit of pressureless balls is that they are fit for any tennis court. You can play with them on any surface type and use them at the ball machine.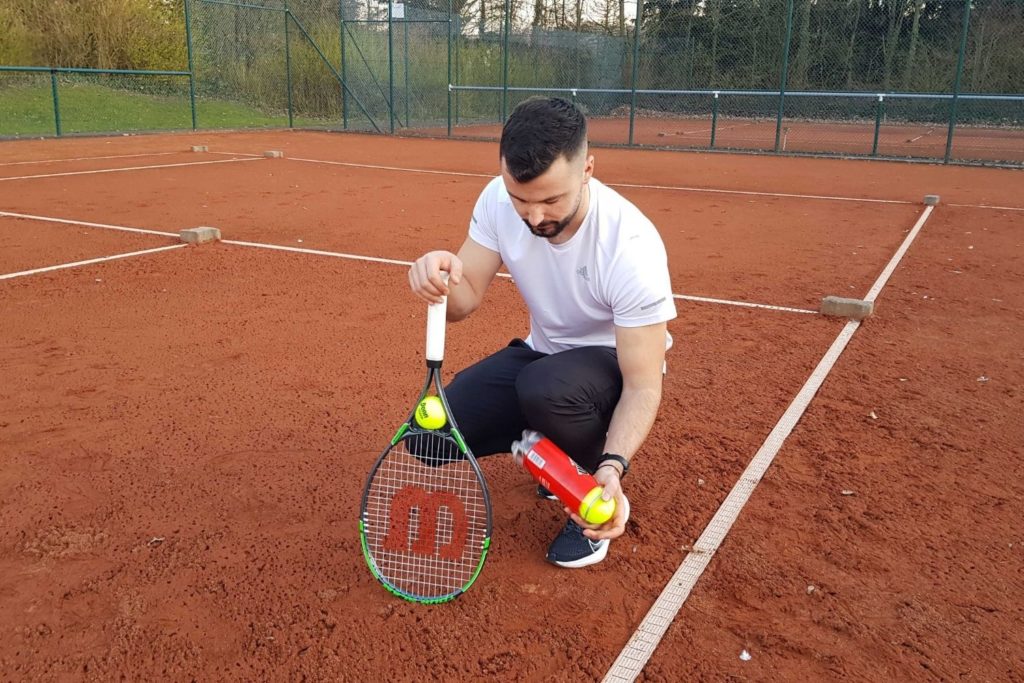 Pressurized
Believe me when I say, one of the best feelings in life is opening a fresh can of pressurized balls. They have many benefits and are everyone's favorites on the tennis field, including star athletes that use them in all competitions.
Pressurized tennis balls are made by using high levels of internal and external air compressors. Therefore, they are very light in weight and feel very "lively" during the game. That's why pressurized balls increase the number of spins, giving players better control of their shots.
Their best feature is the bounce, especially when they are fresh out of the can. Pressurized balls are also very fast and much more responsive, allowing the players to use less strength and save more energy.
However, their longevity is very short. Pressurized tennis balls can last between 2-9 days for recreational-level players and it is not much you can do to prevent this. The moment you open the can, pressurized balls start leaking air, and depending on the force and time used, they lose almost all their qualities in a matter of days. That's the reason why tennis balls are pressurized in the first place.
High Altitude
Another key factor in tennis is the altitude of the court you are playing on. If by any chance, the tennis court is located 4.000 feet (1219m) above sea level, the pressurized balls do not have the same usual responsiveness.
Due to the fact that the air is thinner, at high altitude conditions, the ball will move much faster and bounce higher. The ball flying this high can be really tricky for the players to adapt.
High altitude tennis balls are designed to minimize these inconveniences, especially for those players who are used with a normal bounce level.
These types of tennis balls are produced with a lower internal pressure to adjust to the high altitude atmospheric pressure. As a result, the bounce and the spinning of a ball feel much more alike with lower altitude courts, making it easier for the players.
What to Consider When Buying Tennis Balls
Before purchasing a can of tennis balls, there are a few things you have to keep in mind, so you can make the right choice. You don't necessarily have to go with the priciest option to buy the best tennis balls, nor do you have to use the same type or brand as your favorite tennis star does.
Key components, such as your age, skills, type of tennis court, ball materials, game preferences, bounce, spin, etc., are important to consider. You don't want to form bad habits in the field and fall behind just because you don't know the differences between different types of tennis balls.
Whether you are a beginner or an advanced player, rest assured that you will learn something valuable from this guide.
Skill Level
Children – manufacturers produce special balls for children, which are significantly larger in size, and slower in speed. This is the best way to prevent possible injuries while children are just starting out to learn the rules and gain skills in the field.
Beginners – whether it's about kids or adults, beginners should always opt-out for softer tennis balls, even though they are not the fastest. Pressureless balls are also a great option to learn and practice.
Advanced – These players aim to progressively improve their skills while preventing possible injuries. The best way to do that is it switch it up between using softer balls during training sessions and then pressurized balls at their matches.
Professional players – use the ball chosen for the tournament they are playing in, which is always pressurized.
Based on your children's age group, the best way to differentiate tennis balls is by their color. Knowing what category they fit by memorizing the meaning of their color will save you so much time and energy. 
Red balls (stage 3) are ideal for ages 4 to 7 years old since they weigh significantly less, are soft enough, and don't have much pressure.
Orange balls (stage 2) are ideal for ages 7 to 9 years old, since they weigh 50% less than the standard tennis ball.
Green balls (stage 1) are ideal for nine-year-old and older children. These balls are also the best tennis balls option for brand new beginners.
Court Surface
There are four main tennis surface courts hard, clay, grass, and synthetics. The type of court surface you will play in impacts the performance and durability of the balls and the result of the game itself.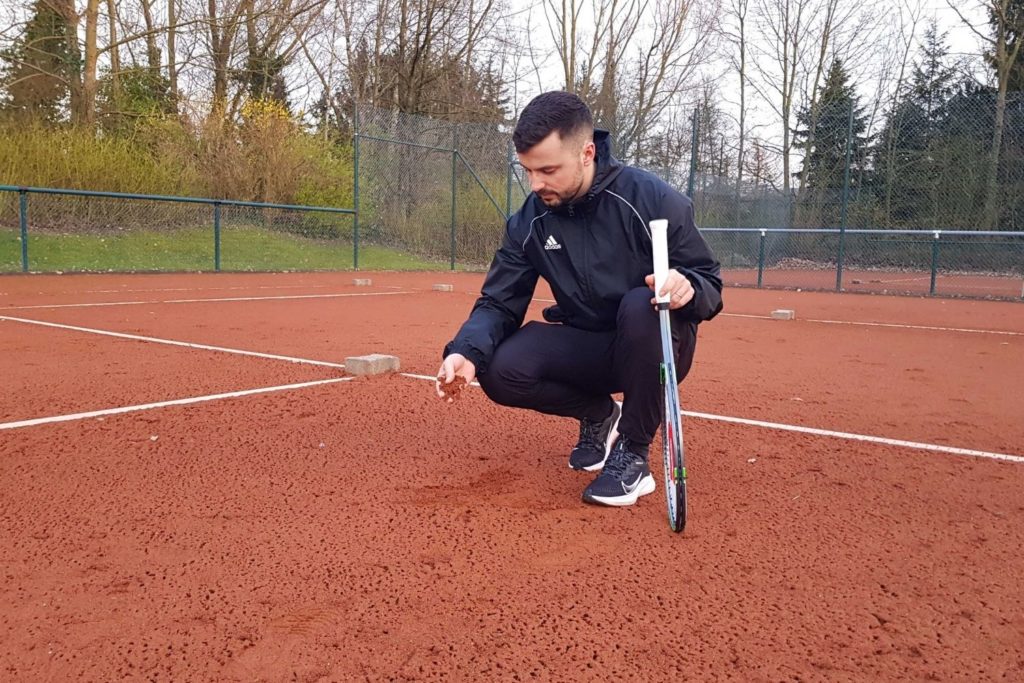 Therefore it is important to know what makes the difference and what type of ball should be the wisest choice, depending on where you are playing.
Regular duty – the best tennis balls if you are playing on clay or carpet court. They are made of a softer and thinner material, which works well on these kinds of surfaces.
Extra duty – is the optimal choice when playing on hard courts, which are not gentle at all at the ball. Extra-duty tennis balls are made of a firmer, thicker material that makes them more durable and last longer.
Grass court – similar to the regular duty, these balls are stain-resistant and, more often than not, water-resistant, as well. This is to make sure that the ball will not change color or absorb the moisture of the grass.
The Number Doesn't Matter.
All tennis balls are usually labeled with a 1, 2, 3, or 4 number. The common misconception, especially amongst beginners, is that these numbers tell the ball type, bounce level, speed, and other important features.
That's not the case at all! When I say the numbers don't matter, I mean it quite literally. They only exist, so you don't mix up your balls, with other players, in the courts next to you. The ball can easily go astray to other courts since they are usually approximately close to each other.
To help you identify which of the balls belongs to you and which doesn't, you simply need to check the number you are using.
ITF Approval
All respectable tennis balls brands must get the approval of ITF (short for International Tennis Federation before they trade their products, and make them available for consumers, to buy at the markets.
ITF's approval standards are very strict, so they'll make sure to ensure constant quality. For a ball to get approval, it must perform well in several attributes, such as
Durability – the longer the tennis ball lasts, the better. A good quality tennis ball should handle a hit. Or a lot of them, without breaking up on the field.
Long-lasting bounce – it's normal that with time, balls lose their pressure and, as a result, their ability to bounce. However, a quality ball should retain its bounce for a longer period.
Consistent performance – if a brand is ITF approved, it's only fair to expect the same quality when buying tennis balls, time after time.
IFT's test also takes into consideration mass, size, acclimatization, pre-composition, deformation, and rebound before approval is given.
Price
Tennis balls have a wide range of prices, depending on their type and characteristic. The most well-known brands also have the highest price. That doesn't necessarily mean that you have to spend hundreds and hundreds of dollars to buy a great can that suits your needs and skills level.
It's better to make your research first, before purchasing your tennis balls, so you'll know exactly what you need and what to expect.
It would be ideal to test and try different options yourself until you find the one ball that makes you perform better in the field. But let's keep it real; that's not always possible since it requires so much time, money, and energy.
Our Verdict
While they are many great options, Wilson US Open Tennis Balls are the best tennis balls in the market. It has a great structure, feels light and lively, and has pretty much all the qualities to make it a champion amongst such strong competition.
Trinity line of the Wilson brand is also setting the new standards and leading the path of tennis brands becoming more conserne and responsible for the impact on the environment. This is a revolutionizing concept, and it was about time to make such important changes. Wilson Triniti Tennis Balls are fully sustainable and eco-friendly, on top of being the best tennis balls for cold weather.
How We Chose the Best Tennis Balls
The best tennis balls should have an overall great performance on the field. Selection for the best tennis balls depended on durability, playability, bounce level, how much topspin can be generated, ball type, and other special features included. These were major factors that helped us curate this list based on the main features and characteristics of the balls.
The list above has a variety of tennis ball brands and lines, which can satisfy your preferences whether you are a beginner or a highly advanced player. There is a model for everyone, which you can pick based on your skill levels, the type of court you play at, your needs, and your goals. The description and the reviews of the above picks can help you navigate better in the many available options, with clear explanations of what to expect from each.
FAQs
The article above has a great deal of valuable information aimed at helping you find the best tennis balls for your needs and should have answered many questions. However, during the research, I came across a number of queries that cropped up quite frequently, so I have gathered those here along with relevant answers.
We are sorry that this post was not useful for you!
Let us improve this post!
Tell us how we can improve this post?