If you like to string your tennis racket yourself, you have probably considered buying a tennis stringing machine before. Whether you are looking for one or considering switching your old machine to a better one, I will guide you through the best tennis stringing machines.
Aside from giving you details about different stringing machines, explaining to those who might not be aware of the features you should watch for in a tennis stringing machine is important. Stringing machines have differences between them.
Hence, the best thing you can do is learn to spot these contrasts and make an informed decision to guarantee your satisfaction. By the end of this guide, you will be able to identify a good tennis stringing machine and get your hands on the best suggestions. Read on for all the information!
Best Tennis Stringing Machines Reviewed
We have reviewed a range of stringing machines and have chosen the best ones to present to you. Below you will find these tennis stringing machines along with more information:
The best overall stringing machine that I reviewed was the Gamma X-ST stringing machine. I had heard a lot of praise about this one, and I was pleased to find that it was excellent at stringing rackets.Firstly, this machine is portable, so it is an ideal option for those who have to move it often. I should note that the machine is somewhat heavier, which is the only downside I can mention.
This stringing machine will provide ample stability due to its 6-point mounting system. I found the process comfortable, and surprisingly, it was not too slow, considering 6-point mounting systems are slower than their 2 or 4-point counterparts.
The stability also increased the stringing's accuracy. Hence, the strings of the rackets that I was working on came out with the perfect tension. Gamma X-ST's precision was comparable to that of the most professional stringing machines.
Additionally, the machine is easy to use once you get the hang of it. It took me some time to adjust to working with it; however, after some practice, I found it quite easy to go through the process. The Gamma X-ST is also considerably quick due to its manual spring tension. Overall, I enjoyed using this machine, and it made the entire stringing process easy and enjoyable.
Product Specs
Easy to use: Yes
Number of connection points: 6
Size: Large
Pros
Portable
Stable
Easy to use
Fast
Cons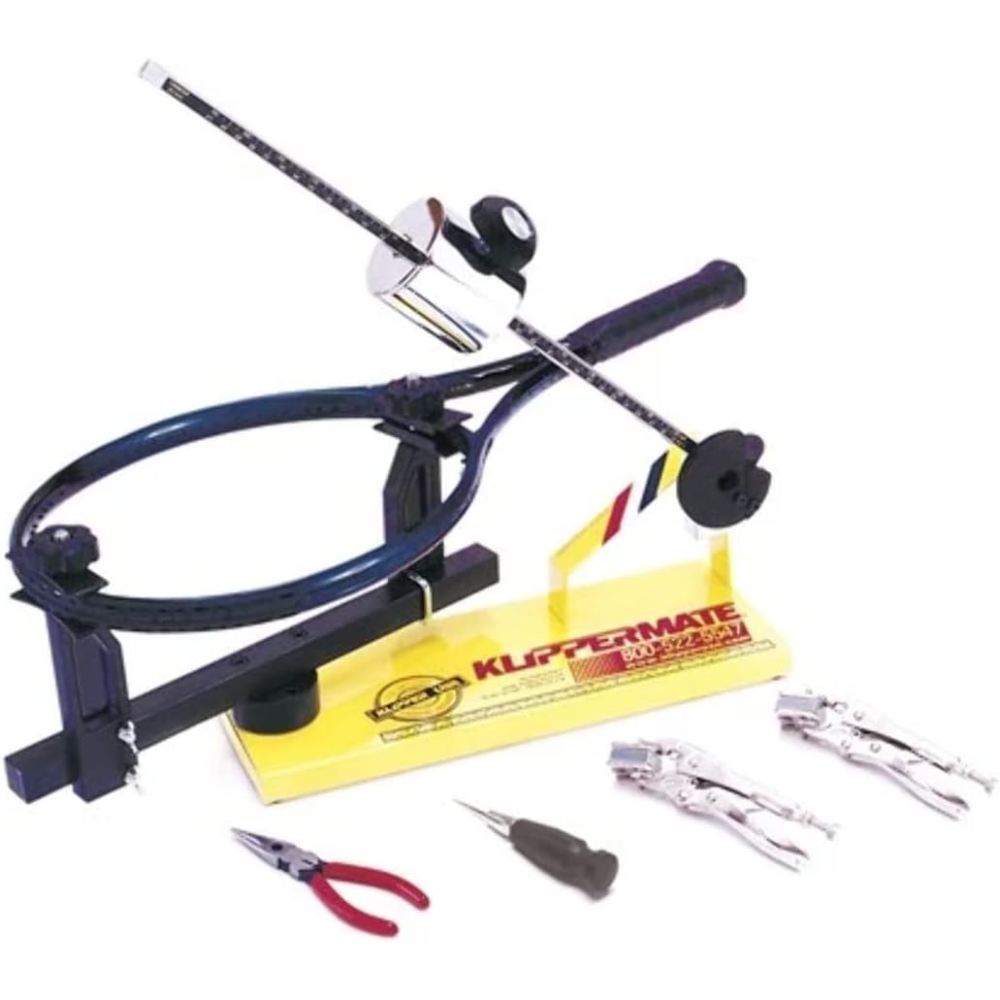 One of the best stringing machines for beginners that I have tried is the Klippermate stringer. And I will let you in on a secret, this is actually one of the first stringing machines I got my hands on. First of all, this stringing machine is affordable and cheaper than many other machines that you will encounter. However, the quality is still good despite its price, and it is fairly accurate.
The Klippermate stringing machine is quite easy to use, so it is the best choice for beginners. You do not need to know much about stringing machines to start using this stringing machine; a short tutorial or reading the guide is good enough. I was a novice at stringing my own racket back when I got the Klippermate, and I was worried that I would mess up the whole process. But the machine worked wonders, and I found the entire procedure easy to complete.
As mentioned above, 2-point mounting systems have the advantage speed-wise. And our Klippermate has this type of mounting system, so it did not take that much time for me to be finished stringing (about 45 minutes). However, this mounting system offers the least stability, which is the only negative side of this stringing machine.I would highly recommend this stringing machine to all amateurs; it serves as a great starting point.
Product Specs
Easy to use: Yes
Number of connection points: 2
Size: Small
Pros
Cons
For those on a budget, Gamma Progression 200 stringing machine is one of the best options you will come across.First of all, it is inexpensive compared to many other options. And despite its price, you will not be disappointed with its quality.
This stringing machine is easy to use, which makes it beginner-friendly. It took only a few short tutorials on YouTube to learn how to use Gamma Progression 200; afterward, I was ready for stringing. Additionally, it gets the job done quickly due to its 2-point mounting system. At first, you may be somewhat slow until you get used to stringing and the machine's mechanism, but it will not take you more than 45 minutes to finish after adopting. 
The only downside to this budget-friendly machine is that it will not offer you enough stability. It has a two-point mounting system, as mentioned previously. And while it works to the machine's advantage time-efficiency-wise, it lacks in the stability area. Nevertheless, stability will not be an issue once you adjust to the stringing machine. So, if you are looking for the best budget tennis stringing machine, Gamma Progression 200 is the one.
Product Specs
Easy to use: Yes
Number of connection points: 2
Size: Large
Pros
Cons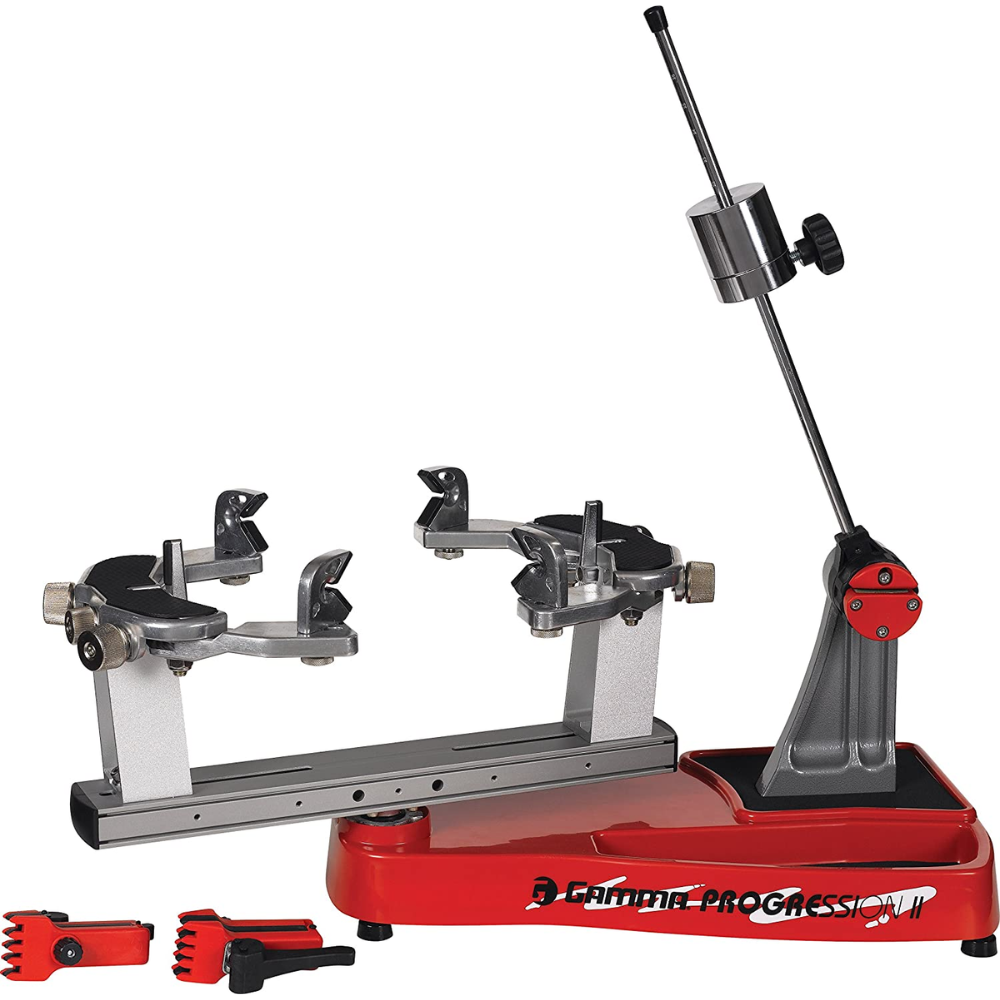 If you want a machine that is neither too cheap and low-quality nor too expensive, Gamma Progression II 602 is your answer. First, the machine is relatively cheaper than some of its counterparts. However, it works as well as any machine above $1000. It offers a great range of tools you can use for its price, and it is a high-quality option that you will not regret.
For those interested in stringing other rackets aside from tennis ones (such as badminton, squash, or racketball rackets), you will be pleased to know that this stringing machine is quite versatile. The Gamma Progression II was created keeping different racket types in mind, so you can use it for more than just tennis rackets without any barriers and troubles.
This stringing machine 6 connection points, which play to this machine's advantage stability-wise. The mounting system ensures that your racket will be kept in place during the stringing process to avoid any inaccuracies in tension. I was delighted to see how precise the tension was after I was done stringing a racket for the first time in this machine.
Upsides aside, I found the machine's time for stringing somewhat frustrating. It would take me over an hour to finish, so if you do not have a lot of patience, you should keep this in mind. Nevertheless, I believe this is the best under $1000 stringing machine that you will find, as it offers you versatility and stability.
Product Specs
Easy to use: Yes
Number of connection points: 6
Size: Medium
Pros
Cons
People who want a portable option should check the MiStringer Tennis stringing machine. It is the best portable stringing machine that I have tried. This stringing machine is the best portable option as it weighs only 6 lbs. It is small in size, and I was thrilled to discover that it could even fit in my tennis bag. You can carry this stringing machine anywhere without breaking a sweat, and it will give you the upper hand in court as you will be able to restring if needed.
Aside from being a portable option, it is portable and affordable. You do not need to break the bank with this machine, and the quality you get for its price is great. This machine is high-quality as the precision it will offer while stringing is perfect. I have used this machine often, and I usually always have it with me if I need to restring between a match, and it has never let me down.
However, the MiStringer has a significant downside: it does not work well with smaller racket sizes. Anything with a head size of 90 square inches and below will not fit properly, which was disappointing as I often use smaller rackets. However, if you usually use larger head sizes, the MiString will satisfy your every need.
Product Specs
Easy to use: Yes
Number of connection points: 6
Size: Small
Pros
Portable
Affordable
Precision
Cons
Does not work well for smaller rackets
Tourna Drop Weight stringing machine is the ideal machine for those who want something that they can keep at home. This is a table-top machine, and it can sit on top of your table or any place that you would like to place it.
The machine is considerably sturdy, and its solid build prevents it from moving while you are stringing a racket. I found this extremely helpful as I often have this issue with other lighter machines; they tend to move around while I work, and it slightly messes up with my stringing if I am not careful. However, with Tourna, I have never had this problem.
The 6-point mounting system that this tennis stringing machine has ensures that no stress will be caused to the frame while also making the string insertion and pulling tension easy. Lastly, this machine's accuracy is remarkable. It is precise, and after the stringing is finished, you will notice that the strings' tension is exactly the amount you needed.
Although I believe this machine does not really have any downsides, it is heavy and difficult to move around. However, if you will place it in one place and do not plan on moving it, this should not be a problem!
Product Specs
Easy to use: Yes
Number of connection points: 6
Size: Medium
Pros
Sturdy
Minimized stress on the racket
Accurate
Cons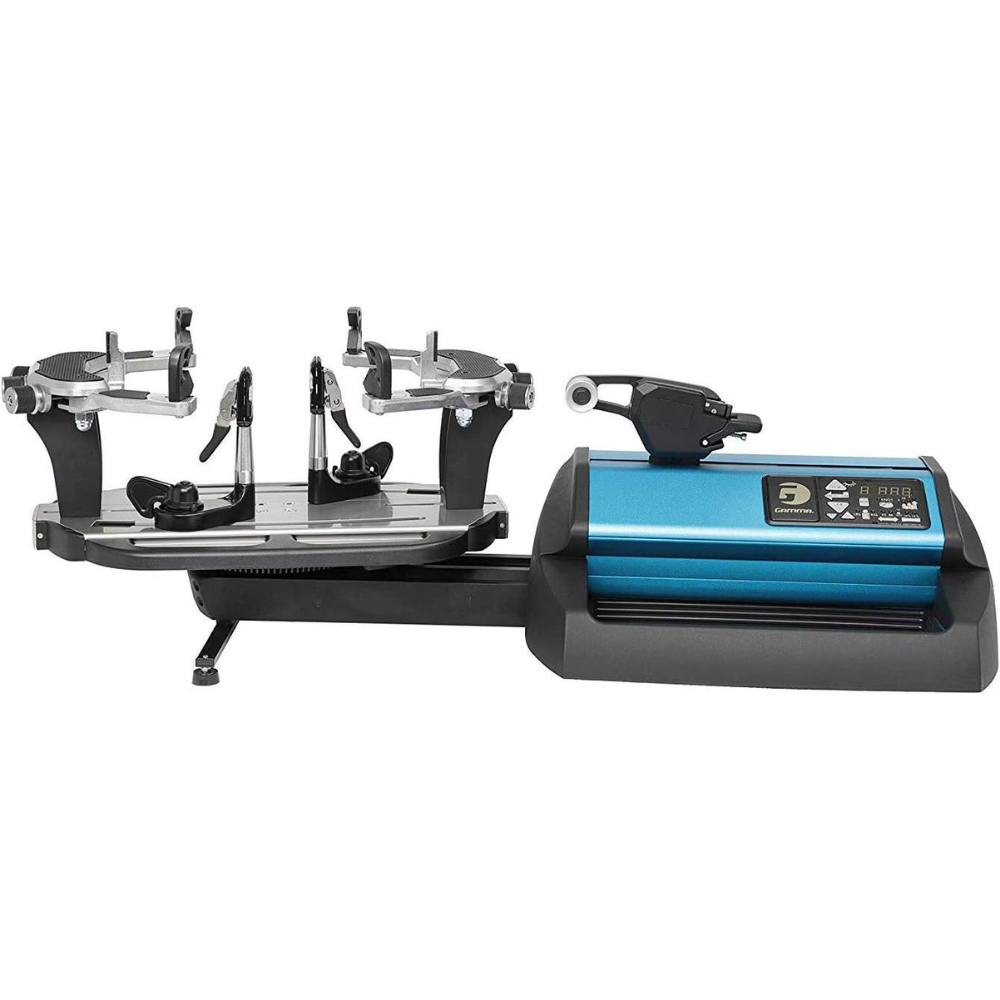 The Gamma X-Stringer X-2 stringing machine is ideal for drop weight enthusiasts. This machine is relatively cheap, considering that it is a drop weight, and they are less inexpensive than the other types. So, if you are on a budget, that's a bonus.
I found this machine fairly easy to use. It was not complicated, and you could learn everything you needed to do through tutorials. This makes the Gamma X-2 a great starting point for beginners too. Considering that this is a drop weight stringing machine, I did not expect much precision-wise. Needless to say that I was wrong. I was impressed with the accurate results that the machine provided me with by the end of the process.
However, you should note that this stringing machine is not portable. Therefore, it will not be an easy task if you plan to take it with you somewhere. Nevertheless, it is quite a good machine for its price and type!
Product Specs
Easy to use: Yes
Number of connection points: 2
Size: Medium
Pros
Cheap
Easy to use
Precise
Cons
If you are not new to the stringing business, you may be looking for a professional stringing machine. Gamma Professional stringing machine is the best professional tennis stringing machine you will find. Considering it is expensive, I had high expectations for this machine, and I was not disappointed.
The Gamma Professional will offer you various tools to make the stringing process easy. You may never need some of those tools if you are not a professional and get this machine because you want a quality product. However, I am sure that many pros will be pleased to have these options and experiment with them.
Despite having so many tools to choose from, the Gamma Professional is easy to use. It seemed somewhat complicated to me at first, as I am not used to professional stringing machines; however, after a few tutorials, I had all the knowledge needed to start stringing.
Considering its price, it is not surprising that this machine has incredible accuracy. I enjoy using this machine because I know that the end result will be more than satisfactory.
Nevertheless, I should mention that the Gamma Professional is a high-maintenance machine. After using it for a while, the machine somewhat lost its tension, and I needed to calibrate it from time to time. Despite that, you will get what you pay (and more!) with this professional machine!
Product Specs
Easy to use: Yes
Number of connection points: 6 or 2
Size: Large
Pros
Plenty of tools
Easy to use
Precise
Cons
What to Consider When Choosing the Best Tennis Stringing Machines
What makes a tennis stringing machine good will depend first and foremost on what you want to achieve with it and your personal preferences. However, if you want to take an objective approach and choose a stringing machine that not only suits your taste but is a quality one, too, there are a few things to consider.
Below you will find a list of the factors and how they make a stringing machine good for your needs.
Tension Mechanism and Mounting System
One of the ways you can categorize stringing machines is through their tension mechanism. It can be a constant pull stringing machine or a lockout (or crank) one. Constant pull machines will pull the strings until they reach the needed string tension. These machines will pull while also letting the strings relax. The process continues until the strings cannot relax anymore, which indicates that they have reached the required tension.
On the other hand, lockout machines keep pulling without any time for the strings to relax, and then it mechanically stops. You will notice that once the pulling process is done in lockout machines, the string tension will be slightly lower than what you aimed for as strings do not relax during the process but after.
Mounting systems are the connection points that keep the racket down in the stringing machine. Tennis stringing machines have various mounting systems: 2, 4, 5, or 6-point systems. The fewer contact points there are with the racket; the quicker will the stringing process end.
Therefore, if you want to get done with stringing quickly, you should opt for a two or 4-point mounting system. However, five or 6-point mounting systems will offer you more stability than the two previous ones. You should note that 2-point systems may add stress to the racket during the process; this can especially be an issue with larger rackets.
I would say that a 4-point system would be the safer option that will offer you both speed and stability. However, if you want to ensure no issues will arise, the 6-point mounting system is your best bet. Nevertheless, keep in mind as contact points increase, so does the time it will take for the stringing to finish.
Stringing Type
One of the most influential factors in the quality of a stringing machine is the device's stringing type. The stringing type can be electronic, drop weight, or crank. Electronic stringing machines are popular among professionals. These machines are usually used by people who will be stringing many rackets. 
They are the most expensive but also the most precise and quickest type. However, amid its benefits, there are downsides. This stringing machine is high maintenance, and if you do not look after it and ensure it is in good shape, it may cause issues later on.
Next up, we have the drop weight stringing machine. This machine is a relatively cheap tennis string machine, and it is also low maintenance. It makes a perfect alternative for those who do not want to spend a lot of time taking care of the machine and those who will not be dealing with many racket stringings. However, you should know that drop weight machines are less accurate and slower.
Lastly, we have the crank stringing machines. This stringing machine falls on the middle ground between the electronic and drop weight ones. It is not too expensive (although more expensive than drop weights), but it will offer you considerable precision, and it is quick (though not as quick as the electronic). If you are willing to spend some more money, you can settle for the best of both worlds without spending a fortune!
Ease of Use
When evaluating a stringing machine, you should consider its ease of use. An inefficient and time-consuming machine would be inconvenient. Hence, you may want to look for options that will save you time so that you do not have to sit around stringing tennis rackets all day long.
At the same time, if you get a high maintenance machine, it will also be time-consuming and expensive. Such is the case with electronic stringing machines. Nevertheless, if you are a pro and need to string quite a few rackets, what these machines can offer makes up for the time and money spent.
Additionally, you should consider whether you will keep your stringing machine in the same place or move it around. Perhaps a portable option (such as drop weight or crank machines) would be better if you plan to move it.
Price
Of course, the stringing machine's price will make a difference in its quality. The drop weight machine is inexpensive; however, its accuracy and speed are far from the best in the market. On the other hand, they may be a good option for those who play tennis recreationally or do not need to string more than 1-2 tennis rackets.
Meanwhile, an electric stringing machine is expensive, but if you are a professional player that needs the best that a machine can offer accuracy and speed-wise, this type of stringing machine would be worth every penny.
Other Features
Some other features you may want to consider are if your stringing machine is standalone or table-top, the type of clamps it uses, adjustable height, and if they can store player profiles.
Standalone stringing machines are solid and heavy machines. They are usually more comfortable than table-tops, and they tend to be the faster stringers of the bunch. Table-tops are lighter, and they can be easily moved around effortlessly.
Clamps are what hold the strings after they are pulled into place during the stringing process. They can be either fixed or floating. Fixed clamps provide consistency during stringing, whereas floating clamps are not as consistent. However, floating clamps are more popular with beginner players.
Additionally, some high-end machines will offer you the option to adjust their height. So, if you do not feel comfortable with the stand's height, you can change it to your liking.
Lastly, some of the expensive stringing machines have an option where you can create and save a player profile. The player profile includes a player's name, contact information, string tension, and other details. This tool can be convenient for professionals dealing with different types of string tension or pre-stretches, as they do not need to set all details manually each time they need to string their rackets.
Our Verdict
Our top two best picks for stringing machines are Gamma X-ST and Klippermate stringers. These two machines will provide you with plenty of accuracy, which is what you want when using a stringing machine. I found them both precise, and the strings had the right tension once I was done stringing. Both the Gamma X-ST and Klippermate machines are easy to use. You can just watch a couple of videos on using them, and you are good to go! 
Lastly, after you get the hang of it, the stringing process with these two will be quick. All in all, these are two incredibly good options that come for a fair price! I highly recommend both of them, no matter your experience with stringing machines.
How we Choose the Best Tennis Stringing Machines
To ensure that our picks are high-quality stringing machines, we tested each of the reviewed tennis stringing machines before deciding to recommend them. Initially, there were more stringing machines, but they did not make the cut as we deemed them low-quality and not satisfactory.
These machines are chosen if they check most of the boxes on the qualities that a good stringing machine should have (tension mechanism, mounting system, ease of use, etc.). We try to include a broad range of machines that fit the needs of our readers, whether they are beginners or pros, on a budget or not. Most importantly, we provide unbiased recommendations based on the tests we conduct on the products to ensure your satisfaction with the stringing machines you may choose.
FAQs
The best tennis stringing machines can save serious money on restringing a tennis racket. If you're thinking of getting one, you may have a few lingering questions. Below are answers to some popular questions about tennis stringing machines.
Q: What do tennis pros string their racquets at?
Tennis pros typically string their rackets at a tension ranging from 40-65 lbs. Professional players usually opt for slightly higher tensions, usually in the range of 50-65 lbs. This enables them to benefit from improved control and stability as well as offering an increased attack angle which can add more power. 
In addition, when using polyester or natural gut strings, it is very important to ensure that racquet tension is not too high – if it is, then these types of tennis strings can be damaged due to the greater strain on their structure. 
Q: Is One piece or two piece stringing better?
The debate between one-piece and two-piece stringing has been ongoing for years, and there is no single definitive answer. It really depends on individual preferences, playing style, and the type of racquet being used.
For many players who don't have much experience in stringing their own rackets, two-piece stringing can offer some advantages. Working with two shorter pieces of string is usually easier than working with one longer piece – so it tends to be less intimidating for newer players. The ability to tension each half independently from the other can also help prevent unevenly strung frames – allowing you to achieve more consistent performance from your racquet strings over time when compared to a single piece pattern. 
That said, there are still plenty of benefits that come with using a single piece of string. For starters, most people will find that they have greater control over the overall tension due to having fewer potential weak points along the length of the frame (i.e., where a knot may form). This means that it's easier to evenly distribute tension across all parts without having too much in any one section or too little in another area which could affect playability adversely if not addressed properly during installation. 
Additionally, because only one main loop is needed instead of two separate ones like you would have using two pieces; you'll often get better contact between components and increased spin potential as well as improved power transfer throughout strokes due to reduced friction between strings during movement or ball contact – something very important if you're an aggressive player looking for maximum response out of every shot taken during games or matches!
Q: Is it worth it to buy tennis stringing machine?
Yes, it is definitely worth it to buy a tennis stringing machine. Having your own professional stringing equipment can save you time, money and hassle in the long run. Not only that, but if you are an avid player or coach of tennis and use your strings often then having a good quality stringing machine may pay for itself in no time!
Q: How much does tennis stringing cost?
The price of a manual stringing machine can vary depending on the model and features. Generally, you can expect to pay anywhere from around $550 for an entry-level machine up to $900 or more for advanced models with multiple features such as tension range adjustment capabilities and auto-string functions. 
If you plan on using the machine regularly, it is worth investing in a higher end model as they are generally more reliable and durable than budget options. Additionally, purchasing an extended warranty may be wise if your budget allows for it so that you can get repairs done quickly should any issues arise over time due to regular use.
We are sorry that this post was not useful for you!
Let us improve this post!
Tell us how we can improve this post?