Key Takeaways
Tennis rackets cost from 15$ to 300$, depending on the brand and design. A beginner should not spend more than 100$ at max until they have learned the basics and are ready for an upgrade.
Children's tennis racket prices are reasonable, starting as low as 15$.
Intermediate players should expect to spend 100$-300$ on a new racket.
Professional players usually spend 250$-600$, with some 700$.
Picking up the right tennis racket for you is an important decision to help you master your skills and perform better on the court. However, no one wants to break the bank on the process. That's why many people worry about the tennis racket price.
Knowing how much are tennis rackets is a fair concern, especially for beginners who feel like they need to spend a fortune on tennis gear while being bombarded with so much advertising and new information.
Luckily, tennis rackets come in a wide range of prices, depending on the racket brand and type. I know it seems overwhelming at first, but contrary to popular belief, tennis can be quite inexpensive compared to other sports. Some rackets have a salty price that can go as far as 700 dollars, but that is not the norm.
Here is a breakdown of tennis rackets' price range, which can guide you to find the right fit for your game and budget.
How Much Do Tennis Rackets Cost?
Tennis rackets cost from 15$ up to 300$, depending on their features and design. A beginner should not spend more than 100$ at max until they have learned the basics and are ready for an upgrade. There are plenty of good rackets for minimum prices too, which can deliver a good performance.
How Much do Professional Tennis Rackets Cost?
Professional tennis rackets cost start from 250$ and can push to hundreds of dollars. For most star athletes, prices don't matter since they are sponsored by different brands. It is possible to find lower-end pro-rackets for very low prices, which deliver excellent performance.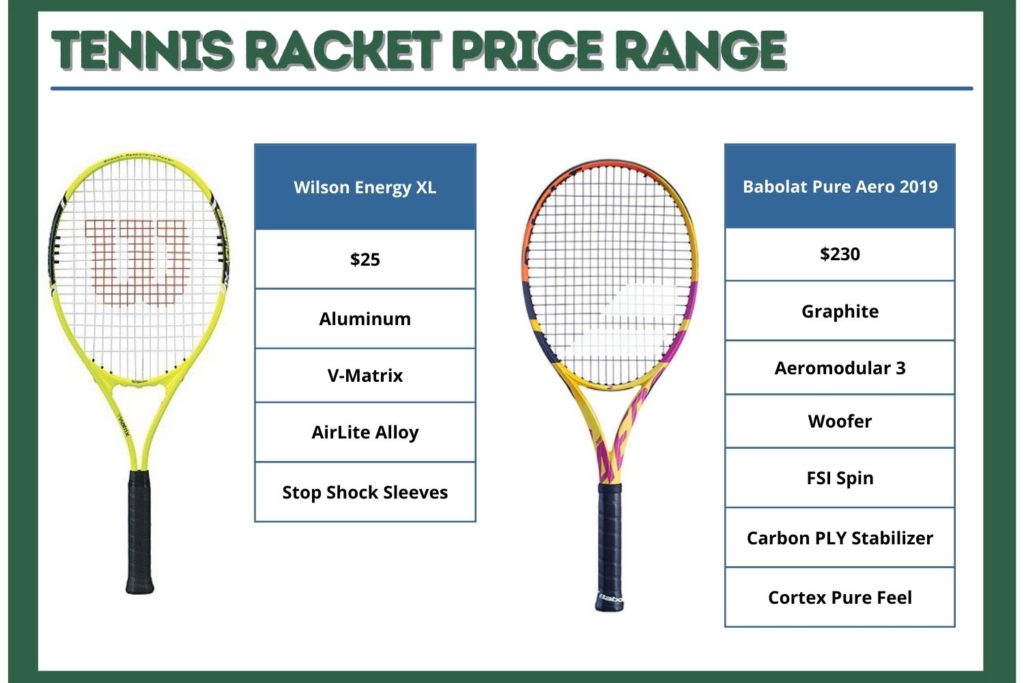 Tennis Racket Price Range
As you noticed, the price range of tennis rackets starts from a few bucks to hundreds of dollars. Beginners usually pay attention to design more than the racket's features and are heavily influenced by what their favorite stars are using.
This explains the rush to purchase the most hyped racket at the moment, which is totally unnecessary. For beginners, what matters the most is learning the basics and developing some skills. That's why a simple graphite or aluminum racket will do just fine until you are ready to upgrade.
You can find a good tennis racket, as low as 20$ to 40$, to start out in tennis. However, even if you are willing to spend a little more than that, it's better not to indulge and keep the budget within 100$.
Children Tennis Rackets
If you are looking for a tennis racket for your child, the prices are quite reasonable. An aluminum racket will work just fine, and you can purchase them for 15$ to 20$. However, as the children grow in age and body size, they will need racket upgrades.
The prices will also be saltier, especially if your child is more serious and wants to compete.
The best junior tennis rackets go way past the price of 100$. However, if your child is on the court mostly for fun, even when they need to switch racket sizes, you can still find good tennis rackets for 30$ or 40$ at max.
Beginners Tennis Rackets
For club players, the prices change depending on the club they are attending. If you are wealthy and would like to indulge in an expensive racket for mere satisfaction, go for it. But keep in mind your skill levels and physical abilities, especially if you are a beginner.
There are a lot of features you will not be able to use, and you'll also lack control of the racket if you go overboard. My best advice is to stick within a 100$-250$ budget when buying a tennis racket for beginners.
Intermediate Tennis Rackets
Upgrading to an intermediate tennis racket is necessary over time as you continue to improve and reach intermediate or even advanced levels. This also means the rackets prices become more expensive, starting from 100$ and pushing up to 300$.
Consider this as an investment, as it will help you achieve new abilities you'll never think were possible. However, if you want to play smart, I suggest going for the older version of the most popular tennis rackets.
Often, new rackets are just the updated version of the old one, and they share striking similarities. The prices are always much lower and don't push 150$. If you are lucky, you can also find great rackets for minimum prices while you keep an eye on the discounts.
Professional Tennis Rackets
Professional rackets sit on the higher end, in the range of price which is to be expected. Their price starts from 250$ to 600$ and sometimes can be as expensive as 700$.
Most star athletes are sponsored by different tennis racket brands and are often just the endorses of the rackets, not the paying customer, so the price doesn't matter much for them.
However, you'll be surprised to learn that most famous tennis players use tennis rackets at a quite reasonable price, considering their achievements and stardom. For example, Federer and Nadal's rackets cost only 230$, while Serena Williams and Federer's cost 250$.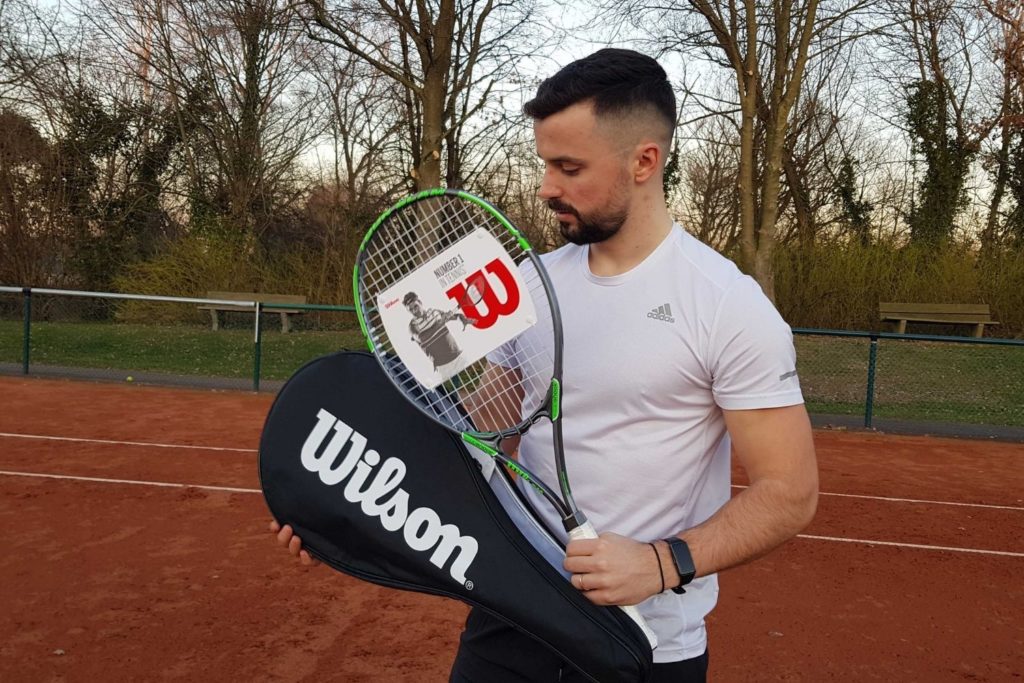 Tennis Racket Prices by Brands
It's not a surprise that prices change depending on the racket brand. Just like in anything else, the brand's reputation and its power in the market directly influence the cost of tennis rackets.
Wilson
Wilson is a leader in the markets. They are recognized worldwide for their quality and for pushing the limits of what a tennis racket can be. They often use new unique technology, releasing some of the best tennis rackets that one can find.
Famous players such as Serena Williams and Roger Federer have endorsed the Wilson brand, which has helped to skyrocket their success.
Wilson tennis rackets' price range is quite diverse, starting from 30$ to almost 300$. Their most expensive racket is the Wilson Pro Stuff RF 97, which is also one of the priciest in the market. The Wilson Blade series endorsed by Serena Williams is one of their most popular yet, and these rackets' prices vary from 150$ to 250$.
Babolat
Babolat is the oldest sports tennis racket company in the world, and they also invented tennis strings. They are very cool and remain undefeated as one of the world's most well-known and respectable brands.
They are endorsed by some top tennis players, such as Rafael Nadal and Domenic Theim.
Babolat offers rackets for a wide range of players from all skill levels. Their prices also vary from 30$ to 250$. Their line "Pure Strike" is their most popular until now, enjoying incredible success, thanks to the endorsement of Nadal. The highest price you need to pay to get one of these rackets is 230$.
Head
Head is well known for its premium quality tennis rackets, as well as other sport gears. They are endorsed by some top athletes, such as Novak Djokovic, Andy Murray, and Ashleigh Barty.
Their most popular line of rackets is Speed, which delivers amazing performance and has a unique blend of power and control. Head's rackets are suitable for all-court players and work well for all skill levels too. The price of their rackets varies from 80$ to 230$, at max.
Yonex
Yonex tennis rackets have recently increased in popularity, attracting more and more tennis fans, thanks to their premium quality products and aggressive marketing strategy.
The brand is endorsed by many famous athletes, such as Naomi Osaka, Angelique Kerber, Denis Shapovalov, etc.
Yonex brand is well known for using new technology to enhance its rackets' features and quality. Their most successful line is the VCORE Pro series, which is more for advanced players. One of these racket's prices can go up to 240$. Their cheapest option is the Yonex EZONE Rally racket, which comes at a price of 80$.
Prince
Prince is a well-known and popular brand that produces a wide range of tennis rackets. They cater to players from all levels, from beginners to advanced.
The brand has a few successful rackets line, including here Warrior, Tour, Beast, and Phantom series.
The highest price of a Prince racket goes up to 190$, at max. These rackets deliver great performance, are versatile, and generate heavy spin. Their cheapest for basic lower-end rackets is 20$, which can be a tennis racket for beginners.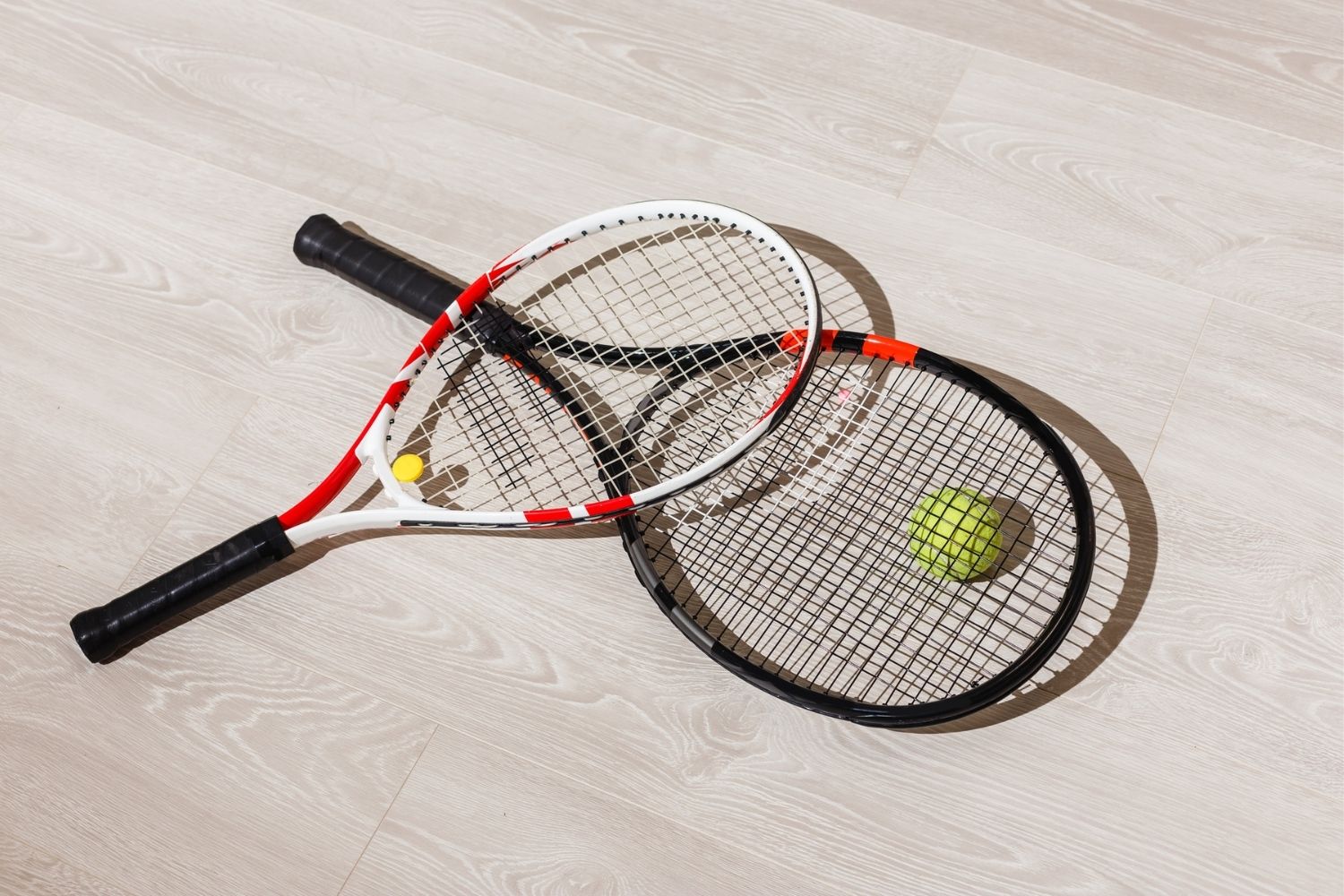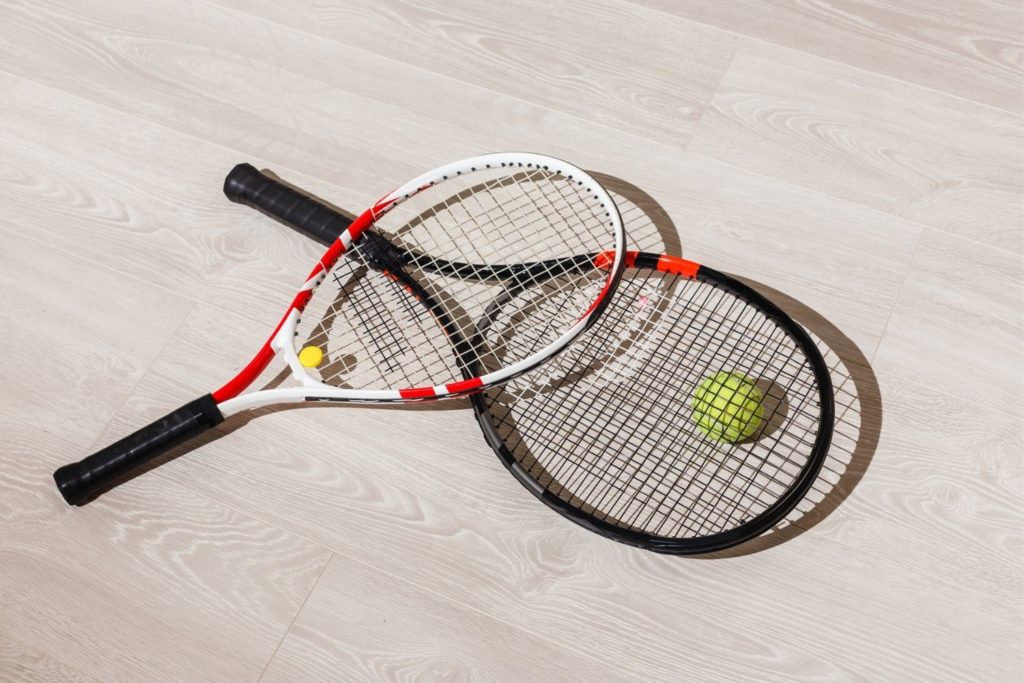 Cheap vs. Professional Tennis Racket
If you are considering buying new tennis rackets, the price can be a highly sensitive issue. Is it worth it to spend hundreds of dollars, or should you go for something cheap instead? This is a dilemma all players face, whether they are beginners or at more advanced levels.
My best advice is that you should make this choice only after evaluating your skill level. Be truthful and honest with yourself, so you'll know better what you are looking for exactly in a tennis racket.
If you are still a beginner, you probably won't be able to tap into the true power of an advanced racket and take advantage of its features, so until you master all of your skills and techniques, you better stick with something cheap.
As you improve and continue to increase the skill level you stand at, the racket's upgrade will be only natural, and you'll surely enjoy the difference. It will help you enhance your performance and achieve better results. That's why the investment is well worth it.
Why are Tennis Rackets so Expensive
It's hard to find any other sport with such a dramatic change in their main gear price. There are a few reasons that explain this noticeable gap, which I will break down for you.
Materials: Materials make a huge difference in the racket's quality and, therefore, the price too. Graphite or graphite compost is the best and most expensive material used to build a racket. It makes the racket lightweight, highly durable, and more comfortable. On the other hand, cheaper tennis rackets are made of aluminum and sometimes even metal materials.
Design: Design it's a long process that requires the combined work effort of an entire team. The creativity, the testings, the technical aspects, etc are very intense, and the staff needs to get paid. Their salaries are hidden cost, which influences the price of the rackets.
Manufacturing: The cost for fabrics and the quality control is quite big for the brands, which reflects in the price they decide for their rackets. Tennis rackets can not be produced with fully automated processes; it still needs the human touch and a lot of labor.
Integrated technology: As more and more different brands use new technologies to improve their products, their cost has increased.
Marketing: Aggressive sale strategies, marketing campaigns, or PR techniques all help to make the racket way more popular. Famous players endorsing these rackets also play a major fact, as they influence the general taste of the public. However., the hidden cost of all this is in the price tag. The more in demand a product is, the higher the price.
Where to Buy Tennis Rackets
Now that you know what prices to expect from a tennis racket, where can you buy one? There are so many options, and just to make sure you won't struggle or lose time running errands, I have listed all the main places below.
Amazon
If you know exactly what you looking for, and you are 100% sure that the racket will fulfill all of your needs, go for it. Placing an order is simple, and Amazon will deliver it in a record time at your doorsteps.
Walmart
Walmart is the best place to buy tennis rackets for kids. They offer a wide range of tennis rackets for players of all skill levels. The prices vary from 15$ to 70$ for a racket. You can find all the big brands here too, so if you want to take a look and compare different models, this is the right place.
Online Tennis Retailers
There are plenty of stores specialized in selling tennis equipment only, such as Tennis Warehouse or Tennis Express. Usually, they give a more detailed prescription of the racket that they are selling and have a good customer helpline. Online Tennis retailers can be overall a great choice, and it's safe to order from them.
Local Shops
You'll be surprised what kind of hidden gems one can find in local shops, including tennis rackets. Not only can you pick a racket for a great price, but the seller can help you find the right fit too, and give you plenty of advice, as they are in general very knowledgeable.
Other Costs
When buying a racket, there are a few hidden costs that often get overlooked. This includes the racket restring, which can cost from 10$ to 40$, while the labor cost is anywhere from 15$ to 30$. This is a recurring expense, regardless of the type of tennis racket you are using.
You might also need to change the racket's grip, which can cost 7$ to 10$.
Conclusion
Finding the right tennis racket price that fits your skill level and budget can be challenging, but it's not impossible. There are many great options out there, and one surely will be ideal for you. Hopefully, this guide will make this process easier and give a clear view of what to expect.
FAQs
Read on to find out how much it costs to demo a tennis racket and to learn how to select the right tennis racket size for your game.
Q: How much does it cost to demo a tennis racket?
The cost of demoing a tennis racket will depend on the store that you go to. However, most stores will charge around $5 per racket. You can usually demo up to 3 rackets at a time.
Q: How do I select the right tennis racket size?
Selecting the right tennis racket size will depend on your height and arm length. If you are unsure about what size to get, you can always ask a professional at a local tennis shop. They will be able to help you find the right size for your game.
Q: How much is Roger Federer's racket?
The cost of Roger Federer's racket will depend on the brand and model that he is using. For the moment, he is using the Wilson Pro Staff RF97 Autograph racket, which costs around $350.
We are sorry that this post was not useful for you!
Let us improve this post!
Tell us how we can improve this post?