Wilson tennis rackets are widely popular amongst millions of fans across the globe. Their reputation precedes them, and for years now, Wilson has been a synonym for high quality and innovation. Buying one of those top tennis rackets is a guarantee of performance and easy playability; that's why we decided to make a selection of the best Wilson tennis rackets. 
In this guide, we included different models for players of all skill levels. These rackets also feature a variety of sizes, technicalities, and characteristics. You might recognize some of these because they are endorsed by big tennis stars like Serena Williams or Roger Federer. However, beginners and junior players will find something suitable for their needs amongst the different Wilson designs on this list; just make sure to consider the technical details of each review first. 
Best Wilson Tennis Rackets Reviewed
The following are what we believe to be the best Wilson tennis rackets on the market right now. These picks are a great fit for a wide range of different player levels and game styles.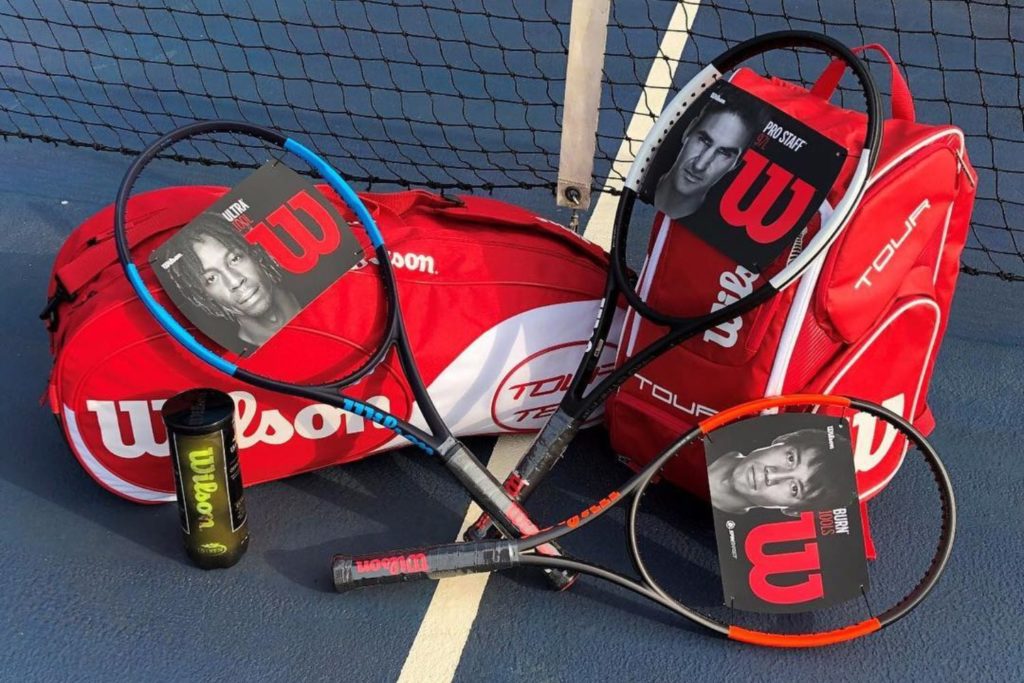 How We Choose the Best Wilson Tennis Rackets
Picking up the best Wilson tennis racket was an anticipating challenge, which we took very seriously. For years has been setting new standards on quality and performance and has been a leader in innovative changes when it comes to the tennis racket. As a USPTA certificated tennis instructor myself, I believe I have the experience needed to choose the right Wilson tennis racket.
First and foremost, we made deep research on the brand's most popular models and rackets line, evaluating the customer's feedback and reviews. Then we made sure to a variety of designs ourselves so that we could give full insights and honest impressions to our readers.
We based our review on key factors such as performance, playability, weight, size, power, spin, durability, etc. In this list, there are different categories and models so that players from all skill levels and backgrounds can pick the most suitable option for them. 
Our Verdict 
Our top pick in this list is the Wilson Pro Staff 97 v13. This Wilson tennis racket is simply amazing, helping the player make a great performance on the court. It delivers amazing spin potential and a good blend of control and stability. 
Another favorite on our list is Wilson Blade 98 v8, which truly impressed us during the playtest. This racket offers easy playability and a great deal of control, stability, and precision on the court. With the right skills and techniques, it can transform into a true weapon on the court. 
Last but not least, we would strongly recommend Wilson Clash 100, one of the brand's most popular models. This racket is suitable for a wide range of players, from beginners to intermediates. It has a crazy amount of power and works well all around the court. 
FAQs
The detailed information in the sections above will have answer many questions about choosing the best Wilson tennis racket. Queries of a more general nature are answered below. 
Q: How much is a Wilson tennis racket?
The price of a Wilson tennis racket varies according to the model, type, and style you choose. There are many affordable options that are great for beginners and intermediates. Generally, you can expect to pay between $60 and $200 for a quality Wilson tennis racket. 
Q: Is Wilson or Head better for tennis?
There is no simple answer to this question, as it all depends on your own playing style, level, and preferences. However, we can say that both Wilson and Head tennis rackets offer great quality and performance. It would be best if you took some time to try different models from both brands so that you can decide for yourself which one is better for you. 
Q: Is Wilson Clash or Blade better?
This is again a matter of personal preferences. The Wilson Clash is suitable for a wide range of players, from beginners to intermediates. It has a crazy amount of power and works well all around the court. The Wilson Blade is more suited for advanced players who are looking for great control and precision on their shots. 
We are sorry that this post was not useful for you!
Let us improve this post!
Tell us how we can improve this post?