Tennis can be a wonderful sport for your kids to engage in. It's entertaining, helps to stay physically active and healthy, teaches discipline and teamwork, and might even be a career in the future. The journey starts with a racket; that's why we made a list of the best 26 inch tennis rackets for junior players after a long process of testing and reviewing all of them. 
As a parent or a guardian, it can be challenging to make the right choice when there are so many options out there, and the marketing campaigns are so aggressive that you sometimes doubt yourself. That's why in this guide, we'll explain everything you need to know, the measurement and features you should look up, and lastly, how to tell which type of tennis racket your child needs. 
Best 26 Inch Tennis Rackets Reviewed 
With so many options available, choosing the best 26 inch tennis racket for juniors might be a struggle. To help you narrow down your options, we came up with the best recommendations, featuring a list of various brands, features, and prices. Here are our top picks for the best 26-inch tennis rackets.
What to Consider When Choosing the Best 26 Inch Tennis Rackets
There are a few factors important to consider when in it comes to kids' rackets. Listed below is everything you need to know to make the right decision when it comes to selecting the best junior tennis racket. 
Age
Children can learn to play tennis as early as three years old when they are still in their toddler phase. Yeap, it's never too early to learn tennis, especially if there is any chance that your child will become a pro. 
However, it's never too late either; Federer only started when he was eight and is now one of the world's biggest tennis stars. You should first consult with the instructor or the tennis club you want to register your child to because they might have age limits. 
Here is a chart of different categories of junior players, depending on their age group.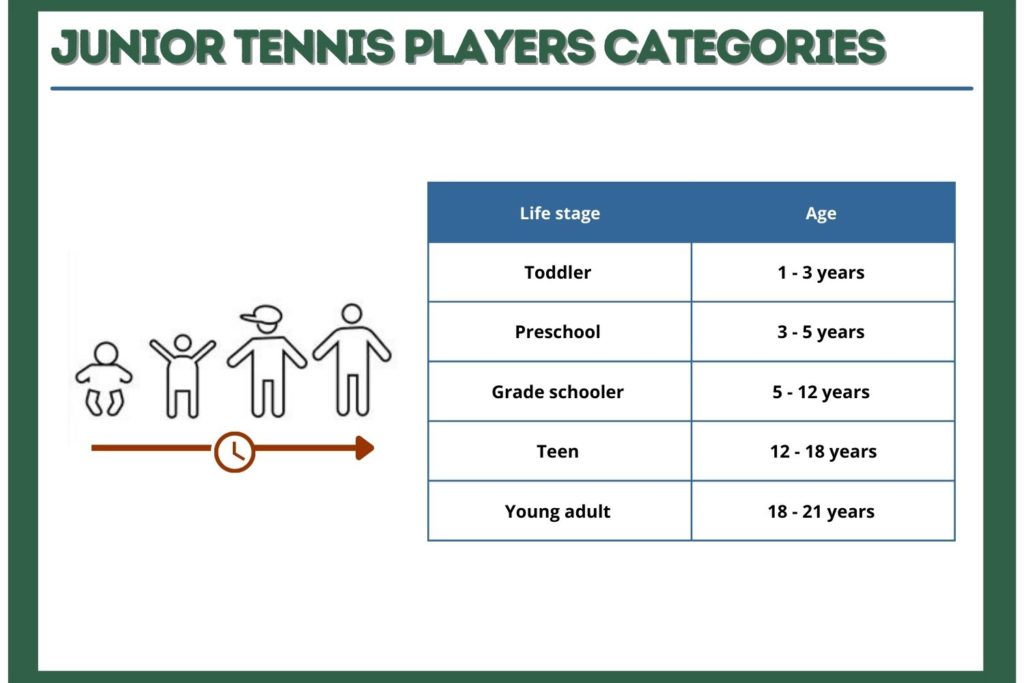 Back in the days, instructors paid little attention to catering to junior needs in the court. Children used to play in adult sizes courts with adult rackets, which they couldn't even control. Needless to say, the results were not satisfying at all, making the game unnecessarily difficult. 
Luckily, things have changed for the betters, and many organizations, such as ITF or USTA, have pushed new policies to make tennis a children-friendly sport. They conducted new studies on what works best for children, and their efforts aim to maximize growth and entertainment. 
Thanks to these new policies, children are now required to play in courts that are fit for their age groups, while rackets and balls should match their abilities and physical strength. 
This way, children learn the basic techniques and skills better, tennis becomes much more enjoyable to them, and the chances they'll stick with it throughout the years are higher. 
Here is the chart with tennis racket size recommendations based on junior players' age and stage. 
Grip Sizes 
If you are confused about what tennis racket grip size is and how to find the right one, I assure you it's not complicated at all. The grip's size refers to the racket's handle circumference and is a measurement expressed in inches or mm, in the racket's technical specification.
A larger racket has a bigger grip size, and vice versa. Most manufacturers produce a single grip size for children, making choosing easier. However, this is not always the case, and sometimes you might need to look up various options or even make adjustments based on your child's needs. 
Here is the chart with grip standard sizes fit for junior players.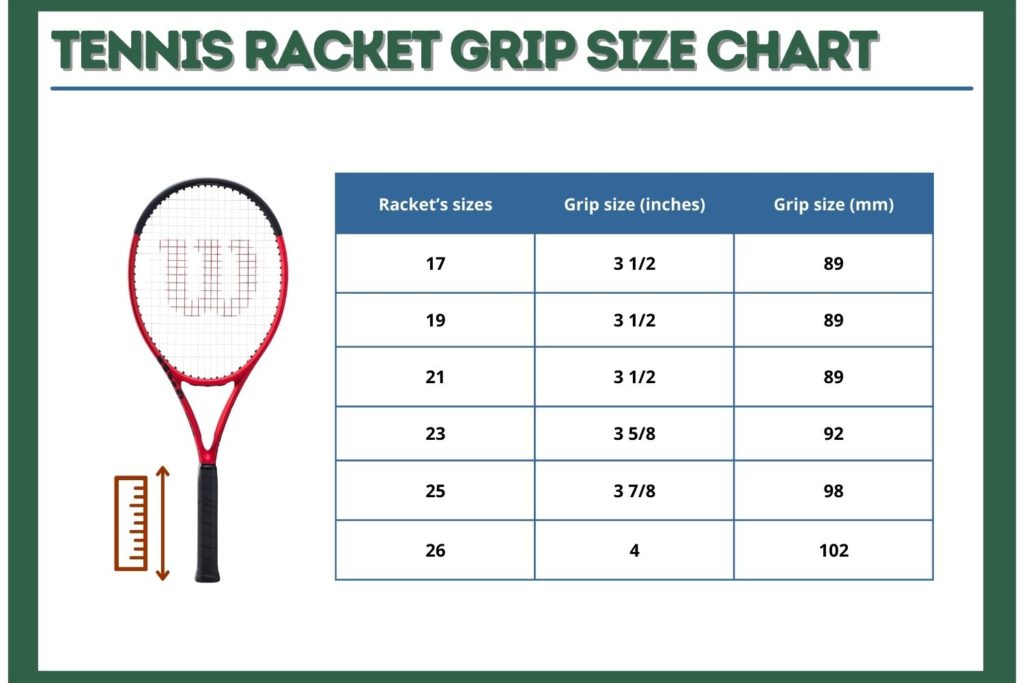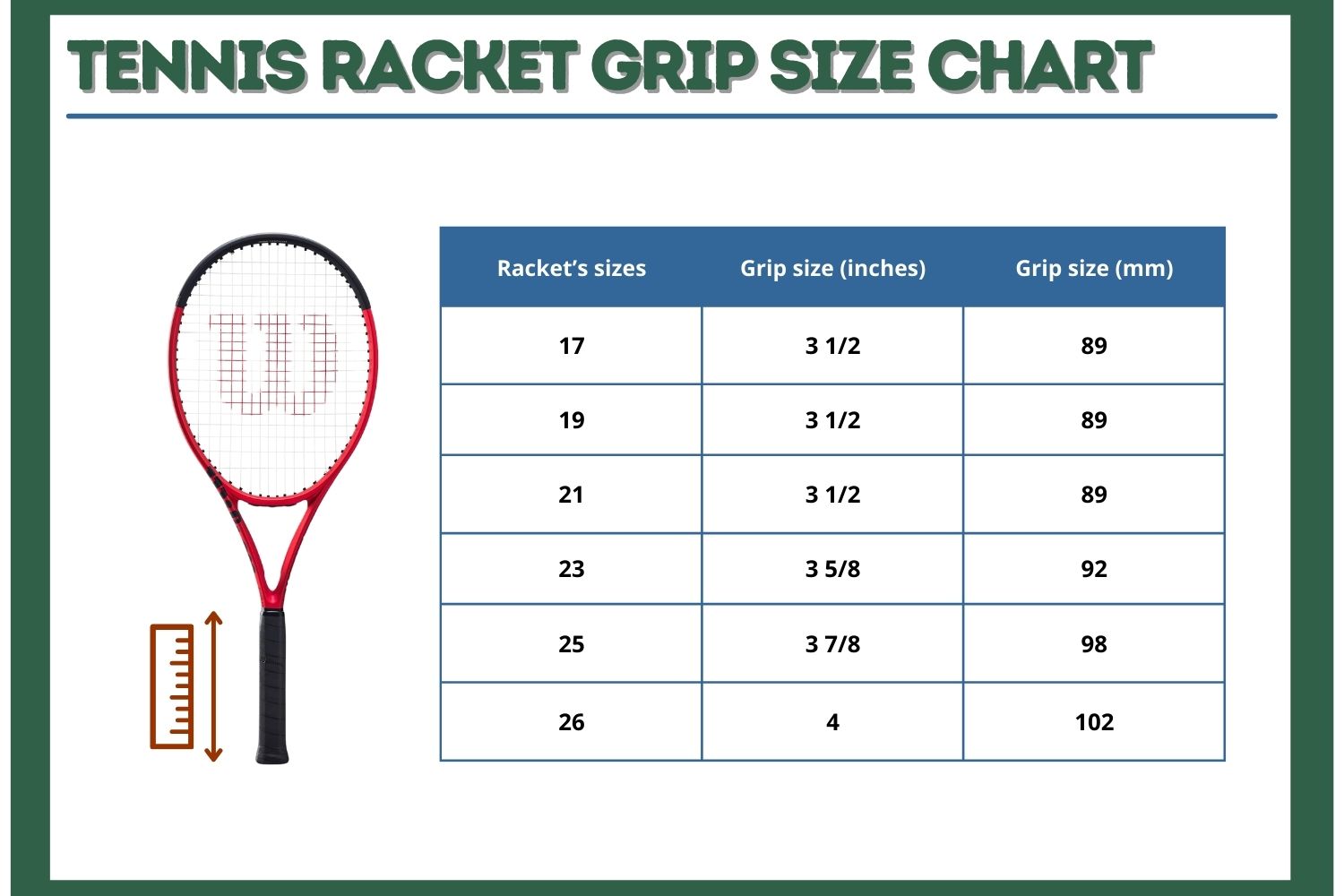 Materials & Weight
The most important thing you should keep in mind before choosing a tennis racket for your child is durability and weight. That's why it is best to go for the materials that are lightweight and last longer, such as aluminum and sometimes a mix of graphite.
Lightweight rackets are easier for kids to play with, and they offer a high level of powers that they can tap into with ease. It helps them learn faster and perform better.
Most importantly, it will be a safer option for your child, avoiding any injury, as these types of tennis rackets are comfortable with the arm, wrist, and shoulder, have less mass to carry around the court, and allow a higher margin of errors. 
Your child's racket should take a hit and more. Remember, this is a child and a beginner in the field, so the racket will take a few scratches too. That's why you need to make sure that it is long-lasting to avoid unnecessary expenses.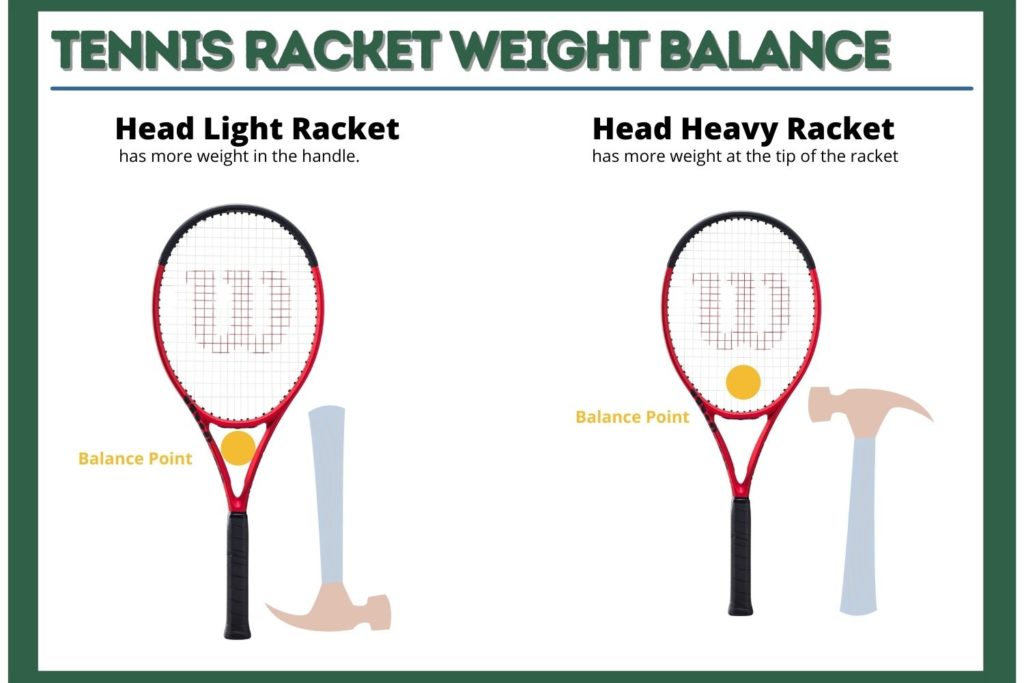 Head Size and Balance
Most junior tennis rackets have a standard or large head size. This provides a larger surface to hit the ball and a nice sweetspot. This type of racket is easy to maneuver and provides a higher power level. Headlight rackets lack control and stability, but these are features that a junior player won't need, especially in the earlier beginner phase.
Balance is an important measurement that shows how the weight is distributed in a tennis racket's body. The majority of junior tennis rackets fall in the category of headlight or even balanced rackets. 
Again, this feature provides high power since children and junior players don't have enough physical strength themselves. It makes the rackets very adaptable and easy to control, as well. 
Boy's vs. Girl's Rackets
There is no such thing as boys' or girls' only 26 inch tennis rackets. All tennis rackets are unisex, and this is also true for adults. The only real distinguishment is at weight preferences, based on players' size, but either way, junior players, for the most part, opt out of lightweight rackets. 
However, you might find different models and styles based on your child's gender. This is only a marketing hack of manufacturers, and you can choose based on your child's preferences without worrying about technical features. 
Your child might love many great styles, with beloved Disney princesses, spidermen, batman, etc. These can add to the enthusiasm for playing tennis by making it more attractive for young children in particular. 
After deciding about the tennis racket's size, you can even let your child make a choice to make the process more fun for both of you. Three simple design factors will help you narrow down your options. 
Color scheme – most toddlers will opt out of their favorite colors, and there are many options available. Older children also prefer colors, so it's good to ask them first. 
Theme – heroes, princesses, famous animated characters… your kid can choose based on what theme loves the most. 
Favorite tennis star – many junior players have a famous tennis star they idolize. That's why junior tennis rackets of players Serena Williams, Rafael Nadal, Roger Federer, etc., are very popular.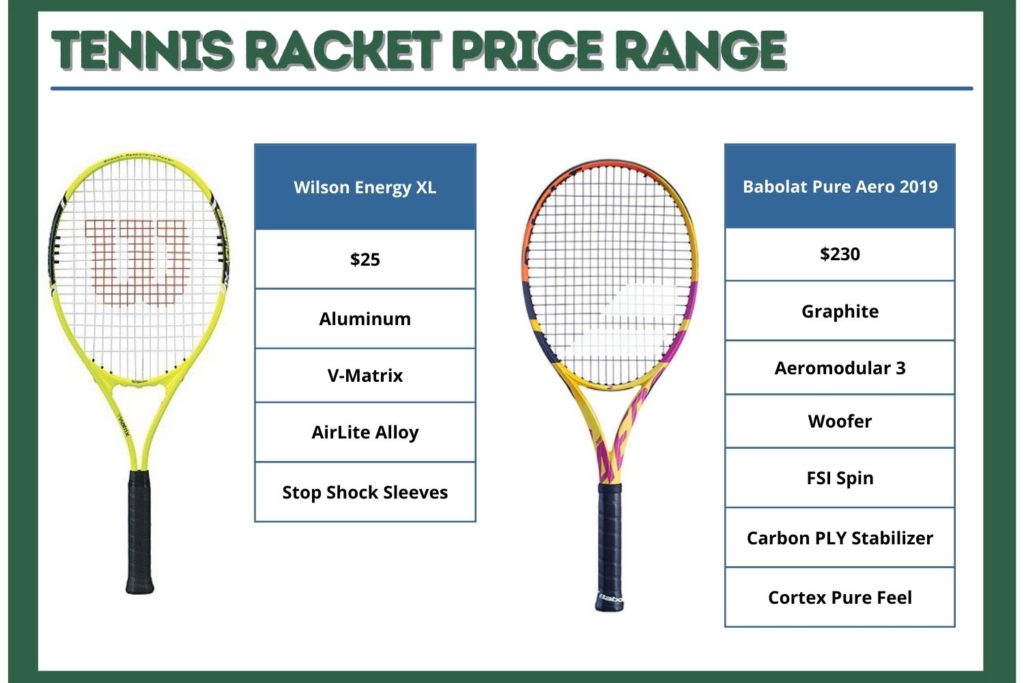 Budget
Tennis racket price is a concern for most parents when choosing the best 26 inch tennis rackets. You'll be delighted to hear that the best thing you can do is go for affordable options. It's not reasonable at all to spend crazy amounts on expensive rackets. Your kids won't even be able to notice or take advantage of its features and will grow out of it sooner or later.
As mentioned above, the right tennis racket size, durability, and weight are the most important factors you should be concerned about. If you meet these criteria, your child will have the best experience in the field. Many options fulfill these needs, so you should stick within your budget unless you really want to go for an expensive racket. 
Our Verdict 
While there are many great options on this list, we would rate Babolat Pure Drive 26 inch Tennis Racket as the best junior tennis racket. It has outstanding quality, provides a high level of power, and is lightweight and highly comfortable. It checks all the right boxes, and it can be a great option as a first racket for your kid. 
Another top beginner 26 inch tennis racket is the Yonex VCORE racket, which stood out in our playtest for its durability, great performance, and high comfort it provides. This Yonex tennis racket is very lightweight, with a nice sweetspot and high power levels. It's a great option for your child to learn the basics of the game and master the first skills. 
We would rate Babolat Pure Aero as the best 26 inch tennis racket for competitive players. This racket generates speed, and spin is easy to control and generates much power and stability, making it a great option for championship matches. 
How We Chose the Best 26 Inch Tennis Rackets
To curate this list and select the best 26 inch tennis rackets, we went through a long process of playtesting and reviewing. The main factors that we considered were the appropriate children's size, durability, weight, and affordability. 
A few different categories help you narrow down your option while including a wide range of junior players of all stages and skill levels. The size and material specifications will help you understand better if the racket is suitable for your child. 
This guide also includes everything you need to know when navigating many racket options in the market, which will help you make the best decision possible. Please, take the measurements of the racket in careful consideration for your child's safety to avoid any kind of possible injuries.
FAQs
Even with all that background information on the Best 26 Inch Tennis Rackets, there could still be some questions left to answer. The following collection of some of the most frequently asked questions about junior tennis rackets aims to answer those queries.
Q: What size tennis racket does a 13 year old need?
There is not a definitive answer to this question. The size of the racket will depend on the individual child's height and arm length. For a 13-year-old, we would recommend a 26-inch racket.
Babolat Pure Drive 26 Inch Tennis Rackets is one of the lightest and most powerful options on the market. It's great for 13 years old kids who are just starting to play tennis and need a racket that is easy to handle. The size and weight make it comfortable for them to use, while also providing enough power.
Q: What age is a 26 inch tennis racket for?
The 26-inch racket is suitable for kids between the ages of 11 to 13 years old. The weight and size make it easy for them to handle, while also providing enough power.
Q: What is the difference between a junior tennis racket?
The main difference between a junior tennis racket and an adult racket is the size. A junior racket is smaller and lighter, making it easier for kids to handle. They also have softer strings, which help with power and control.
Q: How do you pick a junior tennis racket?
There are a few different factors that you need to consider when choosing a junior tennis racket. The main ones include the appropriate size, weight, durability, and affordability. You also need to make sure that the racket is comfortable for your child to use and that it is the right fit for their game style.
We are sorry that this post was not useful for you!
Let us improve this post!
Tell us how we can improve this post?